Play-offs 1-4 Tour! (EN/TR) Play-offlar 1-4 Etabı
-EN
Hello all sports lovers! I hope you are in good spirits and not tired while reading this. I am a little tired, but after writing this post, I will rest.
Hectic times are passing in the Sultans league. League stage is over. The fate of almost all teams is now clear. The order in which the teams will finish the league is determined by the last matches played. The play-off stage is very competitive for the top four teams. If you ask which teams are in the first four places; Vakıfbank, Fenerbahçe Opet, Eczacıbaşı Dynavit and Turkish Airlines.
In the semi-finals, Vakıfbank and Turkish Airlines, Eczacıbaşı and Fenerbahçe Opet matched. The first match was played between Vakıfbank and Turkish Airlines. Vakıfbank won the match with a score of 3-2. It was a very competitive match and Turkish Airlines fought until the last moment. It was a match worthy of the semi-finals. I really liked it. Hanna Orthmann was the star of the day. In the second match, Vakıfbank won an easier victory and advanced to the final. Thus, Vakıfbank became the first finalist team.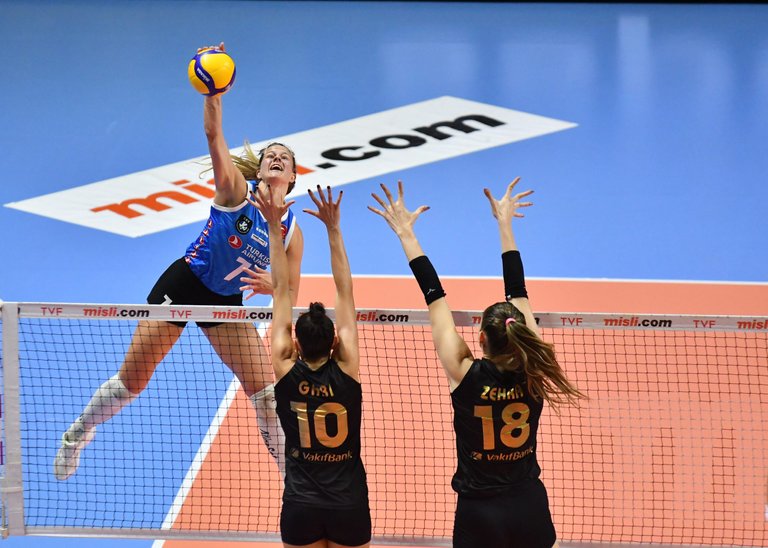 I think the matches between Eczacıbaşı and Fenerbahçe Opet were not fun at all. I got bored watching it and I didn't like it. I think there is a problem in the matches played between these two teams. We could have watched better matches, but we watched almost mediocre matches. The first match ended with Fenerbahçe Opet's 3-1 victory. The first two sets of the game were good, but after that it was boring. Fenerbahçe Opet won the second match 3-0 and became the team that advanced to the final. Thus, Vakıfbank and Fenerbahçe Opet will meet in the final stage.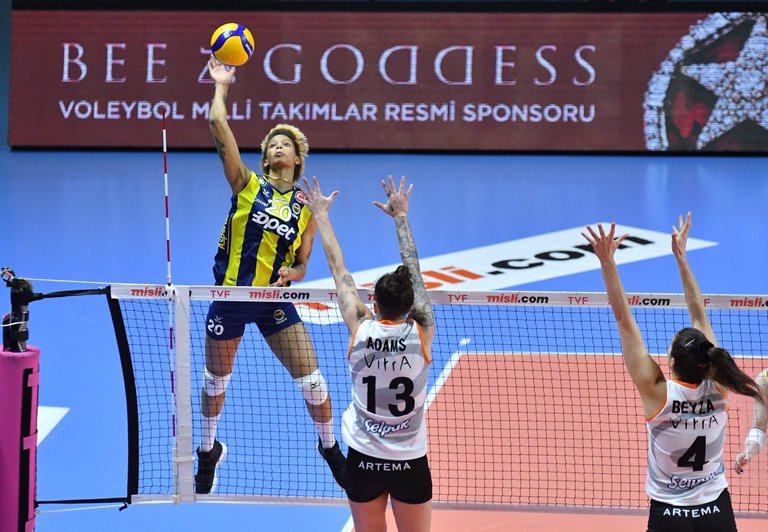 I think the winner will be Vakıfbank. They have a better team setup and I think they are a more ambitious team. Fenerbahce is a really good team in attacking. Vargas and Fedorovtseva are very strong players. However, Fenerbahçe is not as good as Vakıfbank in defense and I think this will be the determining factor. In addition, Vakıfbank has the best middle-blockers in the world. Zehra and Kübra are very good blockers. Fenerbahce is also behind Vakıfbank in terms of middle-blockers. I hope the deserved team will win the cup and we will watch enjoyable matches.
Yes, sports lovers, that's it for this week's review. Stay fit until the next post. Goodbye!
-TR
Herkese merhaba spor severler! Umarım keyfiniz yerindedir ve bunu okurken yorgun değilsinizdir. Ben biraz yorgunum ama bu yazıyı yazdıktan sonra dinleneceğim.
Sultanlar liginde hareketli zamanlar geçiyor. Lig etabı sona erdi. Artık neredeyse tüm takımların akıbeti belli oldu. Takımların ligi hangi sırada bitireceği de oynanan son maçlar ile belirleniyor. Play-off etabı ilk dört sıradaki takımlar için oldukça çekişmeli geçiyor. İlk dört sırada hangi takımların olduğunu soracak olursanız; Vakıfbank, Fenerbahçe Opet, Eczacıbaşı Dynavit ve Türk Hava Yolları.
Yarı finalde Vakıfbank ve Türk Hava Yolları, Eczacıbaşı ve Fenerbahçe Opet eşleşti. İlk maç Vakıfbank ve Türk Hava Yolları arasında oynandı. Maçı Vakıfbank 3-2'lik skorla kazandı. Çok çekişmeli bir maçtı ve Türk Hava Yolları son ana kadar mücadele etti. Yarı finale yakışır bir maçtı. Gerçekten çok beğendim. Hanna Orthmann günün yıldızıydı. İkİnci maçta ise Vakıfbank daha kolay bir galibiyet elde etti ve finale yükseldi. Böylelikle ilk finalist takım Vakıfbank oldu.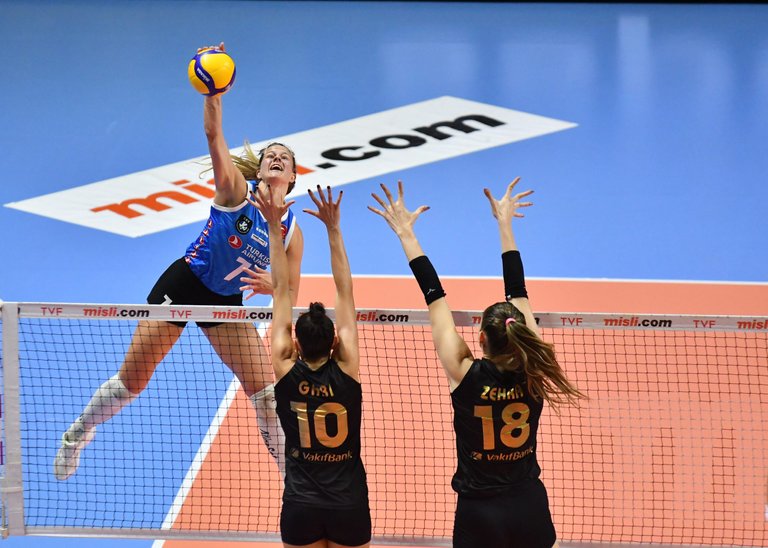 Eczacıbaşı ve Fenerbahçe Opet arasında geçen maçlar bence hiç eğlenceli değildi. İzlerken sıkıldım ve beğenmedim. Bu iki takım arasında oynanan maçlarda bence bir problem var. Daha iyi maçlar izleyebilirdik ama neredeyse vasat denecek maçlar izledik. İlk maç Fenerbahçe Opet'in 3-1'lik galibiyeti ile sonuçlandı. Maçın ilk iki seti güzeldi ama sonrası sıkıcıydı. İkinci maçı ise Fenerbahçe Opet 3-0 kazandı ve finale yükselen takım oldu. Böylelikle final etabında Vakıfbank ve Fenerbahçe Opet karşılaşacaklar.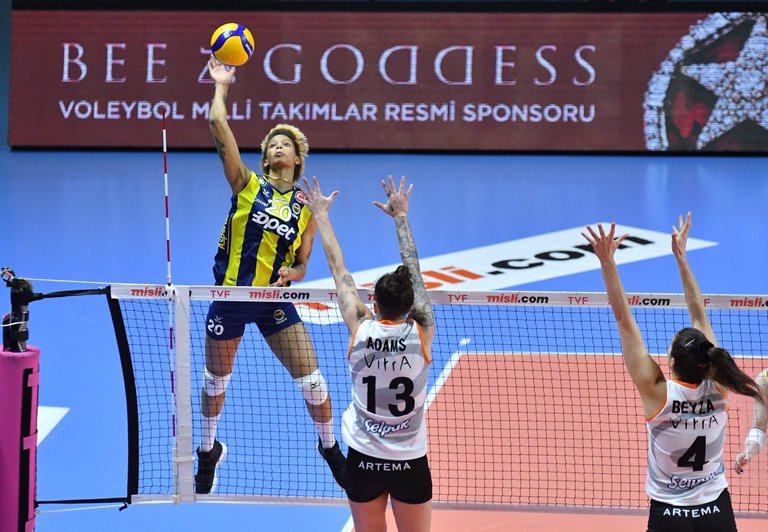 Ben kazanan tarafın Vakıfbank olacağını düşünüyorum. Daha iyi bir takım kurguları var ve bence daha hırslı bir takım. Fenerbahçe, hücum etme konusunda gerçekten iyi bir takım. Vargas ve Fedorovtseva çok güçlü oyuncular. Ancak Fenerbahçe savunma konusunda Vakıfbank kadar iyi değil ve bence bu da belirleyici etken olacak. Ayrıca Vakıfbank dünyanın en iyi orta oyuncularına sahip. Zehra ve Kübra çok iyi blokörler. Fenerbahçe orta oyuncu konusunda da Vakıfbank'dan geride. Umarım hakeden takım kupayı kazanır ve zevkli maçlar izleriz.
Evet spor severler bu haftalık inceleme yazım bu kadardı. Bir sonraki yazıya kadar sporla kalın. Hoşça Kalın!
---
---