The Champ is Here! (EN/TR) Erkeklerde Şampiyon Belli Oldu
-EN
Hello sports fans. We are now approaching the finals in many sports and the season is about to end. In some sports, the season has even come to an end. Only play-offs and big events remain.
Today I'm here to share something about volleyball again. The volleyball season in Turkey has come to an end. Now the play-off stage matches are played and this is over in the men's category. Now the champion has been revealed.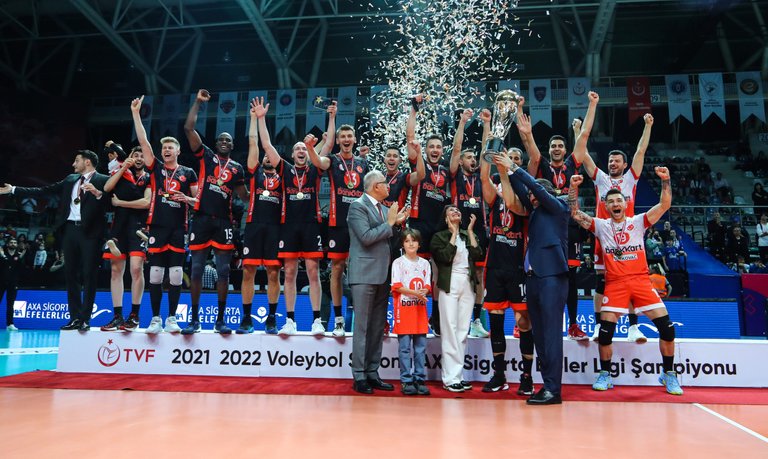 Play-off 1/2 stage was played between Ziraat Bank-Kart and Halkbank. Both teams were the league's favorite teams. Since Ziraat Bank-Kart was the champion of last season, the team roster was almost the same as last season. The team against him, Halkbank, had formed an ambitious team. Ziraat did not make a bright start to the season. But they made up for the matches they lost with the matches they won and they made it to the final stage of the play-offs.
Halkbank was another favorite team of the league. They finished the league season first. They took advantage of being first in the play-offs. However, this was not enough for them to win. The two teams had met during the regular season as well, and Halkbank lost then too. Actually, Halkbank is a strong team and they won most of the matches they faced. But when it comes to Ziraat Bank-Kart, there are some problems at Halkbank and they cannot present their real game-play. There is such a problem between the two teams. The chemistry of the teams does not match and there is not much fun to watch in the matches between the two teams. I think this problem has gotten a lot of attention this season. I can't find any other explanation for the two favorite teams playing such bad matches.
In the play-offs, the final series is played over 5 matches and the team that wins 3 matches becomes the champion. Generally, 5 matches are played in the Turkish League and the series is determined by the 3-2 superiority of the champion. But this year there was a difference and the series only lasted 3 games. Ziraat Bank-Kart won all 3 matches and the series did not extend. After the champion was determined, the Dream Team was chosen. Of course, the majority of the players selected were from the winning team. Here is the Dream Team:
Best opposite : Wouter Ter Maat (Ziraat Bank-Kart)
Best setter: Arslan Ekşi (Ziraat Bank-Kart)
Best spiker: Martin Atanasov (Ziraat Bank-Kart)
Best middle-blocker: Bedirhan Bülbül (Ziraat Bank-Kart)
Best Libero : Volkan Döne (Halkbank)
Paidar Demir Special Award: Efe Bayram (Halkbank)
MVP : Arslan Ekşi (Ziraat Bank-Kart)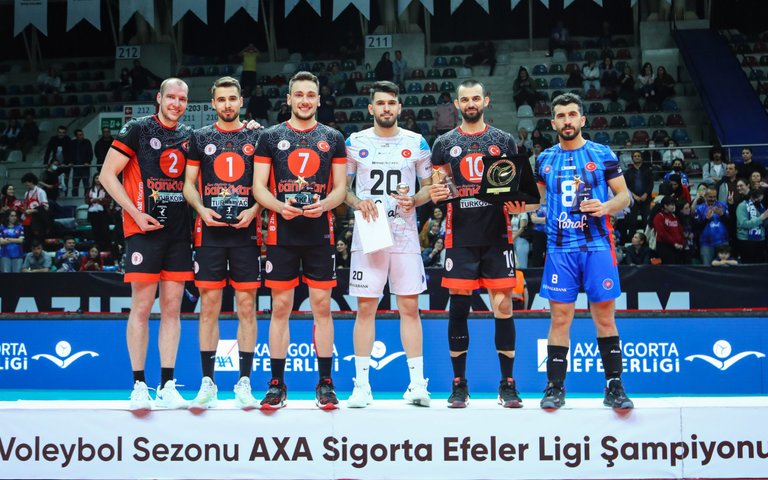 We have left behind a hard and challenging season. The men's fixture is over. For women, the fixture still continues. Let's see who will be the champion in women? Vakıfbank or Fenerbahçe Opet who is leading 2-1 in the series? Fenerbahce Opet is my favorite. But Vakıfbank is a team that is hard to beat and I think Vakıfbank will be the winner if the series extends to the 5th game. I hope Fenerbahce wins and becomes champion.
Yes, sports fans, that's it for this weekly status update post. Stay fit until the next sports post. Goodbye!
-TR
Selam sporseveler. Artık birçok spor dalında finale yaklaşıyoruz ve sezon bitmek üzere. Hatta bazı spor dallarında sezon sona erdi bile. Sadece play-offlar ve büyük etkinlikler kaldı.
Bugün yeniden voleybolla ilgili bir paylaşım yapmak için buradayım. Türkiye'de voleybol sezonu sona erdi. Artık play-off etabı maçları oynanıyor ve erkekler kategorisinde bu da sona erdi. Artık şampiyon belli.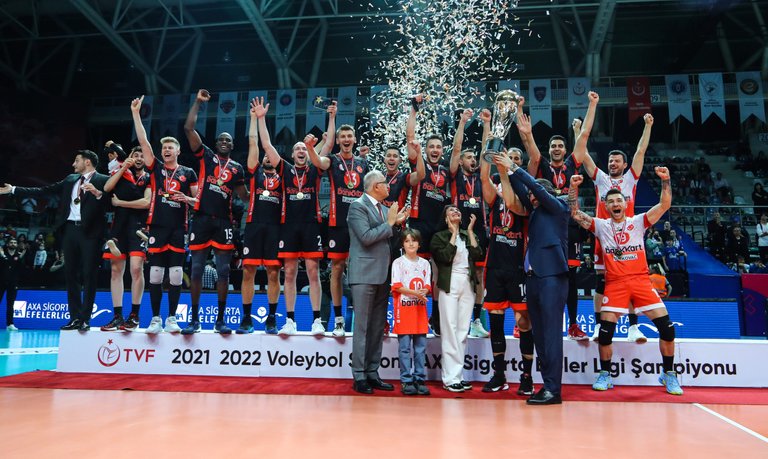 Play-off 1/2 etabı Ziraat Bank-Kart ve Halkbank arasında oynandı. İki takım da ligin favori takımlarıydı. Ziraat Bank-Kart geçen sezonun şampiyonu olduğu için takım kadrosu neredeyse geçen sezonkinin aynısıydı. Karşısında olan ekip Halkbank ise iddialı bir takım kadrosu kurmuştu. Ziraat sezona pek parlak bir başlangıç yapamadı. Ama sonradan kazandığı maçlarla kaybettikleri maçları telafi ettiler ve play-off'da final etabına kaldılar.
Halkbank ise ligin diğer bir favori takımıydı. Lig sezonunu birinci olarak tamamladılar. Play-off'larda birinci olmanın avantajını elde ettiler. Ancak bu kazanmalarına yetmedi. İki takım normal sezon içerisinde de karşılaşmıştı ve Halkbank o zaman da kaybetmişti. Aslında Halkbank güçlü bir takım ve karşılaştıkları maçların genelini kazandılar. Ama Ziraat Bank-Kart söz konusu olunca Halkbank'da bazı problemler oluşuyor ve gerçek oyun kurgularını sergileyemiyorlar. İki takım arasında böyle bir sorun var. Takımların kimyaları birbirine uymuyor ve iki takım arasında geçen maçlarda pek fazla seyir zevki yok. Bence bu sezon bu problem çok fazla dikkat çekti. İki favori takımın bu kadar kötü maçlar oynamasına başka açıklama bulamıyorum.
Play-off'larda final serisi 5 maç üzerinden oynanır ve 3 maç kazanan takım şampiyon olur. Genellikle Türkiye Liginde 5 maç da oynanır ve seri şampiyonun 3-2'lik üstünlüğüyle belli olur. Ama bu sene bir farklılık oldu ve seri sadece 3 maç sürdü. 3 Maçı da Ziraat Bank-Kart kazandı ve seri uzamadı. Şampiyonun belli olmasından sonra ise Rüya Takım seçildi. Tabii ki seçilen oyuncuların çoğunluğu kazanan takımdandı. İşte Rüya Takım :
En iyi pasör çaprazı : Wouter Ter Maat (Ziraat Bank-Kart)
En iyi pasör : Arslan Ekşi (Ziraat Bank-Kart)
En iyi smaçör : Martin Atanasov (Ziraat Bank-Kart)
En iyi orta oyuncu : Bedirhan Bülbül (Ziraat Bank-Kart)
En iyi libero : Volkan Döne (Halkbank)
Paidar Demir Özel Ödülü : Efe Bayram (Halkbank)
MVP : Arslan Ekşi (Ziraat Bank-Kart)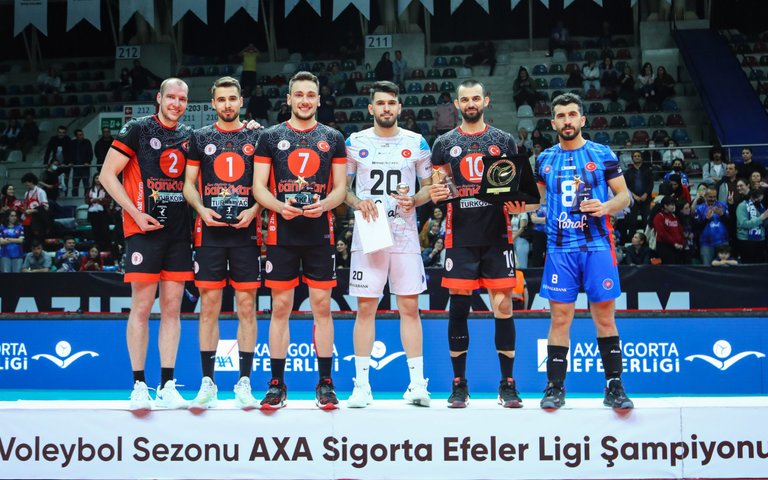 Güzel ve mücadelesi bol olan bir sezonu geride bıraktık. Erkeklerde fikstür sona erdi. Kadınlar içinse fikstür hala devam ediyor. Bakalım kadınlarda şampiyon kim olacak? Vakıfbank mı yoksa seride 2-1 önde olan Fenerbahçe Opet mi? Benim favorim Fenerbahçe Opet. Ama Vakıfbank yenmesi zor olan bir takım ve seri 5.maça uzarsa Vakıfbank'ın kazanan taraf olacağını düşünüyorum. Umarım Fenerbahçe kazanır ve şampiyon olur.
Evet sporseverler bu haftalık durum güncelleme yazım bu kadardı. Bir sonraki spor yazısına kadar sporla kalın. Hoşça Kalın!
---
---