My Favorite Player from FC Los Maranitos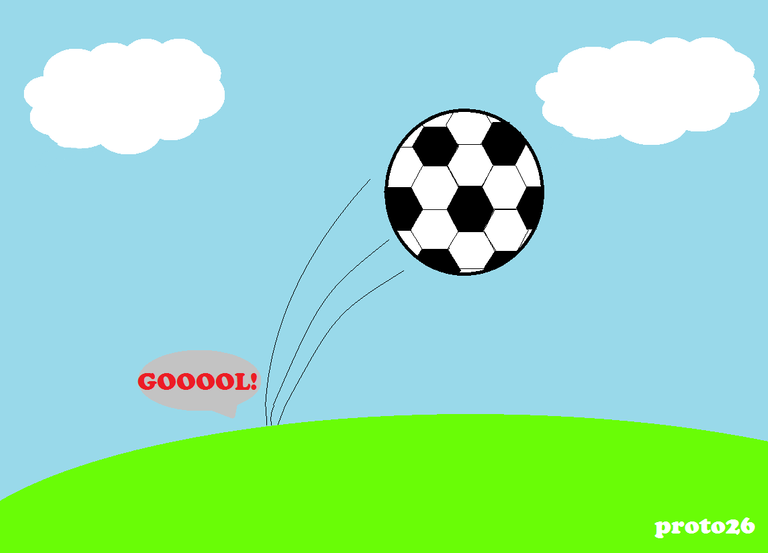 The (simple) artwork was created by yours truly.
Hello there, futbol/soccer fans! When I first heard that the Rabona team was hosting a friendly game (see what I did there?) I had to join in. The prompt is Who is your favorite player on the team? What an interesting topic. In all the time I've been playing this great game, I never considered something like this! Despite the fact, I knew immediately who my favorite player was. Sorry to the rest of the team; everybody has favorites.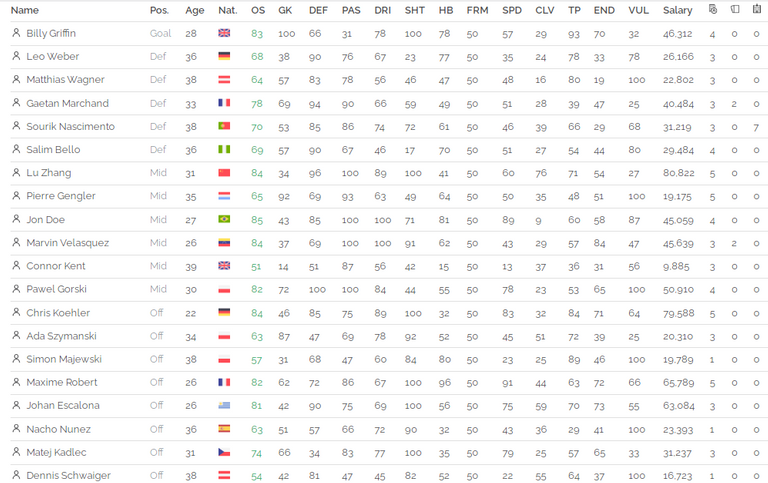 Here is my team's roster. I have 20 players on my team. Many are almost due for retirement. Does anyone stand out to you?
Well, without further ado, let us discover my favorite character! Drumroll, please!
.....................................

That's right my favorite player is the famous Jon Doe! Woooo! He is a relatively newer player in my club. I acquired him on February 23rd of this year and he has grown on me ever since.
Jon Doe's Story
One day, about 9 years ago in Anytown, USA, a body was found. This body, however, was still living! It was that of an 18 year old male, barely clothed, and whose origin was unknown. The police took him to the hospital.
At the hospital, his clothes or what was left of them, was removed in order for the doctors to perform tests. The police searched the remnants. There was no contraband, no personal items, nothing. Not even a piece of identification.
The doctors were astounded to find him in such great shape. All tests came back negative. His reflexes were quick and his physical form was...rather impressive to say the least!
"What's you name?" the doctors asked him.
"I do not know," he answered.
"Jon Doe is what we'll call you," the police interjected. The doctors laughed.
"Why?" asked Jon, looking puzzled.
The police explained to him that when corpses are found without a positive ID, they get sent to the morgue under the name Jon (or Jane) Doe.
"So you see..." one officer said while munching on a doughnut, "...You're the only living Jon Doe out there. You're one of a kind!"
Jon Doe didn't know what to say. He had no memory prior to being found by the police. All that he had to his (new) name was his tattered clothes, which was otherwise nondescript.
Just then, there was a commotion. Some of the doctors and even one policeman began cheering. This startled Jon and snapped him out of a deep, pensive moment.
"What's going on?" he asked curiously.
"Their team just scored a goal," one uninterested officer answered.
"What team?"
"The soccer team," said the officer.
Jon stared blankly.
"You know...football?" The officer pretended to kick an imaginary ball.
"No?" asked the officer, surprised.
Jon shook his head.
"Let me see!" exclaimed Jon.
The doctors and other police officers, who were previously crowded around the small TV, moved away and pointed the screen at Jon. Jon became mesmerized.
"Who are they?" he inquired.
"You've never heard of Los Maranitos?" a nurse asked him.
"They have over 60 million fans worldwide!"
"Someday...I will play for them." Jon promised.
"Hey, with a build like yours, you very well could," said the doctor, winking at Jon.
Although Jon Doe had no money, he began to make his way to Brazil, the soccer capital of the world. He walked hitchhiked, and even swam across some small rivers and streams. After jumping the Panama Canal, he could nearly taste it. Along the way he would dribble anything he could. Small rocks, tumbleweed, and even some actual soccer balls, which would only last a few thousand miles.
Once in Brazil, people pointed him in the direction of where he needed to go. He didn't know much Portuguese to begin with, but the language sort of just came to him. He trained, applied, tried out, but before he expected it, the manager of Los Maranitos came seeking him out. And the rest, as they say, is history.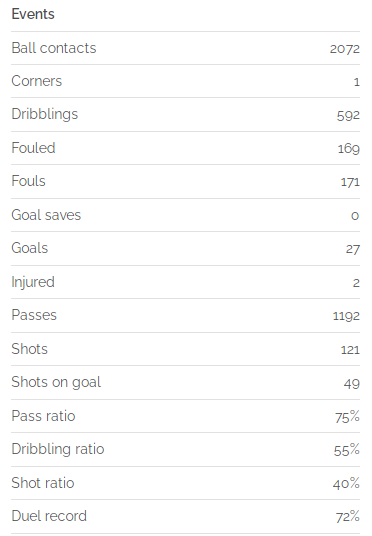 Despite not being very clever in other regards, Jon Doe is a quick learner and a great asset to have on the team. He is very sturdy, having only suffered 2 injuries thus far (which is better than a few other players can say). He has already made 27 successful goals in his career, with his shot ratio being about 40%. It may not seem like much but many of those goals were probably the goals needed for Los Maranitos to win the match. Thanks to him, we are in league 1. He still has a good decade left to go in his football career. He is still in his prime. He can be somewhat of an aggressive player at times. He has been given 4 red cards. It's not his fault; he just has a great passion for the game. Although the mystery of his origins will never be solved, at least he found his calling. All we can do is thank the Creator that the first thing he saw on television was not baseball or some other sport!
Interested in trying out Rabona game for yourself? Use this referral link to join and we will both receive 25,000 RBN (the native token for Rabona game)!
---
---