Dave Farmer is a local Official in San Bernardino/Riverside CA area who has been a top referee for 65 years, enjoy!
Yesterday, I got the chance to work with the oldest active official in the United States, Dave Farmer. Dave has been officiating for over 65 years (more than I have been alive, born in '75) having started in 1956. Dave does multiple spots as well as having his own landscaping business. Dave is still spry and mentally alert. We worked two middle school basketball games and was able to keep up with the youngsters, especially the boys middle schoolers who now play a game of run-n-gun. He was accurate on all his 'inbound or throw in' areas, remembered time outs used and the alternating possession arrow. Dave pointed out to me that the 45ish year old teacher and gym monitor is the son of a friend of his who used to run the San Bernardino gym for 50 years.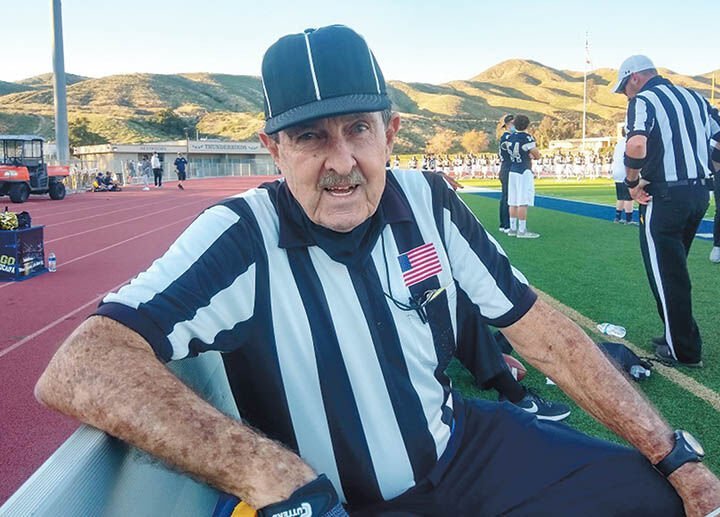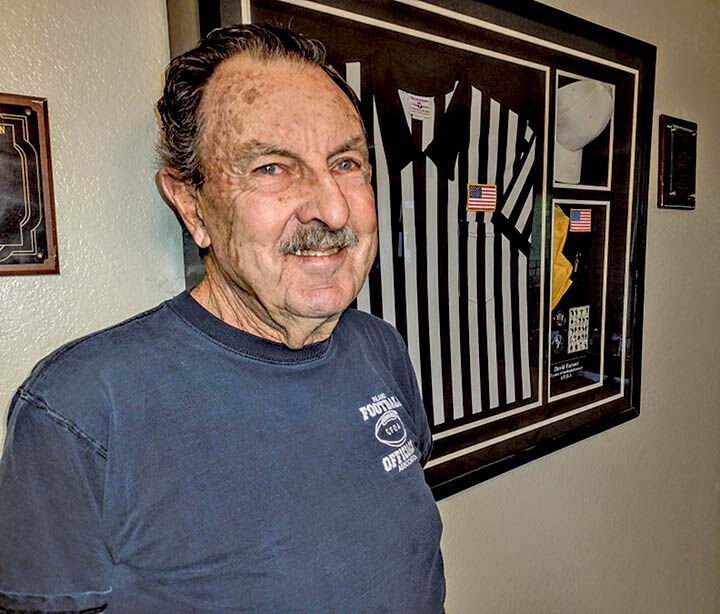 It wasn't the first time I have worked with him, just the latest. Dave Farmer in 2021 and previous times had been a fill in on my football crew for high school 'Friday night lights' games.
Dave is a standup guy and kind of a legend in our high school football unit for bring dates with him to our annual banquets. He has brought ladies' whose lawns he has mowed (pun) and even one year his nurse. Always smiling and always ready with a joke, Dave didn't even slow down during covid. With two shots and a booster he tells me he hasn't even been sick the last two years except for a runny nose for a few days back in 2021. Nurse, I'll have whatever he has been doing for the last 87 years.
Below is a story by a local paper. I know the guys mentioned working with him and I'm sure they have clipped the story for their own scrapbook as a remembrance of working with an Officiating legend, Dave Farmer.
---
There are 75 people at Colton High School's Memorial Stadium for a junior varsity football game between the host Yellowjackets and Eisenhower of Rialto.
The sun beats down and some fans seek refuge under umbrellas. Impervious to the heat is white-hatted referee Dave Farmer of Redlands. Farmer, 87, is in his 65th year of officiating and shows no signs of slowing down.
Redlands' mayor Paul Barich has done the research and says Farmer is the oldest high school football official in the nation. The amazing octogenarian also officiates volleyball and softball.
"I guess he's doing what he loves," says Colton team manager Valerie Andrade.
At halftime Farmer and fellow officials, Paul Williams of Colton and Luc Lefevre of Riverside, relax on the bench. Lefevre told of officiating a game with Farmer in windy Fontana.
"Dave says to me, 'Man it's windy, I'm going to turn my hearing aid off.' I think to myself, 'Who is this guy?' Then a running back breaks loose on a long run and Dave's trailing him but I had dropped a flag and blown the play dead. I'm blowing my whistle TWEET-TWEET-TWEET. When the play is over Dave comes back and says, 'Why didn't you blow your whistle?'''
Hours earlier, Farmer waited inside the gate of Redlands' Fernwood Condominiums. He's lived there for 40 years. Farmer stands 6-foot-2 and weighs just 180 pounds. And he's more energetic than a man his age should be.
"Mr. Farmer. Wow. He's an amazing guy," said Dave Duarte, 82, of Yucaipa, Farmer's pal and fellow octogenarian official. "And everywhere we go around town someone says, 'Hey, you're Dave Farmer. Do you remember me? You taught me in junior high.'"
An Upland native, Farmer was diagnosed as a young boy with osteomyelitis. That's a fungal infection of the bone that caused one leg to grow an inch longer than the other. The same affliction kept New York Yankee slugger Mickey Mantle out of the Army.
It didn't prevent Farmer from leading Chaffey High in 1952 to its first Citrus Belt League baseball title. Nor did it stop him from going 13-0 on the pitching mound as a junior at the University of Redlands. He also played two years of basketball for the Bulldogs and one year of football.
"I knew I'd need it for my coaching," Farmer said. "I caught a pass in the Rose Bowl, but it was against CalTech. They were good in baseball but they weren't very good in football. There were 400 people in the stands."
Farmer laughs at the memory. He has some fond ones.
Farmer's bachelor digs at the Fernwood are utilitarian. The centerpiece, on a living room wall, is a framed football official's shirt, white referee's cap, and whistle.
Another cherished memento is his Golden Whistle Award, presented to him by the National Football Foundation at an awards dinner in 2008.
Farmer, following graduation, taught and coached at Fontana High for a year. Then he moved to Redlands Unified where he taught and coached for the next 38 years – first at Redlands Junior High and then at Moore Middle School. He retired from education in 1994.
He also officiated football, basketball, baseball and volleyball because he needed the money. Getting married (to his college sweetheart Judy) and having four babies in five years strains the budget.
"My first football game was a JV one at San Jacinto High," Farmer said. "I made $8. Then I drove to Barstow for a varsity game and I got $10."
---
The stories flow from Farmer about games past. He saw the late Ken Hubbs of Colton sprint from a baseball diamond in his uniform to the Colton track to compete in the high jump and the long jump. Then Hubbs scurried back to the ballgame when his team was in the field. Hubbs was the National League Rookie of the Year in 1962 with the Chicago Cubs, but died in a plane crash outside Provo, Utah two years later.
Farmer still gives fellow football official Pat Hafley static. It seems Hafley, while pitching for Redlands High, yielded a monster home run to future major leaguer Darnell Coles.
"It went over the shop building at Redlands -- 400 feet at least," Farmer said.
Hafley played for Farmer at Moore. Later he became the athletic director at Redlands High and then AD for the entire district. He retired last spring. Now he spends his Friday nights blowing a whistle, just like Farmer.
---
Farmer's third and final wife, Dianne, was diagnosed with Alzheimer's disease about a decade ago and died four years ago. She was a former Corona High homecoming queen. Years before she passed, Farmer put her up in a 24-hour care facility in Mentone. He paid for it by running a sprinkler repair and landscaping company.
He dutifully fed Dianne dinner every night. Sometimes he was spelled by his friends Dan and Debbie Finfrock. Dan played football at Redlands High and at the University of Redlands and later coached the Arrowhead Christian Academy football program to glory.
Farmer, now in his ninth decade on the planet, still runs that landscaping business, too. Each morning he rises early to mow lawns, fix sprinklers and cut branches. He saves the money for his grandchildren; he has eight of them from his six children – though daughter Kristin died of cancer six months ago.
Asked how long he'll keep officiating, Farmer said, "Probably until they pull me off the field feet first. I'm fine physically and mentally and I don't mind going out there and making a fool out of myself."
---
---