Amsterdam Marathon: my creative shot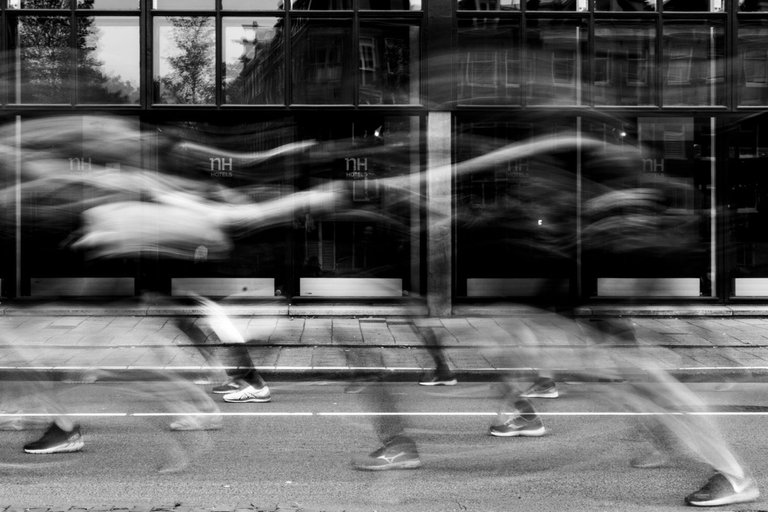 "Find an event that is newsworthy, and create 1 'publishable' photo and 1 'creative' photo"
It is a pretty rare assignment in school. For once, it is not about emotions... But only about making a photo that tells the story that is in front of you. And adding one that isn't as literal as the first.
I kinda underestimated it. I missed the small print of the assignment. While I was planning to just visit one of the many anti-vaxx rally's, I was made aware that we needed to show the story without showing text. So yeah... all these protest signs weren't helpful.
The weeks after, I kept an eye on the emergency services updates... no large fires nearby, though. Alternatively, I checked press releases. And then my classmate told me the Amsterdam Marathon was going to take place over here.
30 minutes later, I stood at the fence with my camera. Unprepared, not sure what to expect. The lack of light this day in combination with the speed of the runners made the "publishable" photo hard to capture.
But I had this idea since the protest-idea to make a "legs" image for my creative shot. And if anywhere...a marathon could just be a good place for an image of legs.
I sat down on a nice bench along the route and put my camera down for a long exposure shot to see what that would look like. I made a bunch, but was pleasantly surprised by these images.
This photo gave me a bunch of inspiration for other work that I will still need to create. But I will do that for my project. More about that the coming months!
---
---