ONEUP tribe look solid and my purchase of "S30 Juan UP" NFT.
ONEUP tribe look solid and my purchase of S30 Juan up NFT.
A little about ONEUP.
ONEUP is Hive tribe that is dedicated for Blockchain gaming and NFT community. Since community is tokenized by using token ONEUP so content creator can earn ONEUP token along with Hive(+ other tribe tokens) if they use "oneup" tag in their post. I guess other supported tags are SPT,NFT ,NFTs and posting to Axie Buzz community but I always used ONEUP tg directly.
A little about Rising Star.
If I have to describe risingstar in 2 words, then I will say it is "free to play" and "play 2 earn" game blended nicely with the music.
Game simple mechanics attract many players and it do not consume much time.
In recent post ,game announced that it has 2500+ active users last week.
I am in love with this game for quite some time and currently I am buying Risingstar NFT on daily basis. In past few days, I have increased my collection of card from 108 cards to 300 cards now.
Juan up , Collaboration between Rising Star and ONEUP.
Risingstar and ONEUP team created a NFT card "S30 Juan up" and price it exclusively in ONEUP token. Rising star market is selling this card for 110 ONEUP per card.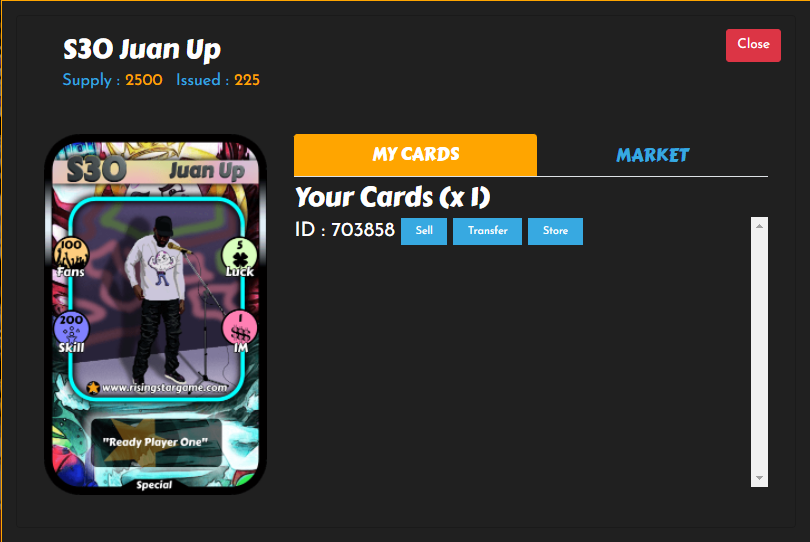 With 100 fans ,200 Skills ,5luck and 1 IM , it is fairly balanced card and having 100 fan with 200 skills make it desirable.
Strengthening the partnership in Hive.
I think Rising star is not the only partnership of the team in Hive, Even Hashkings also decided to use ONEUP as their main curation currency for the post related to their game.
My eyes are on Chifi bots too.
I am also looking forward to their trading card game of chifibots that are currently developing. It will be interesting to see their partnership to create marketplace in the Aspire blockchain.
More details bout this are in site
I am serious about ONEUP
I am building my ONEUP stake gradually and have staked around more than 3500 ONEUP in my alt account. This account exclusively hold vibes and oneup tokens for curation purpose.
Blockchain gaming and Play2earn is going to grow big.
I am expecting that in coming days "Play2Earn" and blockchain gaming is going to grow multifold. NFT craze is also on high as we see multiple established companies are now launching their NFT in blockchain to mark their presence in blockchain space.(recent I know is Hot wheels.) So platform created to share NFT related stuff is also going to g big in coming in my opinion.
Want free Juan up?
I have purchased myself a one an will try to get another one for free by creating a tutorial/informative post on Rising star game.
More details can be found in this post. May be you can win this cool NFT or may be your post payout will be more than 110 ONEUP too, so that you buy it from market too.
Please feel free to upvote, reblog and comment.
Posted Using LeoFinance Beta
---
---