RABONA: Curators' Weekly Curation Report and Developments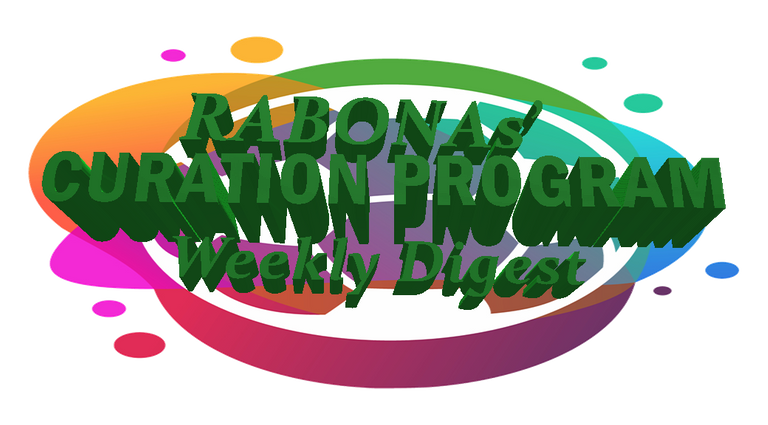 Hello Rabona Community, Club Managers, Football and Soccer Lovers! This is your Rabona curator @ivarbjorn sending you a weekly digest for new Rabona updates and curated posts last week from the Curation Program. You all know the Rabona team had the initiative to reward Rabona content creators and started the Rabona Curation Program, and it has garnered a lot of support from the Rabona Community.
As part of the initiative, the curators are required to make a weekly report about the program and highlight some posts from its curated content to add more diversity to the curation program, but as the lone curator, I thought of an idea to add a twist about the weekly report and also add new updates about Rabona and more information about the teams' development.
🔍Curation Program

The team believes that this program would grow eventually with the support of the community and we are doing our best to make this community better for people that chose to stay with us even on the hard and rough times Rabona has gone through, that is the main reason we thought of doing programs to rewards those who have stayed with us through ups and downs, and you guys can expect a lot of changes moving forward and this is just the first step the team is taking to give the best experience to our player base and the Rabona community.

As of today, the current number of curation trail subscribers is 21 People, and we are expecting some growth in the coming days. We ask everyone to help us spread the word so we can get a lot of support on this amazing program, people can support the program directly by following the trail inside the game, or indirectly by using websites like hive.vote.
You can see the interface of our Curation Program inside the Rabona App on those photos above, you can see the curated posts below and the above one is how you enroll in the curation program.
⚽️Rabona Development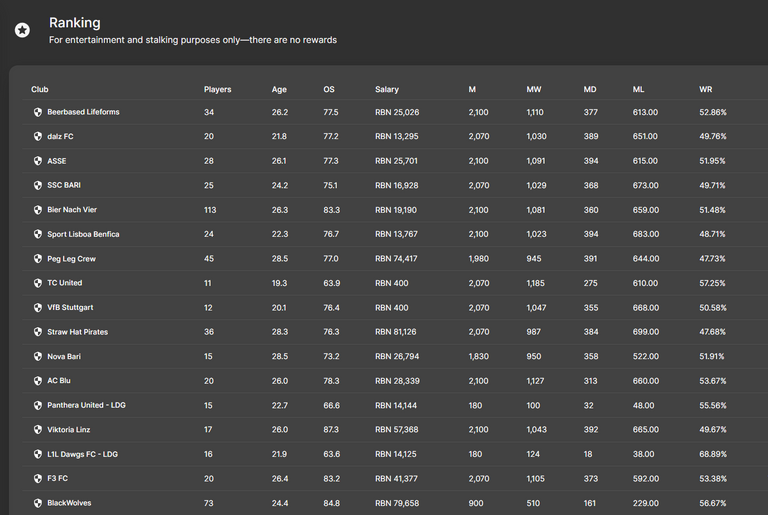 Rabona has also exceeded 1,000 registered users since the start of the game, although this may not look very great given the game has been running for quite a while now, it is a big achievement for the developers of the game, this game was built from scratch without funding of big companies and later on inherited by a different team, and it is definitely a huge milestone for the Rabona team, this just motivates the developers to work harder, to be fairly honest and transparent, the team is undermanned right now but it won't hinder the team to produce and give a better gaming experience and community experience for all everyone that trusts the process and stayed the whole while.
The Photo is the rankings of the game featuring all the best players of Rabona, currently, there are no rewards other than bragging rights 🤣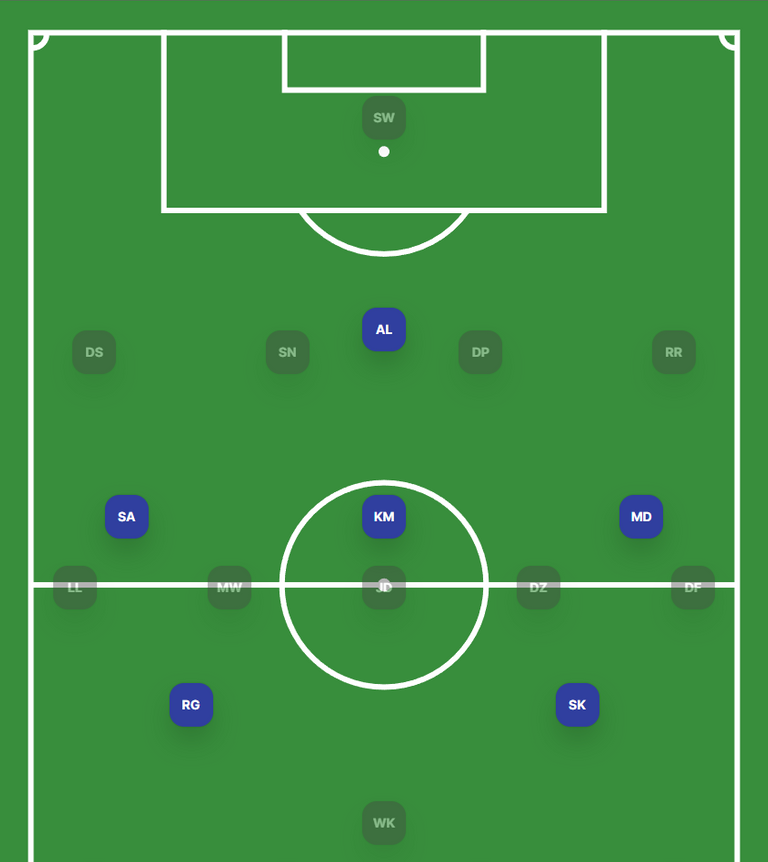 The entire game would be transferred over to Version 2 very, very soon, but it is not an easy process, and it would take some time, rest assured that we are working hard to finish it as soon as possible for a better gaming experience.
You can also see the photo below on how it looks like on the actual fixtures of the game on the simulation page and you will also see this as you make your lineup, after the match you will see the Match and the whole Timeline of the Match Simulation.
Very soon the team has plans to make everything better and your support is important, if you have suggestions on how to make the gameplay experience better, let the team know!


📰Featured Posts
This corner will be for posts that curators wanted to feature from last weeks' content. We will showcase a variety of information here from Rabona to Soccer news and guides. As to how to check these posts you just need to click on the photos and it should bring you directly to the authors' post! Also, these are only some of the posts that we have curated over the course of the week and handpicked by the curators, we apologize in advance if we missed a great post that you are really looking forward to getting featured, but also feel free to direct us towards the post and we might feature it on the next week.


Check a post from @uyobong a long-time supporter of Rabona, it showcases the new updates and development in Rabona community. Have a good read about this post to know more about Rabona from a veteran's perspective.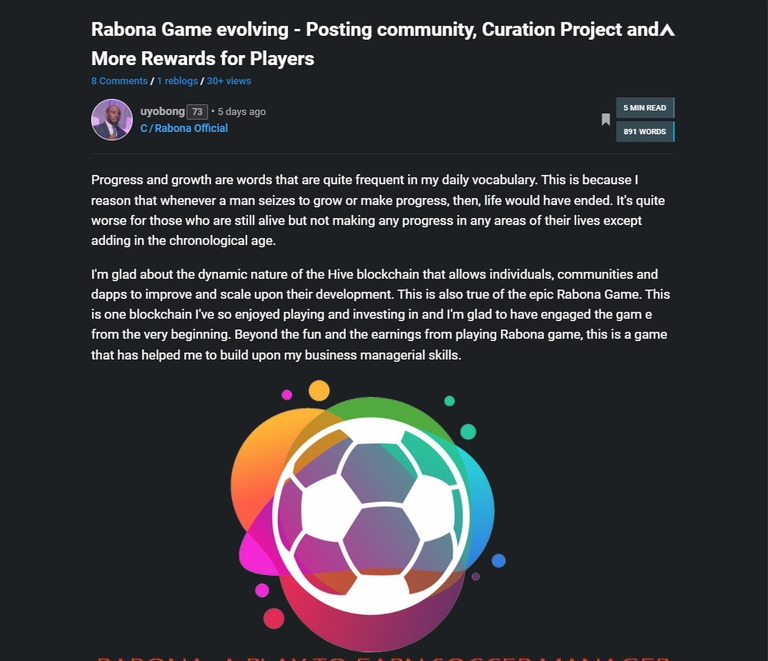 Progress and growth are words that are quite frequent in my daily vocabulary. This is because I reason that whenever a man seizes to grow or make progress, then, life would have ended. It's quite worse for those who are still alive but not making any progress in any areas of their lives except adding in the chronological age.

Check out this post from @danideuder, he is a fairly new player and he is making a series about his Rabona adventures he titled it The Rabona Chronicles. From the first post and seeing Rabona from a veteran's perspective, you can check this post to know Rabona from a beginner's perspective.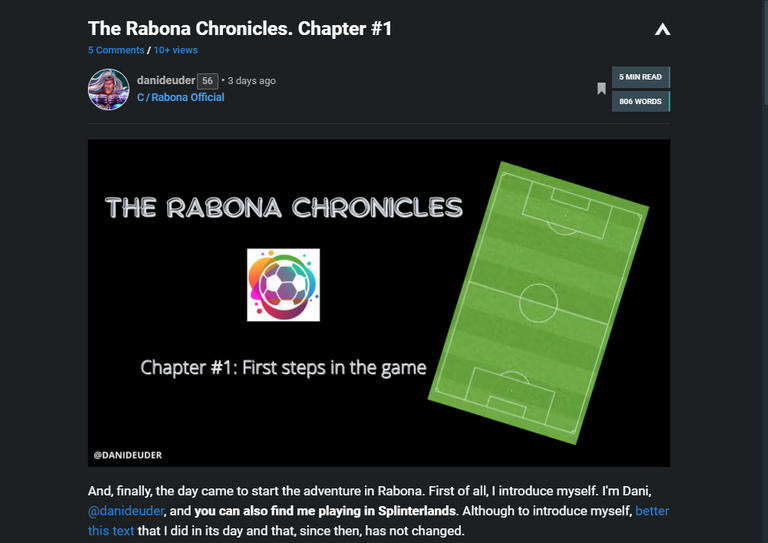 In this series that I title, the Rabona Chronicles, I am going to tell, from the beginning, my path in the game. My first steps, my mistakes, my sure few successes, and my development from scratch to where my ability to understand the game reaches. They say that when you make a mistake you have to learn from it. And what better way to learn from a mistake than to have it written down to analyze and correct it. That is the idea of ​​this series that, except for unforeseen events, will tell you week by week my evolution in the game. The evolution of Real Valladolid in the Rabona universe.

Check one of the posts from the Cartel Operator, @btcsam, the @oneup-cartel operators are required to do weekly reports about their progress on the play-2-earn game that they are playing and this post is one of the many, if you wanted to consider huge investments consider checking the cartel operators weekly post it is a good way to learn and see information in investors perspective while also enjoying the game.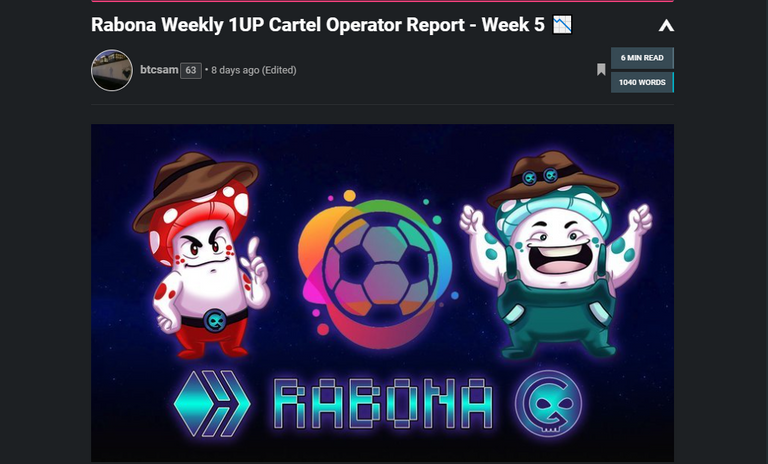 Welcome to my Rabona update post of this week. I am an 1UP Cartel operator and I try to keep all of you up to date with these posts. New operator posts should be published every Tuesday but could be delayed from time to time since I am really busy with my upcoming exams at the moment.
I had to make this weeks post a bit shorter because right now I am learning basically all day long 😑

Let's check another great post and a great review while he just starting to play the game. This post is from @gondrong, a very well-written and detailed post. It is great to see how he openly suggests an addition to the game to make it a better experience, and we are surely considering his suggestions as well as everyone's suggestions especially releasing the game fully in version 2 which is already a work in progress, it is just taking some time since although the team wanted to transfer it the team also don't want to keep the game down for a long time.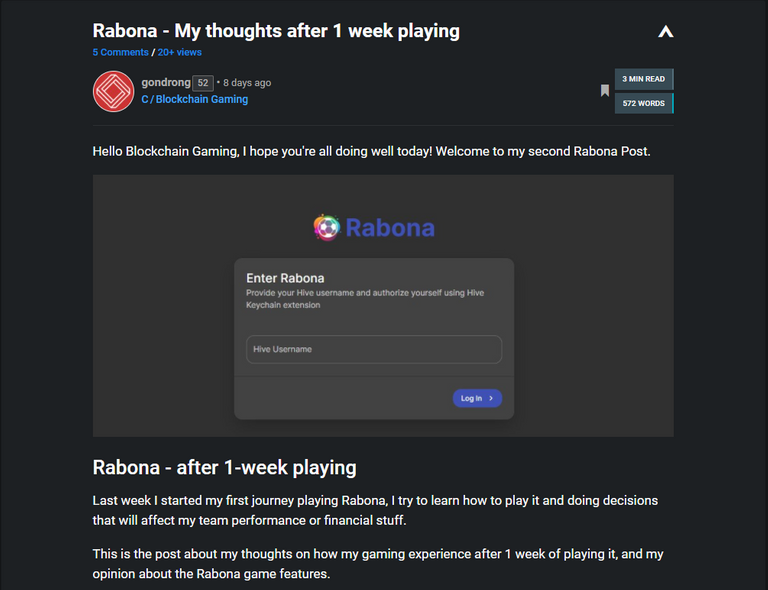 Rabona - after 1-week playing
Last week I started my first journey playing Rabona, I try to learn how to play it and doing decisions that will affect my team performance or financial stuff.
This is the post about my thoughts on how my gaming experience after 1 week of playing it, and my opinion about the Rabona game features.

The last featured post is the one from @mahiraabdullah, he spoke about the importance of the Interim Managers in a real-life soccer club, which I think he has a point and quite honestly this apply to Rabona even though you are the main manager, sometimes you have to do some experimentations with your lineup and have an Interim Managers' mindset find the best strategy that works better for your team based on their stat sheet.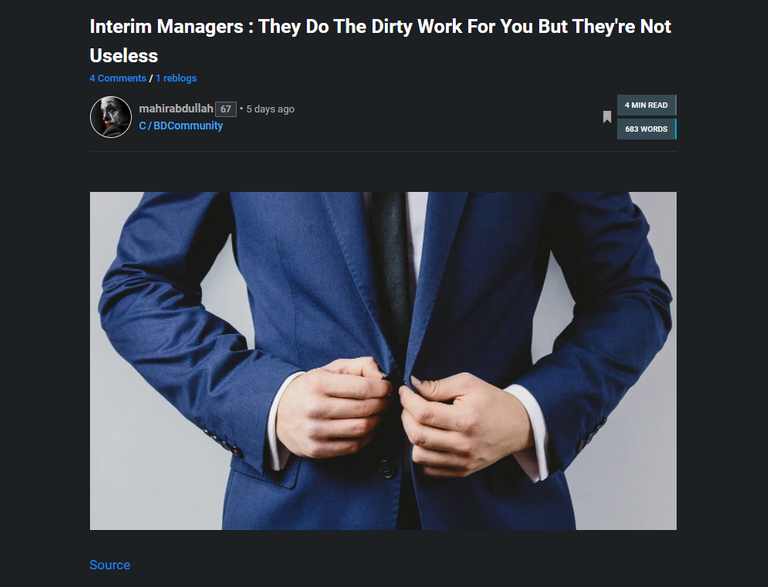 Having an interim or short-term manager in a club does not make a big difference in the club. They don't get a squad or a player of their choice. That's why expecting such managers will remember themselves by winning a big trophy while on duty is quite a impossible bet. However, the interim managers made a mark on the minds of the fans through one job, which is to give a chance to the team's young emerging footballers who have become "fan-favorites" later.

📯Wrap it up
Those are the posts that we wanted to feature this week and I hope you learn something new about Rabona and have a new perspective to look at the game.
To wrap things up we would like to thank everyone who participated in our Social Media Challenge, and for those who wanted to submit posts you can still do it and have at least 4 days to submit entries, the deadline will end once we got the payout and we will post a new social media challenge by then. I will also give you a hint so you can get ready! We are thinking that we make the theme for next week's social media challenge is about your favorite player in your current team! So better start writing that post for next week!
P.S. The curator will get 20% out of this post
Follow Rabona
| | | | |
| --- | --- | --- | --- |
| | | | |
| Rabona Website | Twitter Handle | Hive Community | Discord Community |
---
Add suggestions to the Rabona Feedback Board.
---
---