Fans Protested, The Match's Postponed, When Being Played?

I was prepared to watch on live broadcast the big match of Man United vs Liverpool, but unfortunately the match was postponed due to fans protested the owner of Man United, Glazers Family. We didn't expect the protest to happen as it will ruin the schedule of games that Man United and Liverpool will play. Many parties are very disappointed. I think FA should give a punishment for Man United. It's really bad thing when a game is postponed due to a protest.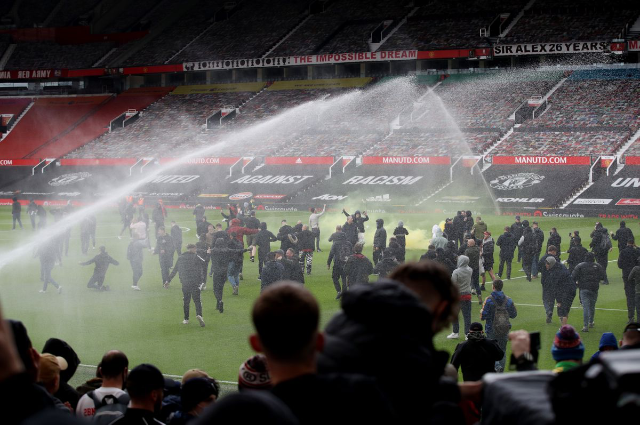 Source
Now they are struggling to find a perfect date and time to play the postponed match. We know that Man City is pretty busy, they have to play against Roma on Europa League semifinal second leg in Roma. They have to fly there. Liverpool is also quite busy to fight for a big four team. It's not easy. As a fan, I hope the date and time is perfect for Liverpool.
As it stands, the best time to play the game is the day after the postponed match, May 3. But United have a Europa League semi-final second leg incoming and have to fly to Roma to fulfil the fixture. Another possibility is to have it on the weekend of the Champions League final, May 29-30, which will be just days after the Europa League final on May 26.Source
We see that it's very difficult to have a perfect date for both teams to play. However, as it has already happened, we just need to select a date, a time to play. In my opinion, the big match of Man United vs Liverpool could be played at the weekend of Champions League final. So, as football fans, we will have three biggest matches in the year; Man United vs Liverpool, Europa League Final dan The Champions League Final.
---
---