share my end of the season REWARD 42 BOX // my lovely game // splinterlands
Dear Friends
Welcome Everyone To My Share 42 Reward Box Claim Post
Hope everyone is happy with this season reward. Hope everyone is still well, healthy and in good spirits. I pray that you stay healthy and well. Please pray for me to stay healthy and well. Health is the blessing of Almighty Allah
After a long time I opened 42 reward boxes. I like it very much. I have been able to open so many reward boxes after a long time. Because I can't play games at the right time due to busyness. The game was my main source of income as part time job. Hopefully, I can reach my goal.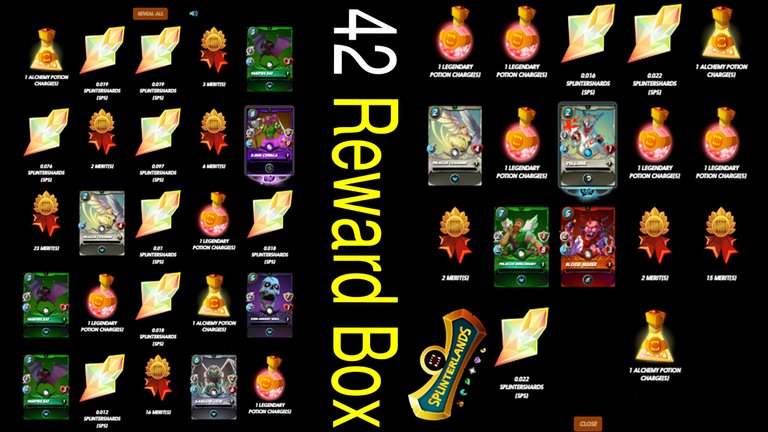 I tried making a thumbnail with 42 reward boxes. So that you can easily see how many reward boxes and what rewards I have received. If you watch the video of my YouTube channel, you will understand more easily. You are all invited to watch the video.
If you want to buy a good gaming product by clicking on the link.
https://amzn.to/3wUv6Qd

42 REWARD BOX

When I opened the reward box, I thought of many things. I thought, if I open 42 reward boxes, I will get many cards, SPS and other rewards. I got nothing compared to that. But I am satisfied with what I got. Hope to get some good rewards in the future. With that hope, my favorite game can be played........
After opening 42 reward boxes
11 cards
69 merit(s)
SPS 1.00+
Got the some legendary potion

The cards you see below are the cards I got as a reward. The prize for this card is not that high, but the cards are worth it to me.
| vampire bat | djinn chwala | pelacor conjurer |
| --- | --- | --- |
| | | |
| ever-hungry skull | gargoya lion | vulguine |
| --- | --- | --- |
| | | |
| blood maker | pelacor mercenary |
| --- | --- |
| | |


TOTAL 42 REWARD BOX
I wanted four more minutes of game play to maximize the rewards. But after 4 minutes the battle option is closed. Which I could not collect more reward boxes. I have presented to you the full picture of the reward box.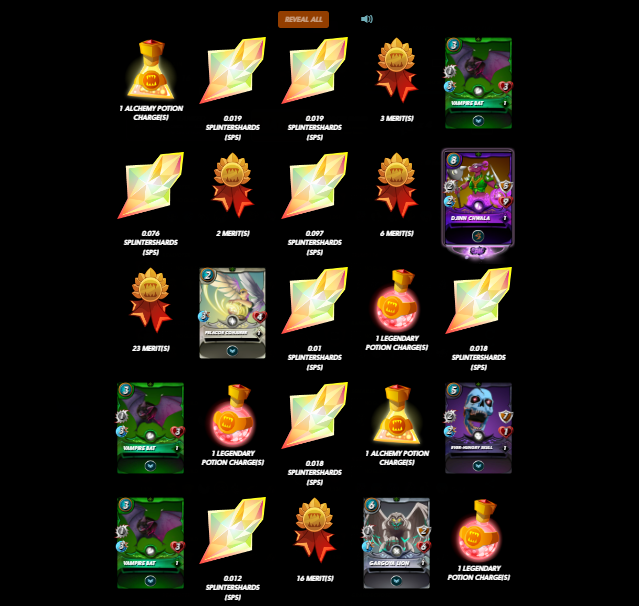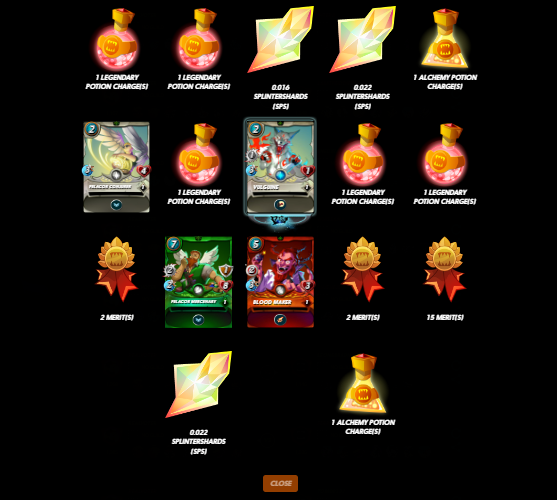 I claimed 4 focus point rewards as the end of the season rewards ended. I got only 1 card there. Which you can see in the last part of the video. So only I have shown the picture of the season reward.

Loving the splinterlands game, I am sharing it on various social media and uploading it to my youtube channel. You will subscribe to my youtube channel and click on the bell button next to it. If you are a Splinterlands Gaming Lover.

If you want, you can follow my social media. In which I always share my games
If you want to buy a good gaming product by clicking on the link.
https://amzn.to/3wUv6Qd
(Photos and gif I used in this post are taken from splinterlands.com for this post purpose only)
Stay healthy, stay well, stay safe and try to stay well.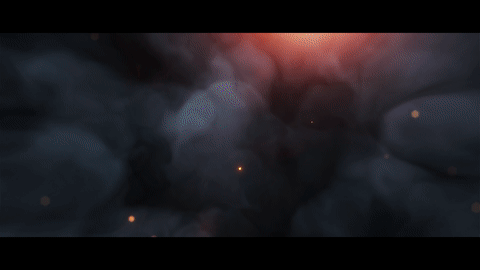 Thanks everyone for reading and visiting my post.
Posted using Splintertalk
---
---