Share Weekly Battle Challenge - DJINN APPRENTICE!! The Game of Splinterlands // king of game
My Challenging Friends,
Every day we are engaged in some work. That is why, we must stay healthy. Staying healthy and well is very important for our daily life. Hope everyone is safe and well. Please pray for me to stay healthy and well. Every day, I can keep in touch with you through post.
Welcome Everyone To My Share Weekly Battle Challenge.DJINN APPRENTICE & everybody enjoy now.
I have struggled to make other challenging videos. But I struggled more than that while making today's challenging video. Because the favorite element, but not the favorite card, this trouble has to be done. As you all know, fire element is one of my favorite elements. Fire element is more important to me than all other elements. I talk about fire element in every post. But the magic card that is mentioned, I had to buy it because I don't have that card, you can see the detailed post. Playing Fire Element Battle with Magic Cards is more than challenging for me. I never play battle with fire element magic cards only. I always play battle with fire element's melee attack card. Hope you will watch my video and read the details.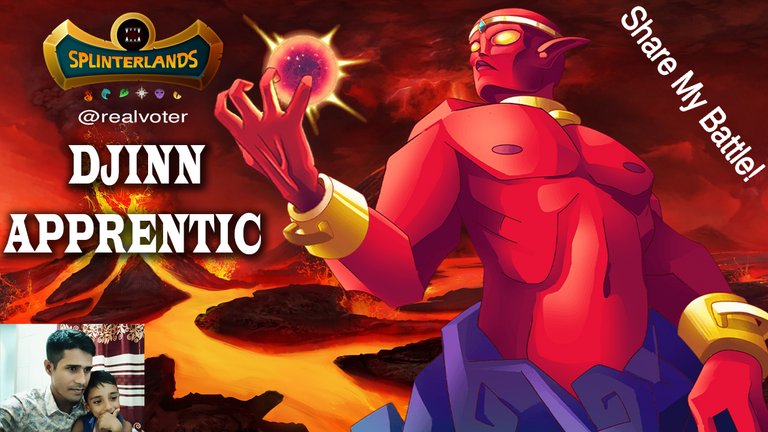 I have tried to create the thumbnail you are seeing. To make the thumbnail, I just took the card picture from the post, the background from google and the corner picture you see is me and my little boy. He is very interested in playing games. If you watch my video you can see my son. He told me many times, to use strong cards. But he doesn't know which card is good and which card is bad. One of his words is that I play games with strong cards.
If you want to buy a good gaming product by clicking on the link.
https://amzn.to/3wUv6Qd
Everyone is invited to watch my gaming video and subscribe to the channel. I want to move forward with your cooperation. For a friend, raise your hand, you will see the world will look much more beautiful.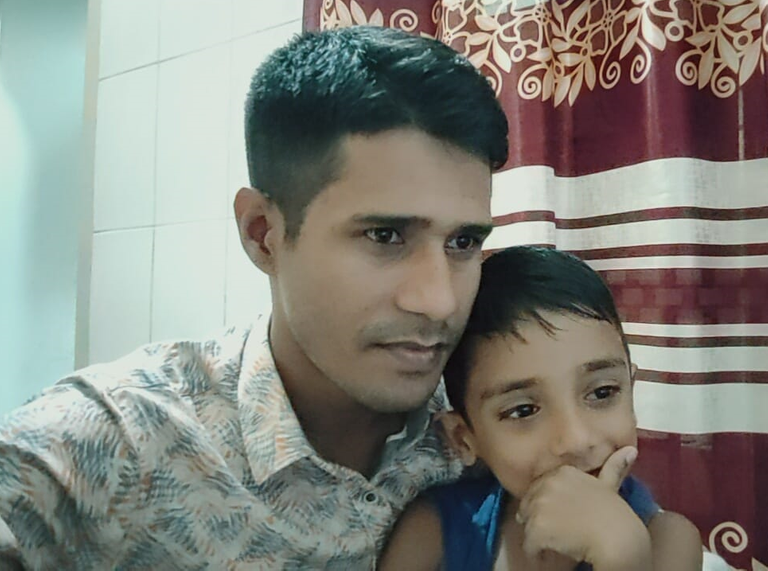 In this video I have played 4 battle matches. I had to play many matches to win 4 battle matches. I cannot count how many matches I have played. My son saw me lose every match. So he asks me to use strong cards to win the match. He has a smile on his face when I win the match. And his face is different when he loses.
Please comment how our father-son picture turned out. If we get your inspiration and love we will try to make videos together.

To make this gaming video, here are the details of what I had to do
First of all, I did not purchase the card that said to make challenging videos or posts. So what I have to do to purchase this card, I am trying to write the details one by one with pictures below. Hope you can understand
Where from hive balance and how much
That being said, I didn't have challenging cards.
I had no hive balance. As a result I can't buy the DEC. if I can't buy DEC, I can't buy challenging cards. Sell current market price vouchers and buy DEC at current market price. I sell 1 voucher to buy a DEC. By selling vouchers, I collect 0.6321 hive and with 0.6321 hive I purchase 460 DEC. Which you can see through the picture.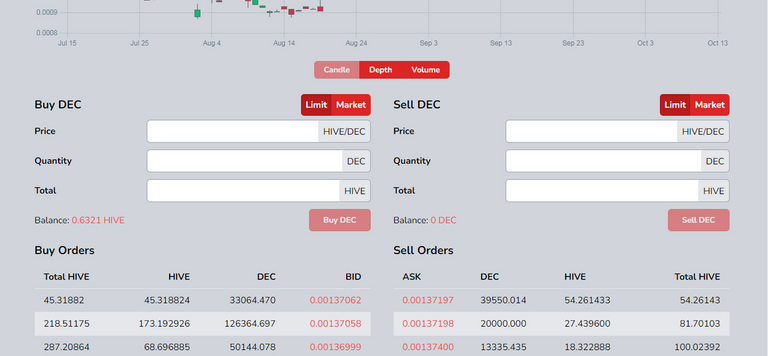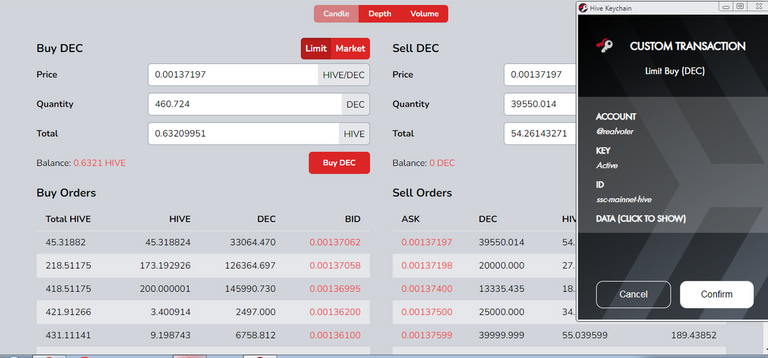 I have no card
See above for what I had to do to purchase the challenging card and where to collect the balance. As you can see now, I have no challenging cards. As I don't have the card now I have to buy the card from the market. I am trying to explain in detail how I bought one by one


I bought a card
The current market value of the challenging card I purchased is $0.12. I spent 178.544 dec to purchase cards. I purchased the card at the current market price. You can see through the picture. My main goal is to create challenging videos with cards.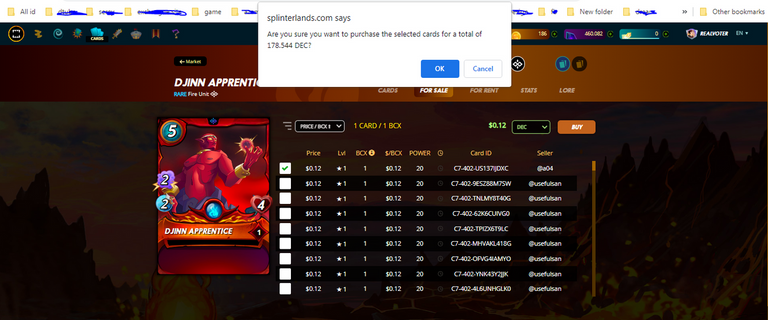 Finally I have the card
Finally, my card is purchased. Which got added to my card collection. I don't know how much reward I will get from this post. I just thought, I have to buy the card…….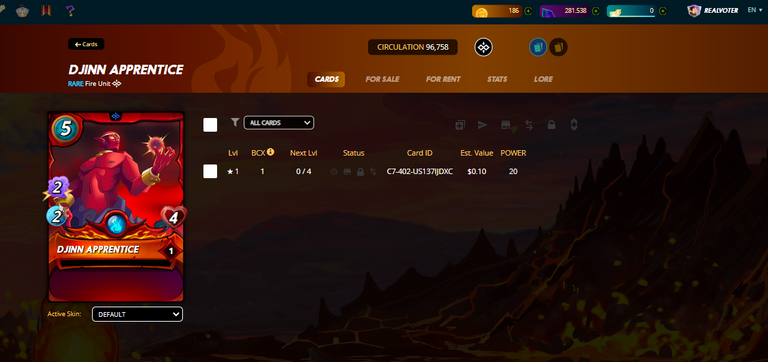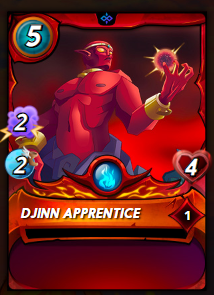 DJINN APPRENTICE:-
Really enjoyed using this magic card. Because this card Its attack power is similar to other cards. There are no specific rules on the card. But its current price is relatively low.
Mana-5, Magic Attack-2, Speed-2, Life-4,
You can buy this card if you want.

Loving the splinterlands game, I am sharing it on various social media and uploading it to my youtube channel. You will subscribe to my youtube channel and click on the bell button next to it. If you are a Splinterlands Gaming Lover.

If you want you can follow my social media. In which I always share my games
If you want to buy a good gaming product by clicking on the link.
https://amzn.to/3wUv6Qd
(Photos and gif I used in this post are taken from splinterlands.com for this post purpose only)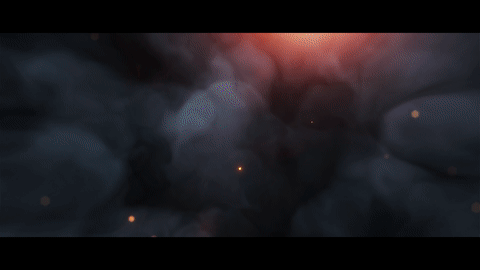 Posted using Splintertalk
---
---