Please bench the following plagiarist and comment farming ring
Another day, another group of accounts abusing the reward pool.
@dhayor01
@adegoke01
@hayzed01
@miztemmy
@aisha01
@abidemi001
@cherishsom
@kaybman
@olubussy
@raudolle
@iceprice
@kaybman
@neyobussy
@oyinkansola01
These accounts are plagiarising content from a single source(goal.com), upvoting each others stolen work and then farming comments on the same blogs. This is systematic and calculated abuse that breaks multiple points in the community guidelines .
Plagiarism
The pattern of abuse on all the below accounts is identical which leads me to believe that they are likely owned by the same individual. They post 3 or 4 sentences of content with at least a portion of that post directly copied from goal.com without any attribution to the original source.
The below lists all the accounts involved in the plagiarism with a single example from each but every one of these accounts has many blogs that have been formed in exactly the same way i.e. by stealing someone else's work
https://www.sportstalksocial.com/sportstalk/@adegoke01/lionel-messi-make-it-happened-again
https://www.sportstalksocial.com/sportstalk/@hayzed01/why-is-arrizabalaga-struggling-at-chelsea
https://www.sportstalksocial.com/sportstalk/@aisha01/should-we-said-solskjaer-end-time-is-here
https://www.sportstalksocial.com/palnet/@cherishsom/harry-kane-will-stay-says-crouch
https://www.sportstalksocial.com/sportstalk/@iceprice/messi-shows-why-he-still-a-world-class-by-winning-this-year-ballon-d-or-for-the-sixth-times-in-a-decade
Comment Farming
The above mentioned accounts are then receiving comments from each other and a whole host of alt accounts who comment and receive support exclusively from the main accounts
Again I could provide dozens of examples and if you check the comments page of any of the above accounts it will become clear what is happening. Here is a case from the following blog
https://www.sportstalksocial.com/sportstalk/@aisha01/barcelona-displayed-was-really-amazing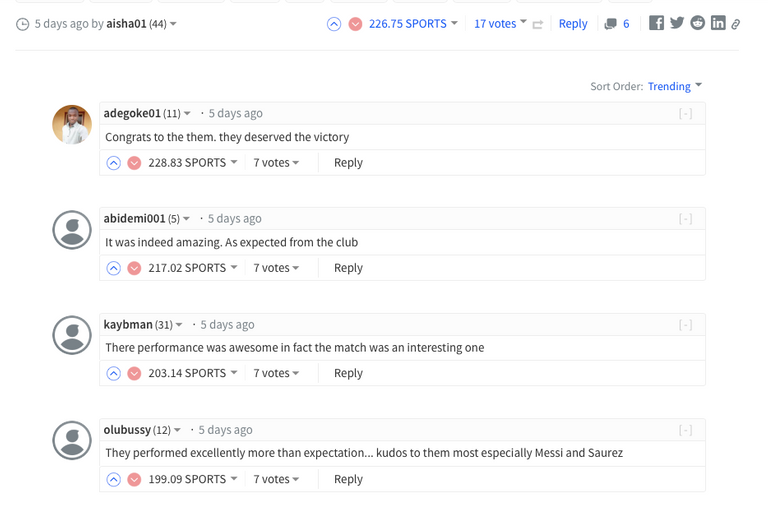 Please bench these accounts to prevent them taking any more ill gotten rewards from the SportsTalk
---
---