Dead Cells: Frost Builds are Cool
There's a lot to love about Dead Cells. Seriously, there's a lot. Too much, actually. Probably why the game won a bunch of awards. One of the things I love the most about Dead Cells is the insane amount of ways you can play the game! I've written FOUR posts so far just about basic playstyles and I haven't even scratched the surface of the depths of various builds. My boy, my homie, the Legend Himself @z3ll has been telling me all week that Frost Builds are the best way to play Dead Cells. So what makes a frost build so cool? Let's examine this chill idea a bit further.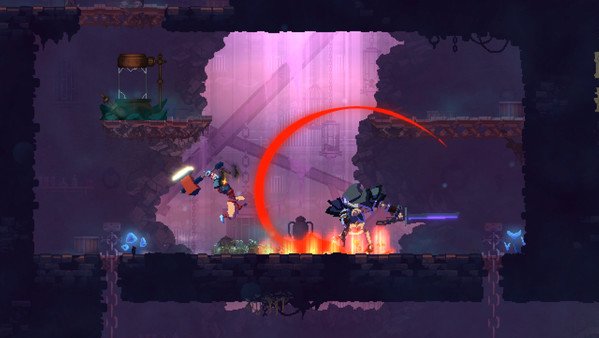 What does frost even do? This is simple: Frost focuses on freezing enemies in their tracks. This means they can't move, attack, or defend. Enemies are literally helpless when frozen. And when they thaw, they're slowed for a few seconds. Really cool mechanic. I'm a big proponent of leaving my enemies at their most vulnerable.

Frost gear: There's four weapons that freeze your enemies. The Frost Blast will freeze anything up to about a quarter of the screen in front of you. The Ice Bow is a longer range weapon that will freeze whatever enemy it hits (or multiple enemies if you get the "shots pierce targets" effect). The Ice Crossbow is similar to the Ice Bow, except it has unlimited ammo but is slower to shoot. And finally we have the Ice Grenade, which is the only decent grenade. It does damage and freezes everything in a large radius. So there's an ice weapon for just about every playstyle out there, and luckily they all are based on Tactics. We all know how good Tactics is by now.

Hammer Time! There's a weapon called The Nutcracker. It's a big hammer. It always deals critical hits when hitting a frozen enemy. You literally smash your opponent to pieces. Remember that scene from Terminator 2, where the T-1000 gets frozen and shattered? It's exactly like that, except your enemies don't melt and congeal back together. I like this combo.


Environmental strategies: Throughout many levels in Dead Cells, you'll find large pools of water. These can be frozen, which will freeze every enemy in them. It's a lot of fun, and a nice bonus ability. Electric weapons will electrify the water, but this isn't nearly as good as freezing a whole floor of enemies.
So, while I appreciate ice builds, and appreciate @z3ll's opinion, I have to politely disagree with him about frost builds being the best. Why? Well there's one specific thing about Frost that ruins the whole thing, and to understand it you need to know how the Freeze mechanic works. Upon taking any damage, frozen enemies instantly break out of the ice. This means turrets will basically unfreeze an enemy instantly. Also, damage over time effects (DoTs) like poison, burning, and bleeding will break the freeze. This isn't a huge dealbreaker against regular enemies, but against bosses it renders the freeze attacks essentially useless and nullified. Root/stun/immobilization effects don't have that issue.
So while Frost Builds are actually really good, I still prefer the bow and shield plus double turrets strategy. That said, to each their own. I have mad respect for anybody who can use a Frost Build as well as @z3ll.

Do you have any other builds you think are good? Let me know in the comments and I'll tell you why you're wrong give them a thorough examination.
Oh, and by the way, I finally beat The Giant. Cool fight! Very tough, but a lot of fun.

Sources: gamepedia, Steam Store, giphy
---
---