A Dance of The Generation
Football, the FIFA World Cup, what a game, what an event, holding the power to unite, and also to divide. In terms of influence and emotions, no other sport comes close, and probably never will.
Every little kid around the globe grows up kicking a ball, it doesn't really have to be a ball, it can be anything that travels a certain distance when kicked. When it comes to football, I say it's just hard-wired into us humans, I believe it's something innate and instinctive.
I've seen family members cry for their favorite team's loss, strangers too, I've seen men, adults, cry their hearts out on live TV, as billions watched away. You don't get to see such a flood of emotions anywhere else; no other profession or line of work "allows" it.
Yes, in movies and films you do get a glimpse of it, but we call that "acting".
---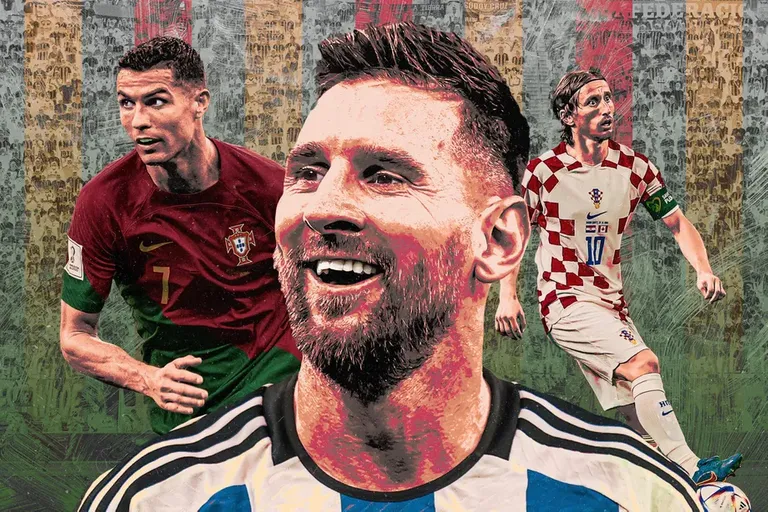 Source
---
From a distance football isn't quite fascinating; grown men running behind a ball, trying to put it behind a goal post that's 5 times their size, looks easy right?
It did look easy when I was a kid, especially when I played street football. I would have 5 to 6 goals all by myself, many of us had no fancy equipment or gear, we had a cheap taped up ball, sometimes no shoes even; which usually lead to scratched up legs and knees, drops of blood splattered on the rough and uneven pavement. Yet, most of us would still be present on the field or street just the next day. Nothing could stop us from running behind that dumb little football; the company of each other, the boys from the neighborhood gulley, is what made it all worthwhile.
For the ones who really love football the passion is always there, whether they are 10 years old or 50. The love and enthusiasm may fade away by a bit as time passes by, as life and its duties and troubles starts to take over; yet, a part of the game still lives rent free, in a certain corner of our hearts.
Whether your footballing idol is Pele, Maradona, Zidane, Ronaldo, Ronaldinho, Batistuta, Cristiano, or Messi, for the people of a certain generation, the player that made them feel a certain way will always be the greatest in their eyes. These folk don't listen to reason, they barely care about the stats and the current record holders, because logic has to take an exit, when love has entered and taken control of the room. The truth is, humans evolve, so does football, and these records and stats are meant to be broken. So you better believe me when I say that your favorite players and their records will one day be surpassed by another, some talented kid from the future generation.
Thus, you better enjoy every moment you are now getting, secure this chance to witness the greatness of your favorite player/players and teams.
---
A lot of what football and its greats have shown us relates quite well to real life; teamwork for example, we humans thrive and are at our best when we are surrounded by a worthy team, one that constantly uplifts us.
Many people talk about some of the teams and their best players and how good they are, but they forget that this is a team game. Team effort is numero uno; one player can make a difference, but to get the ultimate result, you will need a team good enough to support that one player.
We have to remember that the World Cup and such tournaments stages hold the best of the best. From all around the world 100s of team/countries compete, and in the end only 32 qualify for the big stage, so quite obviously these are all worthy enough teams. In the end the teams that end up winning and advancing are usually the ones that worked best as a team; starting from the locker room with the coach and his instructions, and then performing on the field as a squad.
This World Cup of 2022 at Qatar was just that, it showed us the true power of teamwork and how football relies on teamwork more than anything else. It's not just the previous records, titles and big names, it never was, football is a lot more.
They say it was "a World Cup of upsets" but I say it was the World Cup where people finally realized that the squad which knows how to work as a team, may just win it.
---
I've attentively witnessed the game of football and the World Cup for over 2 decades now; I fell in love with many teams and their styles of football, have seen some amazing players in action. I myself have cried a few times too, with family members and relatives beside me, as we witnessed the loss of our favorite teams that we so admired.
I used to be quite an enthusiastic follower of football, but around 2017/18 I had to stop, I just couldn't manage the time to follow the sport as rigorously as I once did. But this World Cup of 2022 has revived a certain part of me; throughout the World Cup I felt rejuvenated, a abrupt dose of vigor was present.
I guess it was that way because this World Cup would probably be the last, where my inner child/teenager gets to witness the players he used to watch when growing up. Many of my favorite players have already retired, and the ones who are left probably don't have much time till they hand up their boots.
Hence, this probably was the last dance for many of these players, and for us as a generation.
Hopefully the future generation of football teams and players are just as good and entertaining, because this generation may have reached the finish line, but it surely isn't the end for football.
---
---

---
---
---