[WE] Supersonic Lad

From the short sprints on rugged pavement on busy city streets, to even green pitches, to sprinting on the vacant straights of those slender, extended muddy village roads; I've covered a fair distance.
Dominating the football pitch with my soccer cleats on, to drenching myself in the muddy puddles while playing barefoot. Aggressive plays on uneven pavements, which usually lead to a lot of bleeding, no matter the terrain and ground, they've all faced my sudden dribbles and those fierce shots, the opponents were always left pleading.
High jumps, dunking the basketball through the hoops in a friendly, to scoring one hand longshots at the last minute to secure the tournament, home or away, I've scored on all courts.
Hitting sudden sixers and fours, had some hardcore catches too, throwing spinners that were almost impossible to hit; the bamboozles that I pulled off, the grin that came right after, the opponents were left awestruck for a bit.
---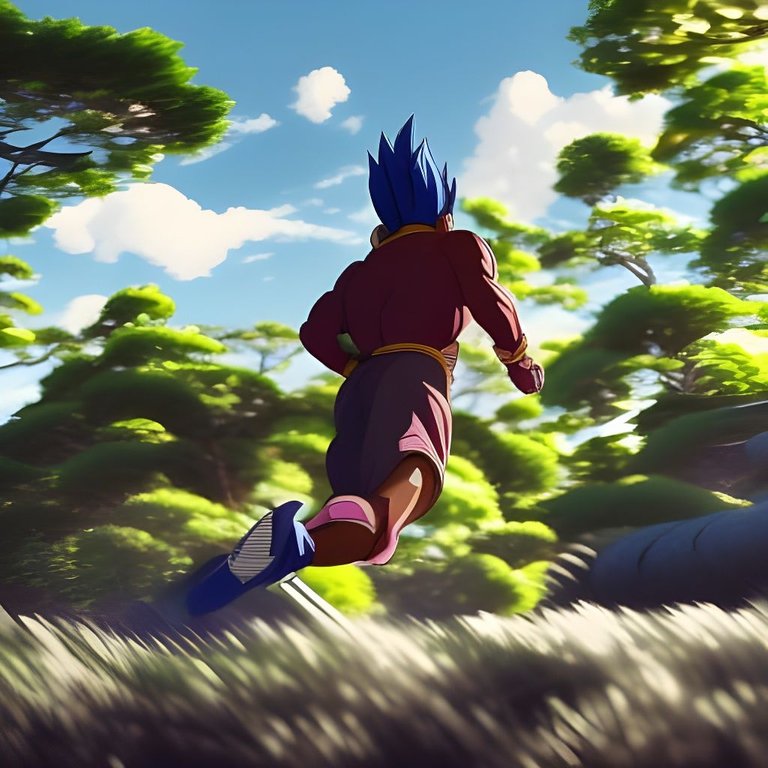 Created on NightCafe
---
Throughout my childhood whatever type of sport or activity I came across, I made sure that I performed well in every single one of them. I did have my fair share of talent, the flair was there, but to keep on playing just to improve, to leave every other player/opponent in the dust, that was something I truly enjoyed and looked forward to.
Sports is probably the only category where I am madly competitive. Yes, I'm not as competitive now, but in my much younger days it was a mission of mine to surpass every other player in my vicinity, and I believe I've achieved it in many different types of sports. I still remember almost every single one of my game winning moments and also my toughest opponents.
I was always aware that I was built for sports and outdoor activities, that's what gave me the edge and the extra boost of confidence.
My speed is what helped me standout, my stamina was really good, but my initial acceleration was monstrous. Sometimes when I ran too fast, even stopping became a challenge; my brakes weren't as good as my accelerating abilities haha. All that uncontrollable speed helped me in securing the title and nickname Sonic, a name that was chosen and well known among both friends and foes. I even had spiky hair back then, just like a damn hedgehog. A blue Chelsea jacket was my favorite back then, I'd wear it a lot, and I guess that's what really helped them in choosing that exact nickname haha.
I've won countless races, sprints, challenges and tournaments, and even though I knew I could do this for a long, long time, for some reason I didn't consider sports as a career.
Restrictions from our elders, a fair bit of peer pressure too; the combination of both made it a tough choice, and I wasn't brave enough to protest, nor smart enough to explain. For the lack of support many of us had to drop sports for a more "serious" subject and career.
Back then becoming a sportsperson wasn't on the list of big dreams either. Our parents didn't even like us playing sports. Around these parts of the world we've had limited options for quite a while now; we'd always hear that the most common and "respectful" line of work would only be secured after becoming an engineer or a doctor. Even business studies or becoming an entrepreneur wasn't a thing back then, it wasn't even worth considering.
Sadly, different talents weren't explored, nor were they celebrated.
---
Times have changed now, and when I see little kids playing well and wanting to pursue a career in sports, it brings me joy, it gives me hope; especially when I see their parents supporting them and acknowledging their talent.
And that makes me wonder, what would've happened if I was in sports right now? If I had that support that I once looked for around me? Would I be "successful" or would I have failed? I don't know about all of that, but I'd surely be happy, without a doubt. I may have not been "successful" in an instant, who knows, but one day for sure, that I can bet on.
I'd like to believe that I'd break records, set records, and make a name for myself, one day.
Alas, a career in sports will just be dream in this life of mine. Staring at the computer screen and sitting in one place for countless hours, that's the life for now, and I'm really not complaining; I've adapted before, and I'll adapt again. There are countless options now, and I'm still on the hunt, exploring and learning.
But the little kid inside of me still hopes, that in another life(if there is one) hopefully I'll be able to pursue a career in sports.
---
"Don't get set into one form, adapt it and build your own, and let it grow, be like water." - Bruce Lee
---
---

---
---
---