🔵🔴La Xavineta 22-23! Victoria ante el Sevilla (análisis)🔴🔵||🔵🔴The Xavineta 22-23! Victory against Sevilla (analysis)🔴🔵[ESP/ENG]
🔵🔴 Bienvenidos🔴🔵||🔵🔴Welcome🔴🔵
¡UY! Que bonito se ve mi Barca este año. Hola chicos, abejitas 🐝 de
#hive
🍯sean todos bienvenidos a mi nuevo contenido, un nuevo
#post
para la comunidad de
@fulldeportes
. La jornada del día de hoy para los de Xavi fue enfrente del Sevilla con un marcador a favor de los Blaugranas de 3 goles a favor y 0 en contra, un resultado que reafirma lo de la pretemporada un resultado para analizar ya que a pesar de que podemos concluir que es un resultado "cómodo" y "abultado" la verdad es que el Sevilla es el Sevilla y que como equipo importante no sólo de España sino de Europa, ha dado pelea, uno de sus puntos a resaltar es el nivel de Isco Alarcón y es que el ex Málaga y Real Madrid a pesar de que en defensa tiene muchísimo que mejorar ha dado muestras de un gran nivel y calidad dónde si mantiene dicho nivel o en el mejor de los escenarios, mejora...estoy seguro que Luis Enrique lo tomará en cuenta para la cita mundialista en Qatar. ¡Bravo Isco!
OUY! How pretty my Barca is looking this year. Hi guys, bees 🐝 from
#hive
🍯welcome everyone to my new content, a new
#post
for the
@fulldeportes
community. Today's matchday for Xavi's team was against Sevilla with a score in favor of the Blaugranas of 3 goals for and 0 against, a result that reaffirms what the preseason a result to analyze because although we can conclude that it is a "comfortable" and "bulky" result the truth is that Sevilla is Sevilla and that as an important team not only in Spain but in Europe, One of the points to highlight is the level of Isco Alarcon and the fact that the former Malaga and Real Madrid despite the fact that in defense he has a lot to improve has shown signs of a great level and quality where if he maintains that level or in the best of scenarios, he will improve. I am sure that Luis Enrique will take him into account for the World Cup in Qatar. Bravo Isco!
---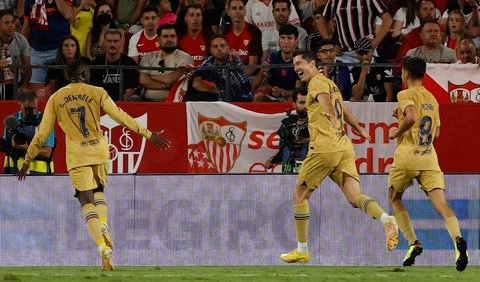 FUENTE
---
🔵🔴Muy buen partido de Isco,se empieza a ver la química del vestuario Blaugrana en el campo🔴🔵||🔵🔴Isco had a very good game, we are starting to see the chemistry of the Blaugrana dressing room on the field.🔴🔵
Ahora bien abejas 🐝, no voy a analizar el encuentro con estadísticas ni nada, sino que vamos a analizar el día sábado del FC Barcelona. Tres goles a cero ha sido el marcador, Raphinha, Lewandoski y Eric García han sido los que han mojado. Dembele súper enchufado, en algún momento años atrás cuando Messi se destapó como asistente, arquitecto y constructor de juego llegué a escuchar que si estuviéramos en hockey, Messi estaría en lo más alto de la tabla de asistidores ya que en dicha disciplina en las estadísticas no solo se cuenta los "score" y las asistencias, sino también la asistencia de la asistencia, esto empezó cuando Messi lograba ver el desborde de Jordi Alba y este daba un centro raso a Luis Suárez para que el uruguayo solo la empujara. Algo parecido fue lo que sucedió el día de hoy: conducción perfecta desde el medio campo hacia arriba de Dembele, logró atraer la marca del defensor del Sevilla habilitando a Lewandoski, el polaco (con mucha maestría y elegancia) al ver la salida del arquero sólo picó por encima la pelota, el esférico fue sacado por el defensor andaluz en la raya, pero fue tal la incomodidad que terminó cayendo en los pies del carioca Raphinha para terminar convirtiendo su gol, así llegó el primero. Hay que destacar la potencia pero sobre todo las ganas del francés que tiene en estos momentos una sintonía idónea con cada compañero azulgrana, hoy le tocó a Lewandoski pero también hay que resaltar el trabajo de Raphinha ya que supo leer la jugada como para identificar el mejor posicionamiento posible y si que le resultó.
Now bees 🐝, I'm not going to analyze the match with statistics or anything, but let's analyze FC Barcelona's Saturday. Three goals to nil was the score, Raphinha, Lewandoski and Eric Garcia were the ones who dunked. Dembele super plugged, at some point years ago when Messi stood out as an assistant, architect and game builder I heard that if we were in field hockey, Messi would be at the top of the table of assistants because in that discipline in the statistics not only the "score" and the assists are counted, but also the assistance of the assistance, this started when Messi managed to see the overflow of Jordi Alba and this gave a low cross to Luis Suarez for the Uruguayan just to push it. Something similar was what happened today: perfect driving from midfield upwards by Dembele, he managed to attract the mark of the Sevilla defender enabling Lewandoski, the Pole (with great skill and elegance) to see the goalkeeper's exit only chopped over the ball, the ball was removed by the Andalusian defender on the line, but it was such discomfort that ended up falling at the feet of the Carioca Raphinha to end up converting his goal, thus came the first. It is worth noting the power but above all the desire of the Frenchman, who is currently in perfect harmony with every teammate, today it was Lewandoski's turn, but it is also worth noting Raphinha's work, as he knew how to read the play to identify the best possible position and it worked.
---
🔵🔴Kounde, Eric, Lewandoski, Dembele y Raphinha en muy buen nivel🔴🔵||🔵🔴Kounde, Eric, Lewandoski, Dembele and Raphinha in very good shape🔴🔵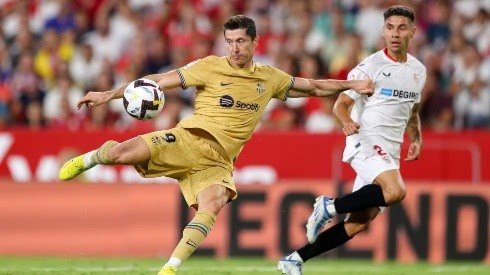 FUENTE
El día de hoy volvió a jugar como lateral derecho Jules Kounde. Recordemos que Héctor Bellerin regresa al can Barca después de desvincularse de la disciplina gunner (Arsenal) pero no había tanta urgencia en colocarlo. Xavi decidió no convocarlos a pesar de ya estar inscritos y de haber entrenado el día de ayer así que el francés repitió en el carril derecho. El gol de Lewandoski fue gracias a un pase de Kounde. El Barcelona como costumbre, jugó con defensa de 4 bastante adelantados: dos centrales (Eric García y Araujo) y dos laterales (Balde y Kounde) El francés supo en qué momento alzar la cara para ejecutar un pase aéreo al polaco, una daga al corazón del Sevilla fue lo que terminó lanzando Kounde a los pies de Lewandoski dónde esté volvió a demostrar por qué Laporta en junio lo convirtió en su prioridad para ser el jugador franquicia del Barca. A dos toques y sin dejarla caer Lewandoski metió el segundo. El pase aéreo que rompió la defensa del Sevilla fue domado con el pecho, Lewandoski la baja y sin dejarla caer como si se tratase de un partido de exhibición definió por abajo. Magistral la combinación entre el francés y el polaco y así el Barca se iba al segundo tiempo con ventaja de dos goles.
Today Jules Kounde returned to play at right-back. Let's remember that Hector Bellerin returns to Can Barca after leaving the Gunner discipline (Arsenal) but there was not so much urgency in placing him. Xavi decided not to call them up despite the fact that they were already registered and had trained yesterday, so the Frenchman played on the right flank. Lewandoski's goal came from a pass from Kounde. Barcelona, as usual, played with a defense of 4 quite advanced: two central defenders (Eric Garcia and Araujo) and two fullbacks (Balde and Kounde). The Frenchman knew when to raise his face to execute an aerial pass to the Pole, a dagger to the heart of Sevilla was what Kounde ended up throwing to the feet of Lewandoski where he showed again why Laporta in June made him his priority to be the franchise player of Barca. With two touches and without dropping it Lewandoski scored the second. The aerial pass that broke Sevilla's defense was tamed with his chest, Lewandoski brought it down and without dropping it as if it were an exhibition match, he scored from underneath. A masterful combination between the Frenchman and the Pole and Barca went into the second half with a two-goal lead.
---
🔵🔴Doble asistencia de Kounde🔴🔵||🔵🔴Double assistance from Kounde🔴🔵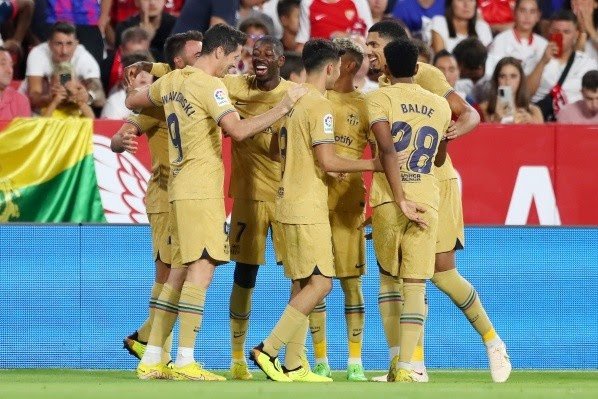 FUENTE
Eric García marcó su primer gol con el Barca. Ya en el segundo tiempo el Barca ejecutó una jugada de pizarra, esas que podemos ver con más frecuencia en juegos como el FIFA o el antiguo PES. Centro desde la derecho pegado al segundo palo donde de nuevo Jules Kounde que a pesar de que no estuvo muy acertado en defensa, en ataque fue exquisito, terminó de bajar la pelota con la cabeza para que Eric García solo la empujara, así el 3 a 0. Pero ahora bien abejas 🐝, vamos con un pequeño análisis general: el Barcelona ejecutó sus cambios pero poco cambió la imagen del conjunto azulgrana y esto NO está para nada mal ¿Por qué? Porque reafirma que los fichajes hechos no sólo en este mercado de verano sino también en invierno mantienen el nivel ya mejorado de la plantilla. Xavi confía plenamente en Ferran Torres, yo soy de los que piensa que le han colocado el listón muy alto, Xavi cada vez que puede en rueda de prensa se deshace en elogios por él pero viendo lo acertado que ha sido el "motorcito de Terreza" estoy empezando a creer lo mismo que nos vende: "es sólo cuestión de tiempo para que Ferran dé muchas alegrías al aficionado culé".
Eric García scored his first goal for Barca. Already in the second half Barca executed a play of blackboard, those that we can see more often in games like FIFA or the old PES. A cross from the right to the far post where again Jules Kounde, who although he was not very accurate in defense, was exquisite in attack, finished the ball with his head for Eric Garcia to just push it in, making it 3-0. But now well bees 🐝, let's go with a small general analysis: Barcelona executed their changes but little changed the image of the azulgrana team and this is NOT bad at all Why? Because it reaffirms that the signings made not only in this summer market but also in winter maintain the already improved level of the squad. Xavi has full confidence in Ferran Torres, I am one of those who think that the bar has been set very high, Xavi every time he can in a press conference is full of praise for him but seeing how successful the "little engine of Terreza" has been I am beginning to believe the same thing he sells us: "it is only a matter of time before Ferran gives a lot of joy to the fans".


---
---