Aumenta la presión del Round Robin de la LVBP / por @Rolling2021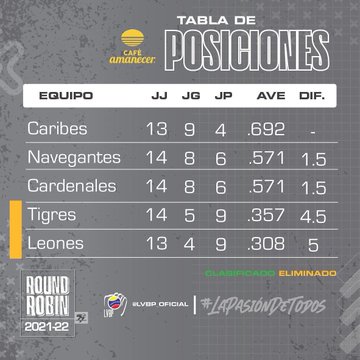 Fuente
Hola amigos de

#Hive

saludos a los amantes del fascinante mundo deportivo aquí estoy nuevamente con ustedes para compartir el acontecer de la pelota profesional venezolana y el desarrollo del Round Robin semifinal que cada vez se torna mas interesante
Hello friends of

#Hive

greetings to lovers of the fascinating world of sports here I am again with you to share the events of the Venezuelan professional baseball and the development of the semifinal round robin that is becoming more and more interesting.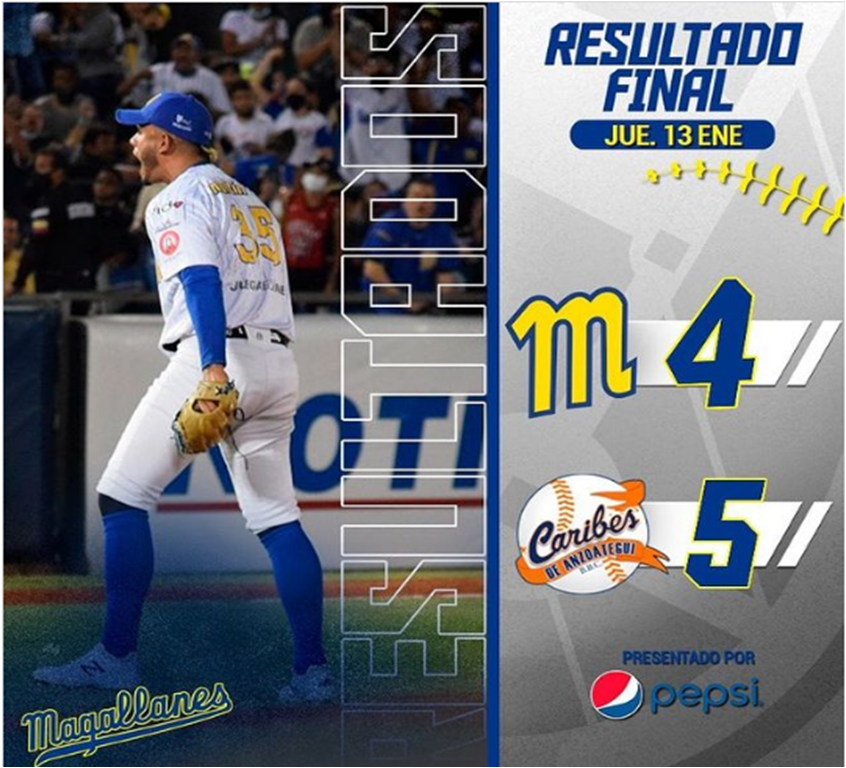 Fuente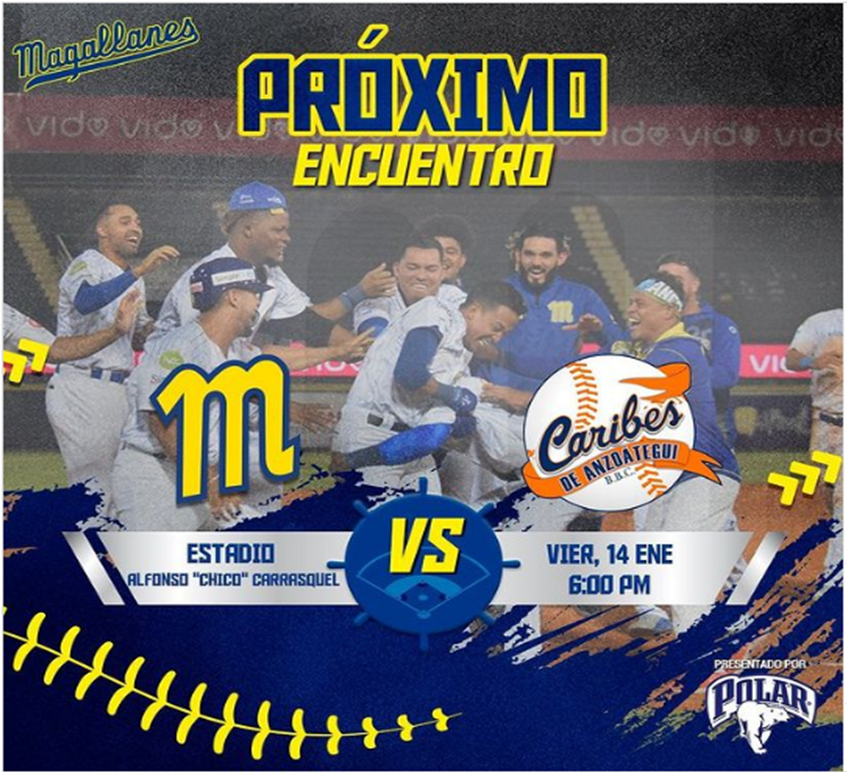 Fuente
Caribes de Anzoátegui es el actual monarca del Beisbol Profesional Venezolano y tiene claro su objetivo de defender y revalidar su titulo y anoche dio muestras de ello al derrotar a Navegantes del Magallanes en el Estadio Alfonso "Chico" Carrasquel de la ciudad de Puerto La Cruz que sirvió de espacio para que ambos conjuntos se enfrascaran en un genuino combate con marcador a favor de los locales de 5 carreras por 4 en una excelente victoria comandada por el centelleante Jugador más valioso y regreso del año Balbino Fuenmayor que encendió las tribunas del estadio al conectar Jonrón de dos carreras de en el séptimo capítulo terminando el encuentro con balance de 4-2 con jonrón, doble, dos impulsadas y dos anotadas, Esteban Haro asumió el patronato en el montículo desde la octava entrada con un out en la pizarra y el marcador 5-4 a favor de su equipo, con corredores en tercera y segunda lo que significaban la ventaja turca pudo dominar por la vía del ponche a Carlos Pérez y obligando a Rayder Ascanio a conectar rodado a terrenos del campocorto acabando con la amenaza demostrando sangre fría para completar relevo de 1 entrada y 2 tercios en los que además retiró el noveno inning por la vía rápida anotándose el juego salvado con trío de ponches, la victoria de Anzoátegui lo deja con record de 9 triunfos y 4 derrotas aumentando el trecho frente a Navegantes y Cardenales quienes igualan su record a 8 victorias y 6 reveces a 1.5 juegos de la tribu, aunque si a las estadísticas nos vamos, el Magallanes tiene mayores probabilidades de ser finalista debido a que en tres de las cuatro oportunidades en las que ha alcanzado la marca que actualmente ostenta en el Round Robin (8-6) la nave turca ha disputado la gran final del Beisbol Venezolano, quedando subcampeón en la edición de la temporada 1999-2000, coronándose campeón en las ediciones 2012-2013 frente a Cardenales de Lara en 7 juegos y en la temporada 2013-2014 frente a Caribes de Anzoátegui en 5 juegos siendo este el ultimo y decimo segundo titulo alcanzado por la franquicia, sin embargo el conjunto bucanero no llega a la final desde la temporada 2015-2016, donde enfrentó al conjunto de Tigres de Aragua en 6 encuentros con resultado favorable para los felinos
Caribes de Anzoátegui is the current monarch of Venezuelan Professional Baseball and has a clear objective of defending and revalidating its title and last night showed signs of it by defeating Navegantes del Magallanes at the Alfonso "Chico" Carrasquel Stadium in the city of Puerto La Cruz, which served as a space for both teams to engage in a genuine combat with a score in favor of the locals 5 runs by 4 in an excellent victory led by the scintillating Most Valuable Player and return of the year Balbino Fuenmayor. The score was 5-4 in favor of the locals in an excellent victory led by the scintillating MVP and comeback of the year Balbino Fuenmayor who ignited the stands of the stadium by connecting a two-run home run in the seventh chapter, ending the game with a score of 4-2 with a home run, a run, a run, a run, a run, a run, a run and a run. 2 with a home run, double, two runs batted in and two runs scored, Esteban Haro took over the mound in the eighth inning with one out and the score 5-4 in favor of his team, With runners on third and second, which meant the Turkish advantage, he was able to dominate Carlos Perez by striking out and forcing Rayder Ascanio to hit a ground ball to the shortstop, ending the threat and demonstrating cold blood to complete a 1 inning and 2 thirds relief in which he also retired the ninth inning by the fast track, getting the game saved with a trio of strikeouts, Anzoátegui's victory leaves them with a record of 9 wins and 4 losses, increasing the gap between them and Navegantes and Cardenales, who equal their record at 8 wins and 6 setbacks to 1. 5 games of the tribe, although if we go to the statistics, Magallanes has a better chance of being a finalist because in three of the four opportunities in which it has reached the mark it currently holds in the Round Robin (8-6) the Turkish ship has disputed the great final of Venezuelan Baseball, being runner-up in the 1999-2000 season edition, crowned champion in the 2012-2013 editions against Cardenales de Lara in 7 games and in the 2013-2014 season against Caribes de Anzoátegui in 5 games being this the last and twelfth title achieved by the franchise, however the Buccaneer team has not reached the final since the 2015-2016 season, where they faced Tigres de Aragua in 6 games with a favorable result for the felines.
El conjunto filibustero inauguró el marcador en el propio primer inning con dos outs por intermedio de un doble de Ángel Reyes para que Pablo Sandoval lo impulsara con sencillo al centro, la tropa aborigen emparejó en la segunda entrada cuando Rafael "Balita" Ortega ligó imparable a terrenos de Leonardo Reginatto forzando un out en la intermedia que permitió la anotación de Balbino Fuenmayor, los turcos volvieron al frente de la pizarra en la cuarta entrada con roletazo de Alejandro De Aza que permitió la anotación de Reginatto luego que este se embasara por boleto y avanzara hasta la tercera con doble de Alberth Martínez, los orientales no tardaron en dar respuesta y al cerrar la entrada igualó las acciones. El equipo home club se posesionó en la pizarra en el sexto capítulo y en el séptimo continuaba el toma y dame y la nave turca consiguió empatar el encuentro a 3 carreras, "Balbineitor", desembuchó su cuarto vuelacerca de la postemporada hacia la banda contraria siendo este el único batazo de cuatro esquinas del compromiso y llegaba en la parte baja de ese capitulo, Magallanes se acercó en el marcador en la penúltima entrada con doblete de De Aza impulsando a Juan Infante que había entrado como emergente por Sandoval quedando Alberth Martínez en tercera lo que dio paso al gran relevo de Haro. Orientales y filibusteros se revolverán a medir este viernes en el último de la serie de dos choques
The filibustero team opened the scoreboard in the first inning with two outs through a double by Angel Reyes for Pablo Sandoval to drive him with a single to center, the aboriginal troop tied the score in the second inning when Rafael "Balita" Ortega hit a single to Leonardo Reginatto forcing an out in the middle that allowed Balbino Fuenmayor to score, The Turcos got back in front of the scoreboard in the fourth inning with Alejandro De Aza's ground ball that allowed Reginatto to score after he got a run on a ticket and advanced to third with a double by Alberth Martinez, the Easterners did not take long to respond and at the end of the inning they evened the actions. The home club team took possession of the board in the sixth chapter and in the seventh the give and take continued and the Turkish ship managed to tie the game at 3 runs, "Balbineitor", unloaded his fourth homer of the postseason to the opposite side being the only four-corner hit of the commitment and it came in the bottom of that chapter, Magallanes got closer on the scoreboard in the penultimate inning with a double by De Aza driving in Juan Infante who had come in as a pinch runner for Sandoval, leaving Alberth Martinez on third which gave way to the great relief of Haro. Orientales and Filibusteros will meet again this Friday in the last of the two-game series.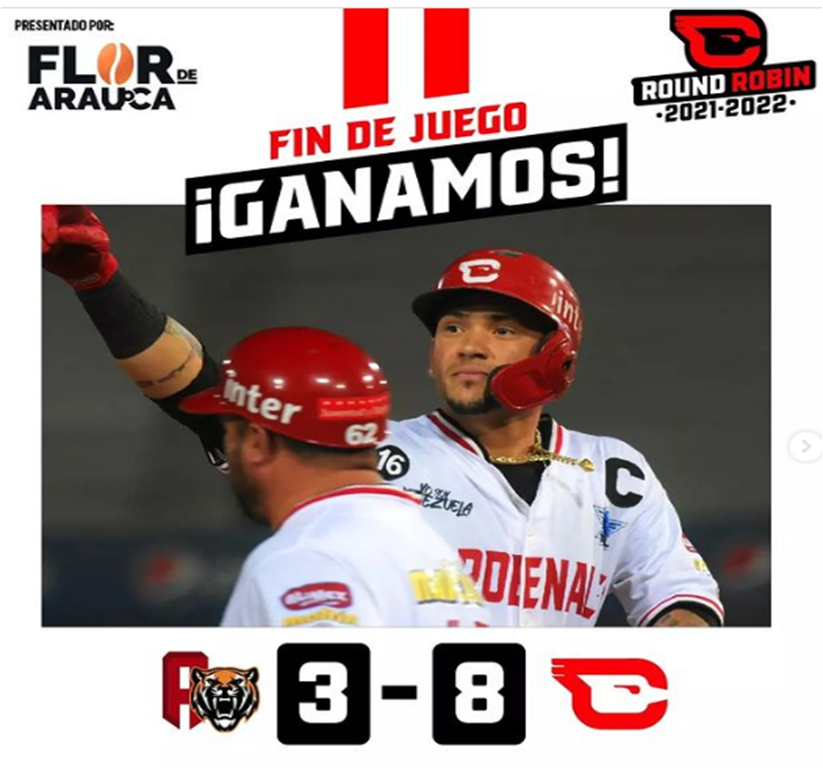 Fuente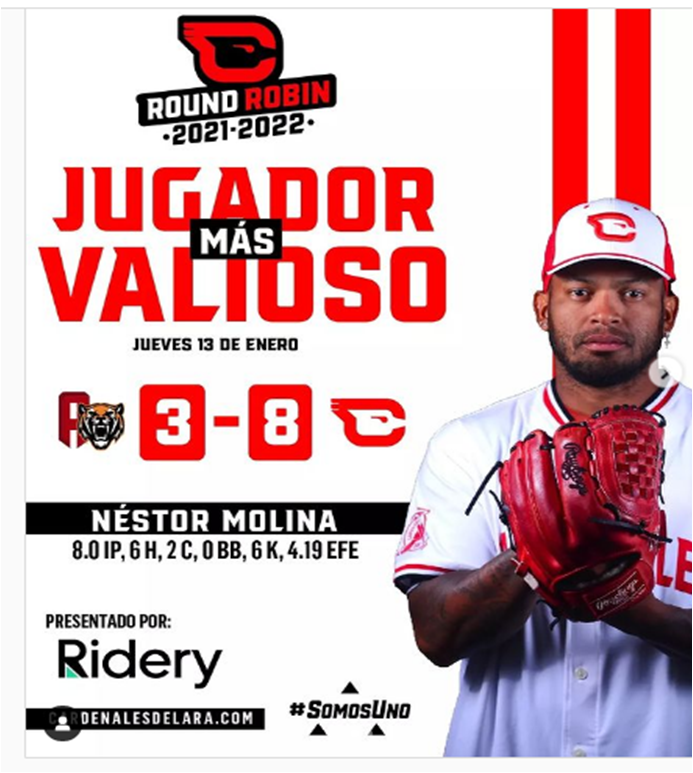 Fuente
Cardenales de Lara derrotó a Tigres de Aragua con segura labor monticular de ocho innings de Néstor Molina que dejó fuera de combate a los Tigres con pizarra de 8-3 en el Antonio Herrera Gutiérrez de Barquisimeto para una despidida victoriosa de su morada este Round Robin Semifinal, Cardenales buscará ante Caribes de Anzoátegui en el "Chico" Carrasquel de Puerto La Cruz los triunfos que le permitan ser uno de los actores de la Final, Lara amaneció este viernes nivelado junto a Navegantes del Magallanes en el segundo lugar de la semifinal con marca de 8-6 a juego y medio de Caribes. Entre estos tres conjuntos están los dos contendientes de la temporada 2021-2022.
Cardenales de Lara defeated Tigres de Aragua with a safe eight-inning pitching performance by Néstor Molina that left the Tigres out of the game with a score of 8-3 at the Antonio Herrera Gutiérrez of Barquisimeto for a victorious farewell to this Round Robin Semifinal, Cardenales will look for wins against Caribes de Anzoátegui at the "Chico" Carrasquel in Puerto La Cruz that will allow them to be one of the players in the Final, Lara woke up this Friday level with Navegantes del Magallanes in second place in the semifinal with a record of 8-6, a game and a half behind Caribes. Among these three teams are the two contenders for the 2021-2022 season.
Si bien Cardenales desplegó una férrea ofensiva de12 inatrapables, el verdadero héroe del partido fue el derecho Molina abridor por la cuadrilla larense sitiando a seis imparables a Tigres de Aragua sin conceder bases por bolas y ponchando ó a seis de los 31 bateadores que desafió en poco más de 8 entradas de labor, un pelotazo propinado lo obligó a entregar la pelota en el noveno inning cuando fue relevado por Pedro García, la derrota recayó en el zurdo Carlos Teller quien consiguió catequizarse como el miembro más confiable entre los abridores felinos en este Round Robin pero fue castigado con tres anotaciones en el propio primer inning y no pudo salir para el segundo produciéndose un desfile de cinco relevistas Aragua reaccionó en el inicio del segundo episodio acercándose 3-1 en la pizarra , parte baja del cuarto episodio y Cardenales se escapaba 6-1 en el marcador y agregó dos carreras más a su cuenta ampliando a 7 la ventaja dos innings más adelante, parte baja de la séptima entrada y doblete de Yordanys Linares al centro puso la pizarra 8-1. Aragua logró descontar en el noveno por intermedio de Cordero y Wilfredo Giménez para el concluyente 8-3. Ildemaro Vargas del Cardenales ligó de 5-2 con jonrón y tres remolcadas como bateador designado el conjunto sale este viernes a Puerto La Cruz a finiquitar esta semifinal con dos choques donde se jugará la vida frente a Caribes de Anzoátegui. Aragua jugará viernes y sábado frente a Leones del Caracas correspondientemente en Maracay y en el en una contienda de trámite entre conjuntos ya eliminados
Although Cardenales deployed a fierce offense of 12 hits, the real hero of the game was right-hander Molina, the starter for the Lara team, who gave Tigres de Aragua six hits without conceding any bases on balls and striking out six of the 31 batters he challenged in a little more than 8 innings of work, The defeat fell to left-hander Carlos Teller who was the most reliable member of the feline starters in this Round Robin but he was punished with three runs in the first inning and could not leave for the second inning, producing a parade of five relievers. Aragua reacted at the beginning of the second inning and got closer 3-1 on the scoreboard, In the bottom of the fourth and Cardenales escaped 6-1 on the scoreboard and added two more runs to their account extending the advantage to 7 two innings later, in the bottom of the seventh inning and Yordanys Linares' double to center put the scoreboard 8-1. Aragua was able to score in the ninth through Cordero and Wilfredo Giménez for the 8-3 lead. Ildemaro Vargas of the Cardenales hit 5-2 with a home run and three runs batted in as designated hitter. The team leaves this Friday to Puerto La Cruz to finish this semifinal with two games where they will play against Caribes de Anzoátegui. Aragua will play Friday and Saturday against Leones del Caracas in Maracay and in Puerto La Cruz in a game of formality between already eliminated teams

Bueno amigos de

#Hive

hasta aquí este post, espero que lean, comenten y voten no sin antes recordarles que aunque cuesta mas es mejor siempre hacer el bien, será hasta la próxima, se les quiere mucho
Well friends of

#Hive

until here this post, I hope you read, comment and vote but not before reminding you that although it costs more is better to always do good, will be until next time, you are very much loved
Texto traducido con www.DeepL.com/Translator (versión gratuita)
Text translated with www.DeepL.com/Translator (free version)






---
---