Caribes primer equipo clasificado a la final de la LVBP / por @Rolling2021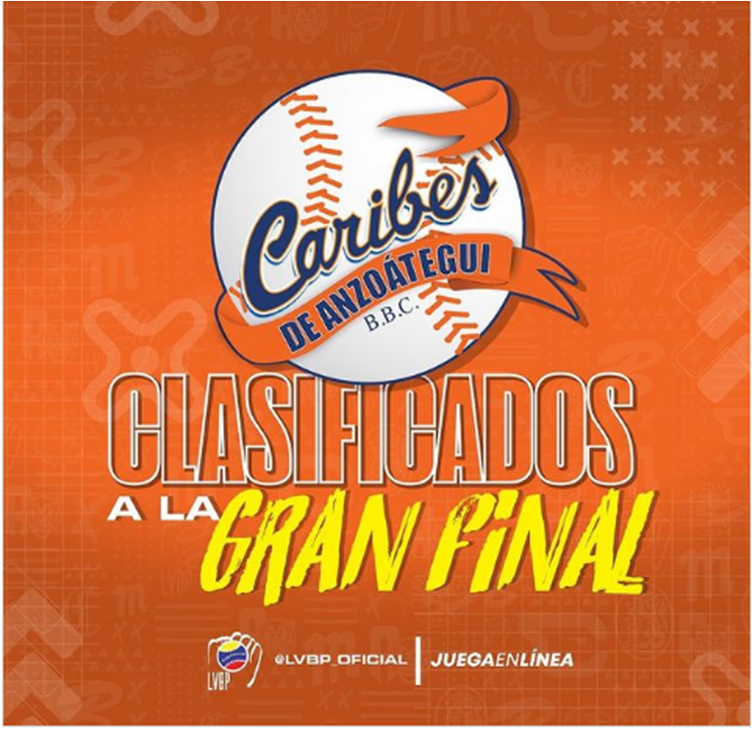 Fuente
Hola amigos de

#Hive

, el Round Robin semifinal de la pelota profesional venezolana esta cada vez mas interesante y como todo buen fanático aquí estoy nuevamente con ustedes para compartir el acontecer del apasionante mundo del Beisbol
Hello friends of

#Hive

, the semifinal round robin of the Venezuelan professional baseball is getting more and more interesting and as any good fan here I am again with you to share the events of the exciting world of baseball.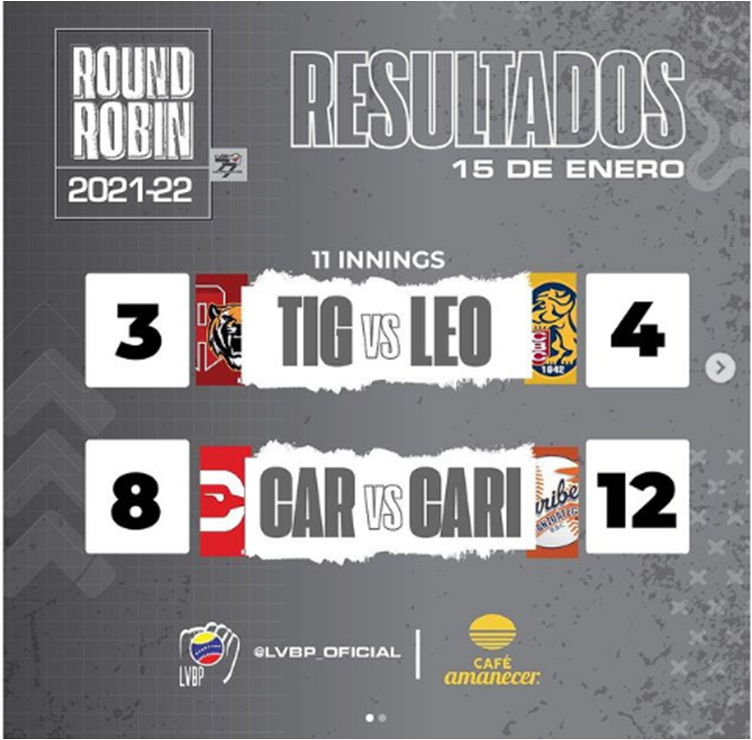 Fuente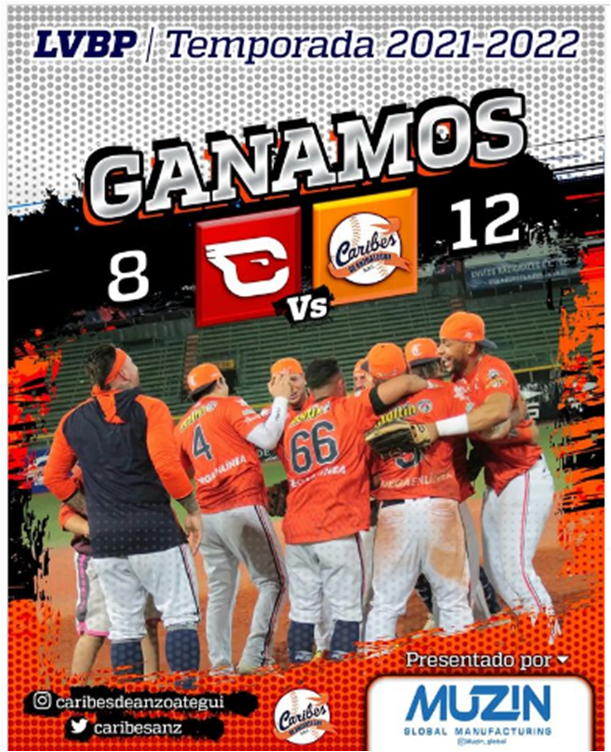 Fuente
Caribes de Anzoátegui consiguió su pase a la final de la LVBP 2021-2022 tras sacudir este sábado a Cardenales de Lara 12-8 en el estadio Alfonso "Chico" Carrasquel de Puerto La Cruz consiguiendo a diez conquistas en el Round Robin y la octava serie decisiva de su historia que supera los 30 años de institución, los orientales han obtenido la clasificación en los últimos tres certámenes y en siete de las 12 más recientes temporadas ha clasificando a la postemporada para ser el conjunto de mayor regularidad en la pelota venezolana durante más de los últimos diez años,el conjunto portocruzano se coronó campeón en la 2010-2011 quedando fuera en juego extra para acceder a la final a expensas de Navegantes del Magallanes, en la 2014-2015 alcanzó el segundo titulo de la franquicia, en la 2015-2016, se quedó a un duelo de disputar la definitoria después de sucumbir en semifinales contra la misma "Nave Turca". Posteriormente, en la temporada 2017-2018 Caribes se corona campeón por tercera ocasión y posteriormente un año mas tarde Leones del Caracas se cruzó en el camino para disputar el segundo campeonato en fila al batirle en cinco encuentros en semifinales. Este año "La Tribu Oriental" tendrá la oportunidad de tratar de conquistar su quinta corona en el circuito rentado nacional lo que sellaría un nuevo logro histórico en la LVBP.
Caribes de Anzoátegui got its pass to the final of the LVBP 2021-2022 after beating Cardenales de Lara 12-8 this Saturday at the Alfonso "Chico" Carrasquel stadium in Puerto La Cruz, reaching ten victories in the Round Robin and the eighth decisive series in its history that exceeds 30 years of institution, the easterners have qualified in the last three contests and in seven of the 12 most recent seasons they have qualified to the post-season to be the most consistent team in Venezuelan baseball for more than the last ten years, The Portocruzano team was crowned champion in 2010-2011, being out in extra game to reach the final at the expense of Navegantes del Magallanes, in 2014-2015 it reached the second title of the franchise, in 2015-2016, it was one duel away from disputing the final after succumbing in the semifinals against the same "Nave Turca Turca" (Turkish Ship). Subsequently, in the 2017-2018 season Caribes was crowned champion for the third time and then a year later Leones del Caracas crossed the path to dispute the second championship in a row by beating them in five games in the semifinals. This year "La Tribu Oriental" will have the opportunity to try to conquer its fifth crown in the national league, which would seal a new historical achievement in the LVBP.

Tres jonrones, dos de Willians Astudillo y uno de Balbino Fuenmayor atribuyeron la fisura en lo que fue otro desafío de batazos para que Caribes de Anzoátegui finalmente triunfara 12 carreras por 8 sobre Cardenales de Lara en el Alfonso "Chico" Carrasquel de Puerto La Cruz convirtiendo a Caribes en el primer suscrito en la Gran Final que iniciará el próximo martes en la choza aborigen después de asegurar empate en la primera casilla de la tabla de posiciones, Astudillo y Fuenmayor produjeron cuatro anotaciones cada uno para asegurar ocho y fueron las bujías ofensivas en la victoria indígena propinándole la tercera en el Round Robin a Cardenales de Lara que era primer favorito para disputar la Gran Final, Caribes perfeccionó su marca a 10-5 único conjunto con este record en el todos contra todos. Cardenales con registro de 8 triunfos y 7 derrotas a dos juegos del primer lugar necesita obligatoriamente vencer este domingo a Caribes ligando que Navegantes del Magallanes que tiene con récord de 9-6 patine en Valencia contra Leones del Caracas. Una victoria de Lara ante Anzoátegui y una derrota de los Navegantes dejarían a ambos conjuntos con 9-7 y definirían el otro finalista en un choque extra el lunes. Ahora que si Magallanes gana y los pájaros rojos obtienen la victoria en Puerto La Cruz, los barquisimetanos no podrían alcanzar a la nave ya que arribaría a 10 triunfos, la victoria se la facturó Rafael Pineda tercer lanzador utilizado de seis arriba del montículo indígena, Esteban Haro culminó con el rescate trabajando por espacio de 1 entrada y1 tercio lo que significó su tercer rescate en la semifinal. Máximo Castillo fue el pitcher perdedor después de enfrentar tres bateadores permitiendo dos jonrones. Ambos equipos conectaron 11 imparables
Three home runs, two by Willians Astudillo and one by Balbino Fuenmayor accounted for the crack in what was another slugging challenge for Caribes de Anzoátegui to finally triumph 12 runs by 8 over Cardenales de Lara at the Alfonso "Chico" Carrasquel of Puerto La Cruz making Caribes the first subscriber in the Grand Final that will start next Tuesday at the aboriginal hut after securing a tie for first place in the standings, Astudillo and Fuenmayor produced four hits each to secure eight and were the offensive spark plugs in the indigenous victory giving the third in the Round Robin to Cardenales de Lara who was the first favorite to dispute the Grand Final, Caribes improved their record to 10-5, the only team with this record in the round robin. Cardenales with a record of 8 wins and 7 losses, two games out of first place, must beat Caribes this Sunday and Navegantes del Magallanes with a 9-6 record must skate in Valencia against Leones del Caracas. A win for Lara against Anzoategui and a loss for Navegantes would leave both teams at 9-7 and would define the other finalist in an extra game on Monday. Now that if Magallanes wins and the Red Birds get the victory in Puerto La Cruz, the Barquisimetans could not catch Navegantes since they would reach 10 wins, the victory was billed to Rafael Pineda, third pitcher used out of six on the Indian mound, Esteban Haro finished with the rescue working 1 inning and 1 third which meant his third rescue in the semifinal. Máximo Castillo was the losing pitcher after facing three batters and allowing two home runs. Both teams connected 11 hits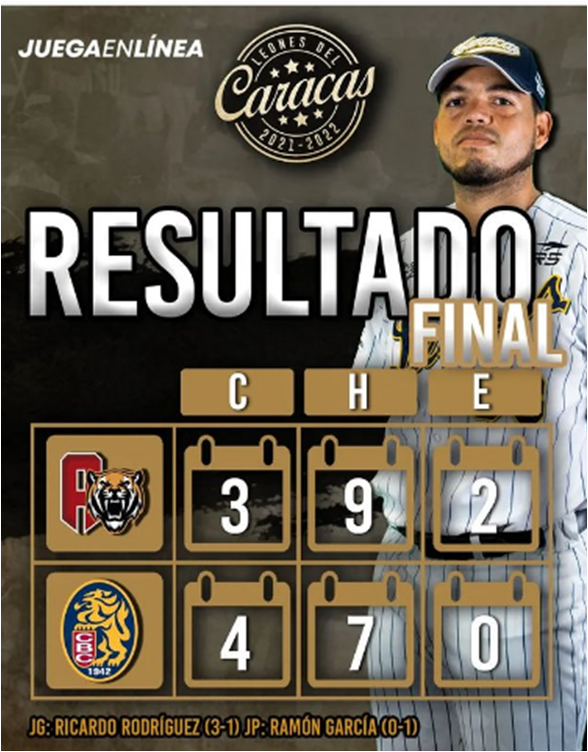 Fuente

<div class="text-justifyLeones del Caracas en entradas extras extendió a cinco sus triunfos seguidos este Round Robin luego de vencer 4 carreras por 3 a los Tigres de Aragua en el Estadio Universitario, César Valera consiguió las bases llenas con dos outs em la pizarra en la baja del inning 11 logrando negociar con entereza un boleto que le accedió inscribir a Brayan Hernández desde la antesala la carrera de ganar, en la primera entrada Jhonny Pereda pegó sencillo al centro impulsando a Alexander Palma desde segunda base y Pereda apuntaría la segunda anotación para Caracas después de un inatrapable de César Valera, en la siguiente entrada Harvin Mendoza colocó la tercera carrera para los capitalinos con su primer inatrapable y su primera empujada en la pelota venezolana. Leones consolidó su superioridad en el encuentro encaminado por la magistral actuación monticular de Jhonathan Díaz que contuvo en cero los maderos maracayeros a lo largo de seis entradas, la sobresaliente y más extendida apertura desde su estreno en la liga donde consintió par de boletos y cinco imparables, sin embargo el relevo de Leones no logró mantener la ventaja y Tigres emprendió su retorno en la octava entrada, Josmar Cordero enlazó un garrotazo de cuatro esquinas con hombre en base para acortar el marcador a una carrera, novena entrada y llegó el empate por intermedio de Gersel Pitre y así se mantendrían las acciones hasta el inning 11.Ricardo Rodríguez consiguió la victoria por Leones, mientras que Ramón García cayó por los bengalíes Caracas cierra la cruzada este domingo 16 frente a los Navegantes del Magallanes, Tigres finiquitó su caminar en la postemporada en el último lugar de la tabla.
Leones del Caracas in extra innings extended to five wins in a row this Round Robin after defeating Tigres de Aragua 4 runs by 3 at the Estadio Universitario, César Valera got the bases loaded with two outs on the board in the bottom of the 11th inning managing to negotiate with integrity a ticket that allowed Brayan Hernández to score the winning run, In the first inning Jhonny Pereda hit a single to center driving in Alexander Palma from second base and Pereda would score the second run for Caracas after an infield hit by César Valera, in the following inning Harvin Mendoza scored the third run for the capital with his first hit and his first hit in Venezuelan baseball. Leones consolidated its superiority in the encounter led by the masterful performance of Jhonathan Díaz who held the Maracayeros' pitching staff to zero for six innings, the most outstanding and extended opening since his debut in the league where he gave up a couple of tickets and five hits, However, the Leones reliever was not able to maintain the advantage and Tigres started their comeback in the eighth inning, Josmar Cordero roped a four-corner hit with a man on base to shorten the score to one run, ninth inning and the tie came through Gersel Pitre and that is how the actions would remain until the 11th inning. Ricardo Rodríguez got the victory for Leones, while Ramón García fell for the Bengals. Caracas closes the crusade this Sunday 16 against Navegantes del Magallanes, Tigres finished its walk in the post-season in the last place of the table.

Bueno amigos de

#Hive

hasta aquí este post, espero que lean, comenten y voten no sin antes recordarles que aunque cuesta mas es mejor siempre hacer el bien, será hasta la próxima, se les quiere mucho
Well friends of

#Hive

until here this post, I hope you read, comment and vote but not before reminding you that although it costs more is better to always do good, will be until next time, you are very much loved
Texto traducido con www.DeepL.com/Translator (versión gratuita)
Text translated with www.DeepL.com/Translator (free version)






---
---