Caribes se mantiene lider y caracas es eliminado en la LVBP
Hola amigos de

#Hive

saludos a los amantes del fascinante mundo deportivo aquí estoy nuevamente con ustedes para compartir el acontecer de la pelota profesional venezolana y el desarrollo del Round Robin semifinal que cada vez se torna mas interesante
Hello friends of

#Hive

greetings to lovers of the fascinating world of sports here I am again with you to share the events of the Venezuelan professional baseball and the development of the semifinal round robin that is becoming more and more interesting.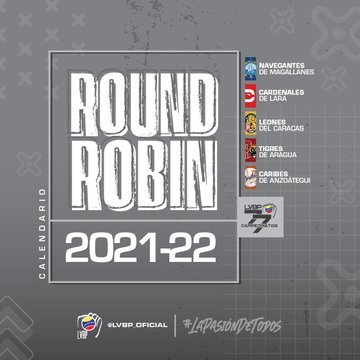 Fuente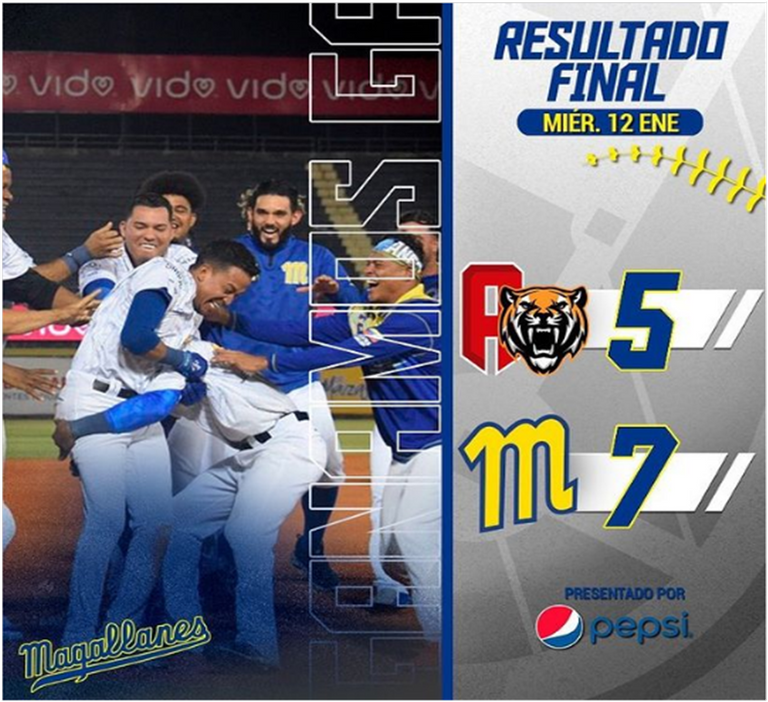 Fuente
El round robin de la LVBP de la temporada 2021-2022 esta llegando a su clímax, después de 30 encuentros disputados, la lucha por el pase a la gran final esta cada vez más reñida puesto que a tan solo 7 días para terminar la fase semifinal los equipos no quieren ceder espacios. El todos contra todos de esta edición de la pelota venezolana comenzó el pasado Domingo 26 de Diciembre y hasta ahora los fanáticos de este deporte hemos podido disfrutar una semifinal de muchos batazos, tan solo dos de los encuentros celebrados se han decidido por blanqueo y en otras cuatro oportunidades se han decidido por la mínima diferencia, lo que deja ver que las estrategias de los lanzadores han sido dominadas por las ofensivas de los rosters de los equipos en la mayoría de los desafíos y como bien lo dice el refrán "Para muestra un botón". Navegantes del Magallanes recibía la visita de su similar Tigres de Aragua en su patio, el Estadio José Bernardo Pérez de Valencia, en una noche de emancipación ya que los turcos se vieron obligados a navegar a contracorriente con marcador adverso de 0-5 en las tres primeras entradas del encuentro y con esa desventaja a cuestas el relevo tuvo que aguantar a la artillería aragüeña a partir del segundo episodio, la Embestida bucanera llegó en la octava entrada y con un rally de seis carreras concluyó el retorno en la pizarra en una palpitante definición. El encuentro le cedió a la Galera conservarse en el segundo lugar de la tabla de posiciones comprometiendo las expectativas felinas ahora Magallanes sacó trecho de tres juegos con respecto a los aragüeños a falta de igual dígito de choques por contender y apuntaló la disputa junto a Caribes y Cardenales por el cupo a la final de la temporada 2021-2022 Mientras Leones del Carcas su Eterno Rival, se aferra a a unas cuentas matemáticas complicadas. Carlos Pérez y Bruce Rondón retornaron en la cúspide del encuentro para estampillar el laurel turco. Pérez, que estaba sumergido en un slump ofensivo enganchó un triple impulsor de una carrera para darle la ventaja por primera vez a su equipo y no dejarla perder más; por su parte Rondón se lució retirando el noveno por la vía rápida volviendo al montículo después de seis días tras fracasar en par de oportunidades de juego salvado ante Lara de forma sucesiva. Por los visitantes César Jiménez brilló con una actuación de seis entradas permitiendo solo tres inatrapables y una carrera limpia de cara a los leños filibusteros, pero para su pesar Jorgan Cavanerio y Ronald Belisario no pudieron completar una considerable labor del abridor aragüeño, en cambio el relevo home club tuvo que utilizar a José y Luis Martínez, Enderson Franco, Jumbo Díaz y Bruce Rondón quienes se combinaron para restringir a solo cinco inatrapables y una carrera sucia al lineup rival en ocho entradas de labor después que Erick Leal el as de la rotación magallanera tuviera la peor apertura en el todos contra todos enfrentando a 10 bateadores dominando solo a dos y recibiendo seis imparables con cuatro anotaciones y dos golpeados en un inning de labor. El triunfo fue para el dominicano Díaz en faena de un capitulo lanzado, la derrota se la registró Jorgan Cavanerio luego de permitir cinco anotaciones limpias y cinco incogibles en 2 tercios de labor, Magallanes viaja a Puerto La Cruz para enfrentar una serie de dos duelos frente a Caribes de quienes están a tan solo medio juego de diferencia, Tigres (por su parte se medirá a Cardenales. Carlos Pérez retornó como receptor navegante en sustitución de Arturo Nieto, Pérez comenzó el encuentro con apenas tres inatrapables en 30 visitas al plato en la semifinal con promedio de 100, Carlos Tocci abandonó el juego debido a que recibió un violento pelotazo al rostro por parte del abridor eléctrico Erick Leal dejándolo algunos minutos derrumbado sobre el terreno pero se recuperó del estacazo y pudo permanecer en acción durante el resto del encuentro, la victoria de Magallanes dejó sin opciones a Leones del Caracas de disputar la final 2021-2022 los capitalinos requerían que tanto bucaneros como Cardenales perdieran el resto de choques del Round Robin combinado con conquistas melenudas en sus cuatro juegos restantes y así obligar un cuádruple empate en el segundo lugar
The round robin of the LVBP of the 2021-2022 season is reaching its climax, after 30 games played, the fight for the pass to the grand finale is getting tighter and tighter because with only 7 days to go until the end of the semifinal phase, the teams do not want to give up any space. The round-robin of this edition of Venezuelan baseball began last Sunday, December 26 and so far the fans of this sport have been able to enjoy a semifinal of many hits, only two of the games played have been decided by shutout and in other four opportunities have been decided by the minimum difference, which shows that the strategies of the pitchers have been dominated by the offenses of the rosters of the teams in most of the challenges and as the saying goes "For a sample a button". Navegantes del Magallanes received the visit of their similar Tigres de Aragua at their home stadium, the José Bernardo Pérez Stadium in Valencia, in a night of emancipation as the Turks were forced to sail against the tide with an adverse score of 0-5 in the first three innings of the game and with that disadvantage the relievers had to hold out against the Aragüeña artillery from the second episode onwards, The Buccaneer onslaught came in the eighth inning and with a six-run rally concluded the comeback on the board in a thrilling definition. The game allowed La Galera to remain in second place in the standings, compromising the feline expectations. Magallanes now has a three-game lead over the Aragüeños with the same number of games left to play and has strengthened the dispute with Caribes and Cardenales for a place in the final of the 2021-2022 season, while Leones del Carcas, its Eternal Rival, is clinging to a complicated mathematical account. Carlos Pérez and Bruce Rondón returned at the peak of the game to stamp the Turkish laurel. Pérez, who was immersed in an offensive slump, hooked a one-run triple to give his team the lead for the first time and not to lose it any more; on the other hand, Rondón shined retiring the ninth on the fast track returning to the mound after six days after failing in a couple of save opportunities against Lara in succession. For the visitors César Jiménez shined with a six inning performance allowing only three hits and one clean run in the face of the filibusteros, but to his regret Jorgan Cavanerio and Ronald Belisario could not complete a considerable work of the aragüeño starter, instead the home club reliever had to use José and Luis Martínez, Enderson Franco, Jumbo Díaz and Bruce Rondón who combined to restrict the opposing lineup to only five hits and one earned run in eight innings of work after Erick Leal, the ace of the Magallan rotation, had the worst opening in the all against all, facing 10 batters, dominating only two and conceding six hits with four scores and two hits in one inning of work. The win went to the Dominican Díaz in a one-hit shutout, the loss was registered by Jorgan Cavanerio after allowing five clean scores and five hits in 2 thirds of work. Magallanes travels to Puerto La Cruz to face a two-game series against Caribes, from whom they are only half a game behind, Tigres (on the other hand) will face Cardenales. Carlos Pérez returned as the navigating catcher replacing Arturo Nieto, Pérez started the game with only three hits in 30 visits to the plate in the semifinal with an average of 100, Carlos Tocci left the game due to a violent ball to the face by the electric starter Erick Leal leaving him collapsed on the field for some minutes but he recovered from the hit and was able to remain in action during the rest of the game, the victory of Magallanes left Leones del Caracas without options to play the final 2021-2022, the capital city players needed both Buccaneers and Cardinals to lose the rest of the Round Robin games combined with Melenudas wins in their four remaining games and thus force a quadruple tie for second place.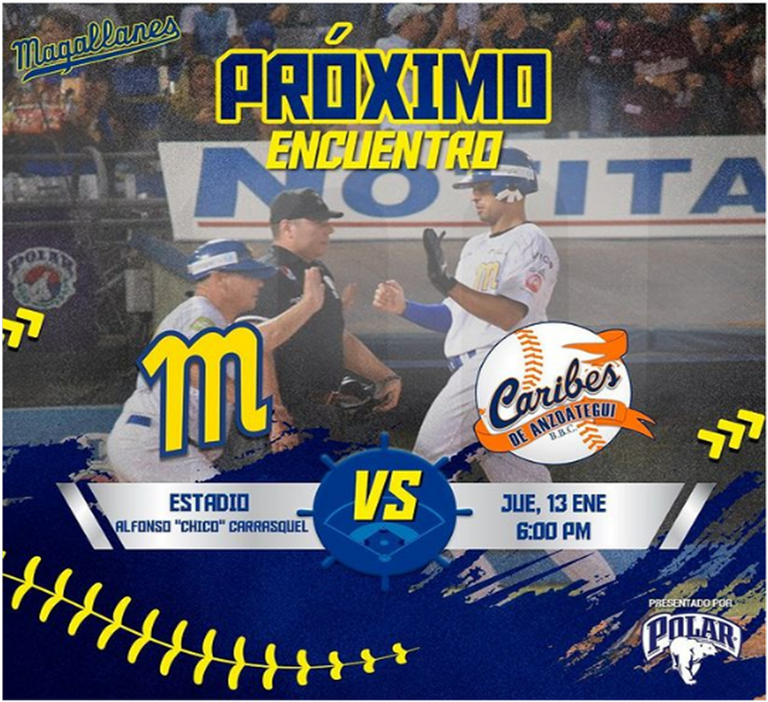 Fuente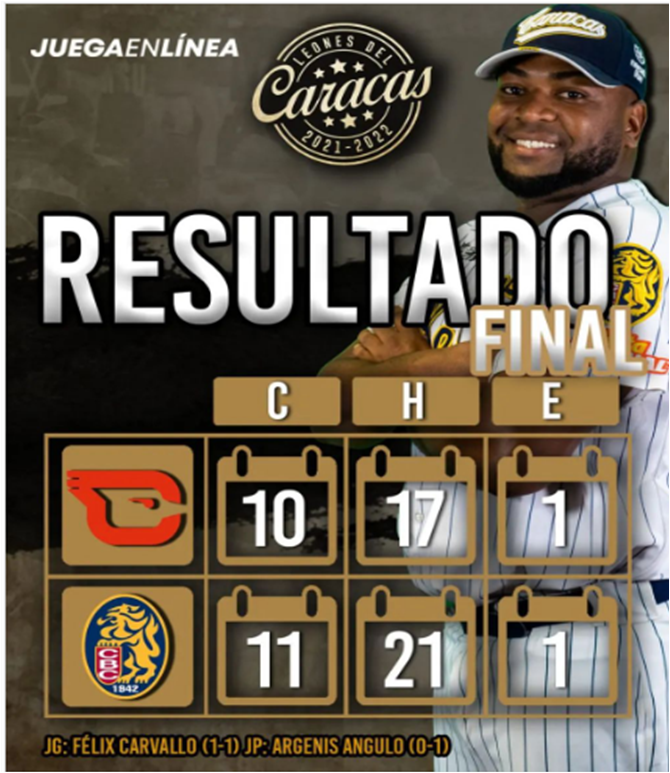 Fuente
Alfredo González vino de la banca para conectar un batazo que se proyectó contra la pared del jardín central para darle la victoria 11carreras por 10 a Leones del Caracas frente a Cardenales de Lara en una emocionante remontada que dejó en el terreno a los pájaros rojos en un choque que se extendió hasta el décimo inning en el Estadio Universitario de la UCV. El receptor tomó el turno con las bases llenas y desventaja de una carrera para Leones. Caracas solo alcanzó colocarse arriba en el marcador en su último turno al bate, de resto siempre estuvo contra las cuerdas a lo largo del encuentro aunque lograba reaccionar para empatar la pizarra hasta que pudo dar el batacazo final contra el conjunto favorito a estar en la final cuando arrancó la temporada, ahora Caracas ve comprometidas sus esperanzas de ampliar a seis sus apariciones seguidas en la instancia que otorga el cupo para la serie del Caribe. Cardenales abrió el marcador ante Ronald Herrera con un batazo de Ramón Flores con dos hombres en circulación en el primer inning, Caracas empató en el mismo capitulo con imparable de Alexander Palma que remolcó a Carlos Sepúlveda desde tercera base quien había conectado un triple, Lara tomó la autoridad del marcador en la altura del sexto inning. Caracas sin perder el ánimo en ese mismo tramo respondió con un rally de cinco anotaciones, William Contreras respondió con jonrón solitario en la siguiente entrada para la causa larense y en la octava sumaron otra rayita con doble de Gorkys Hernández pero los felinos se negaban a dejarse domar, Palma empató nuevamente el duelo con una conexión al bosque derecho con un compañero embasado igualando el marcador a ocho, para que todo se definiera en extraininngs. Félix Carvallo obtuvo la victoria mientras que Argenis Angulo cargó con la derrota, la victoria Magallanera en Valencia reafirmó a Leones como el primer equipo eliminado del Round Robin. Quedan siete fechas en el calendario de la LVBP en cuanto a la semifinal se refiere, 14 encuentros que estarán llenos de emoción y que lo mas seguro tendremos que esperar hasta la ultima fecha para conocer quienes serán los dos finalistas, michos dicen que una final sin Caracas o Magallanes es in evento sin sabor pero el beisbol profesional es así, Leones del Caracas hizo lo posible y hoy vemos como uno de los mejores equipos de nuestra liga se retira, pero como dicen en el argot beisbolistico la pelota es redonda, viene en una caja cuadrada y se juega sobre un diamante
Alfredo González came from the dugout to connect with a hit that was projected against the center field wall to give Leones del Caracas an 11 runs to 10 victory over Cardenales de Lara in a thrilling comeback that left the red birds in the field in a match that lasted until the tenth inning at the University Stadium of the UCV. The catcher took the shift with the bases loaded and a one-run disadvantage for Leones. Caracas was only able to get on the scoreboard in its last at bat, otherwise it was always on the ropes throughout the game although it managed to react to tie the scoreboard until it was able to give the final blow against the favorite team to be in the final when the season started, now Caracas sees its hopes of extending to six consecutive appearances in the Caribbean series compromised. Cardenales opened the scoreboard against Ronald Herrera with a hit by Ramón Flores with two men on in the first inning, Caracas tied the score in the same chapter with a hit by Alexander Palma that towed Carlos Sepúlveda from third base who had connected a triple, Lara took the authority of the scoreboard in the sixth inning. Caracas without losing heart in that same stretch responded with a five-run rally, William Contreras responded with a solo home run in the next inning for the Lara cause and in the eighth they added another run with a double by Gorkys Hernández but the felines refused to let themselves be tamed, Palma tied the duel again with a connection to the right field with a runner on base to tie the score at eight, so that everything would be defined in extra innings. Félix Carvallo got the win while Argenis Angulo took the loss, the Magallanera victory in Valencia reaffirmed Leones as the first team eliminated from the Round Robin. There are seven dates left in the LVBP calendar for the semifinals, 14 games that will be full of excitement and we will surely have to wait until the last date to know who will be the two finalists, Some say that a final without Caracas or Magallanes is a tasteless event but professional baseball is like that, Leones del Caracas did its best and today we see how one of the best teams in our league retires, but as they say in baseball jargon the ball is round, it comes in a square box and is played on a diamond.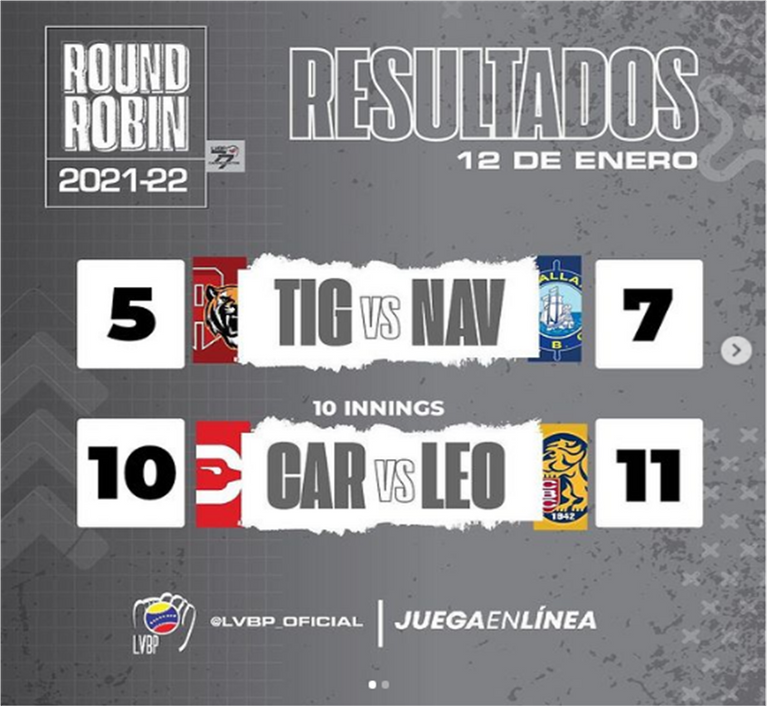 Fuente
Bueno amigos de

#Hive

hasta aquí este post, espero que lean, comenten y voten no sin antes recordarles que aunque cuesta mas es mejor siempre hacer el bien, será hasta la próxima, se les quiere mucho
Well friends of

#Hive

until here this post, I hope you read, comment and vote but not before reminding you that although it costs more is better to always do good, will be until next time, you are very much loved
Texto traducido con www.DeepL.com/Translator (versión gratuita)
Text translated with www.DeepL.com/Translator (free version)






---
---