Primer duelo de la gran final de la LVBP / por @Rolling2021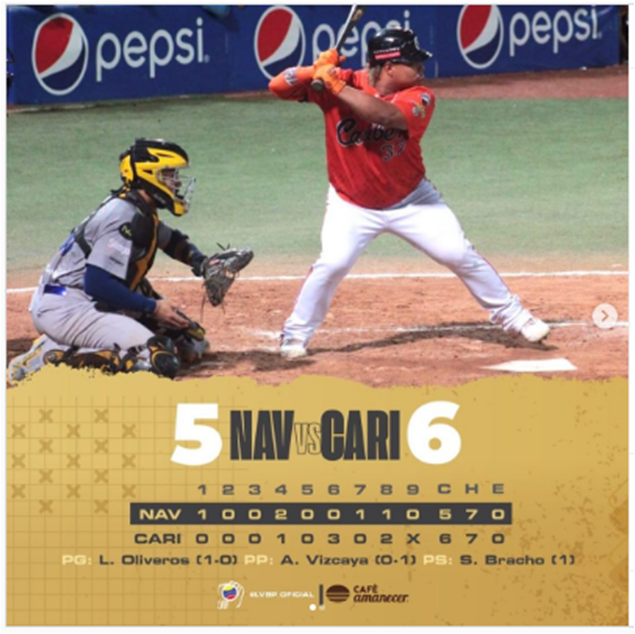 Fuente
Hola amigos de

#Hive

, el Round Robin semifinal de la pelota profesional venezolana llegó a su final y el día de ayer comenzó a escribirse una nueva historia en nuestro circuito rentado pero como les vengo diciendo, es costumbre en nuestro beisbol y en cada serie final disputada presenciar una batalla de emociones, los invito a que sigan disfrutando conmigo en este apasionante mundo del Beisbol
Hello friends of

#Hive

, the semifinal round robin of the Venezuelan professional baseball reached its end and yesterday began to write a new story in our circuit but as I have been saying, it is customary in our baseball and in each final series played witness a battle of emotions, I invite you to continue enjoying with me in this exciting world of baseball.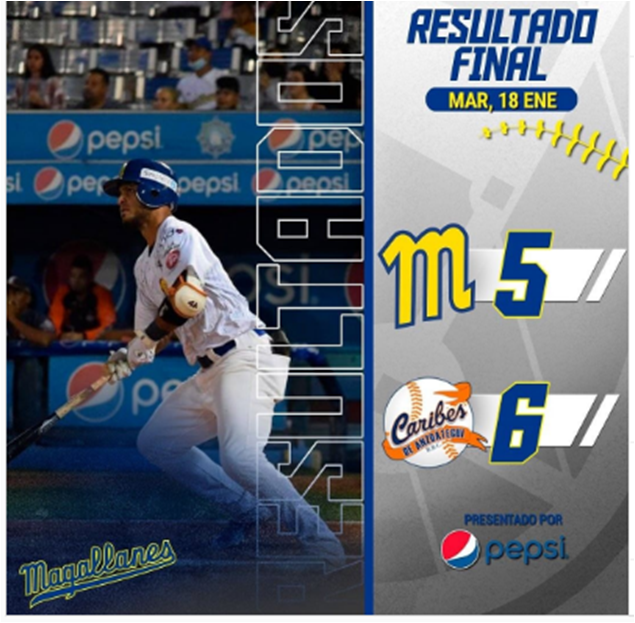 Fuente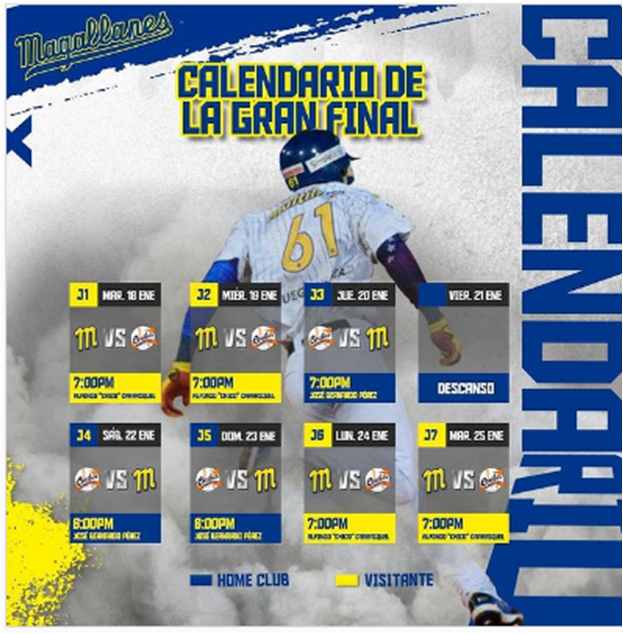 Fuente
Magallanes y Caribes chocan en una serie final por tercera vez la primera aconteció en la temporada 2013-2014, que ganaron los Navegantes, en la siguiente temporada 2014-2015, la Tribu tomaría desquite y en ambas colaciones finalizaron con balance de 4-1. Es decir, en series finales Navegantes y Anzoátegui llegan este año con igual record de 5-5 a Puerto La Cruz en su serie individual, el día de ayer se celebró el primer partido entre ambas novenas en la edición 2021-2002. Junior Guerra trepó al monticulito por Magallanes exhibiendo efectividad de 5.09 lanzando muy bien hasta la sexta entrada cuando Willians Astudillo y Asdrúbal Cabrera le estallaron cuadrangulares sucesivos para revertir la victoria parcial de 3-1 en una derrota de 4-3 Guerra lanzó 5 innings y 2 tercios en los que toleró cinco hits tres de ellos extrabases cuatro carreras y un boleto elevando su promedio de carreras limpias a 6.35. entre tanto Yohan Pino abridor por Caribes comenzó el encuentro con efectividad de 3.27 demostrando descontrol en sus lanzamientos permitiendo un solo inatrapable el cuadrangular de Ángel Reyes tolerando tres carreras además de obsequiar cinco boletos y tres ponches par dejar efectividad de 5.40. Para Ángel Reyes tercer bate del Magallanes con su actuación de ayer llegó 11 juegos consecutivos conectando imparables en esta postemporada donde además lleva cinco cuadrangulares lo que ha significado un refuerzo de gran utilidad para la nave. La Tribu siempre ha triunfado en el primer partido de las tres finales que han combatido ante la nave turca en la 2012-2014 se impuso 6-0 y en la 2014-2015 venció 8 carreras por 5
Magallanes and Caribes clash in a final series for the third time, the first one happened in the 2013-2014 season, which was won by the Navegantes, in the following 2014-2015 season, the Tribe would take revenge and in both series they finished with a 4-1 balance. In other words, in the final series Navegantes and Anzoátegui arrive this year with an equal 5-5 record in Puerto La Cruz in their individual series. Yesterday was the first game between both teams in the 2021-2002 edition. Junior Guerra took the mound for Magallanes and pitched very well until the sixth inning when Willians Astudillo and Asdrubal Cabrera hit successive homers to reverse the 3-1 partial victory in a 4-3 loss. Guerra pitched 5 innings and 2 thirds in which he tolerated five hits, three of them extra-bases, four runs and one ticket, raising his average of clean runs to 6. 35. Meanwhile, Yohan Pino, starter for Caribes started the game with an effectiveness of 3.27, showing a lack of control in his pitches, allowing only one hit, a home run by Angel Reyes, tolerating three runs and giving away five tickets and three strikeouts to leave an effectiveness of 5.40. For Angel Reyes, the third bat of the Magallanes, yesterday's performance made it 11 consecutive games with five home runs, which has been a very useful reinforcement for the team. La Tribu has always triumphed in the first game of the three finals they have fought against the Turkish ship in the 2012-2014 won 6-0 and in the 2014-2015 won 8 runs for 5..

Williams Astudillo arrastró tres carreras y Balbino Fuenmayor impulsó la definitiva para que Caribes de Anzoátegui consumara un triunfo de 6 carreras por 5, en el primero de la final protagonizado este martes en el Alfonso "Chico" Carrasquel de Puerto La Cruz, la carabela zarpó delante en el marcador en el inicio del encuentro con dos outs en la pizarra producto de un doble play facturado por Caribes cuando el enardecido Ángel Reyes la desapareciera el jardín central para colocar al Magallanes 1-0, parte alta del cuarto inning y los Navegantes retornaron la ofensiva para acrecentar la diferencia 3 por 0, esta vez Alberto González, Ángel Reyes y Pablo Sandoval llenaron las bases luego de tres boletos consecutivos sin outs siendo impulsados por Leonardo Reginatto y Jesse Castillo con elevados de sacrificio, Caribes rápidamente respondió descontando 3-1 para hacerse presente en el marcador en la parte baja de ese cuarto capitulo, en la sexta con un out en la pizarra Caribes coronó un manojo de tres anotaciones para irse arriba 4-3 cuando Willians Astudillo disparó su primer cuadrangular de la final para emparejar 3-3 las acciones lo que matcó la salida de Junior Guerra del compromiso, acto seguido Asdrúbal Cabrera también la desvaneció por el bosque central colocando arriba al club aborigen con su primer vuelacercas de la etapa, Magallanes respondió en el inicio de la séptimo para emparejar las acciones a 4 carreras por lado, octavo inning y después de un out los Navegantes recuperaron el dominio de la pizarra colocándose 5-4, parte baja del octavo y el toma y dame por el control del juego se conservó favoreciendo aun a los filibusteros pero Vizcaya cometió par de lanzamientos desordenados y Romero puso el 5-5 para que balbineitor como es apodado Balbino Fuenmayor respondiera con imparable al centro impulsando a Astudillo desde la antesala, con la carrera que le pondría marcador final de 6-5. La victoria perteneció a Lester Oliveros quien entró en la parte alta del octavo capítulo sacando un solo out suficiente para adjudicarse el triunfo, Silvino Bracho alcanzó su primer salvado y Anthony Vizcaya se llevó la derrota luego de permitir dos carreras. Este miércoles se efectuará el segundo encuentro de esta serie final a celebrarse en la choza de la tribu donde Magallanes presentará a Yohander Méndez como abridor del encuentro mientras Caribes irán con Henry Centeno. Es muy importante haber ganado el primer juego en una final que premia al mejor de siete duelos pactados ya que eso inyecta una dosis de adrenalina lo que garantiza que los jugadores anzoatiguenses saldrán hoy al terreno con la misma hambre de ganar e irse a Valencia arriba en la serie, los partidarios del beisbol venezolano están al tanto de lo dificultoso que es vencer a Caribes de Anzoátegui en casa y eso es algo de lo que tanto los jugadores, directores, manager y equipo de trabajo turco están al tanto, solo resta esperar que hagan los ajustes necesarios de cara a los próximos encuentros
Williams Astudillo drove in three runs and Balbino Fuenmayor drove in the final run for Caribes de Anzoátegui to consummate a 6-5 victory, in the first of the final played this Tuesday at the Alfonso "Chico" Carrasquel in Puerto La Cruz, the caravel sailed ahead in the beginning of the game with two outs on the scoreboard as a result of a double play by Caribes when the enraged Ángel Reyes disappeared in center field to put the Magallanes up 1-0, In the top of the fourth inning and the Navegantes returned the offense to increase the difference 3-0, this time Alberto González, Ángel Reyes and Pablo Sandoval filled the bases after three consecutive tickets with no outs being driven in by Leonardo Reginatto and Jesse Castillo with sacrifice bunts, Caribes quickly responded by scoring 3-1 to make themselves present on the scoreboard in the bottom of the fourth inning, In the sixth with one out on the board Caribes crowned a bunch of three scores to go up 4-3 when Willians Astudillo fired his first home run of the final to tie the actions 3-3 which killed the departure of Junior Guerra of the commitment, then Asdrubal Cabrera also vanished through the central forest putting up the aboriginal club with his first home run of the stage, Magallanes responded in the beginning of the seventh to tie the actions to 4 runs per side, In the bottom of the eighth inning and after an out, the Navegantes regained control of the scoreboard, placing themselves 5-4, and the give and take for the control of the game continued favoring the Filibusteros, but Vizcaya committed a couple of disorderly pitches and Romero made it 5-5 so that Balbino Fuenmayor, as he is nicknamed, responded with a single to center, driving Astudillo from the anteroom, with the run that would put the final score at 6-5. The victory belonged to Lester Oliveros who entered in the top of the eighth inning with only one out, enough to get the win, Silvino Bracho got his first save and Anthony Vizcaya took the loss after allowing two runs. This Wednesday will be the second game of this final series to be held at the tribe's hut where Magallanes will present Yohander Méndez as the starter while Caribes will go with Henry Centeno. It is very important to have won the first game in a final that rewards the best of seven agreed duels since that injects a dose of adrenaline which guarantees that the Anzoatiguense players will go out today to the field with the same hunger to win and go to Valencia on top in the series, Venezuelan baseball fans are aware of how difficult it is to beat Caribes de Anzoátegui at home and that is something that the players, directors, manager and the Turkish team are aware of, we can only hope that they make the necessary adjustments for the next games.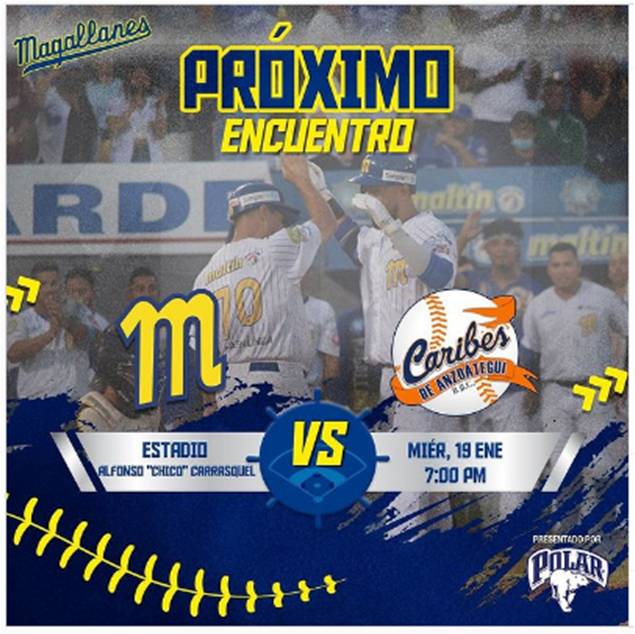 Fuente

Bueno amigos de

#Hive

hasta aquí este post, espero que lean, comenten y voten no sin antes recordarles que aunque cuesta mas es mejor siempre hacer el bien, será hasta la próxima, se les quiere mucho
Well friends of

#Hive

until here this post, I hope you read, comment and vote but not before reminding you that although it costs more is better to always do good, will be until next time, you are very much loved
Texto traducido con www.DeepL.com/Translator (versión gratuita)
Text translated with www.DeepL.com/Translator (free version)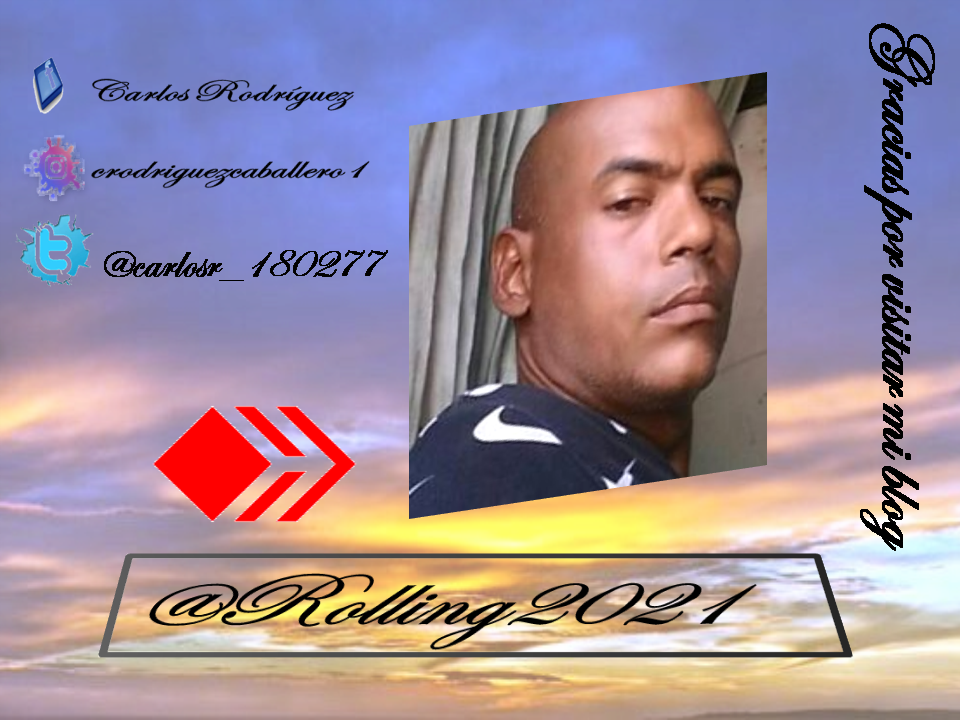 ---
---