Así fue como representé a mi país por primera vez | This is how I represented my country for the first time.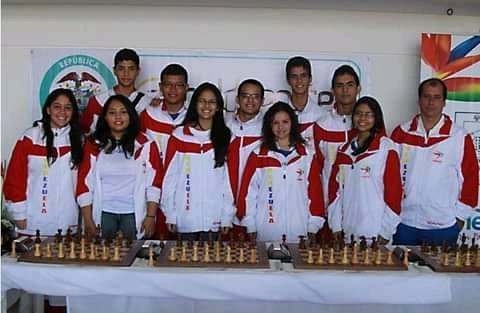 ¡Hola mis queridos hivers! Espero que se encuentren bien, un saludo a todos en especial a la comunidad de
@fulldeportes
, continuaré contando mi historia en las 64 casillas. En mi post anterior les conté como era el ciclo escolar y todo su proceso para llegar al anhelado nacional escolar y figurar entre los mejores, en el 2010 me convertí en campeona nacional escolar y me gané el cupo para representar a Venezuela en el centroamericano escolar.
Hello my dear hivers! I hope you are well, greetings to everyone especially to the community of @fulldeportes, I will continue telling my story in the 64 boxes. In my previous post I told you how was the school cycle and the whole process to reach the desired national school and be among the best, in 2010 I became national school champion and I won the place to represent Venezuela in the Central American school.
Un giro inesperado
Se suponía que debía viajar a Perú a representar a mi país, pero nada fue así. Me enteré que el equipo que iba a representar a Venezuela en el centroamericano de Perú ya estaba inscrito en dicho torneo mucho antes de que se realizara el nacional escolar 2010, la noticia no me sentó nada bien, y honestamente me moleste mucho. Para ese año el ajedrez en Cantaura era historia, por lo cual yo estaba en otro club y otro municipio. Jugaba por Guanta y el entrenador que tenía hizo el reclamo defendiendo mis derechos pero lamentablemente todo fue en vano.
I was supposed to travel to Peru to represent my country, but nothing happened. I found out that the team that was going to represent Venezuela in the Central American tournament in Peru was already registered for the tournament long before the 2010 National School Chess Championship, the news did not sit well with me, and honestly I was very upset. For that year chess in Cantaura was history, so I was in another club and another municipality. I played for Guanta and the coach I had made the claim defending my rights but unfortunately it was all in vain.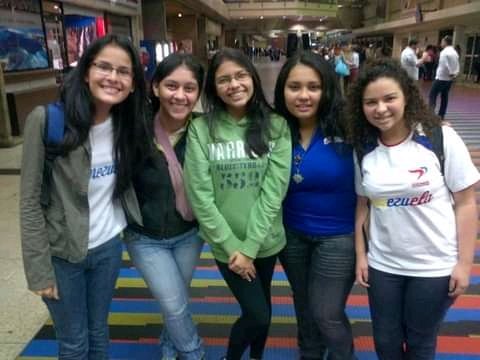 En ese momento me sentí muy frustrada y molesta, mi entrenador me explicó que la FVA (Federación Venezolana de Ajedrez) sólo ponen los equipos a dedos, que ésto me sirviera para mejorar mi ajedrez y continuar avanzando, siendo honesta yo estaba muy decepcionada de la FVA. Para ese entonces yo contaba con 14 años de edad y mi ciclo en las categorías infantiles ya había culminado, ahora debía jugar en las categorías juniors, cadetes y juvenil (sub 16, sub 18 y sub 20).
At that time I felt very frustrated and upset, my coach explained to me that the FVA (Venezuelan Chess Federation) only put the teams to fingers, that this would help me to improve my chess and continue to advance, being honest I was very disappointed in the FVA. At that time I was 14 years old and my cycle in the children's categories had already culminated, now I had to play in the juniors, cadets and youth categories (U16, U18 and U20).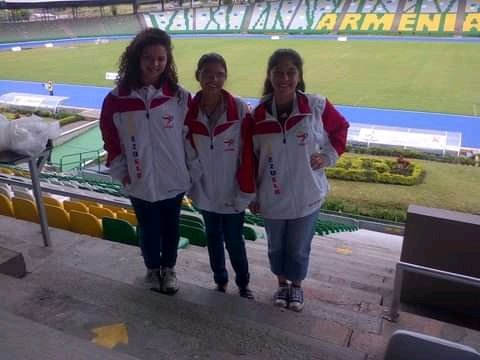 Todos los deportistas en general, siempre que nos encontramos con trabas o ciertas dificultades que buscan desmotivarnos o hacer que nos demos por vencidos encontramos la fuerza y la voluntad para ser fuertes y continuar hacia adelante, cuando te caes lo único que te queda es levantarte, y eso hice, continúe jugando ajedrez y tratando en la medida de lo posible lograr mi objetivo que era ser selección nacional y representar a mi país.
All athletes in general, whenever we encounter obstacles or certain difficulties that seek to demotivate us or make us give up we find the strength and will to be strong and continue forward, when you fall the only thing left is to get up, and that's what I did, I continued playing chess and trying as far as possible to achieve my goal which was to be national team and represent my country.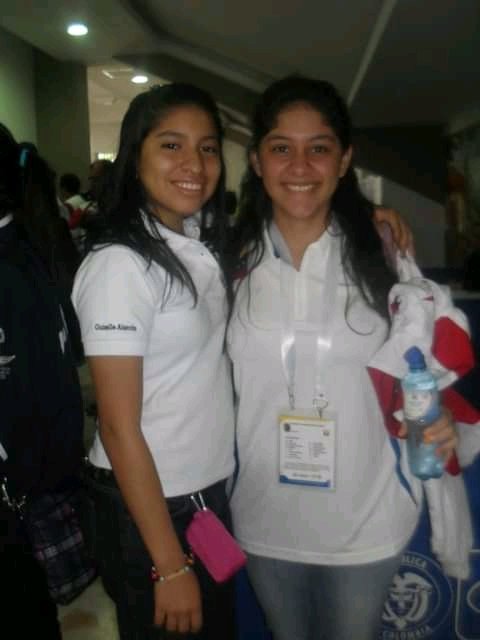 Continué jugando ajedrez, entrenando con mucho esfuerzo y sacrifio. Para mi primer cadetes y juniors (sub 16) hice una actuación modesta, pero no fue suficiente para entrar en la selección nacional, sin embargo, recuerdo que hice buenas partidas y entré en la selección mayor del estado Anzoátegui lo cual me dió la oportunidad de jugar los juegos nacionales (pronto les contaré de que se tratan estos juegos), mi ajedrez fue madurando y progresando y para mi eso ero importante y significativo.
I continued playing chess, training with a lot of effort and sacrifice. For my first cadets and juniors (U16) I made a modest performance, but it was not enough to enter the national selection, however, I remember that I made good games and entered the senior selection of Anzoategui state which gave me the opportunity to play the national games (soon I will tell you what these games are about), my chess was maturing and progressing and for me that was important and significant.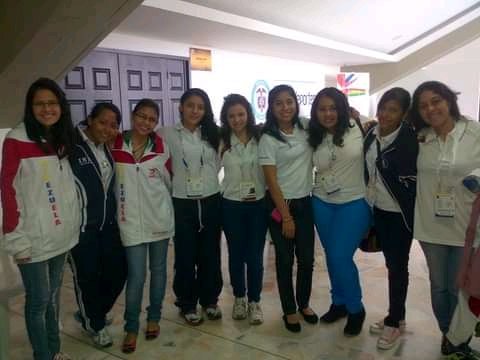 Selección Nacional de Venezuela
En el año 2013, tenía 17 años y jugué mi primer juniors (sub 18) y mi actuación fue muy buena y me gané mi cupo para estar en el equipo nacional para el centroamericano escolar, 3 años después lo logré, ustedes no tienen idea de lo que esto representó para mí, me sentía muy feliz y emocionada al fin pude lograr mi sueño de ser selección nacional y representar el tricolor nacional.
In 2013, I was 17 years old and I played my first juniors (under 18) and my performance was very good and I earned my place to be on the national team for the Central American school, 3 years later I made it, you have no idea what this meant to me, I was very happy and excited to finally achieve my dream of being national team and represent the national tricolor.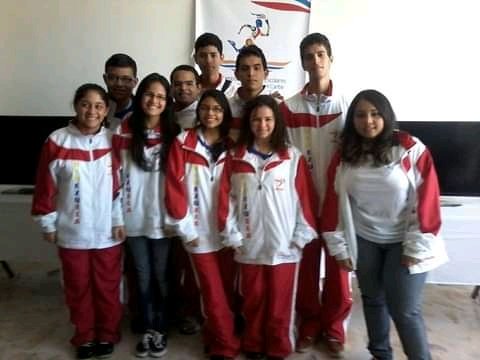 Cuando la fva se puso en contacto conmigo y me pidió ciertos documentos para legalizar la inscripción del equipo que jugaría el centroamericano yo estaba enferma, tenía malestar general y fiebre, mis padres estaban de viaje y yo estaba sola en mi casa, pero mi voluntad y espíritu eran inquebrantables jeje, encontré la fuerza para levantarme de la cama y buscar todos esos documentos y proceder a escanearlos y enviarlos para cumplir con toda mi documentación y poder jugar.
When the fva contacted me and asked me for certain documents to legalize the registration of the team that would play the Central American I was sick, I had general malaise and fever, my parents were traveling and I was alone in my house, but my will and spirit were unbreakable hehe, I found the strength to get out of bed and look for all these documents and proceed to scan them and send them in order to fulfill all my documentation and be able to play.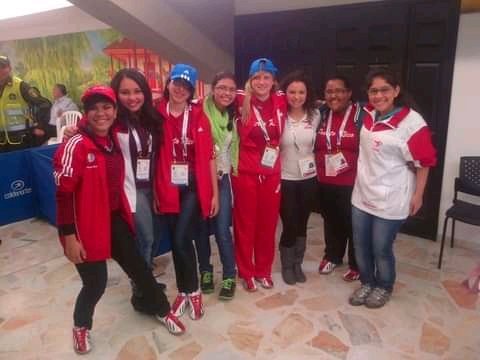 Un día antes de viajar a Caracas para concentrarnos en el IND (instituto nacional de deporte) seguía con mi malestar general y una leve fiebre, me reuní con mi entrenador para finiquitar los detalles de mi juego y así tener una buena actuación, el se percato que yo no me sentía muy bien y simplemente me dijo que jugara ajedrez con el corazón y muy concentrada, que controlara los nervios y que confiara en mi instinto ajedrecistico. Al siguiente día, me sentía un poco mejor y me lleve las medicinas necesarias por si volvía a tener malestar, ya en la noche mis padres me acompañaron al terminal dándome su bendición y brindandome su apoyo.
One day before traveling to Caracas to concentrate in the IND (National Institute of Sport) I was still with my general malaise and a slight fever, I met with my coach to finalize the details of my game and thus have a good performance, he noticed that I was not feeling very well and simply told me to play chess with heart and very concentrated, to control my nerves and trust my chess instinct. The next day, I felt a little better and I took the necessary medicines in case I felt sick again, and in the evening my parents accompanied me to the terminal giving me their blessing and giving me their support.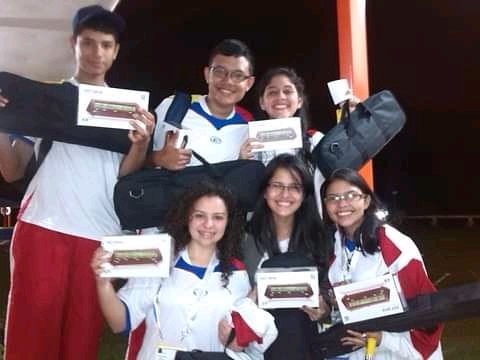 Está fue la primera vez que viaje sola en el territorio nacional, no dormí absolutamente nada en todo el trayecto hacia Caracas, el delegado y entrenador asignados por la fva para viajar al centroamericano me fueron a buscar en el terminal y de ahí nos dirigimos hacia el IND, todos llegamos ese día y ese mismo día se nos entregó la uniformidad y los viáticos, ya al siguiente día estabamos en el aeropuerto internacional Simón Bolívar rumbo a la ciudad de Armenia, Colombia.
This was the first time that I traveled alone in the national territory, I did not sleep absolutely nothing all the way to Caracas, the delegate and coach assigned by the fva to travel to the Central American were looking for me at the terminal and from there we went to the IND, we all arrived that day and that same day we were given the uniform and travel, and the next day we were at the Simon Bolivar International Airport to the city of Armenia, Colombia.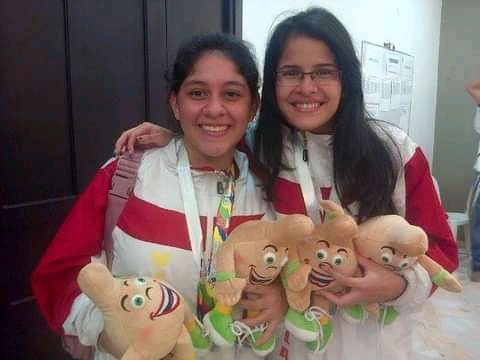 Mi emoción por subir por primera vez a un avión se notó y mis compañeras de equipo se dieron cuenta jaja, ellas me dijeron que no me sentara en el lado de la turbina, hice caso de lo que ellas me advirtieron y como nos sentamos juntas todo salio bien, fue un viaje muy corto una media hora de vuelo exactamente, llegamos a Bogotá y desde allí nos trasladamos hacia la ciudad de Armenia en autobús y ese si fue un viaje largo, llegamos al hotel a eso de 7pm muy cansados y con instrucciones de descansar porque al siguiente día comenzaba el torneo.
My excitement to get on a plane for the first time was noticed and my teammates noticed haha, they told me not to sit on the side of the turbine, I did what they warned me and as we sat together everything went well, it was a very short trip exactly half an hour flight, we arrived in Bogota and from there we moved to the city of Armenia by bus and that was a long trip, we arrived at the hotel at about 7pm very tired and instructed to rest because the next day the tournament began.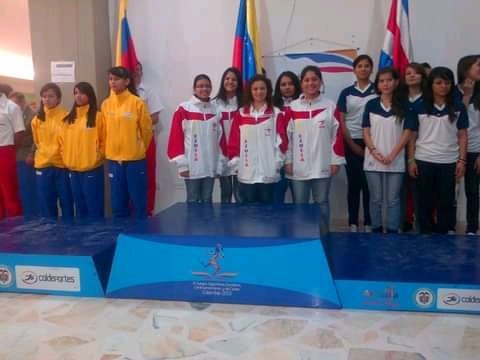 Todas las delegaciones llegaron puntuales, en ajedrez los países que participaron fueron Colombia, Puerto Rico, Guatemala, Nicaragua, Costa Rica, Panamá, y Venezuela, jugamos 3 torneos: clásico por equipo, blitz por equipo, y activo individual un poco diferente a como jugamos en el ciclo escolar, pero lo que si me llamó la atención es que todos los presentes decían el país que gane el torneo clásico será el mejor, y sin duda sí, el ajedrez clásico es la modalidad más respetada y de más importancia.
All the delegations arrived on time, in chess the countries that participated were Colombia, Puerto Rico, Guatemala, Nicaragua, Costa Rica, Panama, and Venezuela, we played 3 tournaments: classic team, blitz team, and individual active a little different from how we play in the school cycle, but what caught my attention is that all those present said that the country that wins the classic tournament will be the best, and no doubt yes, the classic chess is the most respected and most important modality.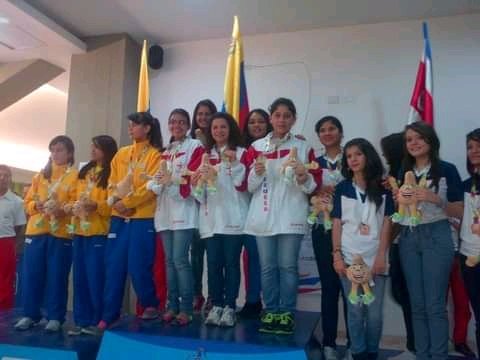 El torneo clásico se desarrollo sin inconvenientes y Venezuela se alzó con el oro, ganamos tanto en masculino y femenino. El torneo clásico terminó en la tarde, y continuaymos con el torneo blitz por equipo, aquí Colombia se alzó con el oro, masculino y femenino, Venezuela logró la plata masculino y femenino, en este torneo fuí la única de mis compañeras que ganó todas las partidas, 7 de 7, todos me felicitaron y me dijeron que descansara un poco que en minutos inicariamos el torneo individual, fue una jornada maratónica porque en ese año se harían los juegos bolivarianos y muchos atletas de todas las delegaciones debían volver a sus países para ir a estos juegos.
The classic tournament was developed without problems and Venezuela won the gold, we won both in men and women. The classic tournament ended in the afternoon, and we continued with the team blitz tournament, here Colombia won the gold, male and female, Venezuela won the silver male and female, in this tournament I was the only one of my teammates who won all the games, 7 of 7, everyone congratulated me and told me to rest a little that in minutes we would start the individual tournament, it was a marathon day because in that year the Bolivarian games would be held and many athletes from all delegations had to return to their countries to go to these games.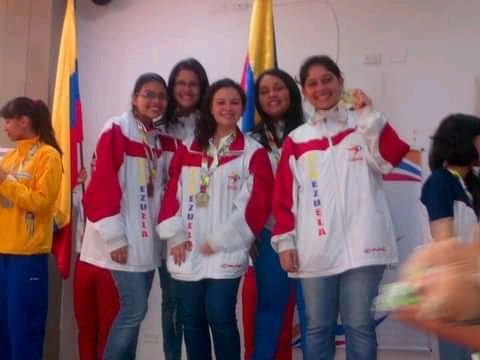 Minutos antes de empezar el torneo indivual, nuestro delegado y entrenador nos dieron las pautas a seguir nos dijeron que si nos tocaba enfrentarnos no hiciéramos tablas, es decir, empate. Nos dijeron que jugaramos y qué saliera un ganador, en el masculino los chicos hicieron caso y cumplieron con lo pedido, pero en el femenino no fue así, ningúna quiso ceder y soltar el punto y las 4 hicimos tablas y bueno las chicas de Colombia 3 de ellas ocuparon el podio y por lo tanto nos llamaron la atención por no cumplir con las instrucciones, todas expresamos disculpas ante nuestro delegado y entrenador, ellos comprendieron y aceptaron nuestras disculpas.
Minutes before starting the individual tournament, our delegate and coach gave us the guidelines to follow, they told us that if it was our turn to face each other we should not make a draw, that is, a draw. They told us to play and that there would be a winner, in the men's team the boys did what was asked, but in the women's team it was not so, none wanted to give in and release the point and the 4 of us made a draw and well the girls from Colombia 3 of them occupied the podium and therefore we were called to attention for not complying with the instructions, we all expressed our apologies to our delegate and coach, they understood and accepted our apologies.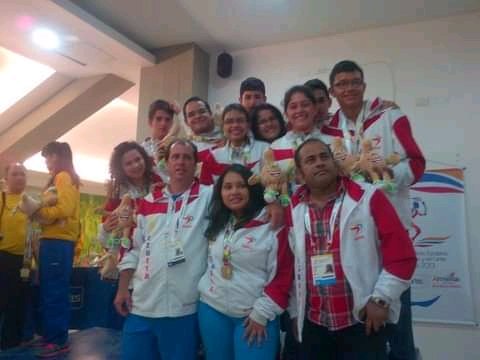 Una vez finalizada la jornada, logré consechar dos medallas 1 de oro y 1 plata, el orgullo que sentí cuando escuché las notas del himno nacional de mi país fue indescriptible, estaba feliz por los resultados obtenidos pero un poco triste por el llamado de atención, sin embargo, me repuse y me comuniqué con mi familia y entrenador para contareles mi actuación, todos se alegraron por mi y yo estaba muy feliz, se suponía que en el 2010 tenía que representar a mi país, pero la realidad o mi destino era que tenía que perseverar y esperar hasta el 2013 para así lograr mi sueño de representar a mi país. Bueno mis queridos amigos, nos vemos en otra oportunidad, hasta pronto.
Once the day was over, I managed to get two medals 1 gold and 1 silver, the pride I felt when I heard the notes of the national anthem of my country was indescribable, I was happy for the results obtained but a little sad for the call of attention, however, I recovered and communicated with my family and coach to tell them my performance, everyone was happy for me and I was very happy, I recovered and communicated with my family and coach to tell them my performance, everyone was happy for me and I was very happy, I was supposed to represent my country in 2010, but the reality or my destiny was that I had to persevere and wait until 2013 to achieve my dream of representing my country. Well my dear friends, see you another time, see you soon.
---
---