[ESP | ENG] Amistosos de Voleibol / Volleyball Friendlies
Buenos días Hivers del mundo, espero y se encuentren de maravilla.
Good morning Hivers of the world, I hope you are feeling wonderful.
Hoy les voy a hablar sobre un amistoso de voleibol que estuve en estos días presente.
Today I am going to tell you about a friendly volleyball match that I was present in these days.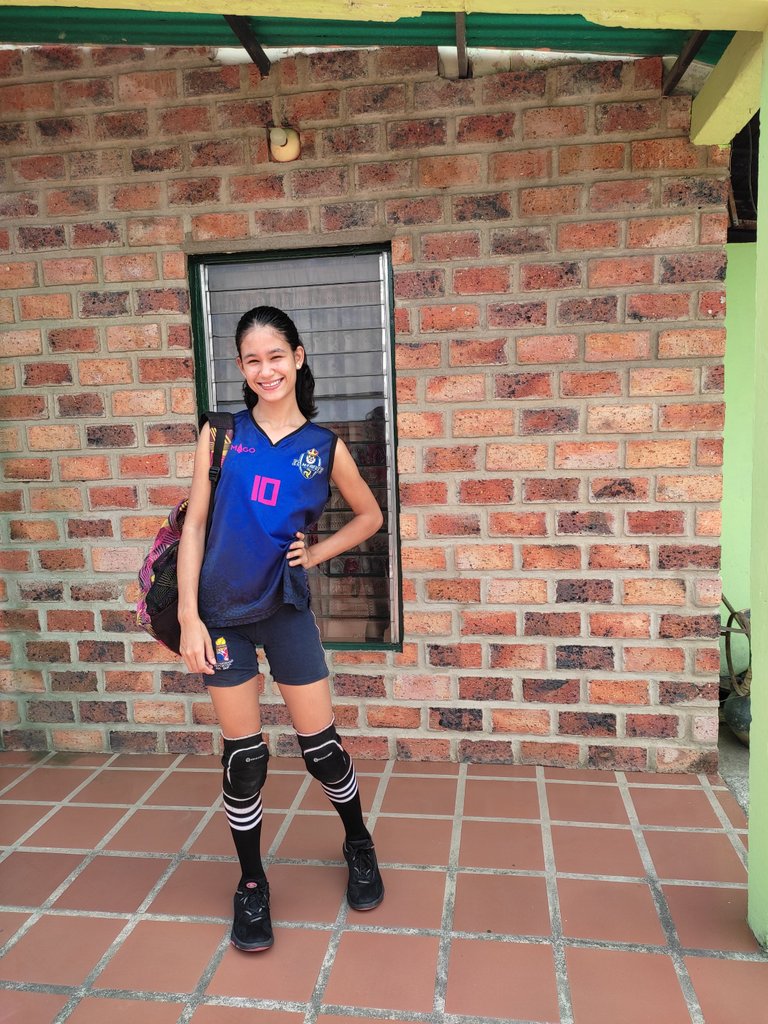 Había estado un poco perdida por aquí ya que el 17 de Marzo del 2022 participe en dos amistosos en la Ciudad del estado Barinas.
I had been a little lost around here because on March 17, 2022 I participated in two friendlies in the city of Barinas state.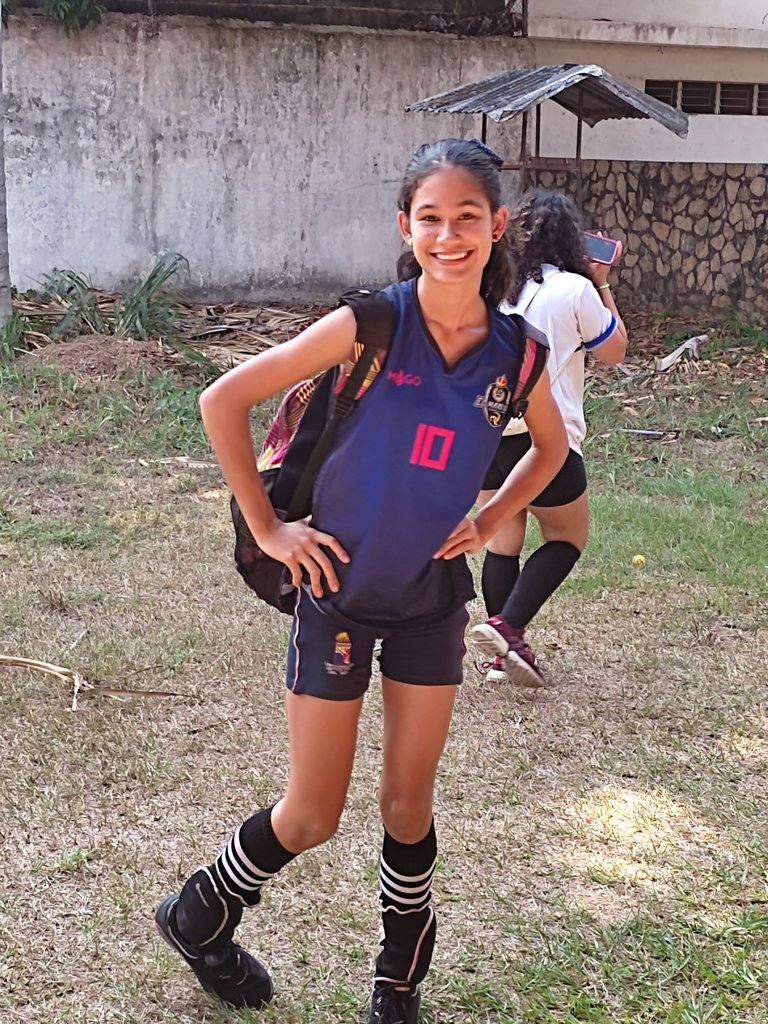 La cual jugamos con dos clubs los cuales fueron: Chamo Liendo y el club ítalo.
We played with two clubs: Chamo Liendo and the Italo club.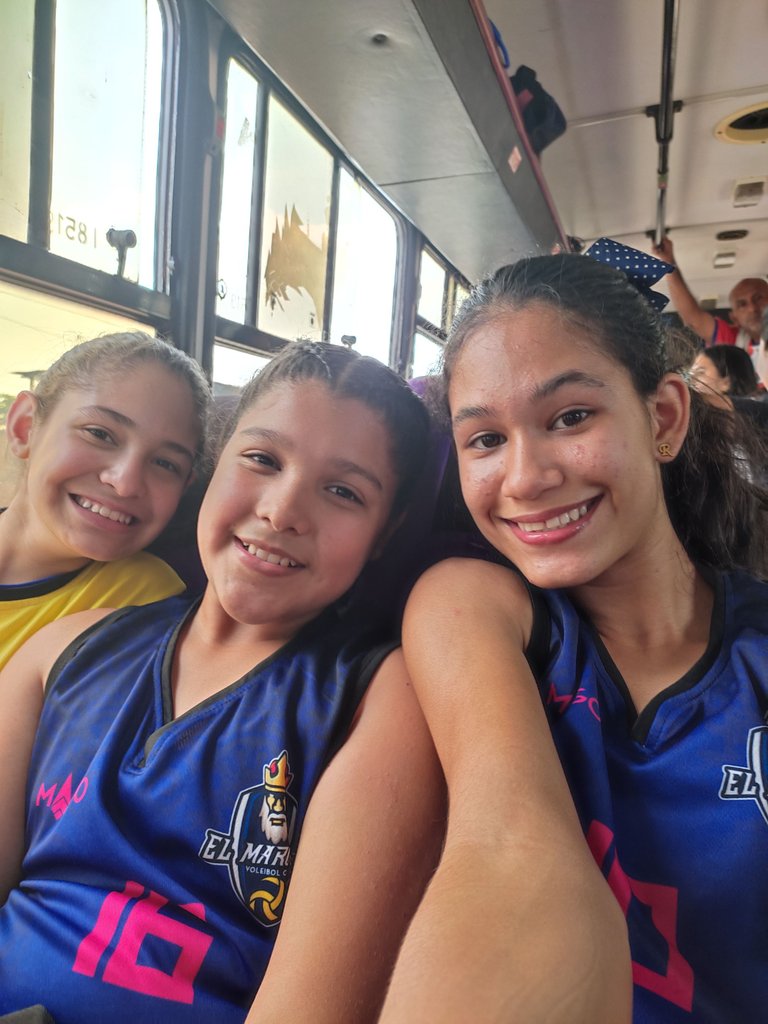 El Viaje:
The Journey:
A la 1:00pm salío el autobús hacia la ciudad de Barinas, fue súper divertido el transcurso del viaje ya que iba todo el équido cuchucheando diría mi abuela (en mi país es una forma de decir que hablan de todo, que le dan a la lengua sin parar). Por el viaje lleve unas uvitas de mi cosechita y las compartía con mis compañeras, me dijeron que estaban súper ricas que donde las había comprado y pues les dijo que son mi cosechita y dijeron que es súper cool tener una planta de uvas en la propia casa ejejejej, y nos tomamos demasiadas fotos en el recorrido del viaje.
At 1:00pm the bus left for the city of Barinas, it was super fun during the trip because the whole team was whispering, as my grandmother would say (in my country it is a way of saying that they talk about everything, that they hit the tongue without stopping). For the trip I took some grapes of my little harvest and shared them with my companions, they told me they were super rich that where I had bought them and I told them that they are my little harvest and they said it's super cool to have a grape plant in your own house ejejejej, and we took too many pictures on the trip.

Colegio de Abogados: Chamo Liendo
Bar Association: Chamo Liendo
Al llegar a la ciudad de Barinas nos dirigimos al colegio de abogados donde íbamos a jugar contra el club chamo liendo, estamos a la vez súper emocionadas y nerviosas.
When we arrived in the city of Barinas we went to the Barinas Bar Association where we were going to play against the Chamo Liendo Club, we were both very excited and nervous.
El colegio de abogados es grande pero no está en buenas condiciones, esta todo abandonado, no tiene ni baños, lo único fue que esta más o menos en buenas condiciones es la cancha de voleibol. Primero jugo el minivol femenina, después, nos toco jugar con el infantil femenino la cual es mi categoría, empezamos a calentar como unos 10 minutos y empezó el partido, estábamos nerviosas, yo tenía toda la fe de que si podíamos ganar ya que ellas no tienen tres manos ni cuatro pies, son personas común y corrientes, normales, como nostras.
The bar school is big but it is not in good condition, it is all abandoned, it does not even have bathrooms, the only thing that is more or less in good condition is the volleyball court. First the female minivolleyball team played, then we played with the female infantile team, which is my category, we started to warm up for about 10 minutes and the game started, we were nervous, I had all the faith that we could win because they don't have three hands or four feet, they are ordinary people, normal, like us.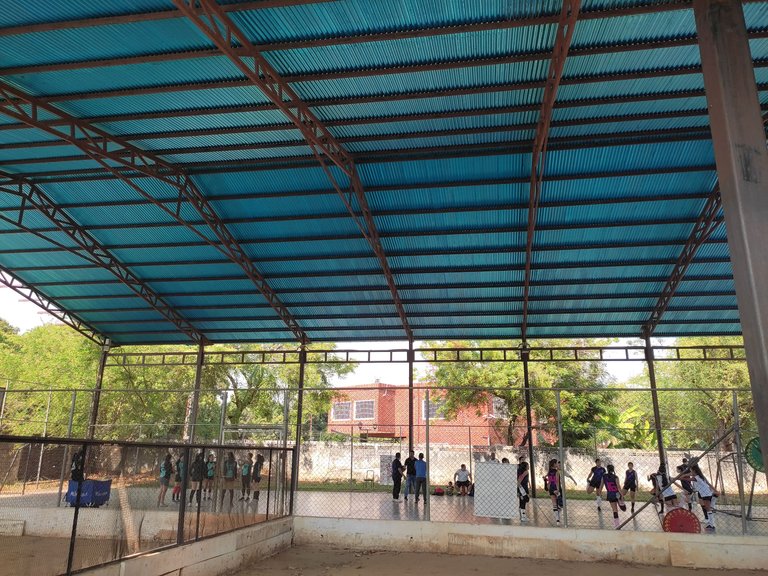 Al iniciar el juego lo estábamos haciendo bien, ya que estábamos pasando los saques, la cual yo estuve súper feliz porque estaba pasando la mayoría de saques, pero la recepción estaba mal ya que ellas sacaban duro y pues no la recibíamos bien, en fin terminaron ganando ellas, pero lo bueno es que perdimos pero perdimos jugando bien y con la mejor actitud, para tener poco tiempo de estar practicándolo jugamos bien, pero obviamente debemos mejorar para la próxima debemos ganar con el favor de Dios.
At the beginning of the game we were doing well, as we were passing the serves, which I was super happy because I was passing most of the serves, but the reception was bad as they were serving hard and we were not receiving well, in the end they ended up winning, but the good thing is that we lost but we lost playing well and with the best attitude, for having little time to be practicing we played well, but obviously we must improve for the next one we must win with God's favor.
Después de terminar el juego, nos dieron cambur para reforzar fuerzas para ir a jugar contra el club Ítalo.
After finishing the game, we were given cambur to reinforce our strength to go and play against the Italo club.

Club Ítalo: segundo amistoso.
Club Ítalo: second friendly match.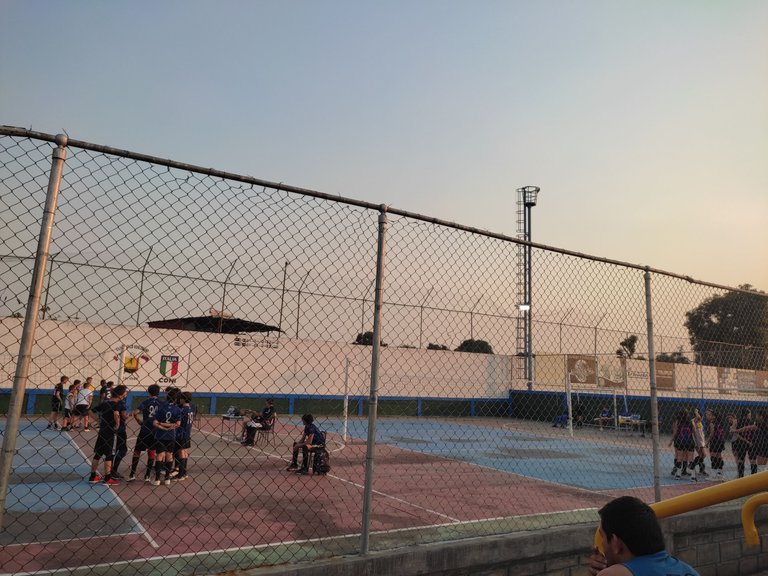 Al llegar al club Ítalo nos pareció estupendo las instalaciones del establecimiento, pues estan en muy buenas condiciones, es súper grande, todo limpio y moderno, tiene cuatro canchas, parque, cantina, además varios clubs como de pimpol y de todo eso, etc.
When we arrived at the Italo club we found the facilities of the establishment to be great, because they are in very good condition, it is super big, clean and modern, it has four courts, park, canteen, plus several clubs such as pimpol and all that, etc..

Al llegar a ahí, comenzaron jugando las de minivol femenina, lamentablemente no ganaron. Después nos toco al infantil femenino la cual pertenezco a ahí, comenzó el juego hicimos como 6 puntos en puro saques, estábamos súper felices, al recibir la pelota no lo estamos haciendo muy bien que digamos, al final terminaron ganando ellas, pero el profesor nos dijo que jugamos bien, que ahora si tenemos la capacidad de jugar mejor.
When we got there, the girls mini-volleyball started playing, unfortunately they did not win. Then it was the turn of the girls' infantile team, which I belong to, the game started with 6 points in pure serves, we were super happy, when receiving the ball we are not doing very well, in the end they ended up winning, but the teacher told us that we played well, that now we have the ability to play better.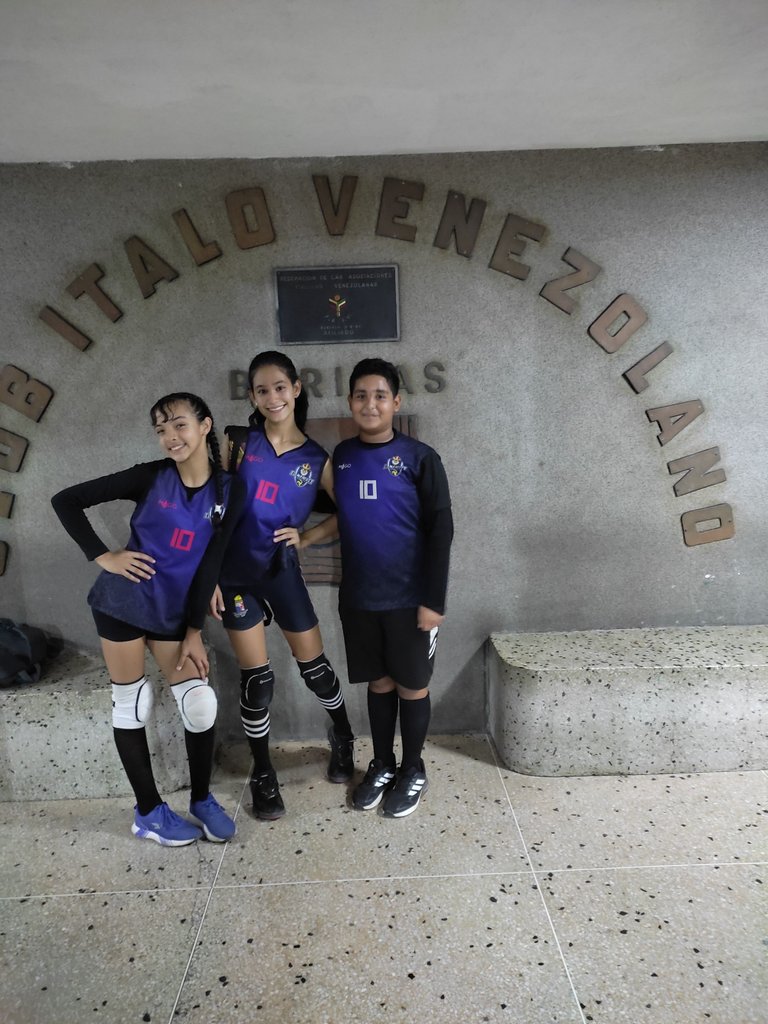 Al finalizar los juegos, fuimos a comer porque de tanto juego estábamos cansadas y teníamos demasiada hambre, comimos pizza en 21-03 Grill and Beer, un sitio que nos pareció bonito y cómodo, las pizzas estaban ricas, bueno, cuando hay hambre todo es rico jejejejejeje, luego de comer, partimos hacia a Socopó estado Barinas.
At the end of the games, we went to eat because we were tired and too hungry, we ate pizza at 21-03 Grill and Beer, a place that we found nice and comfortable, the pizzas were delicious, well, when there is hunger everything is delicious hehehehehehehehehe, after eating, we left for Socopó, Barinas state.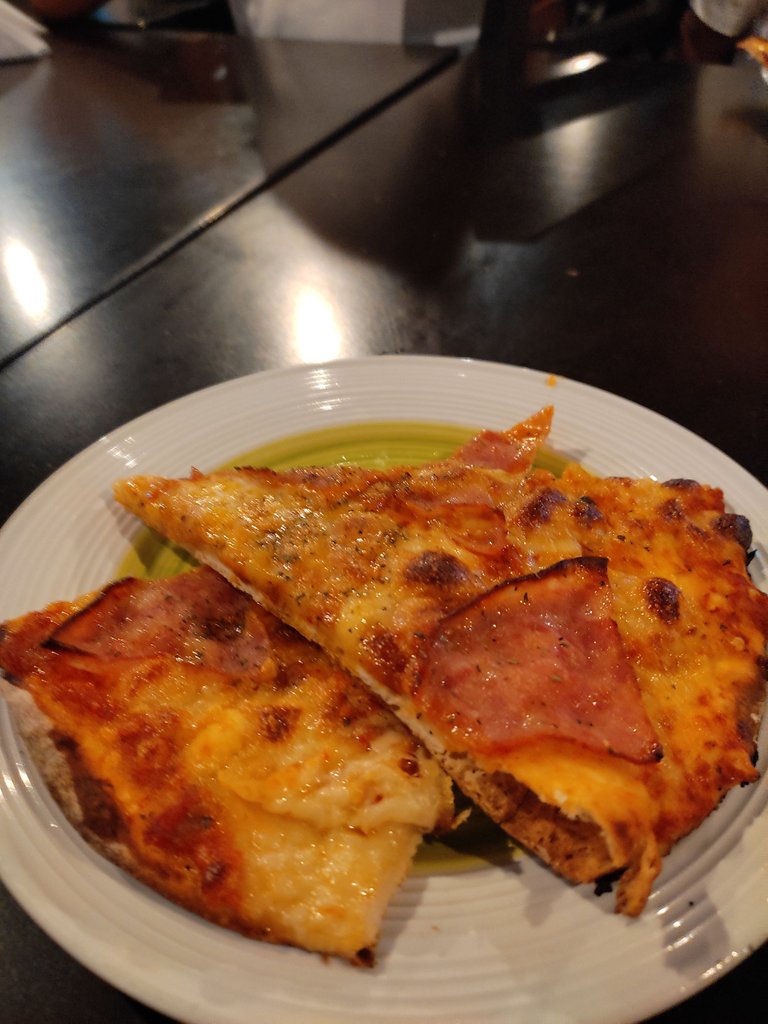 Esto fue todo por hoy, espero y les haya gustado, síganme para que estén pendientes de más contenido que subiré, los quiero y que Dios los acompañe.
That's all for today, I hope you liked it, follow me for more content that I will upload, I love you and may God be with you.
Este es mi Instagram, sígueme por favor | This is my instagram, please follow me:

Separador de texto | Text separator: [separadores-de-texto-para-blog]

(https://www.tutorialesteemit.com/recomendaciones/separadores-de-texto-para-blog/)

Texto traducido en | Text translated in: Translated with Deelp

Fotos tomadas con mi Redmi 10 | Photos taken with my Redmi 10
---
---