El Classico Match Preview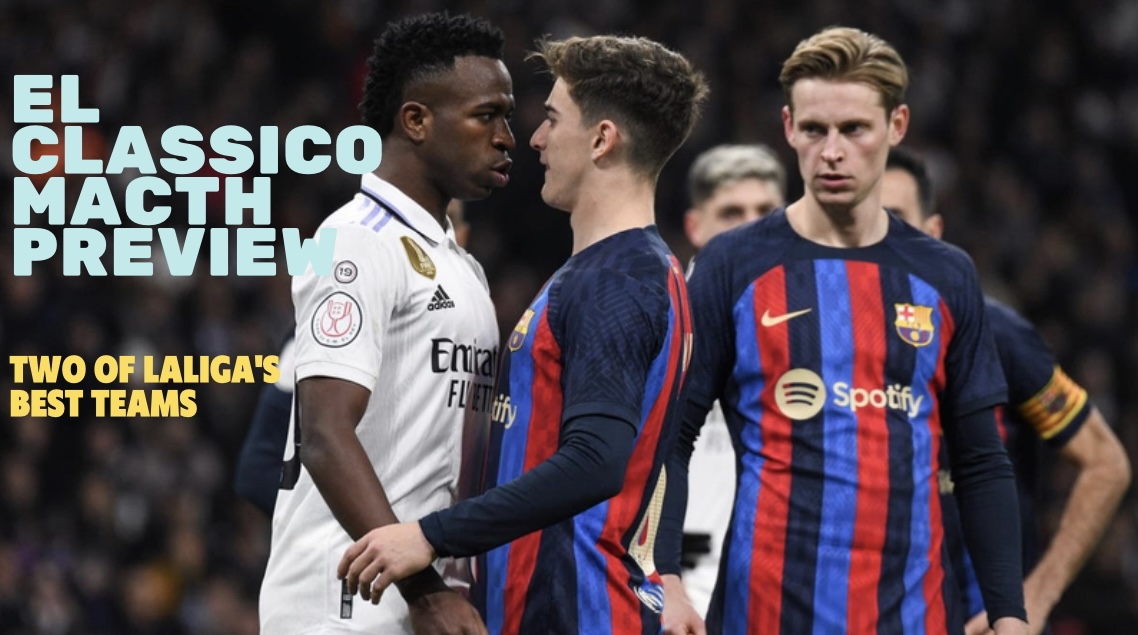 It's time for the biggest game in the world. The Spanish laliga might not be the most watched league in the world but the match between Real Madrid and Barcelona is the most watched match in the world.
Recently I've fallen out of love with it after arguably the best players in the world left and went to different leagues. I feel like it doesn't have that much hype around it. Messi and Ronaldo were the Center of the el Classico rivalry back in the day so it was fun to watch.
The moment Ronaldo left for serie A it was now a one-man show for Messi. The other side didn't really feel the heat anymore.
These days I feel like it's losing ground but a lot of people still watch it cause it's 2 of the best teams in la Liga going head-to-head against each other.
This time around I feel like it's going to be interesting cause it may as well decide the title race for Barcelona. If Barcelona can win this tie against Real Madrid they will open the gap to about 13 points which will make it virtually impossible for Real Madrid to get to them. If Real Madrid can win then they will cut the gap to 7. I think when it gets to 7 Madrid can get to them cause a few draws and losses will make it possible.
Head to head.
---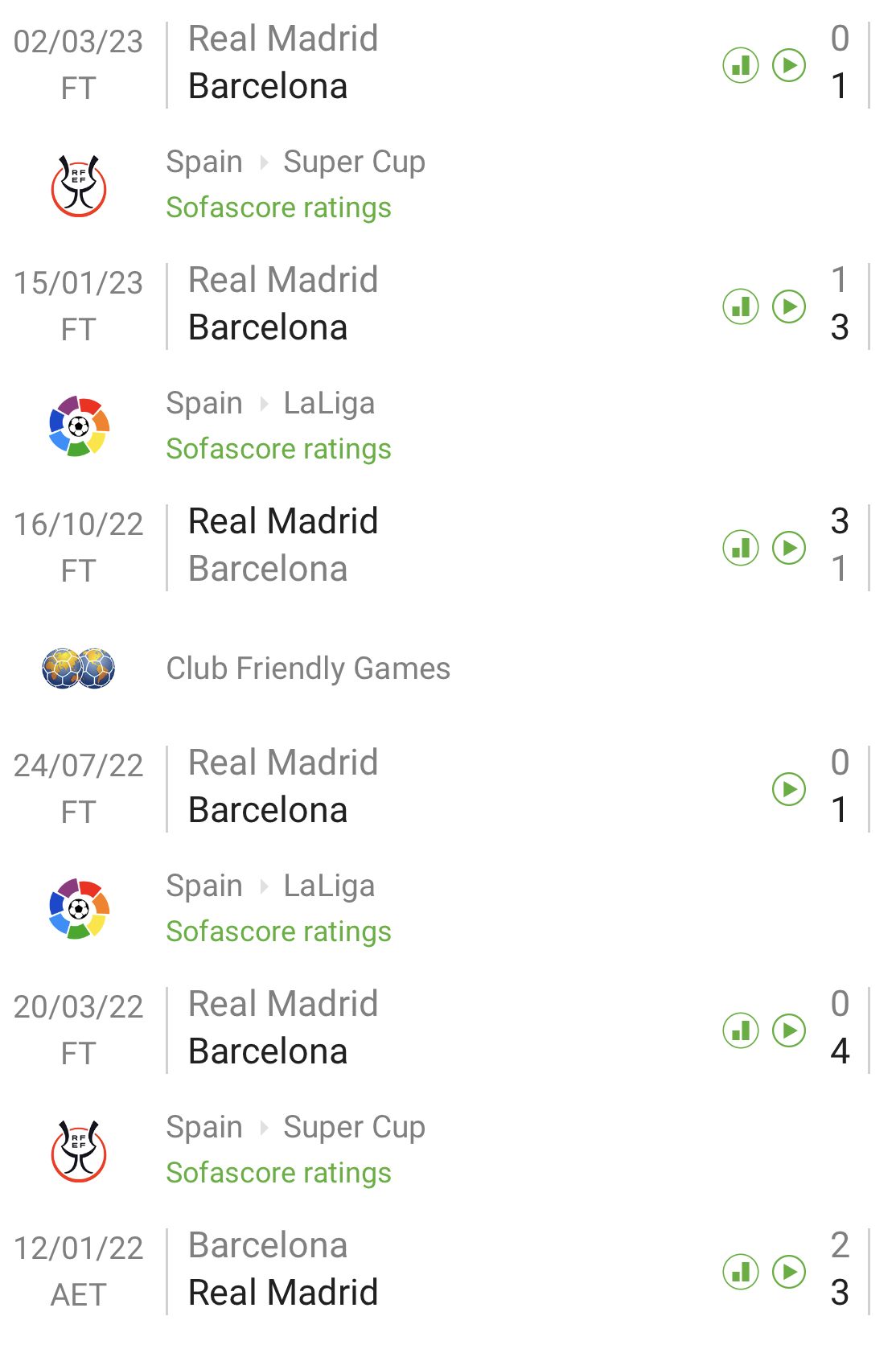 source
---
The last time these two teams faced each other was in the Copa del Rey at the Bernabeu. A match in which I was so confident we will win after Barca trashed us in the super cup final. The loss in the final still hurts and boy how is wish we could trash them back.
In the last 5 matches against Barca, we have been able to win just 2 losing 3 times to them. In the previous years, we have had a better record against them and now it seems things are changing.
In the last match, Madrid was the better side but was not able to get a shot on target against them. We played quite well but it didn't produce anything good as Barca had a plan which they sticked to perfectly. The free-flowing football which we know that Xavi likes didn't happen that day. Instead, they were compact and only played on the counter. In the previous encounters, Barca makes sure they possesssed close to 60 percent of the ball. Madrid on the other hand is always happy to leave the ball for them to play their tiki-taka style of football while Madrid plays on the counter.
Since we are going to be play at camp nou today, I think they might as well allow them to possess the ball.
Who do I think will win?
---
For this one, I think Barcelona has a slight edge. The reason for this is that they are playing at home and even though we have quite a good record at camp nou I still think their fans will be the defining factor in this encounter.
The last time Madrid faced Barca at camp nou the match ended in a 2-1 win in favour of Madrid. That was when we won the league that season. Now I think the odds are in their favour and as such I might as well go for a slight margin win in their favour.
In the last encounter, they were missing important players like Pedri and Lewandowski so they played with precaution. Today they will miss Pedri but Lewandowski will be there so they won't play with caution. They will come out to play and I hope they will do that.
Benzema after limping off against Liverpool in the champions league will be in the lineup at the camp nou. It will give the team a huge boost to play this game.
With Benzema and Lewandowski in the lineup, I am sure both teams will get a goal in this encounter and as such am going for a 2-1 win in favour of Barcelona.
Thanks for reading.
cover photo was edited on canva, image source used
---
---