Is the semi-automated offside Technology Doing The Job?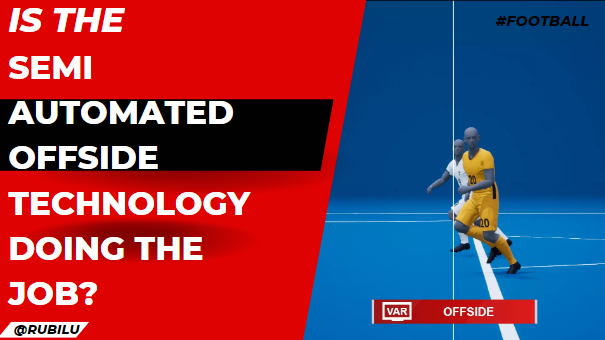 Image designed on canva
For some reason, some people are only annoyed when a decision goes against their favorite team even if the decision is the right one. Our first-hand experience with the semi-automated offside technology was in the champions league and boy did I think it was brilliant. I've always wondered what offside is with some referees not knowing what to do since there are so many new rules.
There have been instances that I thought this was offside but then the referee will give it as a goal. You will go to Twitter and then you will see that the law has been updated in that current season or the ref didn't know what he was doing cause he was confused. A more familiar scenario was with Real Madrid's 3-0 win over Elche in laliga. It was a goal by Alaba which was disallowed because the VAR claimed Benzema was coming out from an offside position and was involved in the build-up play.
After the match, Laliga had to apologize to Real Madrid for an obvious error from their side. In this instance, the semi-automatic tech would have looked for the slightest of margins to be sure and then that goal would have been given. Real Madrid took no bad blood in that as they agreed errors could happen. Now imagine if things went sour and Real Madrid lost or drew that match due to that decision. What would have been the headlines? The news would have been everywhere that laliga is rigged for Barca to win it.
Now we have seen it in the World Cup and I think so far so good it has been pretty effective. Ecuador was at the receiving end of a decision by the technology and no one had any problem with that. Everyone thought it was fair but when it happens to Argentina then people are going balloons. There was never a time in the match that any of the offside calls in the match against Argentina were wrong.
If not for anything the technology saves us waiting for minutes and more minutes for the VAR to draw their lines and end up allowing the goal to stand. With this technology, you are either offside or not.
I like this new technology and I think we should all accept it. Would you like it to be used in any of the top 5 leagues? If not, why?
---
---