Let The Calculations Begin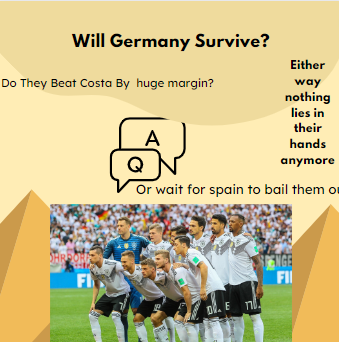 Image designed on canva
One thing I hate in football is letting the other team decide your faith. But we never ever fail to see these types of scenarios. We have seen it happen to Barcelona for two seasons in a row in the champions league where they have prayed that another team beat the other team or draw so that if they win they can qualify. It has not worked out for them in two seasons and I think they have learnt their lesson.
If you are a Ghanaian you will understand where am coming from. We are soo used to having to calculate how we will see ourselves out of the group stages of the competition. We do so in the Afcon which we rarely reach anywhere. Even in this world Cup, we had to do a few permutations and combinations before we qualified. This always happens if you don't beat the team you are supposed to beat.
Germany was put in a group with Spain, Costa Rica, and Japan. As usual, a lot of people predicted the early favourites to top that group and I think we all know. They tipped Spain and Germany to finish top leaving Japan and Costa Rica in the group. Spain's first match went well when they beat Costa Rica by 7 goals to nil. Germany on the hand didn't go as planned. They got the first goal but then they ended up losing to Japan due to 2 brilliant goals by the Japanese.
If there is anything the world Cup has taught me, it has taught me to never ever doubt a smaller team(even though know this already). Germany, if they had any hopes of qualifying, was supposed to beat Japan before coming up against Spain who is a stronger opposition. They could not beat Japan and from there the calculations began. It started but it was not as intense cause a lot of people taught the Japan vs Costa Rica match will favour them a bit. After beating Germany people tipped Japan to win against Costa Rica but it didn't happen.
This win placed Costa Rica 3rd in the group with 3 points, the same as Spain and Japan. Now Germany had the win against Spain cause losing would have meant getting knocked out of the World Cup. They drew which is better than losing cause they almost lost, I think they could have won it if Sane wasn't scared of facing Simon one on one.
---

sofacsore
---
Now here comes the calculations if Germany wants to qualify.
Germany has to beat Costa Rica and hope Spain can beat Japan. This will give Spain 7 points and they will be second with 4 points.

If Spain draws with Japan, Germany will have to beat Costa Rica by a huge margin and beat the goal difference to Japan to qualify.

If Spain losses to Japan, Germany will have to beat Japan by a lot of goals. Remember Spain has 8 goals in 2 games and Germany has 2 so they will have to beat Costa by 7 that's if Spain doesn't score.
All these calculations when they could have just beaten Spain or Japan to avoid this. But let's see. I hope they can beat Costa and Spain beats Japan so Germany can qualify.
---
---