My Fantasy World Cup Team Selection Review- Is your Team Ready?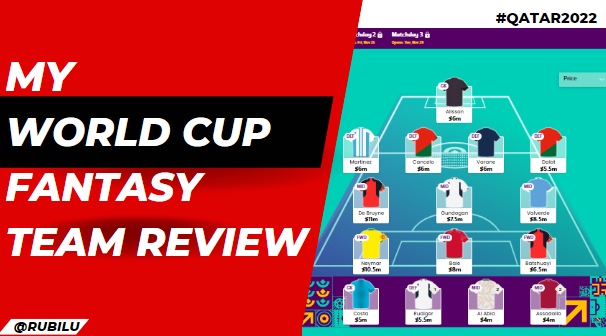 Image designed on canva
---
Just two days into the World Cup and I've already assembled the team that will fight for me to stand a chance of winning the World Cup fantasy challenge. If you have not made your team yet and joined the mini-league this is the post here to know more https://hive.blog/hive-101690/@hivefpl/hive-world-cup-fantasy-league-intro-prizes-how-to-join and also the league code Hive World Cup Fantasy League code: DZXM2NR6.
The World Cup fantasy is somewhat similar to the premier league fantasy. I say similar cause there are slight differences between both. In the World Cup fantasy, you are presented with a 100 million budget like in fpl. Your captain gets double points like in the fpl but you don't have the chance of picking a vice-captain.
There is a wild card like fpl. You can make unlimited changes before the group stages begin like in fpl. In fpl as soon as the game week starts you can no longer make subs but with the World Cup, you are at liberty to make subs as long as the player you are bringing in hasn't played yet. Be reminded that the subbed-out player loses his points which you can't get back anymore.
The beginning of fantasy doesn't excite me a lot. This is because I have to go through a long list of players trying to guess and figure out who will be on form. Unlike in Europe where you have seen these players play before, some of these players have had their first call-ups to the national teams and even though they are soo good in their clubs, they might end up not being on top form in their countries. Some players who have been shit in their clubs will be on red-hot fire here too.
So as I always do, I look at the first round of matches before buying players. For some players, I consider that but for others, I don't. You are given a 100 million budget so it might be difficult trying to get all the stars into one team. I mean who wouldn't wanna have Neur, Messi, Ronaldo, KDB, Mbappe, Benzema etc in one team? But having all these players will already deplete your resources by 70 to 80 million and then you will probably use the rest to get players who wouldn't even be featuring for their teams.
So let's get down to business. For the first round of matches we have;
Qatar Vs Ecuador,Senegal Vs Netherlands ,England Vs Iran,USA Vs Wales,Argentina Vs Saudi Arabia ,Mexico Vs Poland ,Denmark Vs Tunisia,France Vs Australia ,Germany Vs Japan,Spain Vs Costa Rica,Morocco Vs Croatia,Belgium Vs Canada ,Switzerland Vs Cameroon,Brazil Vs Serbia ,Uruguay Vs South Korea ,Portugal Vs Ghana.
---
My team
---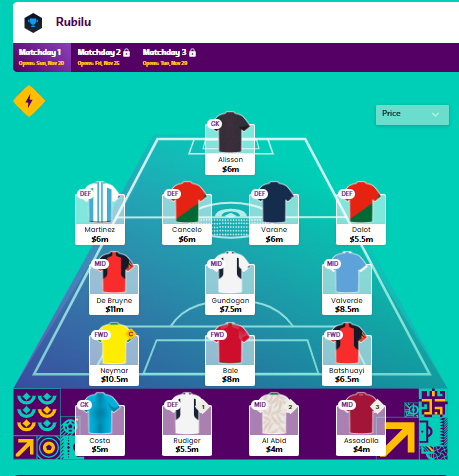 Fifa.com
---
So for my goalkeepers, I didn't have a problem with selecting high-end goals keepers cause they are usually low in cost. The highest was 6 euros and the lowest being around 4.5
So I went for Brazil Allison who costs 6m and Portugals Diego Costa who cost 5m.
I didn't consider the game Brazil had in the first round because I wanna keep Allison for a long time. Diego Costa on the other hand might be the one coming into the goal for my first games after I watched Portugal against Nigeria yesterday. Don't get me wrong he was not the keeper but the defence was good so the keeper won't be taking in a lot of shots.
---
For the back line, you have to select 5 defenders but only 4 or three can be on the field. I don't like having defenders in my team as they might end up spooling the points for me if they concede. I looked up the first round of matches for this one. The back line is so so important here.
For this one, I went with Matinez, Cancelo, Dalot, Varane and Rudiger. For now, I might be taking of Varane because their first match is against Australia which seems to enjoy causing pain to the big teams. Germany is up against Japan so that might be my safest option.
Ghana is my country but I think we can all come to terms with the reason why am backing Portugal back for this one.
---
For the middle, I prioritise it more than any position in my fantasy. Am always looking for quality midfielders because they rack up good points when you get very good midfielders. Gundogan, Valverde and KDB are my go-to midfielders. Valverde has been on hot red form and if he can get me one of those quality shots into the net against South Korea he will be racking up good points. Gundogan I think for me is a bargain for 7.5m. He has not been scoring lately for City but in the national team, I think he will be on fire. His price will only go up as soon as the World Cup starts.
I don't think I need to talk about master KDB. We all know what he brings to that Belgium side and I wasn't gonna pass out that chance and not sign him.
---
Neymar, Bale and Batshuayi are my forwards for now. I don't like spending a lot on forwards. I invest in the middle then as time goes on I look at the forwards I should get. Bale will surely be a contender for a lot of goals. When even he is in that Wales side they play well, apart from goals he links up his teammates well. He even takes set pieces so at 8m I think he is pretty affordable.
Belgium's Batshuayi was not someone I planned on buying. After getting Neymar and Bale my money run down so I went in for a safe bet. He Batshuayi starts for Belgium so I decided to play a gamble on him to see if he can give me what I wanted if not I take him out.
Neymar is against a strong Serbia but he won't care. Everything in Brazil goes through him and that's why I picked him as my number one and my captain. I don't like the way he plays at times cause he wastes the time but he is good. So I have given him my captain and I believe he will do something.
My bench is mostly full of people who might not even play but this time round I decided to go for only 2 people who I don't even know and might not play.
This is my fantasy team 2 days into the World Cup. As time goes I might have to change but am sure most of these boys will be starting in my team.
Thank you.
All images are mine unless stated otherwise
@amirtheawesome1 come have a look at my team.
---
---