The Ballan D'or curse?
---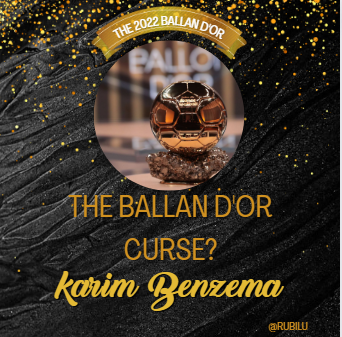 Image designed on canva
---
A few matchdays before the world cup Karim Benzema started missing matches for real Madrid. I could have sworn that those injuries were fake because he didn't wanna get injured to make It in time for the world cup. Well, those rumours were debunked quickly as Carlo. Ancelloti insisted Karim was injured and if he was match fit he would make it to the Real Madrid squad for their Laliga games.
Well, it turns out I was wrong about the French striker as he was dealing with injury problems. Real Madrid enjoyed a fine opening to the laliga and champions league campaign with their French Striker in fine form. Many people have argued that with the French striker in form Real Madrid are unbeatable, some have claimed without him Real Madrid is shit. Well, it was highly visible as Real Madrid was winning games but didn't look like themselves without someone to link the passes.
After winning the 2022 Ballan D'or ahead of Sallah, Mane and Lewandowski many prior predicted the French striker will have another wonderful season with his counterpart Vini upfront. But since then something seems to be off about the striker and he has missed almost half of Real Madrid games. He seems to be injury prone now and now I think more caution is taken considering he is in his 30s.
As a big Karim fan, I could only sob in agony when I saw the video of him holding his thigh in training. After this action Karim, he was taken to the clinic immediately for an MRI scan. After the scan, it was confirmed that he has been injured in the quadriceps in his left thigh.
Due to this injury, he will be out for 3-4 weeks so the best decision was to withdraw from the World Cup as he won't make it in time to participate in it. As I write this post I saw a post confirming he has returned to Madrid where he will try to recover and be fit in time for the return to club football. France's national team is missing a lot of good players.
Amongst them is Nkunku who was also withdrawn due to an injury in training, Mendy an injury, Pogba, Kante, and Kimpembe who will normally be in the starting lineup of the national team. Now everything rests on the shoulders of the young lads. Let's wait and see what they can do for their team.
All images are mined unless stated otherwise, source of ballan d'or trophy
---
---