La UEFA Champions League tiene sus finalistas. (es/en)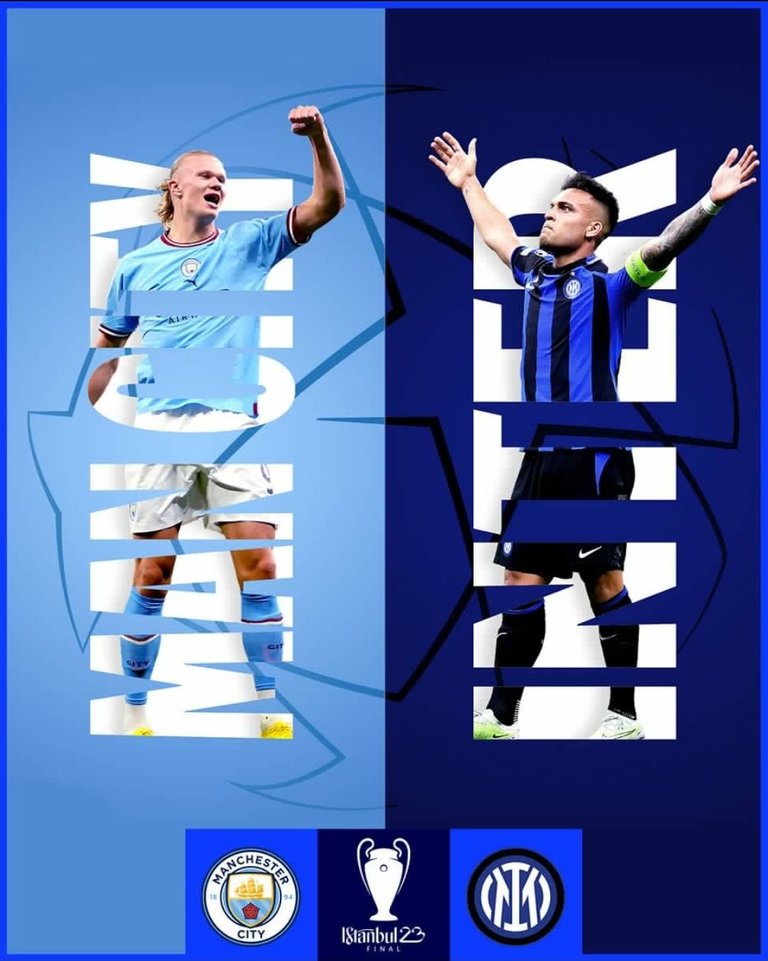 Sources:
Un saludo a toda la comunidad de Full Deportes, las semifinales de la Liga de Campeones 2022-2023 ya a definido sus dos finalistas tras los partidos de martes y miércoles. Los invitados a esta Gran Final son el Inter de Milán italiano y el Manchester City inglés, vencedores sobre AC Milán y Real Madrid respectivamente.
Desde antes de que concluyeran las eliminatorias, yo me había lanzado a la piscina, dando como favoritos a Inter de Milán y Real Madrid, pero me quedaba la certeza de que el Manchester City sería un hueso duro de roer, ahora más convencido aún, y amante del futbol, doy como favorito al Inter de Milán en la final, pero todo puede pasar, por ahora, felicidades a los aficionados y seguidores de ambos clubes finalistas.
Greetings to the entire Full Deportes community, the semifinals of the 2022-2023 Champions League have already defined their two finalists after Tuesday and Wednesday's matches. The guests to this Grand Final are the Italian Inter Milan and the English Manchester City, winners over AC Milan and Real Madrid respectively.
Since before the end of the playoffs, I had thrown myself into the pool, giving as favorites Inter Milan and Real Madrid, but I was certain that Manchester City would be a tough nut to crack, now even more convinced, and soccer lover, I give as favorite Inter Milan in the final, but anything can happen, for now, congratulations to the fans and supporters of both finalist clubs.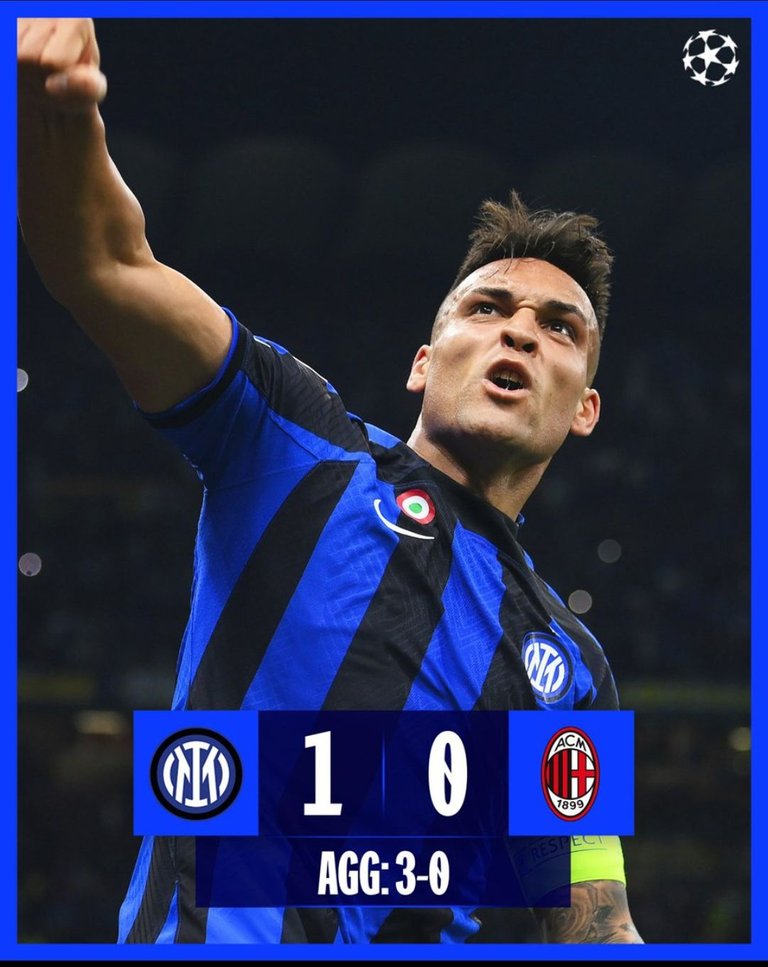 Sources:
Inter de Milán 1-0 AC Milán (3-0).
En una de las eliminatorias más electrizantes donde siendo local y visitante no existía ventaja porque ambos partidos se jugaron en la misma sede, los de Simone Inzaghi se llevaron el gato al agua al vencer en el global por 3-0 a su rival de la misma ciudad en un choque que es conocido históricamente como el Derby de la Maddonina.
Ambos partidos fueron los últimos que se jugaran por Liga de Campeones en el mítico estadio de San Siro. Ahora daré una panorámica de lo sucedido en el partido de vuelta entre estos dos colosos del futbol italiano.
In one of the most electrifying knockout rounds, in which home and away did not have an advantage because both matches were played at the same venue, Simone Inzaghi's team won 3-0 on aggregate against their city rivals in a match that is historically known as the Derby della Maddonina.
Both matches were the last Champions League games to be played at the legendary San Siro stadium. I will now give an overview of what happened in the second leg between these two giants of Italian soccer.
Las alineaciones:
Inter de Milán:
Formación: 5-3-2
Portero: André Onana
Defensas: Dimarco-Bastoni-Acerbi-Darmian-Dumfries
Mediocampos: Mkhitaryan-Calhanoglu-Barella
Delanteros: Dzeko-Lautaro
AC Milán:
Formacion:4-3-3
Portero: Mike Maignan
Defensores: Theo-Tomori-Thiaw-Calabria
Mediocampos: Krunic-Brahim-Tonali
Delanteros: Leao-Giroud-Junior Messias
Lineups:
Inter Milan:
Formation: 5-3-2
Goalkeeper: André Onana
Defenders: Dimarco-Bastoni-Acerbi-Darmian-Dumfries
Midfielders: Mkhitaryan-Calhanoglu-Barella
Forwards: Dzeko-Lautaro
AC Milan:
Formation: 4-3-3
Goalkeeper: Mike Maignan
Defenders: Theo-Tomori-Thiaw-Calabria
Midfielders: Krunic-Brahim-Tonali
Forwards: Leao-Giroud-Junior Messias
La acción:
Este partido de vuelta estuvo marcado además por el regreso de la perla portuguesa del Milán, hablamos de Rafael Leao, que, a pesar de no presentarse al cien por ciento, dio lo mejor de sí mismo dentro de la cancha, y fue en algunas ocasiones un dolor de cabeza para los defensores neroazzuris, mientras Onana mantenía la portería en cero con estupendas atajadas.
The action:
This second leg was also marked by the return of Milan's Portuguese pearl, we are talking about Rafael Leao, who, despite not showing up at one hundred percent, gave the best of himself on the pitch, and was at times a headache for the Neroazzuri defenders, while Onana kept a clean sheet with stupendous saves.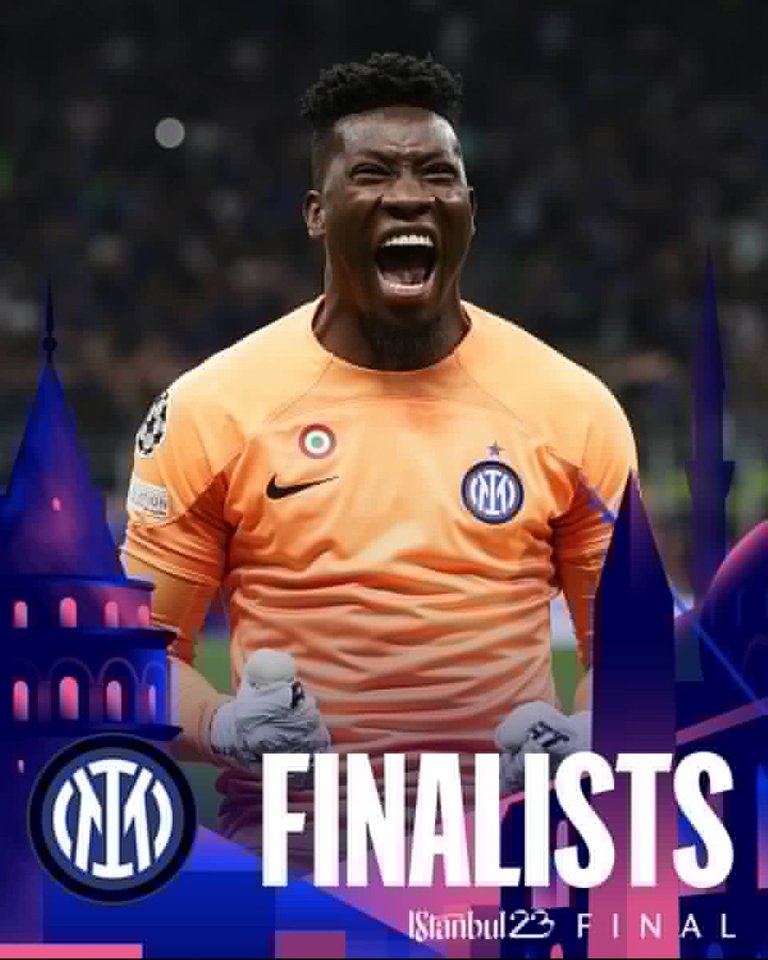 Sources:
Otro jugador rossoneri que se presentó en una gran tarde fue el arquero Mike Maignan que, a pesar de permitir un gol en la vuelta, mantuvo a raya las escaramuzas de los delanteros del Inter. El único gol de partido cayó en los botines del argentino Lautaro Martínez, en una jugada en donde logro escurrirse dentro de la defensa, burlando rivales y definiendo con un soberbio derechazo al primer poste.
El ariete albiceleste además fue reconocido como MVP del partido, no solo por el gol, sino porque se presentó en una tarde noche magnífica dentro de la cancha. Al final, el fuerte abrazo entre Inzaghi y Pioli demostró que, más allá de la rivalidad entre estos dos clubes históricos, existe un respeto mutuo entre los dos entrenadores, y demuestra, una vez más, que todo queda en el terreno.
Another Rossoneri player who had a great afternoon was goalkeeper Mike Maignan who, despite allowing a goal in the second leg, kept Inter's forwards at bay. The only goal of the match came from the Argentine Lautaro Martinez, who managed to slip through the defense, outwit opponents and finish with a superb right-footed shot at the near post.
The Albiceleste striker was also recognized as MVP of the match, not only because of the goal, but also because he had a magnificent evening on the pitch. Inzaghi and Pioli's embrace at the end showed that, beyond the rivalry between these two historic clubs, there is a mutual respect between the two coaches, and once again proves that everything stays on the field.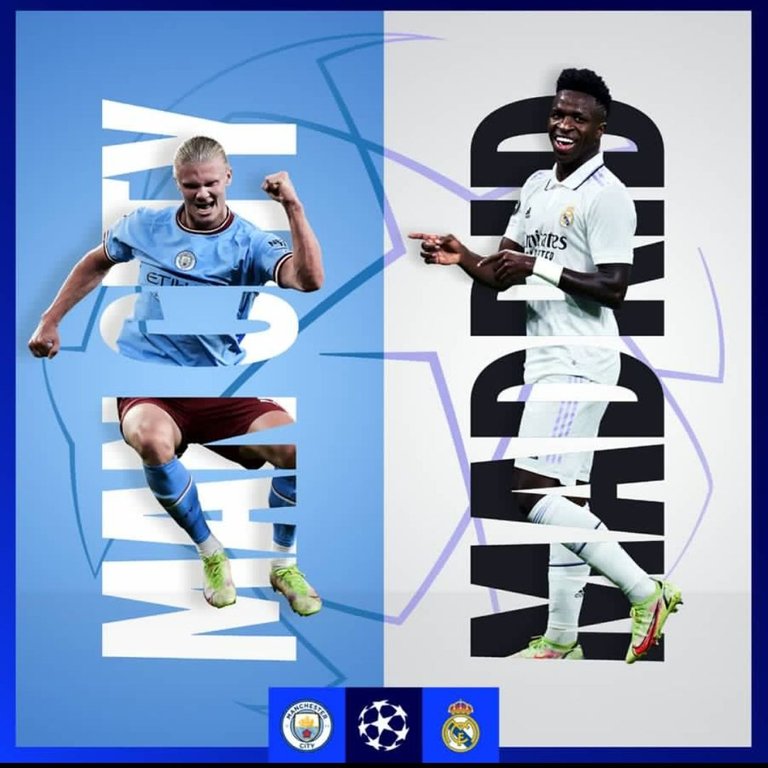 Sources:
Manchester City 4-0 Real Madrid (5-1)
Una eliminatoria entre el histórico de la Liga de Campeones, y el equipo más poderoso, desde todos los puntos de vista, dentro del futbol inglés, el Etihad Stadium y sus más de 50 mil aficionados dentro del parque del lado azul de Manchester fueron testigos de un auténtico partidazo entre dos clubes con historias diferentes y un presente en donde los dirigidos por Guardiola han remontado en su liga local y en la próxima jornada se pueden coronar campeones de la Premier League. Ahora les brindaré una panorámica de lo sucedido en el partido de vuelta entre estos dos colosos.
The Etihad Stadium and its more than 50 thousand fans in the blue side of Manchester witnessed an authentic match between two clubs with different histories and a present where Guardiola's team has come back in their local league and in the next matchday they can be crowned champions of the Premier League. Now I will give you an overview of what happened in the second leg between these two giants.
Manchester City:
Formación: 3-4-3
Portero: Ederson
Defensas: Akanji-Ruben Dias-Walker
Mediocampos: Rodri-Stones-Gundogan-De Bruyne
Delanteros: Grealish-Haaland-Bernardo Silva
Real Madrid:
Formación: 4-3-3
Portero: Thibaut Courtois
Defensas: Camavinga-Alaba-Militao-Carvajal
Mediocampos: Modric-Kroos-Valverde
Delanteros: Vinicius Jr.-Benzema-Rodrygo
Este partido fue desde el principio dominado por los de Guardiola, no se les ocurrió prestarle el balón al Real Madrid, ni siquiera por asomo, se dieron cuenta de que el Madrid sin el balón controlado en salida les iría fatal y el técnico español del City aplico la filosofía culé de presión tras perdida lo cual le funciono a la perfección. Fíjense, si fue así, que el Madrid solo pudo hacer 13 pases en los primeros 20 minutos, la mayoría en defensa, lo que da a la medida de la superioridad que mostraron los Citzyens en la cancha.
Manchester City:
Formation: 3-4-3
Goalkeeper: Ederson
Defenders: Akanji-Ruben Dias-Walker
Midfielders: Rodri-Stones-Gundogan-De Bruyne
Strikers: Grealish-Haaland-Bernardo Silva
Real Madrid:
Formation: 4-3-3
Goalkeeper: Thibaut Courtois
Defenders: Camavinga-Alaba-Militao-Militao-Carvajal
Midfield: Modric-Kroos-Valverde
Forwards: Vinicius Jr.-Benzema-Rodrygo
This match was dominated from the beginning by Guardiola's team, they did not think of giving the ball to Real Madrid, not even for a moment, they realized that Madrid without the ball controlled at the start would be fatal for them and the Spanish coach of City applied the Culé philosophy of pressure after loss which worked to perfection. Notice, if it was so, that Madrid could only make 13 passes in the first 20 minutes, most of them in defense, which gives the measure of the superiority shown by the Citzyens on the pitch.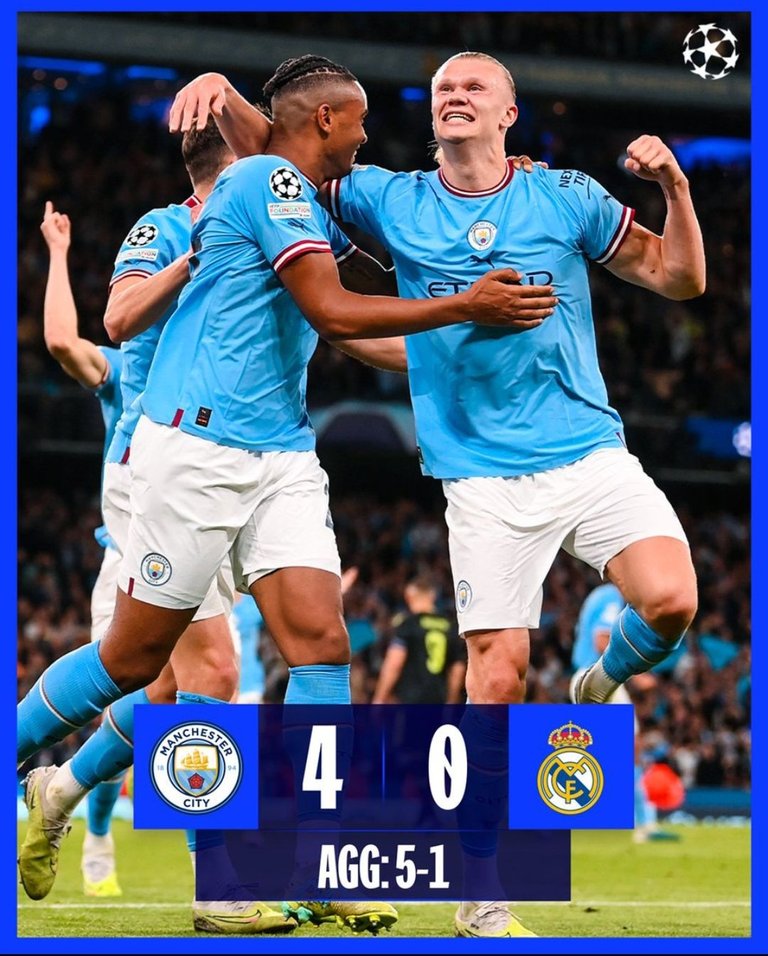 Sources:
Entre los que se pueden salvar de la debacle madrileña se encuentra el portero Courtois, que mostró reflejos felinos con excelentes atajadas a Haaland, la más clara sin dudas sobre un cabezazo a boca de jarro que logro tapar el meta belga. Pero el asedio de los ingleses daría sus frutos, pero esta vez no serían ni De Bruyne, ni Haaland los protagonistas, sino un pequeño portugués llamado Bernardo Silva, que marcó una pareja de goles para sentenciar la eliminatoria, el primero de sus goles fue un soberbio zurdazo ajustado al poste tras un brillante amague que dejo sin opciones de atajar al portero merengue.
El segundo sería tras un grosero descuido de la defensa del Madrid donde el propio Bernardo cabeceó a portería vacía, con el 2-0 en el marcador el Madrid lo intentó, pero el travesaño le negó a Kroos lo que sería un auténtico golazo, en la segunda mitad, el Real Madrid comenzó más impetuoso y en busca del empate, dejando espacios en la defensa, a pesar de esto, el Madrid tuvo par de ocasiones que fueron neutralizadas primero por Ederson y después por Akanji.
Sobre el final del partido, el City liquido toda posibilidad de remontada para el Real Madrid, y convirtió el marcador en una auténtica paliza, autogol de Militao, y gol de Julián Álvarez para cerrar la lata fueron los últimos clavos en la sepultura del Real Madrid. Personalmente, opino que el marcador fue acorde a lo que se vio en cancha, un Madrid desdibujado, y un City que lucio como una apisonadora.
Among those who could be saved from the Madrid debacle was goalkeeper Courtois, who showed feline reflexes with excellent saves from Haaland, the clearest of which was a header that the Belgian goalkeeper was able to block. But the siege of the English would bear fruit, but this time neither De Bruyne nor Haaland would be the protagonists, but a small Portuguese called Bernardo Silva, who scored a couple of goals to seal the tie, the first of his goals was a superb left-footed shot against the post after a brilliant feint that left the Merengue goalkeeper with no chance to save.
The second would be after a gross oversight of the Madrid defense where Bernardo himself headed into an empty goal, with the 2-0 on the scoreboard Madrid tried, but the crossbar denied Kroos what would be a real goal, in the second half, Real Madrid began more impetuous and in search of an equalizer, leaving spaces in the defense, despite this, Madrid had a couple of chances that were neutralized first by Ederson and then by Akanji.
Towards the end of the game, City killed off any chance of a comeback for Real Madrid, and turned the score into a real thrashing, Militao's own goal and Julian Alvarez's goal to close the scoring were the final nails in Real Madrid's coffin. Personally, I think that the score was in line with what was seen on the pitch, a blurred Madrid, and a City that looked like a steamroller.
Traducción al Inglés por Deepl Traslate.
English translation by Deepl Translate.

---
---