Second Home!
Calling a place 'home' simply means that a place is near and dear to your heart. A home can be any place which makes you comfortable and loved. Emotions are connected not just to humans but to brick and stones as well. Architecture sparks many kind of emotions into humans.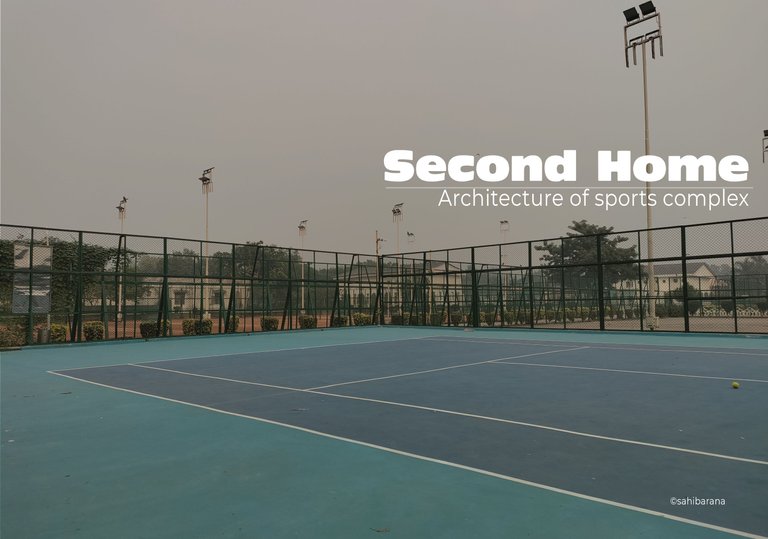 Playing lawn tennis was an everyday routine until situations took a turn and I had to leave the sport for good. Fast forward 6 years now, I made a little comeback to the court and felt at home in no time.
Visiting sports complex is no new for me and my family since after me , my brother is now playing LT professionally. I have been several times to the complex and enjoyed being there But yesterday was quite wholesome experience as I played tennis till evening and enjoyed a day out at court. The ease and comfort came instantly even after six years of being apart.
Ever wondered how crazy are human emotions connected with a place?
During my architectural thesis in 2019, I tried my best to get sports complex as a subject but it was already grabbed up by one of my class mate and we were quite restricted not to opt the same subject so, I switched up to convention centre. But still learnt a lot about sports complex's architectural services while helping my mate out during thesis.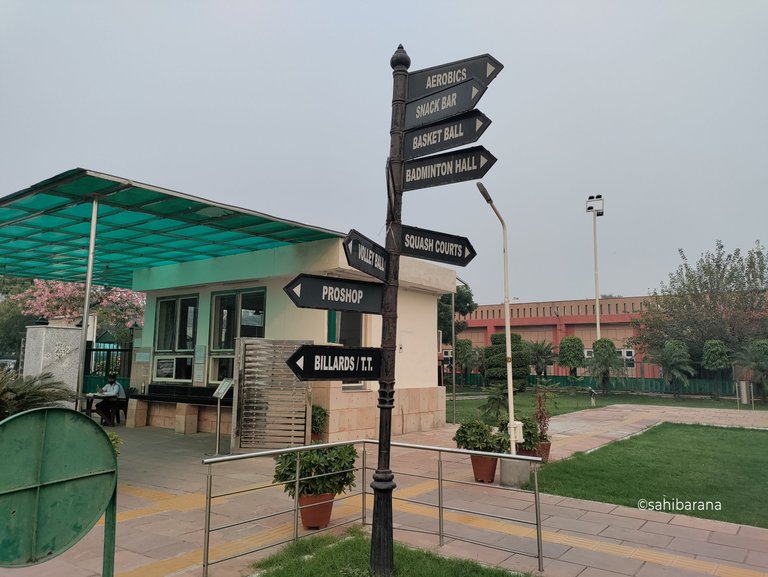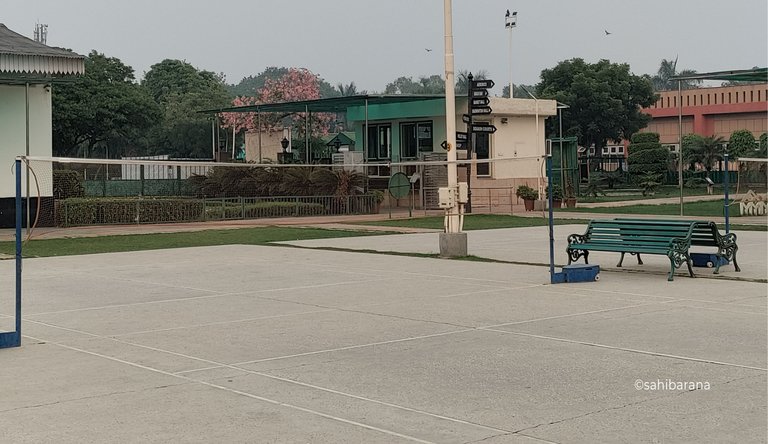 Sports complexes in general attracts the footfall of physically active people. Either professionals or general public who wants to play games for enjoyment.
This sports complex is stretched acers large with all the trees covering the periphery of the plot. There are various sports included in the complex, The major part of the complex is open to sky with only four buildings inside the complex.
To enter, there's a membership card or one time payment which varies on the time and sport you choose.
It is quite neatly designed besides the largest tv tower of the capital state.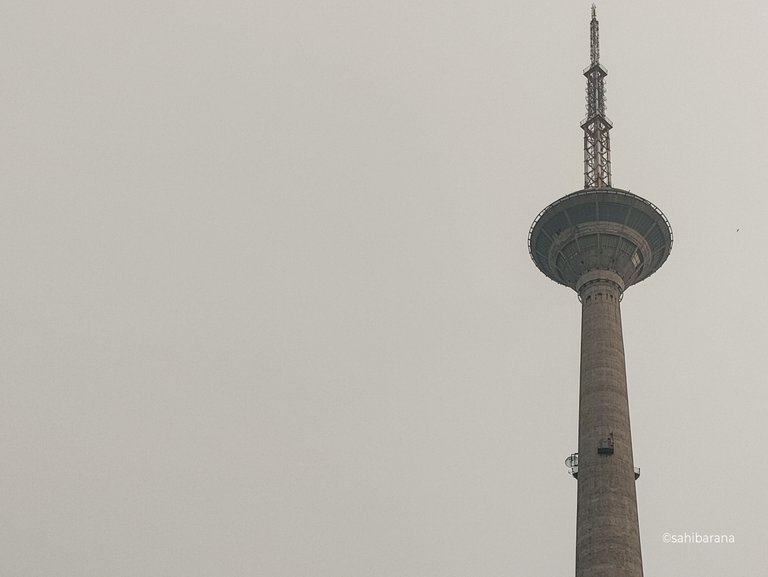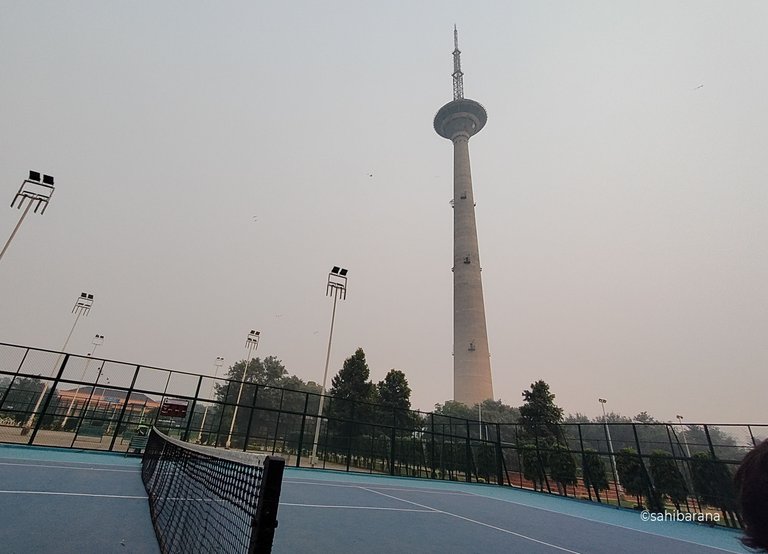 This Tv tower was build back in 1988 and it's still functional except the fact that now tourists are not allowed inside.
It just gives a good view towards the complex.
The architecture of this sports complex isn't modern but traditional and quite basic. The presence of pitched roof and plain walls with not much design emphases to the exterior and only functionality was god here.
The landscaping was neatly managed with all due maintenance work on time.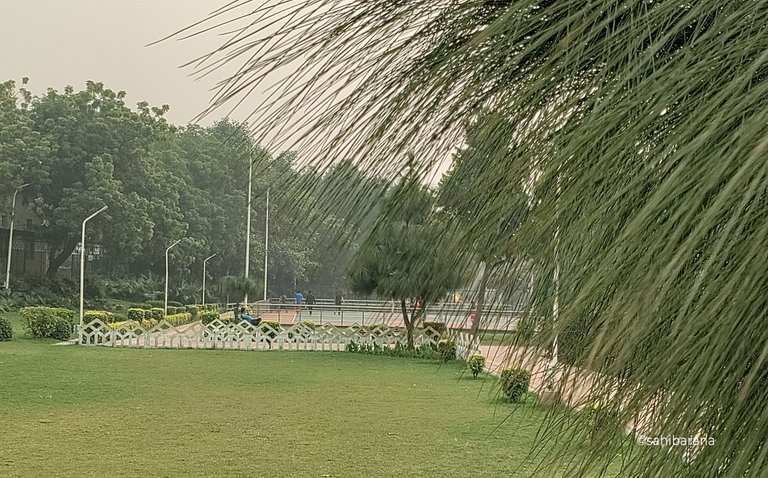 As winter season is approaching, the pictures turns quite hazy due to presence of fog. But this season is best as it's not that hot and not that cold considering the 'extreme climate' conditions in Delhi.
After playing Lawn tennis on synthetic court, My brother and I took some rest in cafeteria. Before leaving I took a tour of the complex observing the built up details.
Badminton Court
Many of us must have played badminton at some point in life, but sometimes we want a wholesome friends n family time playing some sport, Here comes an open court of badminton which has the most cheapest ticked in the sports complex and one can enjoy their time in groups playing badminton.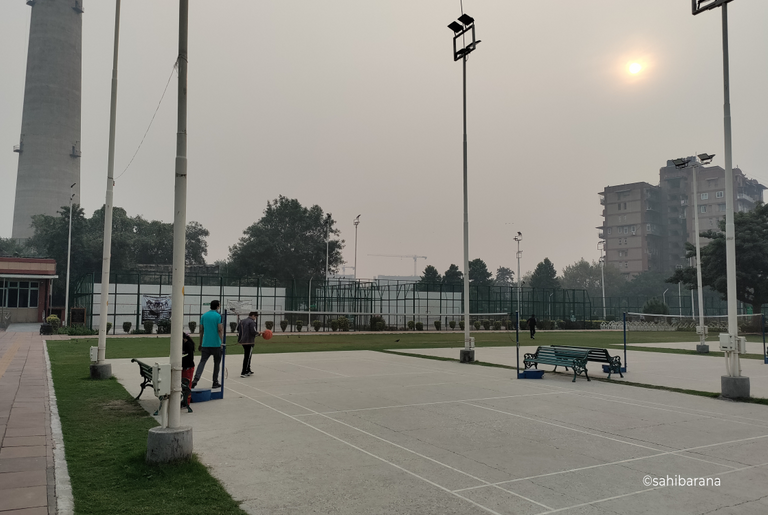 A sports complex should always have space for professionals and general public. Here comes the place for professionals-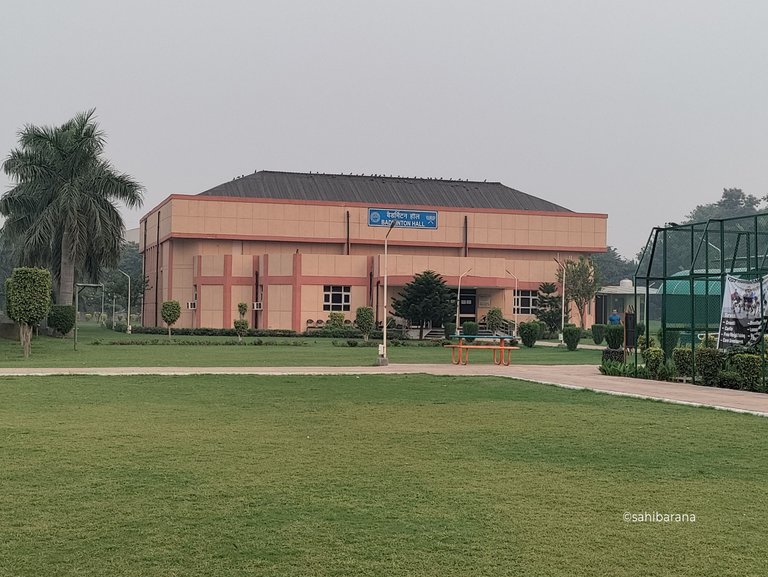 This huge pitched roof building is dedicated to badminton's professionals. Here multiple private and government academies runs during different time of the day and general public is not allowed inside.
Moving ahead-
Squash, basketball and football court.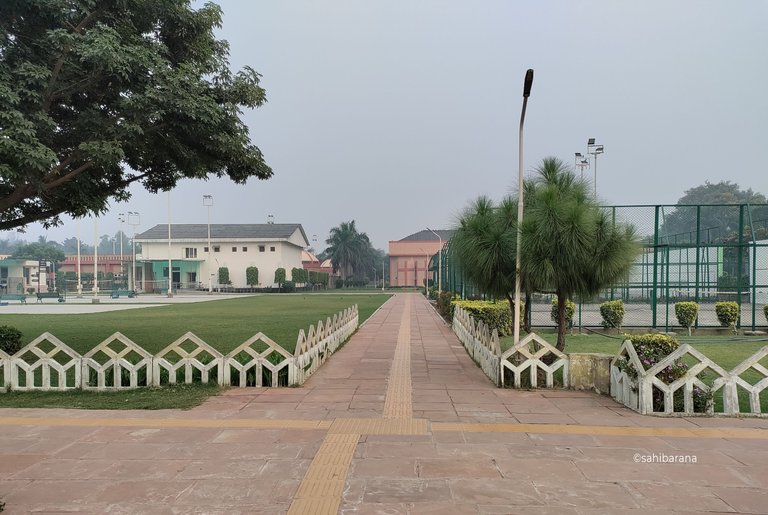 Strangely many people have no idea as to why these yellow strips are present on pathway or you may find them in public places. It's for blind people to follow the path safely.
Anyways this junction segregates certain courts , The white building on the extreme left in the above mentioned picture is of squash court which was occupied at that time and wasn't open for public for couple of hours.
Anyways moving ahead -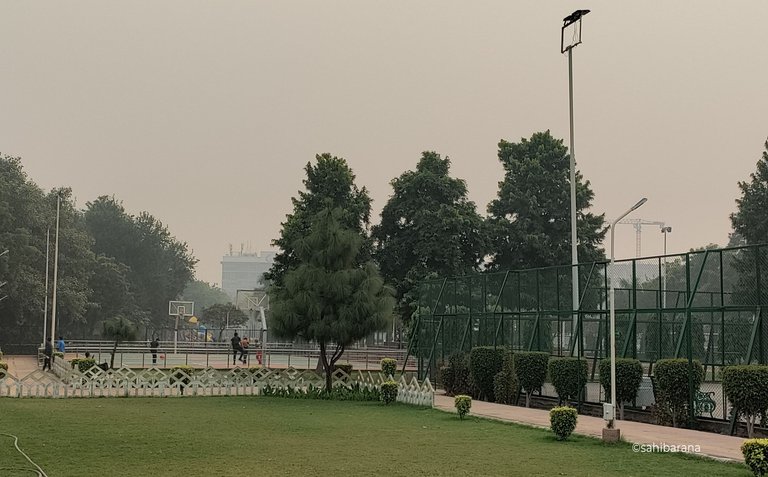 The basket ball court lies just besides the football court with a good segregation off course. Having such beautiful greenery around just elevates the mood and clears the pollution to some extend. People happily playing over there and pausing all the stress of their lives for the moment always fascinates me. How sports can do good to your body and mind.
Lawn Tennis Court
There were three types of courts - Clay court, hard court and synthetic court. There were only couple of synthetic courts and rest of the types has much larger amount of courts as Synthetic courts are quite expensive to maintain and only few people play there and it is considered best among the rest of types.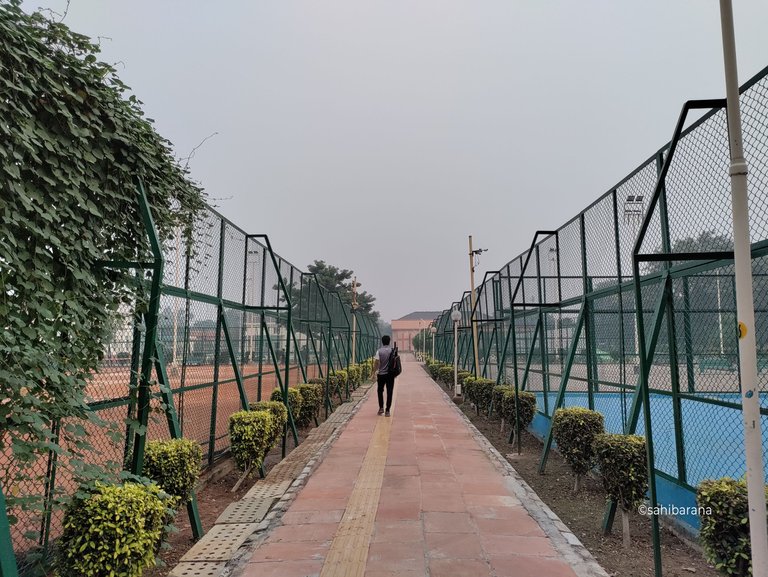 The clear segregation of the types of courts.
The presence of huge fencing nets around the court is to stop the accidental ball to fly out of the court and protect the periphery.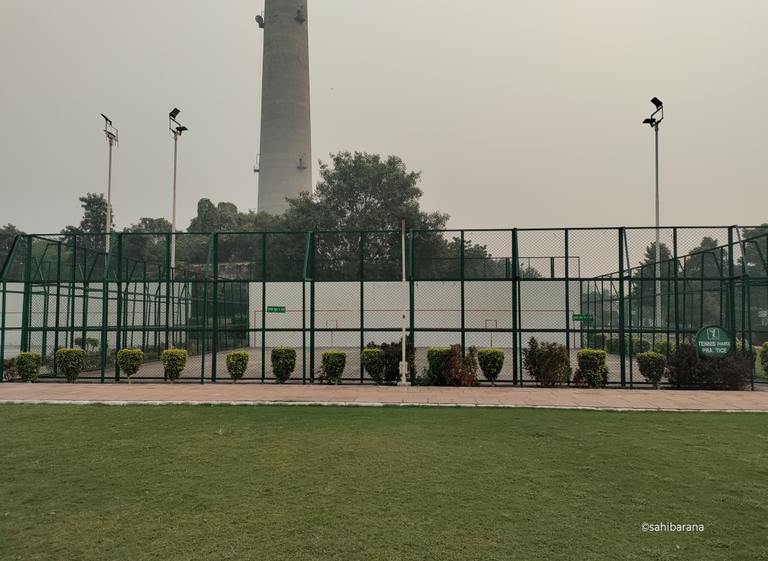 This specific hard court was made just for individual practice with the wall.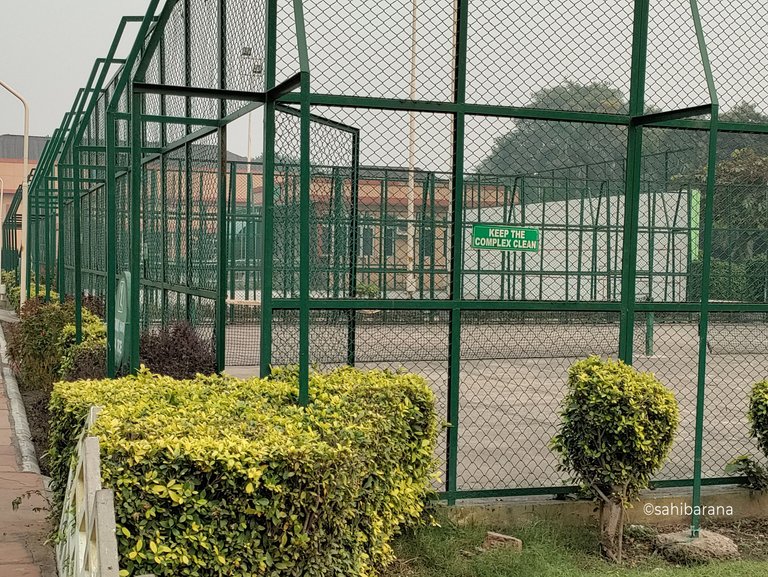 Another specific hard court , This one is meant for regular play with opponent and this was hardly used.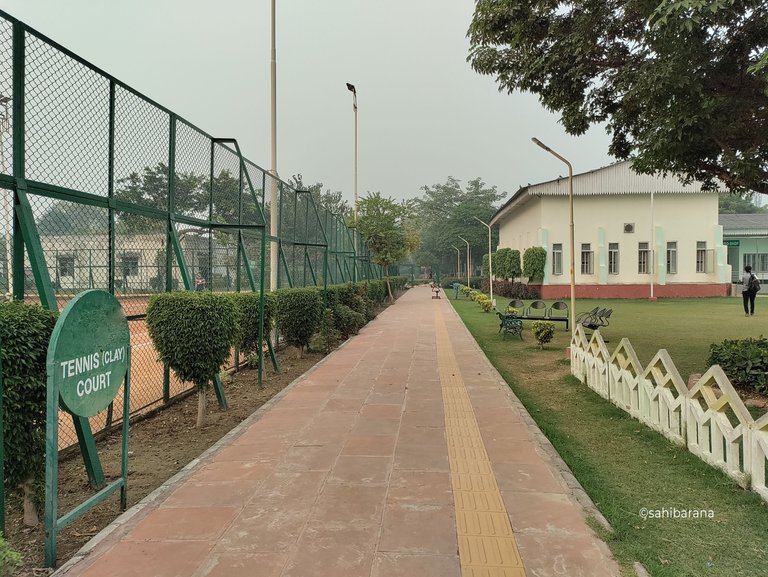 The cafeteria just lies besides the clay court as one can see in the picture, Cafeteria offers more than packaged food, there's all kind of snacks that they can cook, moreover there's a shop which sells all sports equipment. Considering this sports complex is not private and is maintained by the government. It is so neatly and strictly regulated.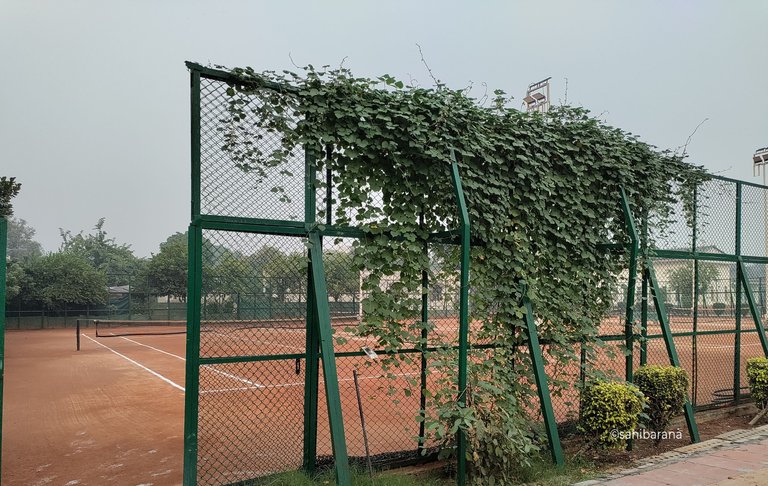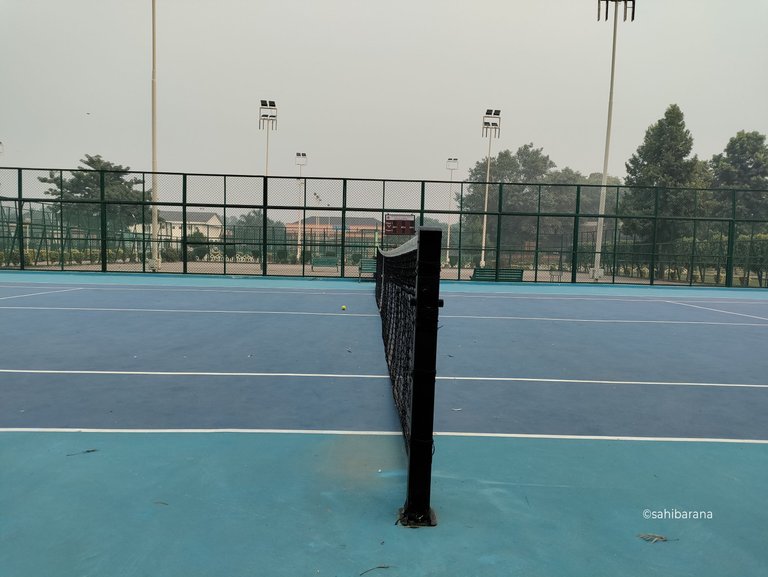 Last but not the least comes our synthetic court where we actually went to play. It was neat and well maintained no wonder why this is the most expensive court to play per hour.
Concluding
It was indeed a wholesome experience playing at the sports complex, Considering it was a holiday which bought less crowd and we went at early hours of the day. The strictness and regulations by the staff was appreciable. There was individual guard at every court. In architectural perspective, The design as quite functional with pathways clearly leading to courts of different sports and the amazing landscape following it.
As we working people barely gets time for sports and most of us must have never visited their nearby sports complex, It's my humble request to incorporate certain sports activity in your regular lifestyle as it will elevate your mood, boost your confidence, balance your body and mind.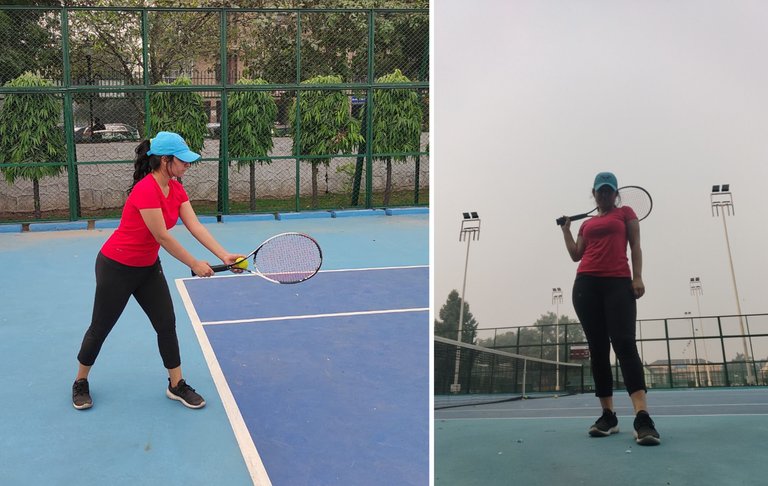 Would you go this weekend to your nearby sports complex and enjoy playing sports of your choice?
---

---
---