HiveChess 960 Arena - Chess Tournament Report Including Games Analysis

"Chess960 is healthy and good for your chess. If you get into it and not just move the pieces to achieve known positions it really improves your chess vision"
•Levon Aronian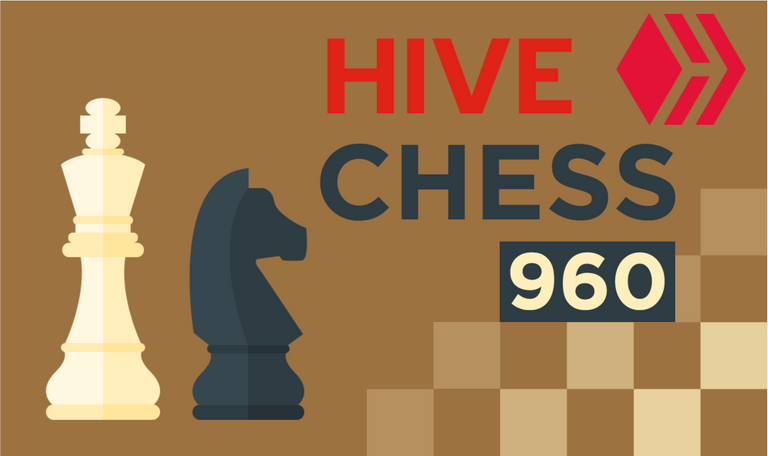 Image by @schamangerbert
INTRODUCTION
The weekend Hive chess continued yesterday (Saturday) with the a special chess event hosted by @schamangerbert
It was a chess 960 event with a bullet time control of 2 minutes plus a second added for every move.
TOURNAMENT REPORT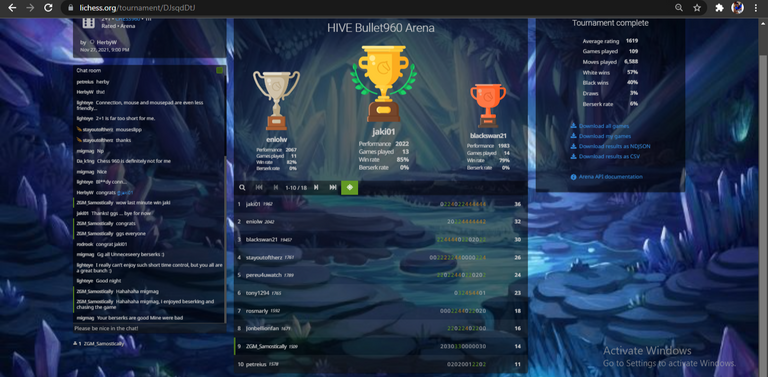 The tournament was played by 19 players,with Hive user @jaki01 winning today's tournament. @eniolw finished 2nd and @tungphong also known as Blackswan21 came 3rd.
One thing to notice is that,alot of games ended quickly as not everyone was familiar with the Chess 960 variant. Or rather the time control was too short for the games to last long. As the host @schamangerbert said before the tournament;
After the many games with preparation and enough time to think about it, we have to have some fun again. Anyone who takes Bullet too seriously cannot be helped.
So it was all about the FUN!
Take a look at the image below. Black was lost already at move 10.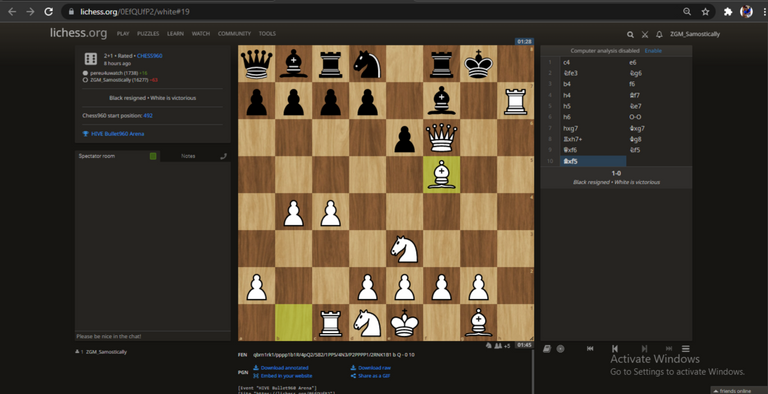 White did amazingly well with 57% win rate! I think most players struggled with black due to the fact that there were no known defenses being played!
I found some interesting games I enjoyed, some which i made some quick Analysis on below and others which i would Analyse In my #Hivechess study during the week.
Missed the Last Hivechess study?
You can watch the full video here
INTERESTING TOURNAMENT GAMES
GAME 1
Tony1294 1-0 Zgm_samostically
In a recent post by @tony1294 ,he acknowledged that he loves to play @samostically because of the wild and tactical positions the both players always reach. This game started in a random position but didn't look like one, with both players very attacking minded.
The game began with both sides planning an attack against their opponents king. And after move 7.Nd4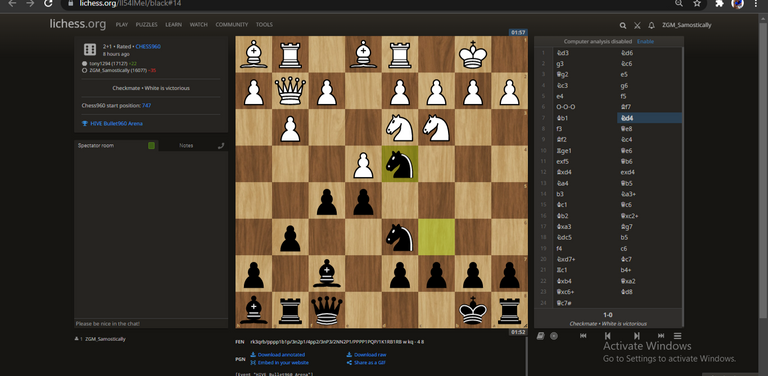 it looks like black has taken the initiative first.
White kept on developing his pieces while black kept on strategizing on a way to get the white king.
On move 11. Black replied exf5 with Qb6!?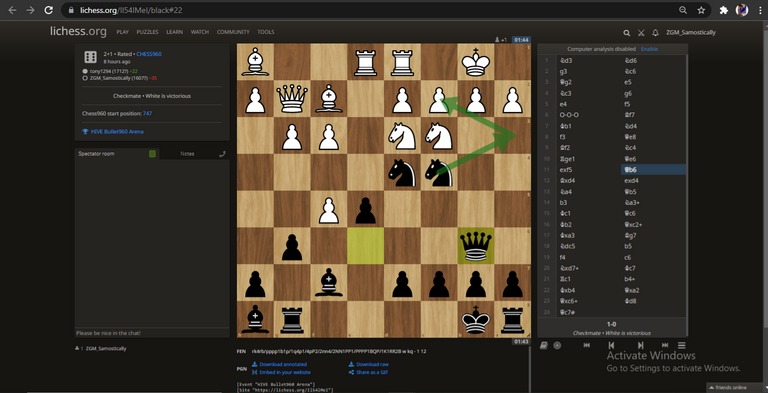 (Sacrificing the pawn but threatening ideas like Na3+ followed by Nxc2.)
White spotted the idea and played carefully with 12.Bxd4 but black player wanted more. The game proceeded with 12.exd4 , 13.Na4 Qb5, 14.b3 Na3+ 15.Kc1 Qc6 and after 16.Kb2. Black decided to go with the move 16.Qxc2 and here comes the decisive moment.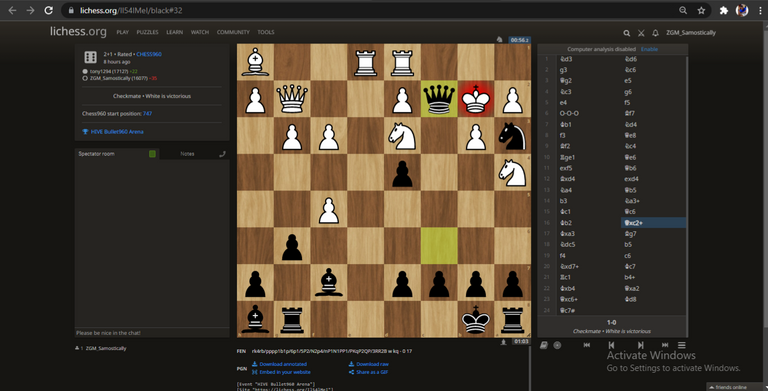 White replied with the brave 17.Kxa3 and black should have just played (Qxd3) regaining the piece with a more active position. But black played 17.Bg7?! And the after the very strong 18.Ndc5!,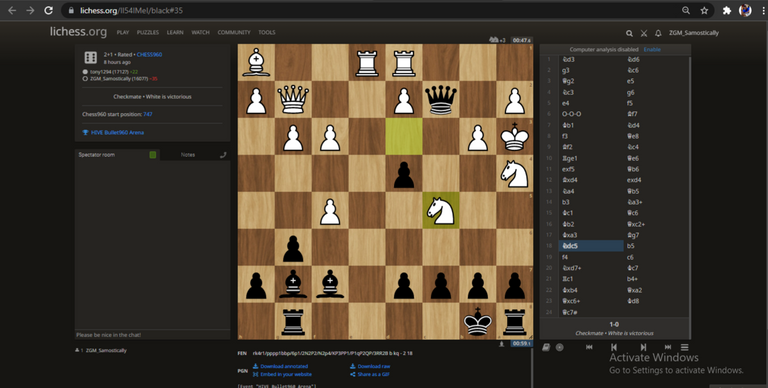 Black would not have enough time to get his attack completed and a prepared Rc1 would change the attack wheel.
The game proceed with 18.b5 19.f4 c6 and 5 moves late White checkmated!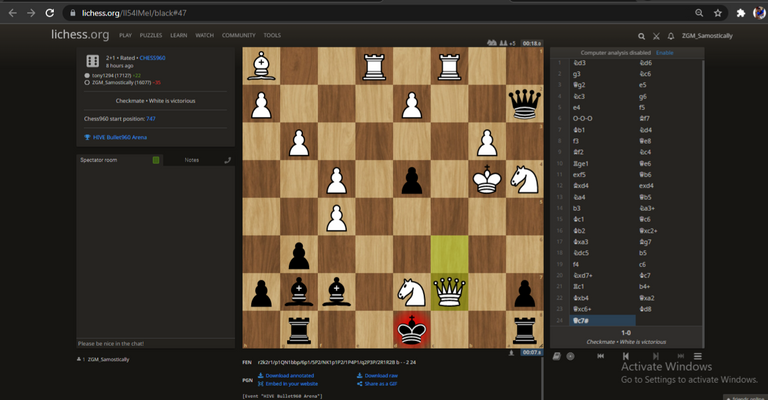 Below is a Gif of the game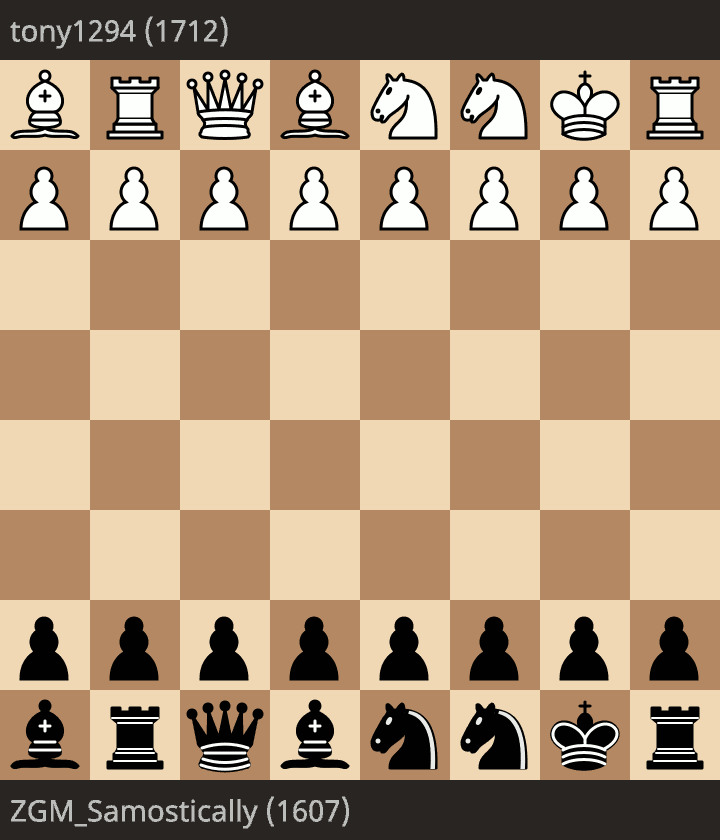 Game 2
Stayoutoftherz 1-0 Pamboy27
@stayoutoftherz had a great performance today with a 4th place finish! Even in a random position, he did well to retain his usual style of gaining space in the Queenside of the board.
The game started with both sides trying to gain space advantage and after move 8.b4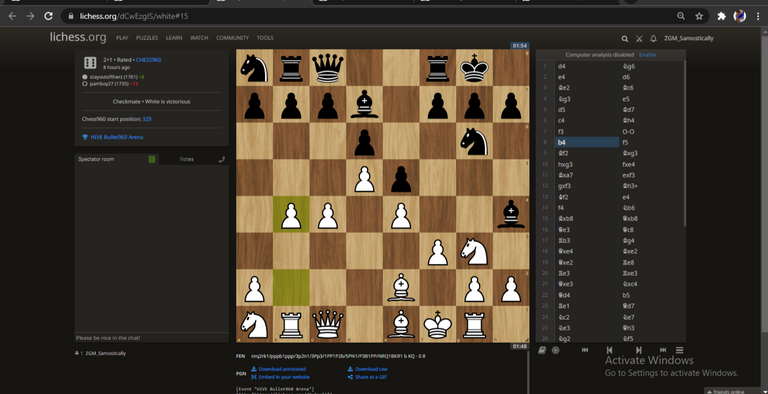 Which black replied with 8.f5. It is not so clear who has more space.
My chess coach always tells me;
Pay more attention to captures for that is where a chess game is either won or lost
In the position below 10.fxe4??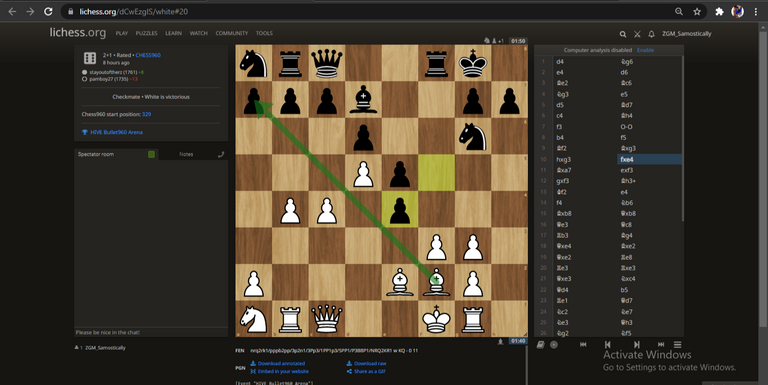 With the Fischer random (chess960) setup, it might be difficult to see how your rook can get trapped very early.
But the conversion wasn't easy for white as he required technique and patience to convert.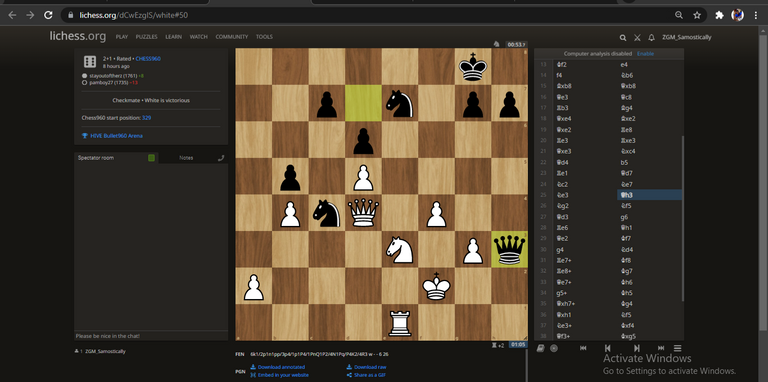 At move 25, Black played Qh3 which looks tricky. But white did well to kill any Hope of perpetual check with the move Ng2!
And after a little more resistance from black, white was able to find checkmate!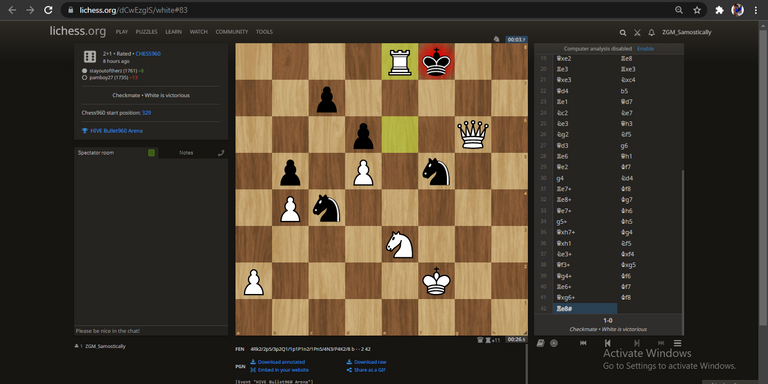 In Conclusion...
It was a fun tournament for me as I enjoyed beserking and playing a "race against time" which most part I ended up losing. But in general, the consistency in our hive chess tournaments makes me feel good. Lastly, I appreciate everyone who supports and promotes chess on hive. Thank you very much. I did stream the tournament and you can check my last post here if you are interested.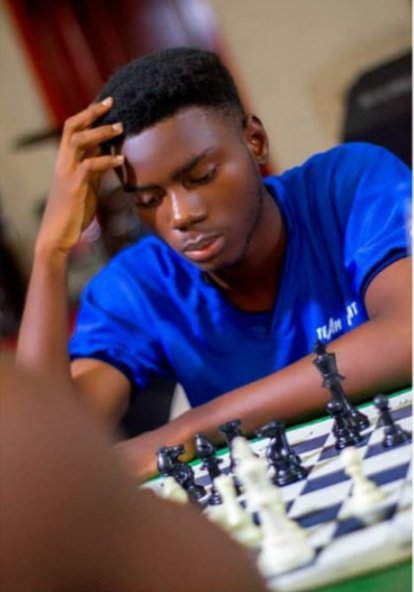 I am @samostically,I love to talk and write about chess because i benefited alot from playing chess.sometimes i share my thoughts on life in general.I love to engage with others and i love communication.I believe life is all about staying happy and maintaining peace.
♟♟♟♟♟♟♟♟♟
Please do let me know if you don't want to get mentions/tagged in my report.
Images and Screenshots Used in this article are mine except stated otherwise


I play crazy and aggressive chess,if you want to see some games,You can catch my chess related videos on
My threespeak Channel

If you love chess,you can join The Chess Community
We continue today with the @Chessbrotherspro league. See you there!

---
---