King Richard: The Best Sports Drama Of The Year! || El Rey Richard: ¡El Mejor Drama Deportivo Del Año! [Eng/Esp]
Mis queridos lectores españoles, por favor, desplácese hacia abajo para la versión en español ... Gracias
(English Version | Versión en inglés)
INTRODUCTION
This is the best sports drama of the year! I knew immediately i finished watching this movie I was going to be writing a review,not just because i knew it would be a great one but because I have always wanted to also blog about my love for the game of tennis.I have been a tennis fan for a long time now and I played tennis as an amateur in my university days.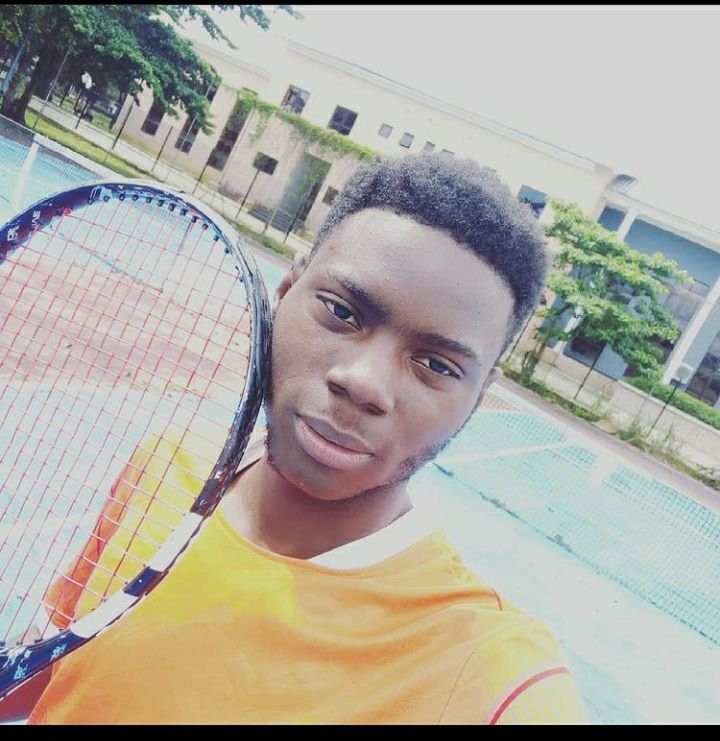 An old picture of me in the court
My tennis life is a story for another day. Today I bring to you a very interesting movie that focuses on success,A true life story that was just released in the cinemas less than a week ago,it tells the sucess story of the popular tennis sisters which you might have heard about "SERENA WILLIAMS" and "VENUS WILLIAMS" and how their father Richard Williams contributed to their success.

it is a good watch for parents too. As usual I will do my best to give you reasons why I think it's a good watch without actually dropping spoilers so you are gonna love it just the way i did.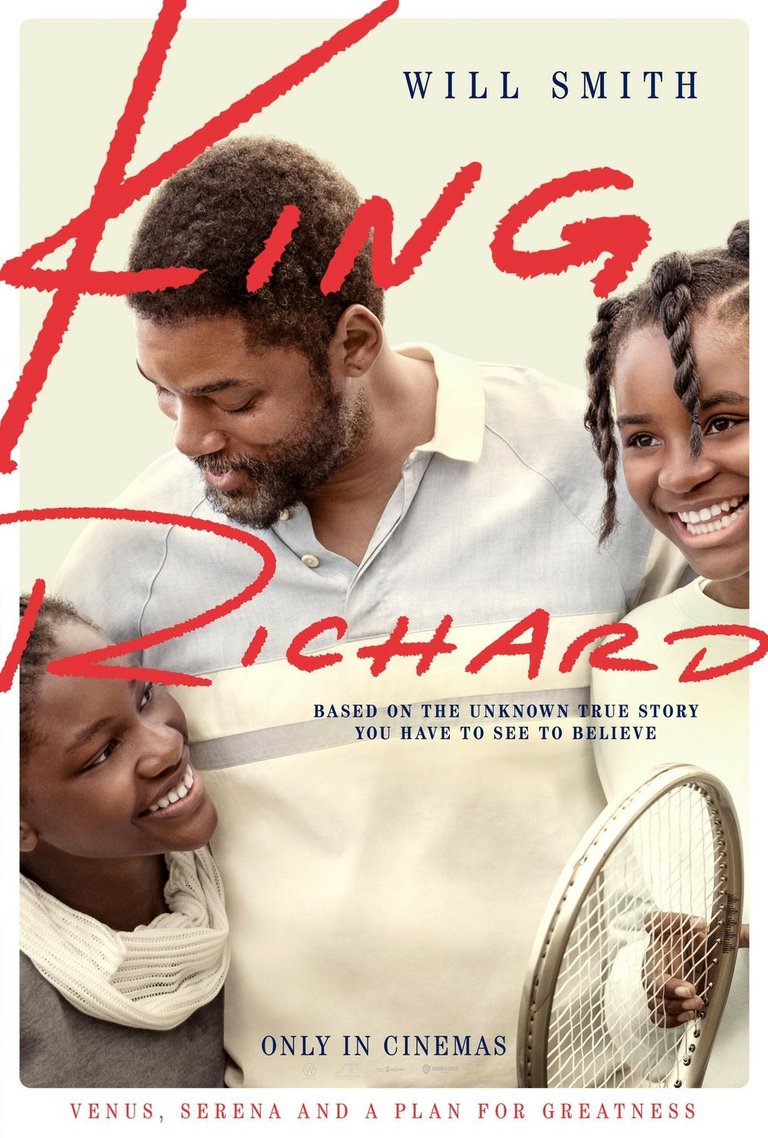 Image from IMDb Imdb
KING RICHARD
King Richard is an American Drama which explains the life of Richard Williams, the father of the popular tennis players Venus Williams and serena Williams. It was released in the cinemas about 4days ago, 19th November(I watched it yesterday). The movie doesn't require you to fully understand the game of tennis to watch it as it explains alot more than tennis. Personally I learnt determination and focus as richard Williams told the whole neighbourhood that his daughters were the key to making money and would be successful. He termed it as "business investment". This isn't the first story that i have seen parents use their children as an experiment or way out by focus them on a sport. A particular story I know of is in my beloved game of chess. The story of the László Polgár, Russian who trained his children so hard that his daughter Judith became the best female chess player the world ever saw. Well,this movie makes us understand the reasons for all this and walks us through their life stories.
King Richard was directed by Reinaldo Marcus Green and was produced by both will Smith and Tim white. The movie is behind distributed by Warner Bros. Pictures.
You can find a full article as regards the cast and crew on Wikipedia
Here Are 3 Reasons Why I Think You Would Love the Movie "King Richard"
AWESOME CASTING!
Everyone loves a movie which the actors and actresses plays their role extremely well and this movie is no different. Popular Actor Will Smith played the role of King Richard . King Richard is the father of the legendary tennis sisters,Who was hell bent on making sure his daughters excell in life.He went around looking for help and was passionate and stubborn.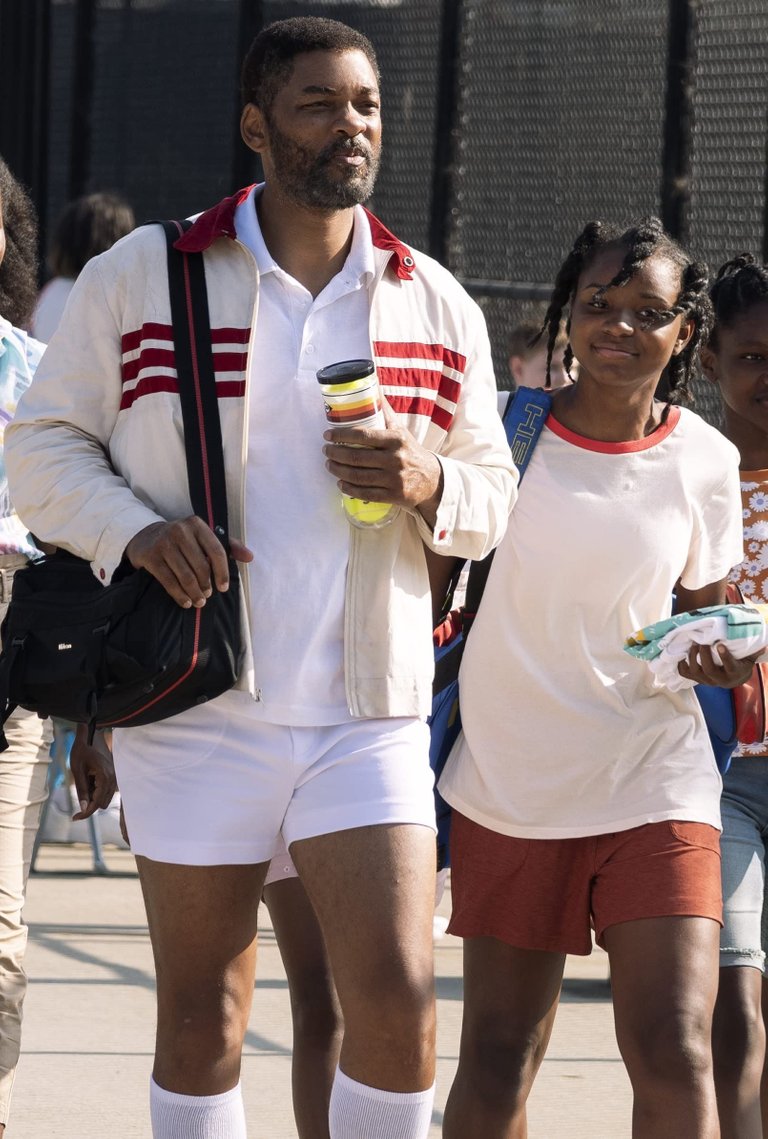 I don't see anyone who could have acted that role better than will smith, it was all so passionate. According to Nidhun Thankachan, in his review Here
Smith stars as the flamboyant, often outspoken Richard Williams, the father of the legendary Williams sisters, regarded as the greatest ever siblings to ever lift a racquet. If you have caught the real life 'King Richard' during his famous interviews and press tours, you can easily comprehend the level of detailing and thought Will Smith has put behind his pin-point portrayal of the famous dad/coach, down to even
his Compton accent, body language and mannerisms.
Also the characters that portray Serena and Venus were awesome. Saniyya Sidney as Venus Williams and Demi Singleton as Serena Williams were both Awesome. They played their roles well and I think it's one reason the drama is worth your time.
VERY MOTIVATIONAL!
One reason why I loved this movie is because of the way it made me feel.the life of this well-known sisters weren't smooth,this movie shows the obstacles and problems they faced to get to were they are. It is a very emotional biographical drama that focuses on struggles to success. Like I said earlier, Richard was a never give up father who went through so many "No's" but people before he finally had breakthrough. Even when the daughters became professionals, it still wasn't easy.watch the movie and feel that sense of "You too can do it"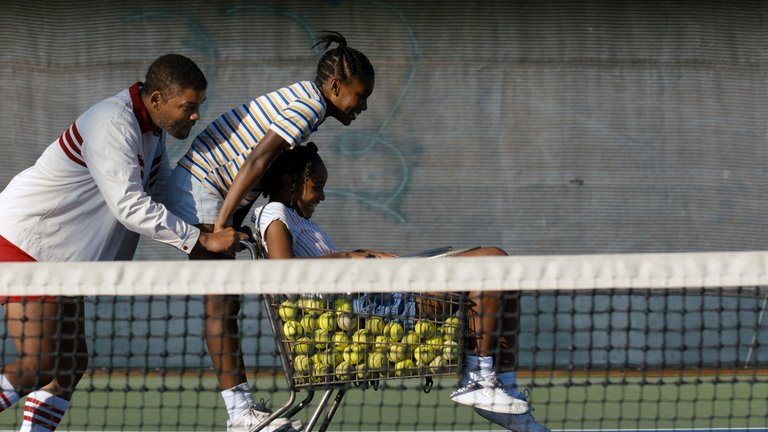 IT'S NOT JUST ALL ABOUT TENNIS
You probably might be thinking, isn't this a tennis movie? Yes it is! But it is one of the reason I recommend you to watch it as it not all about tennis. It shows fear of failure,insecurity,Love. You might also see something I didn't see anyway.
In Conclusion....
This is a great movie and I would like you to watch it. It is in the cinemas and also Available to be stream on HBO Max and some other streaming paid platforms. Below after the Spanish versions is a short trailer you can watch.
Thanks For Reading!

(Versión en español | Spanish Version)
INTRODUCCIÓN
¡Este es el mejor drama deportivo del año! En cuanto terminé de ver esta película supe que iba a escribir una crítica, no sólo porque sabía que sería una gran película, sino porque siempre he querido escribir un blog sobre mi amor por el juego del tenis.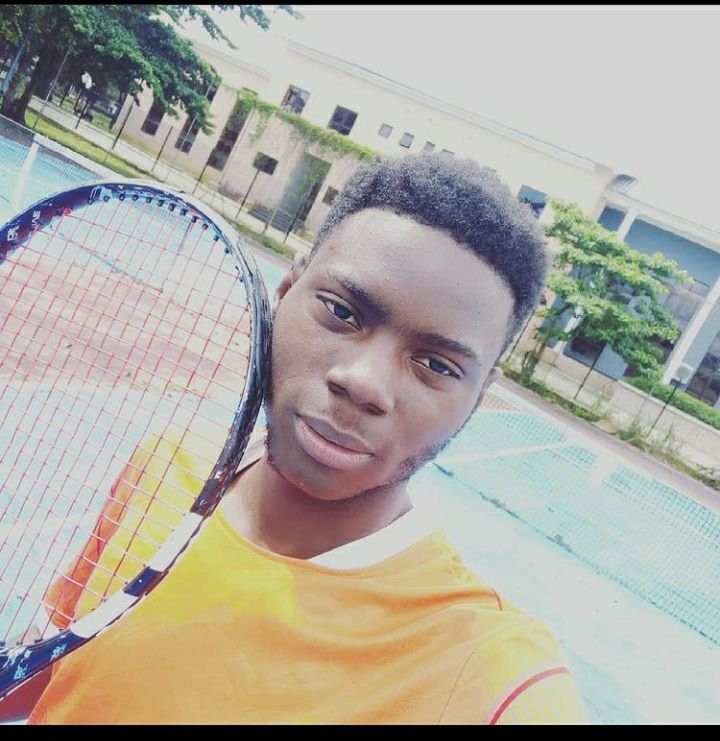 Una vieja foto mía en la pista de tenis
Mi vida tenística es una historia para otro día. Hoy os traigo una película muy interesante que se centra en el éxito, una historia real que acaba de estrenarse en los cines hace menos de una semana, cuenta la historia de éxito de las populares hermanas tenistas de las que quizás hayáis oído hablar "SERENA WILLIAMS" y "VENUS WILLIAMS" y cómo su padre Richard Williams contribuyó a su éxito.

es un buen reloj para los padres también. Como siempre, haré todo lo posible para daros las razones por las que creo que es un buen reloj sin soltar spoilers para que os guste como a mí.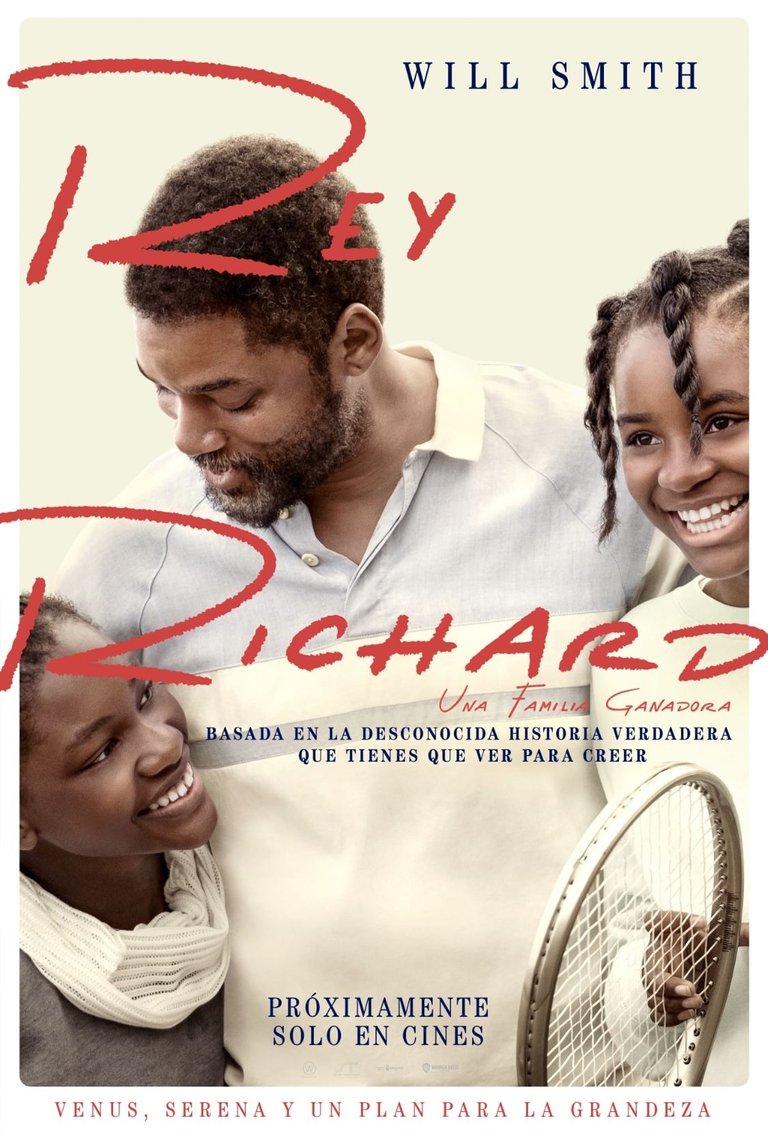 Imagen de Imdb
KING RICHARD
King Richard es un drama americano que explica la vida de Richard Williams, el padre de las populares tenistas Venus Williams y Serena Williams. Se estrenó en los cines hace unos 4 días, el 19 de noviembre (yo la vi ayer). La película no requiere que entiendas completamente el juego del tenis para verla, ya que explica mucho más que el tenis. Personalmente, aprendí la determinación y la concentración cuando Richard Williams dijo a todo el vecindario que sus hijas eran la clave para ganar dinero y que tendrían éxito. Lo llamó "inversión empresarial". No es la primera historia en la que veo a los padres utilizar a sus hijos como un experimento o una vía de escape al centrarlos en un deporte. Una historia particular que conozco es la de mi amado juego de ajedrez. La historia del ruso László Polgár, que entrenó a sus hijos con tanto ahínco que su hija Judith se convirtió en la mejor jugadora de ajedrez del mundo. Pues bien, esta película nos hace comprender las razones de todo ello y nos pasea por sus historias vitales.
King Richard fue dirigida por Reinaldo Marcus Green y fue producida por Will Smith y Tim White. La película está detrás distribuida por Warner Bros. Pictures.
Puedes encontrar un artículo completo sobre el reparto y el equipo en Wikipedia
Aquí hay 3 razones por las que creo que te encantaría la película "El rey Ricardo"
¡UN REPARTO IMPRESIONANTE!
A todo el mundo le gusta una película en la que los actores y actrices interpretan su papel extremadamente bien y esta película no es diferente. El popular actor Will Smith interpretó el papel del rey Ricardo. El rey Ricardo es el padre de las legendarias hermanas tenistas, que se empeñó en que sus hijas sobresalieran en la vida.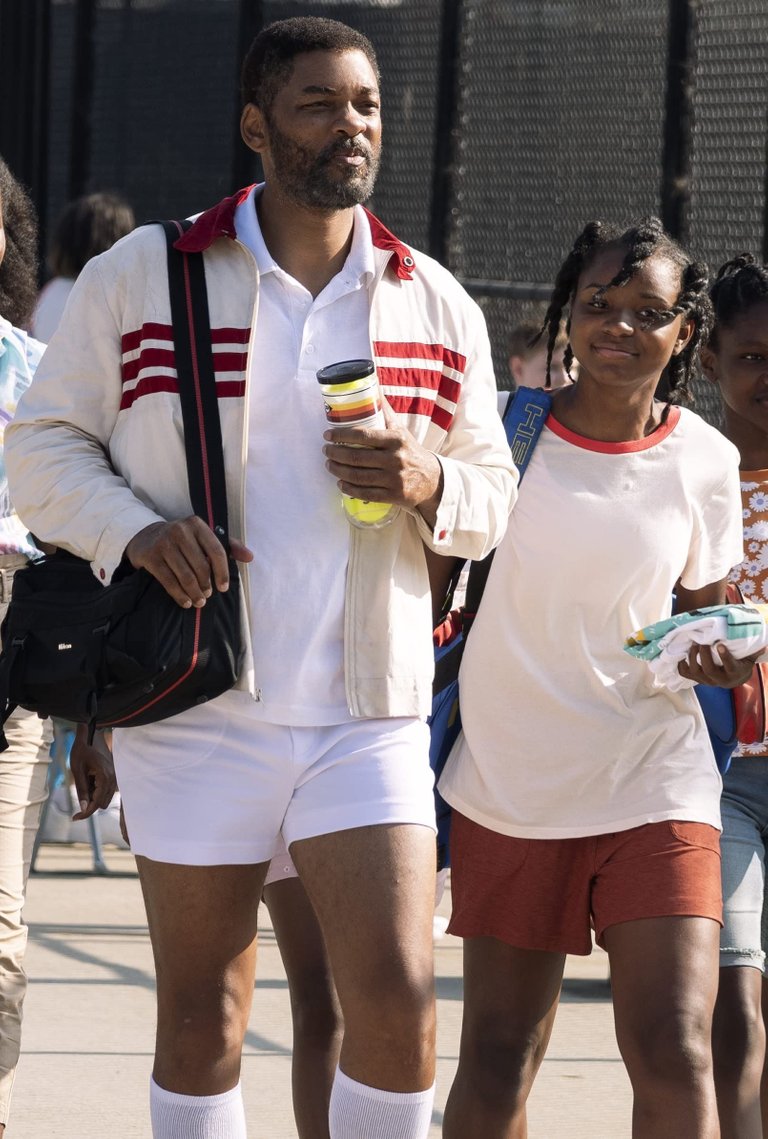 No veo a nadie que pudiera haber interpretado ese papel mejor que Will Smith, era todo tan apasionado. Según Nidhun Thankachan, en su crítica Aquí
Smith interpreta al extravagante y a menudo franco Richard Williams, el padre de las legendarias hermanas Williams, consideradas como los mejores hermanos que jamás hayan levantado una raqueta. Si se ha visto al "Rey Richard" en la vida real durante sus famosas entrevistas y giras de prensa, se puede comprender fácilmente el nivel de detalle y reflexión que Will Smith ha puesto detrás de su representación exacta del famoso padre/entrenador, hasta
su acento de Compton, su lenguaje corporal y sus gestos.
También los personajes que retratan a Serena y Venus son impresionantes. Saniyya Sidney, como Venus Williams, y Demi Singleton, como Serena Williams, estuvieron increíbles. Interpretaron bien sus papeles y creo que es una de las razones por las que el drama merece la pena.
¡MUY MOTIVADOR!
Una de las razones por las que me encantó esta película es por la forma en que me hizo sentir. La vida de estas conocidas hermanas no fue fácil, esta película muestra los obstáculos y problemas que enfrentaron para llegar a donde están. Es un drama biográfico muy emotivo que se centra en la lucha por el éxito. Como he dicho antes, Richard fue un padre que nunca se rindió y que pasó por muchos "noes" pero personas antes de que finalmente tuviera un avance. Incluso cuando sus hijas se convirtieron en profesionales, no fue fácil.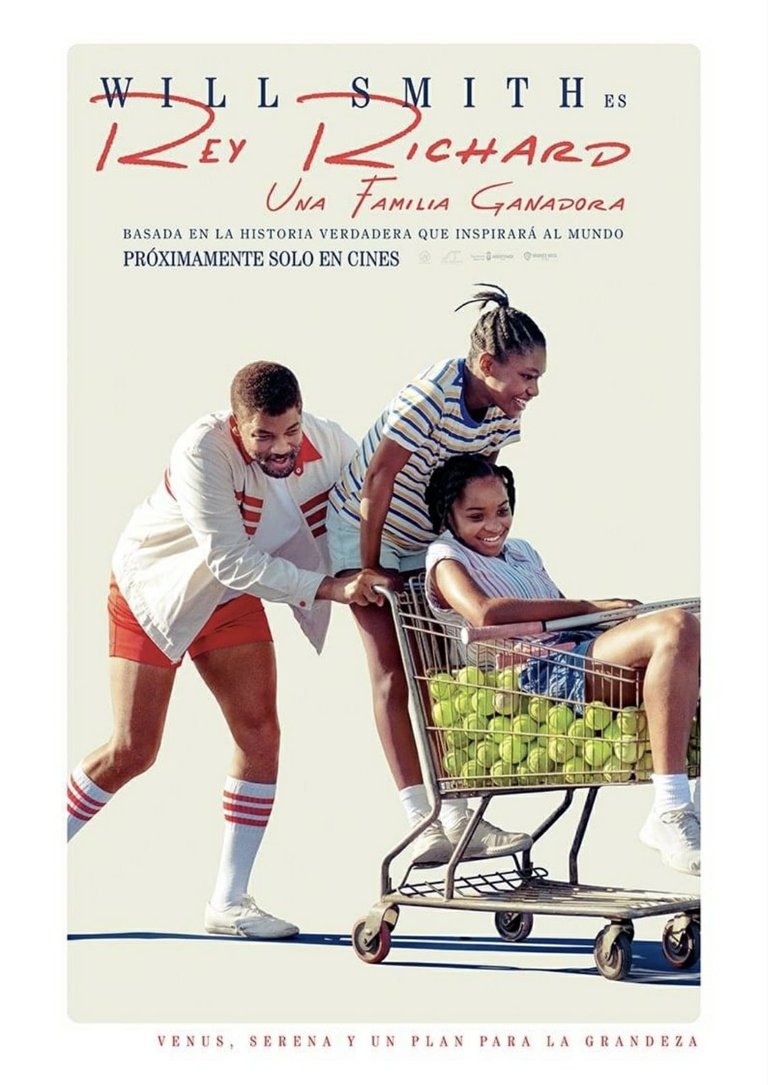 NO TODO ES TENIS
Seguramente estarás pensando, ¿no es una película de tenis? Sí, lo es. Pero es una de las razones por las que te recomiendo que la veas ya que no todo es tenis. Muestra el miedo al fracaso, la inseguridad, el amor. También es posible que veas algo que yo no he visto.
En conclusión....
Esta es una gran película y me gustaría que la vieran. Está en los cines y también se puede ver en streaming en HBO Max y algunas otras plataformas de pago. Abajo después de las versiones en español hay un pequeño trailer que puedes ver.
¡Gracias por leer!
Traducción al español realizada con Deepl
---
---