HiveChess Study (4) : Analysis Of Chess Games Played Over The Weekend

---
Hello everyone, I hope you all are having a great week? I did another #Hivechess Study contribution on https://lichess.org Adding some games played over the last Hivechess weekend. Analysis was carried out without computer assistance but players are free to check what the computer thinks instead. Also, I did my best in explaining some ideas and I hope they help in improving your game.
Game 1 - A Bad Bishop
A very interesting and instructive game between @stayoutoftherz and @kintokris which the player with the black pieces(Jonbellionfan) got into a very rare bad bishop middle game.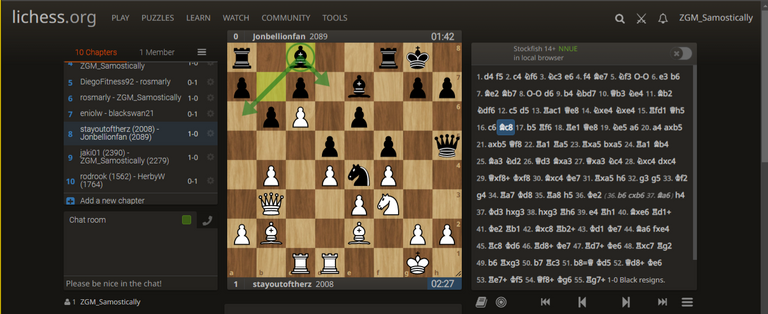 Move 16
[The time stamp in the video for the Game 1 Analysis is 0:25 ]
Watch how @stayoutoftherz converted this beautiful Game.
Game 2 - Create Multiple Weaknesses
I reviewed my loss against @jaki01 and I showed how Important my opponent was focused on maintaining Activity while i went to grab a pawn. He then created multiple weaknesses and converted easily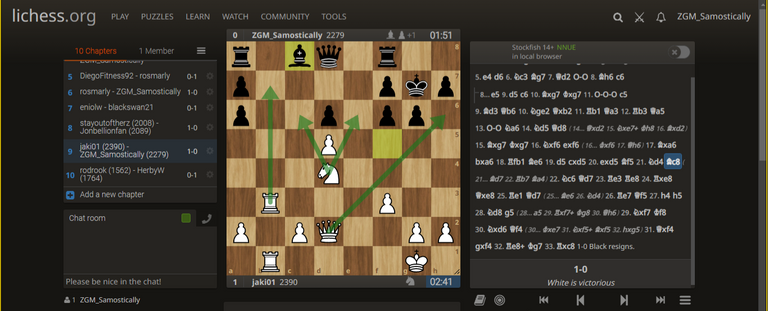 [The time stamp in the video for the Game 2 Analysis is 11:25 ]
Game 3 - Activate Your pieces
In this game @rodrook did well to equalise after @schamangerbert played the Grand prix Sicilian opening well. But the later was quick to activate his pieces in the ending and left it difficult for his opponent to defend. Black was aided with a Rook blunder in the end however the tides were already in his favour.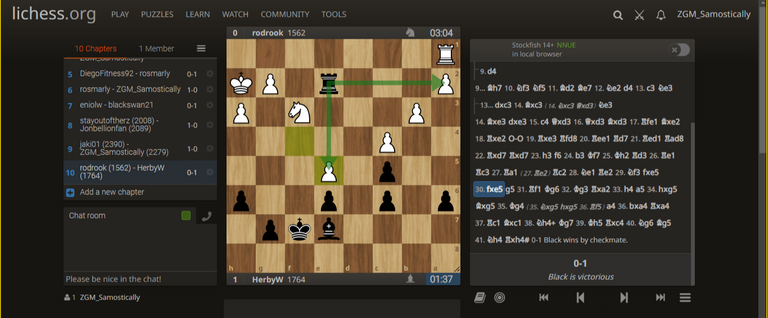 [The time stamp in the video for the Game 3 Analysis is 25:00 ]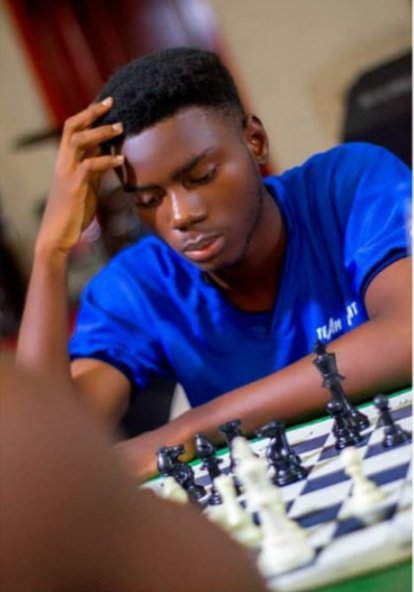 I am @samostically,I love to talk and write about chess because i benefited alot from playing chess.sometimes i share my thoughts on life in general.I love to engage with others and i love communication.I believe life is all about staying happy and maintaining peace.
♟♟♟♟♟♟♟♟♟
Thanks For Reading,Reblogging And watching! I appreciate you all for supporting and promoting chess on Hive.
Please do let me know if you don't want to get mentions/tagged in my report.
Images and Screenshots Used in this article are mine except stated otherwise


You can catch my other Hivechess studies and related videos on
My threespeak Channel

If you love chess,you can join The Chess Community
We play chess on Fridays hosted by @stayoutoftherz, Saturdays by @schamangerbert and sundays organized by @chessbrotherspro!

See You This Weekend!
---
▶️ 3Speak
---
---