2 days Zalmi Cricket Tournament in Stockholm, Sweden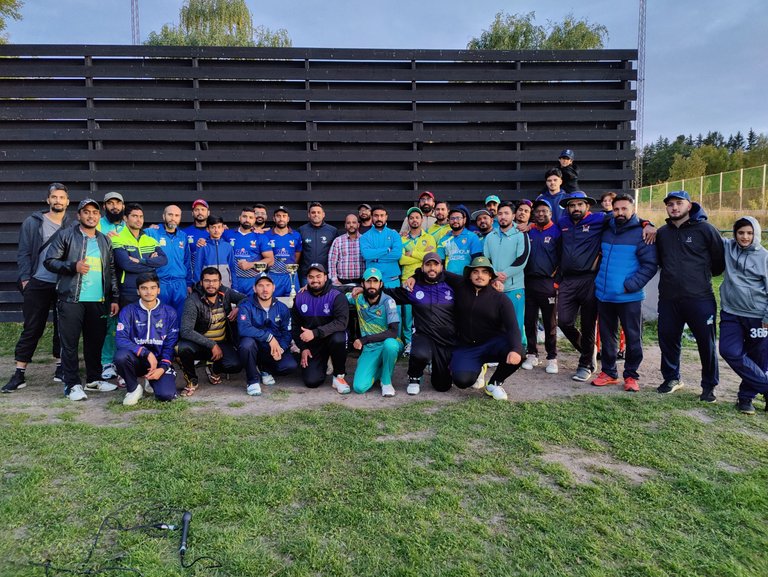 A great tournament organized by Alby Zalmi was played 10-11 september to round up the season. There were 12 teams divided up in 4 groups. Alby Zalmi itself had 3 teams, Alby Zalmi United, Alby Zalmi U21 and Alby Zalmi CF. First day, 10 September we had group matches and then on 11 September, the knockout stages began.
In group A we had Alby Zalmi U21, Stockholm Super Kings and Hammarby CF. Only one team would get eliminated and unfortunately that was Stockholm Kings.
In group B there were Alby Zalmi CF, Mumbai Indians and Stockholm Tigers, and in that group Alby Zalmi CF got eliminated.
Group C had the likes of Alby Zalmi United, Östertälje CC and Stockholm Lions. Östertälje CC got eliminated with Stockholm Lions winnishing at the top unbeaten.
Group D had Söder CC, Botkyrka CC and Stockholm Hunters. Söder CC and Botkyrka CC qualified with Söder CC being unbeaten in this group.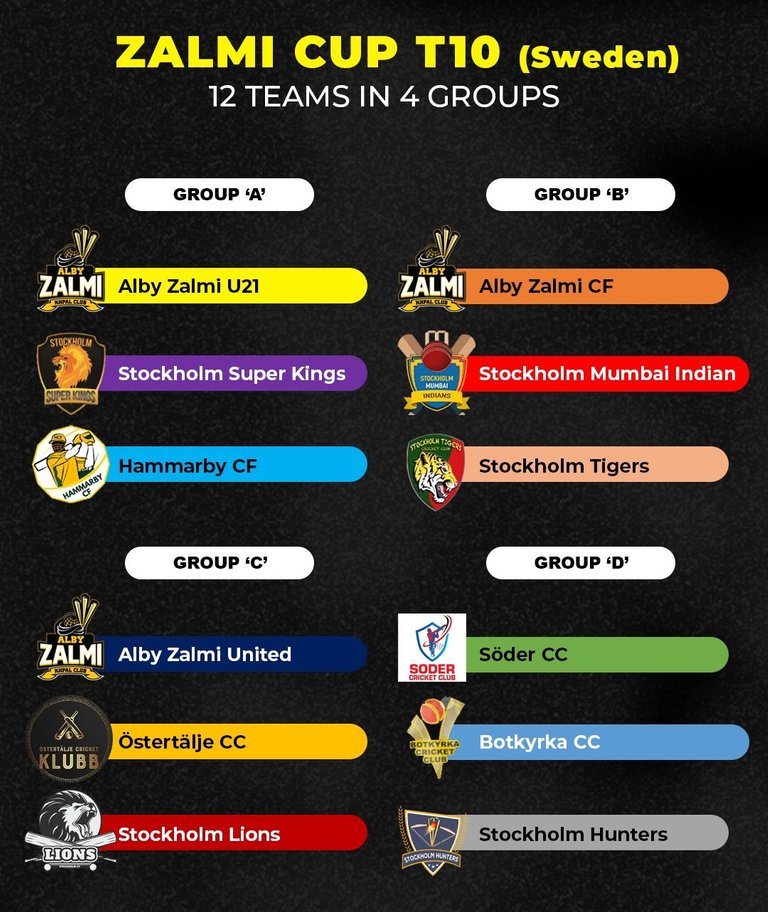 First Quarter-Final
First Quarter-Final match was between Alby Zalmi U21 and Botkyrka CC both being table toppers in their respective group. An interesting and a close match saw Botkyrka CC winning and progressing to the Semi-Finals.
Second Quarter-Final
Second Quarter-Final, we had an unbeaten Söder CC team against a struggling Hammarby CF and surprisingly Hammarby CF took the win to progress to the Semi-Finals against the favorites Söder CC.
Third Quarter-Final
Third Quarter-Final it was Stockholm Tigers VS Alby Zalmi United and Stockholm Tigers continuing their good form won the match by a big margin.
Last Quarter-Final
Last Quarter-Final was between Stockholm Lions and Stockholm Mumbai Indians. Stockholm Lions won the match comfortably by giving the highest target of the tournament with 126 runs. Now we had our Semi-Finals set.
First Semi-Final
First Semi-Final was between Hammarby CC and Botkyrka CC and in this match Botkyrka CC won by 25 runs. Now beating two favorites in Hammarby and Söder they could be winning this tournament.
Second Semi-Final
Second Semi-Final was between Stockholm Tigers and Stockholm Lions. Their name makes this match a derby, with a great and exciting match Stockholm Tigers won which meant they would now be facing Botkyrka CC.
GRAND FINAL
Now we were about to see the grand final of Zalmi T10 cup, Botkyrka CC had previously played some great clubs and Stockholm Tigers had some great players in their squad. Botkyrka won the toss and wanted to bat first to then defend the chase, they managed to put 69 runs with Ahmed being the top-scorer with 21 runs on just 15 deliveries. A defendable chase and as it was getting darker the fielders were having problems stopping the ball. A very close match but of course only one team will be crowned the winners, and here it was Botkyrka CC winning the match by 10 runs, Osama Masood leading the bowling attack and taking 4 crucial wickets for Botkyrka having an economy of 4 and also being Man of the Match.
Best Batsman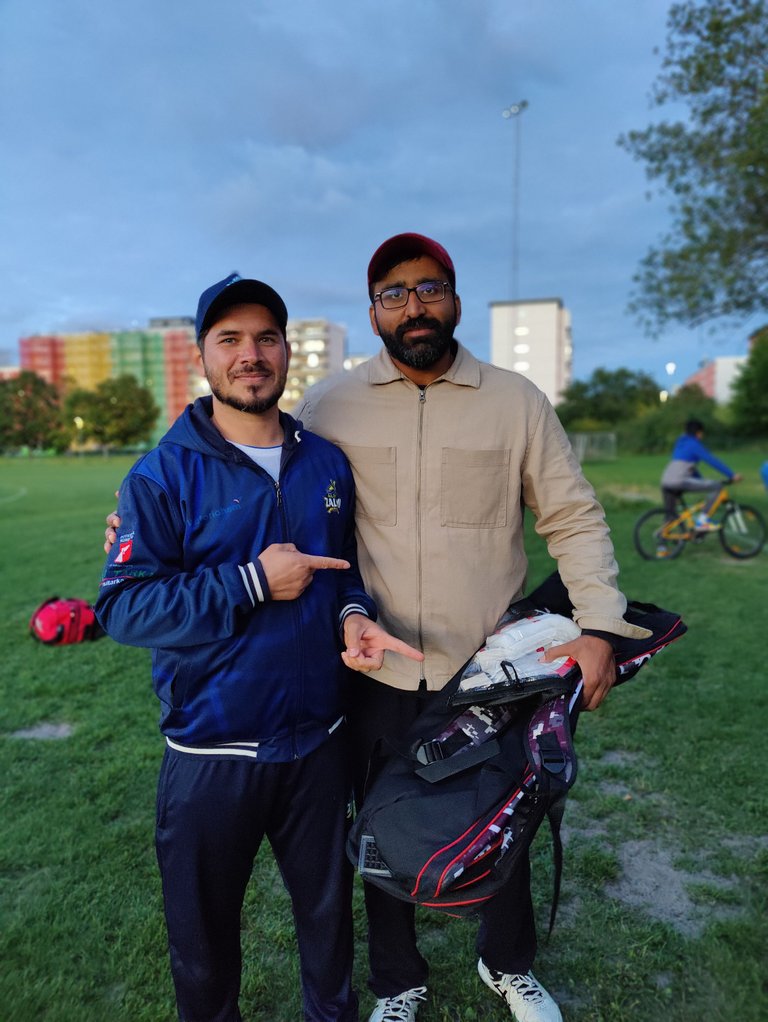 The best batsman of the tournament was Abhishek Mathur from Stockholm Lions scoring 212 runs in 4 matches, being Player of the Tournament as well by getting 939 points.
Best bowler
Best bowler of the tournament was Rizvi Hoque from Stockholm Tigers taking 10 wickets in 5 matches.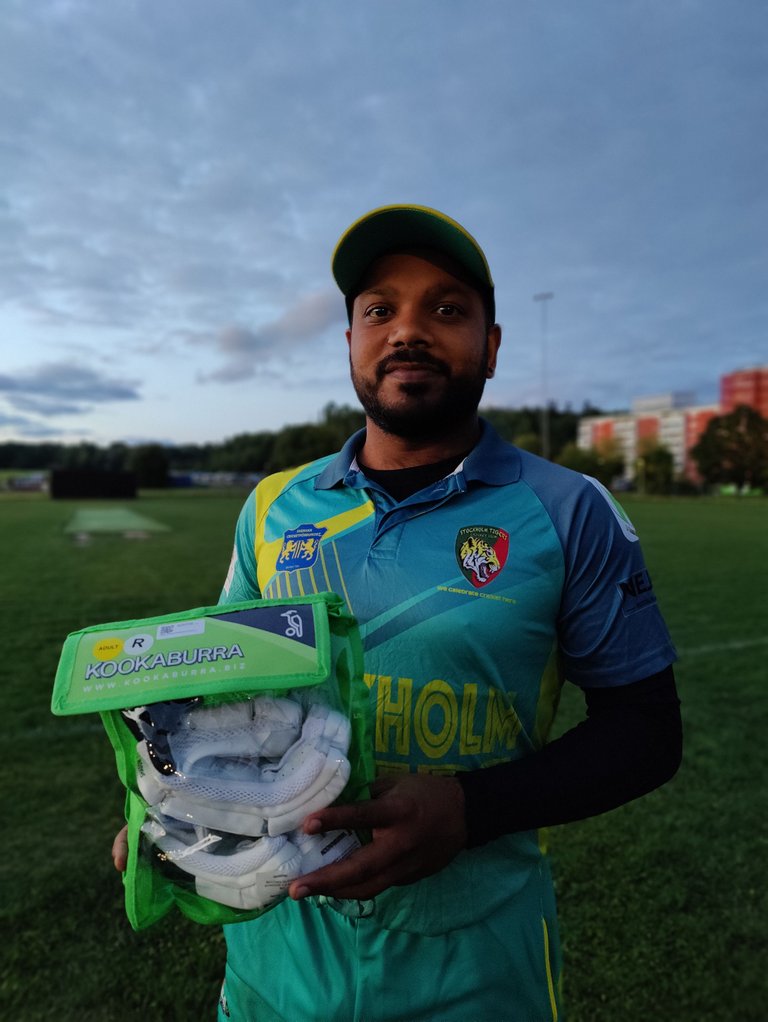 It was a great weekend with a lot of passion, fighting spirit and fun. Congratulations to the winners Botkyrka CC and well played by all the clubs participating in the tournament to round up the summer cricket season in full joy.
Disclaimer
As I mentioned in my intro, from the last 2 decades I have been active on social media, google mapping and reviews, youtube and thatsup. I will share my own past interesting content from these channels, but all my upcoming content I will share on hive.blog first.
---
---
---