As I said, Football is bad for your heart!
What the F***? I mean, what the actual F..?
When does it stop! Just when you start to think you've seen it all, Qatar 2022 knocks on your door again, and again, and then again some more!
After Morocco knocked Spain out, that was probably the pinnacle of drama...at least that's what I thought. Going into the quarter finals, Brazil was everyone's clear choice to advance. I'll be honest, I did have that faaaaaaintest bit of hope that maybe, just maybe Croatia would knock Brazil out. But a farfetched hope was all it was really. Never in my wildest dreams I'd have actually believed Croatia would knock Brazil out, that too after brazil took the lead with 15 minutes or so left to play. What followed after was nerve wrecking for the brazil fans, I know - we went through that exact same shit a couple hours later!
After the first game upset, pressure on Argentina fans (lol, yeah I know, I know) was a bit relieved and with a 2 goal lead into minute 80 when Scaloni took off Christian Romero as he was already on a yellow seemed a very logical choice. After all, we need our start defender for the semi finals. But whatever happened in the dying minutes of the game - I have no words. Almost a day later, I still have no clue what happened.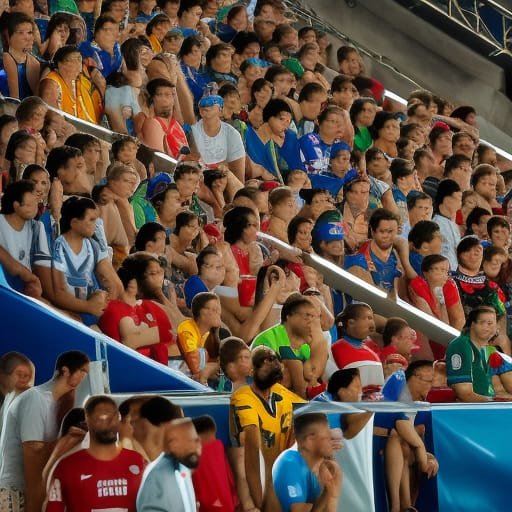 Image created using NightCafe AI
I don't usually show a lot of emotion when watching football matches. I don't celebrate much when Argentina scores, I don't get too upset when they concede either. I have watched so much football over the years that my emotions have been numbed a bit. It is a good thing. So naturally, after Netherlands scored the first, I was unmoved. But when they equalized at the 10th minute of added time - I was so lost for word, felt so helpless that it was apparently visible on my face instantly. My wife had never seen me like that for a football match and she was a bit scared I think! For until Argentina had, she hadn't dared tease me one single time that Argentina had bottled their two goal lead!
From the sports podcasts that I listened to since the morning, the fans at the stadium, and all over the world went into the similar state of shock. There was no explanation of what just happened. And the impending doom another untimely WC exit loomed upon the fans. It was heartbreaking, it was unbearable to watch.
I am not going to do a match analysis and even give my thoughts on what went wrong or right for both Argentina and the Dutch. I am just releasing my emotions, that is all. But the post would remain incomplete if I don't mention that Lionel Messi assist to Molina for the first goal. I mean if that is not the stuff of legend, I don't know what is.
The post will also remain incomplete if as an Argentina fan I do not that Emi Martinez. For the last 5 world cups, Argentina had clowns as a goalkeeper. If we are lucky to have Messi playing for Argentina, we are equally lucky to finally have a proper goalkeeper in the ranks in Emi Martinez!
---
---