Delight or Disaster for Barcelona?
This could have been a fantastic week for the Blaugranas aka the Culers, in other words the Barcelona fans! With their 0-1 win over Girona the weekend started real nice for Barca. The weekend was rounded off with an even sweeter finish as Real Madrid dropped 2 crucial points in the La liga title race as they were held to a goalless draw against Real Sociedad.
But that is about all the good news to the naked eye for Barcelona. As we stare deeper into the incidents of the weekend, things start to look a little gloomy Barcelona.
First up, Ousmane Dembele. Dembele has been a source of major frustration for Barcelona since his big money move. So much talent, yet so fragile. He has spent more time on the hospital bed than on the football ground since joining Barcelona. So much so that, there was a troll recently during the world cup saying Dembele has spent so much time in the hospital that he has become a doctor and is treating his French teammates of the flu and minor bugs! It's sad that as a long time Barcelona fan, even I found this extremely funny.
Dembele has rarely been the talk of the town for anything positive. For the last few years, every time Dembele was on the news, without even reading it we could tell with almost 90% confidence that he was injured, again! Hence it was a welcome change after Xavi took over that Dembele was appearing on the news more and more for his performances and less for his holidays at the hospital! From the beginning of this season, he has been outstanding for Barcelona. Every time it seemed Barca has hit a brick-solid wall and couldn't break through, Dembele was almost always around to provide moments of brilliance and break the walls!
And hence it comes as one of the biggest blows that Dembele had to be withdrawn just halfway through the first half with what seemed a pretty serious Quads injury. When he will be fit again to play is not clear, but what is clear is the timing of interrupting his brilliant run of form could not have been worse for Barcelona as the La liga title race braces itself for an electric finish. Barcelona are also scheduled to face an in form Manchester United later next month.
The other concerning thing is, even though Madrid dropped points - anyone who has seen the match knows Real Madrid are getting back to they very dangerous best. How Vinicius or Rodrygo or Benzema was not on the scoresheet last night is a mystery! Had it not been for Alex Remiro, the Sociedad keeper who was rock solid between the posts - no one would have been surprised if Real Madrid came off with a big win.
All in all, with Madrid finding their dangerous edge again and Dembele out for uncertain period - Barca face a testing month ahead, and should they come out unscathed out of it they will be in pole position to win the La Liga once again.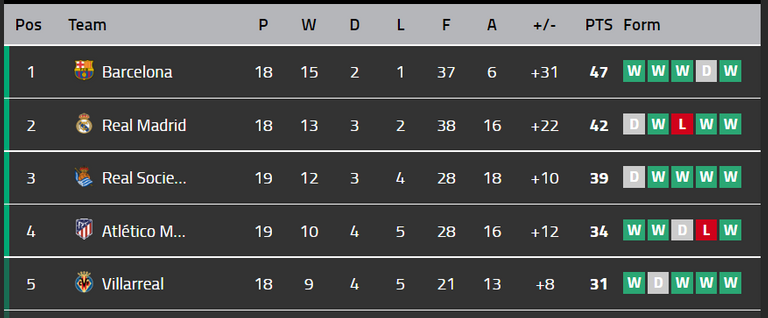 Screenshot from Goal.com
---
---