Football has Paid its debt!

What in the world did we just witness!? My word!
I was at a loss for words, my thoughts were all jumbled and I was tired as F* from all the screaming and shouting and jumping and of course the insane adrenaline rush. My voice has never been so hoarse from watching a football match in a long, long time!
Now that I have had "some" sleep and calmed down a bit, I think it's best I write down this post as soon as possible - you know, while the dreamy curtains are still raw.
I was just telling on discord a couple of weeks back, Why do I love supporting teams that love to make easy things difficult? At 2-0 up, I thought okay, not tonight they're not gonna give us a scare - it's the world cup finals after all. But a 2-0 lead was no way a comfortable lead if you are an Argentina fan - the squandered it against Netherlands, they almost squandered it against Australia too if not for Emi Martinez's last second Heroics. And the interesting thin is, squandering a 2-0 lead is genetically tied into the Argentinian blood, more so after last night. In case you didn't know, in the 1986 final Argentina was up 2-0 against West Germany too, and they squandered it - late into the game. This is becoming a trend and not one I appreciate of as a fan!
I don't think there's any need for me to do a minute by minute commentary of what happened in game after - everyone has seen it! If you haven't, "Grab a chair, pick it up, and hit yourself in the face with it!"
The swing of emotions throughout the game was one football fans have never experienced in a world cup final. This has to be the best final we have seen in forever! And it tastes sweeter as an Argentina fan. Had Argentina failed to cross the line, it would just have been a consolation and nothing more.
There we a lot of iconic moments after the game! This was one of the most hilarious ones in the entire world cup to be honest -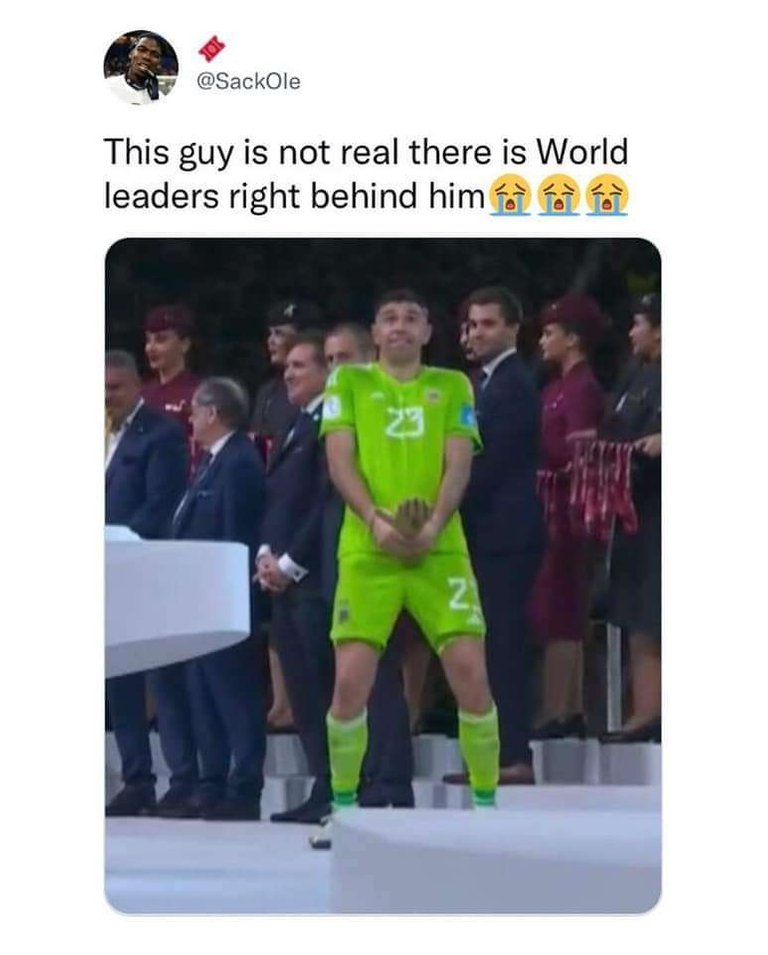 Someone replied in the comments - "What an asshole!" And right he was, a very "dick" move from Martinez that. But an asshole is exactly what Argentina had been missing, an arrogant dickhead is what Argentina needed to come out on top of these pressure situations. And despite Messi's unearthly heroics throughout this entire World cup, one name keeps popping up almost as importantly beside Messi, Emiliano Martinez. That alone speaks volumes of the importance of this "asshole" for Argentina. A solid, safe hand beneath goal is what Argentina has been traditionally lacking for a long long time - for since I have been watching football at least.
The most iconic of them all was of course this -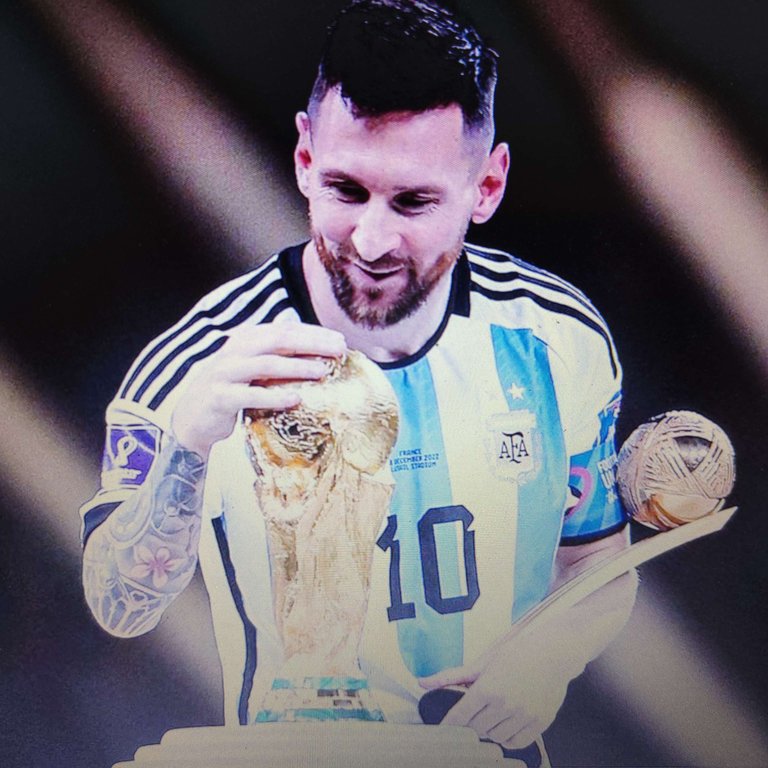 image clicked on my phone from the telecast

Football has finally paid it long overdue debt to Lionel Messi and it paid in style! You can not write a script for such a fairy tale finish. If I go on to list all the records Messi has completed and all the trophies he has won - it will take a few posts. Everyone is saying Messi's collection is now complete and he has probably taken himself to a different height after becoming the first player ever to win the Golden Ball twice.

But everyone seems to miss a very important thing from last night. Last night, Football became complete.

As the world bursts into insane celebrations, Football Stands alone in a corner, sheds a drop of tear and softly whispers, "Thank you Lionel Messi."
---
---