PSG in the champions league - Pretty Lame, just like the picture!
Last night's Bayern vs PSG was as boring a clash as it can get! And Bayern winning in the end was not an outcome I can be happy with. Don't get me wrong, I am not a PSG fan by any measure - but I just don't like Bayern all that much. And often times in football, that can become a strong driving force to pick the opposition side. Sometimes it is, which team do I hate "less" LOL!
And one such dislike made me want to watch the game through at 2 a.m. last night even though my eyelids were heavy. At least I was going to watch a blockbuster game, right? RIGHT?
Wrong!
So much so that my eyelids revolted at what crap I was making them watch at 2 in the night! And before even we reached halftime, they gave up and I was in deep slumber before I knew it! Well, at the game acted as good Lullaby LOL!
Right from the beginning PSG looked like a team that had no plan whatsoever. For all the talent on that team on paper, it's a shame how lack of a solid game plan is costing them year after year at the Champions league. And from the looks of it, they are all set to lose their prized talent Kylian Mbappe next summer. Whether one likes it or not, PSG are a mess and there is no real incentive for Mbappe to carry on except maybe hometown nostalgia.
There was specifically one pass from the midfield that was so bad that you wouldn't even expect a bottom table Premier League team to play a pass like that in a normal game let alone in a do or die champions league knockout stage match. That was proof enough for me that PSG were on the field with one gameplan and one only - get the ball to either Messi or Mbappe and hope for a miracle.
Their defenders were in shambles, throwing every part of their body to hold on to dear life! There were no real structure in closing down Bayern's attacks. And even though PSG seemed to have most of the possession in the first half (at least till I managed to keep my eyes open), Bayern looked like they couldn't be more comfortable to just sit back and absorb pressure. Wait, what did I just say? WHAT PRESSURE?
There was no pressure, PSG had no clue what to do with that round thing that people call football. They were just trying to get a feel of what the round thing was - that's all they did with all their possession.
Only real sparks in PSG's movement was the odd glimpses when Mbappe and Messi finally managed to link up play for a few seconds.
I don't know why I am ranting so much about PSG's loss. I don't even like PSG. Maybe I just dislike Bayern all that much!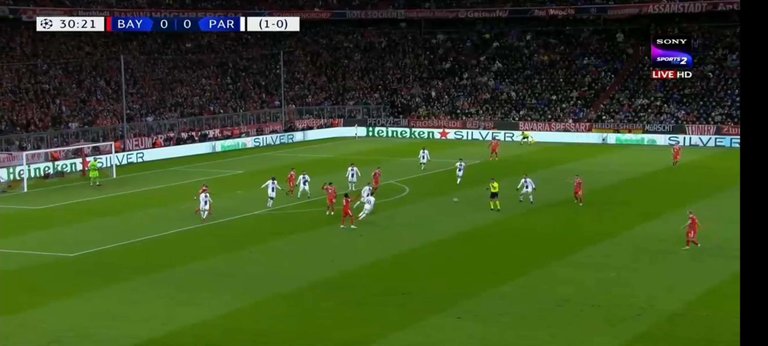 A pretty meaningless image from the match, pretty much like PSG's gameplan.
---
---