KINGS IN NAPOLI (A critical Analysis).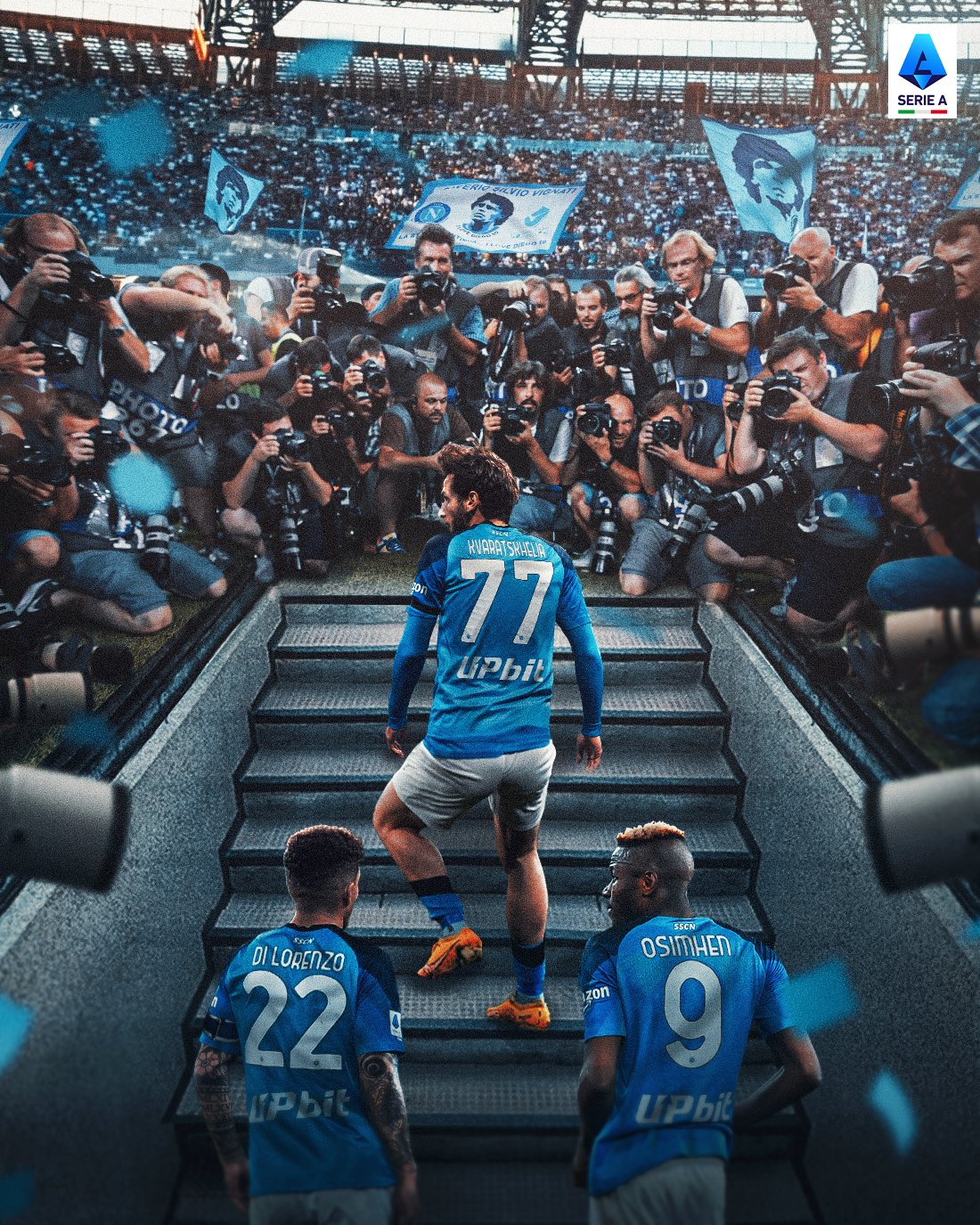 Source
Following the controversial posting of a picture with the caption "A new king is crowned in Napoli" by Serie A's official Twitter account, social media was abuzz. The tweet has drawn attention because it shows Maradona crowning Khvicha Kvaratskhelia of Georgia rather than Nigerian striker Victor Osimhen, a former Napoli legend. We'll discuss both players' contributions to Napoli winning the Scudetto and Osimhen emerging as the league's leading scorer as we critically evaluate their on-field performances in this article.
The recently-disappeared Maradona, a Napoli legend, is pictured in the tweeted picture crowning Kvaratskhelia as the new ruler of the city. Many people feel Osimhen, who was crucial to Napoli's success this season, ought to have been the player portrayed in the picture, so they are upset about how the image was presented.
When Kvaratskhelia was selected over Osimhen in the tweet, many fans and industry insiders expressed their surprise and disappointment on social media. The performance of both players and their contributions to Napoli's Scudetto victory have been criticized as a result, prompting calls for a fair evaluation.
VICTOR OSIMHEN.
Source
Nigerian-born striker Victor Osimhen is well-known for his prodigious scoring ability. He enjoyed successful runs at Lille and Wolfsburg prior to joining Napoli. In 2020, Napoli signed him after being impressed by his impressive goal-scoring record.
Osimhen has displayed exceptional performance this year, and his contribution to Napoli's Scudetto victory was significant. He won the award for most goals scored during the match, showcasing his propensity for scoring frequently. Osimhen's goals and overall contribution on the field were instrumental in Napoli's success this season. His ability to score crucial goals and create opportunities for his teammates made him a key player in the team's Scudetto-winning campaign.
KHVICHA KVARATSKHELIA.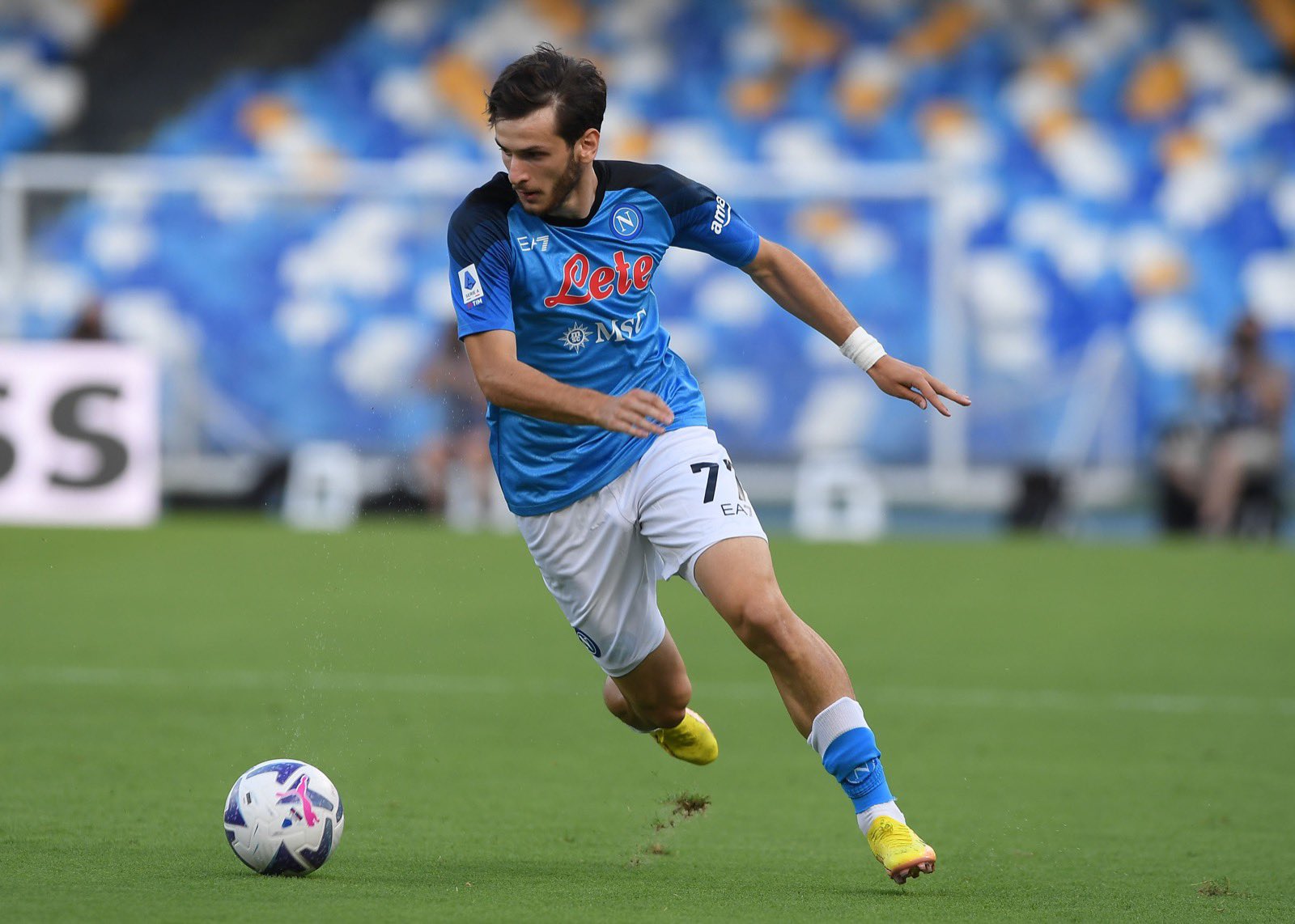 Source
Since making his debut at Dinamo Tbilisi, Georgian winger Khvicha Kvaratskhelia has made a splash in the European game. Kvaratskhelia was signed by Napoli in 2021 as a result of Rubin Kazan's interest in him following his signing.
With Napoli, Kvaratskhelia has had a strong season, making contributions on the wings in the form of goals and assists. He has given Napoli's attack a new dimension through his creativity and dribbling prowess, strengthening their position as a dominant force in Serie A.
Comparing the two players.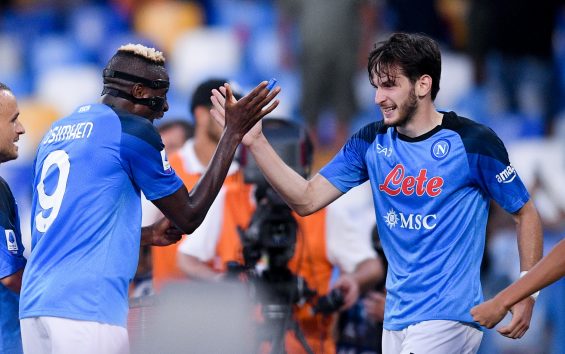 Source
The statistics show that Osimhen and Kvaratskhelia significantly differed in their contributions this season when comparing their performances. As the competition's leading goal scorer, Osimhen has an impressive goal total. On the other hand, Kvaratskhelia has placed more emphasis on creating opportunities, which has resulted in more assists.
Using his strength and speed to get past defenses and score goals, Victor Osimhen is a classic center-forward. He poses a constant threat in the box due to his strong aerial abilities and ball-holding skills.
Instead, Khvicha Kvaratskhelia is a quick winger who creates opportunities for his teammates with the help of his dribbling prowess and inventiveness. He can beat defenders with his quick feet and is skilled at cutting inside from the wing.
In Napoli's Scudetto-winning campaign, Osimhen and Kvaratskhelia both played significant roles, but they each made different contributions. Napoli's success has largely been attributed to Osimhen's goals, but Kvaratskhelia has also played a crucial supporting role on the wings by creating opportunities and assisting his teammates.
The Role of Maradona in Napoli's History and my final thoughts.
The late Diego Maradona holds a special place in Napoli's history, having led the club to two Serie A titles during his time in Italy. His larger-than-life presence and incredible skill on the field have made him an icon in the city of Naples. As a result, crowning a new "king" is a sensitive topic for fans, and the choice of Kvaratskhelia over Osimhen in the tweeted image has sparked controversy.
Khvicha Kvaratskhelia of Napoli has had a commendable season, but Victor Osimhen deserves to be referred to as the new "king" of Napoli because of his contributions as the team's top scorer and his significant role in the club's Scudetto title triumph. While the official Serie A tweet may have created a commotion, it has also given fans and commentators a chance to recognize and applaud the performances of both players.
---
---