My Actifit Harry Potter and Chirstmas Special Report

Merry Christmas Everyone,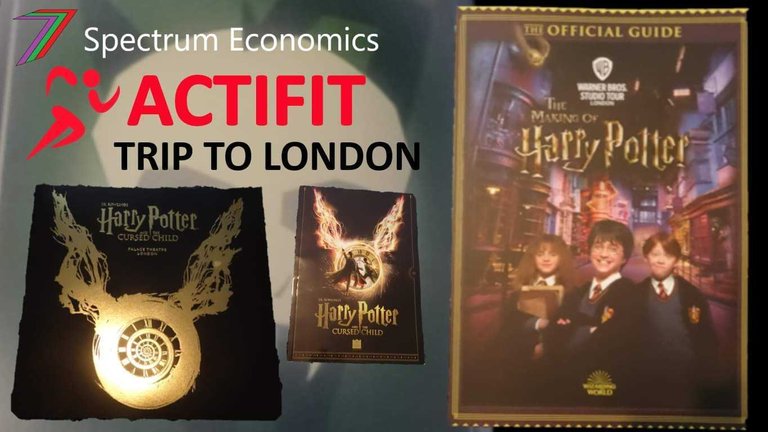 I've had a quiet week in regards to content. I didn't intend to post last week. I had a few other things I wanted to do.
I went to London with my sister for a short Harry Potter themed holiday. We are both fans of the Harry Potter Universe. We've both seen all 8 Harry Potter movies as well as 3 Fantastic Beasts movies. We have wanted to go on the Harry Potter tour for a long time but it has always been booked out. This time, we booked 6 months in advance. We also booked to watch the play Harry Potter and the Cursed Child. The play continues from where the movies and the seventh book left off. I won't reveal too much about it in case, you want to watch it. I would recommend seeing it and booking for both parts considering how Part 1 ends.
Harry Potter Tour
The trip began very early on Tuesday morning with a 6:30am flight to Luton Airport. The flight took just over 1 hour. We immediately made our way to the Harry Potter Tour. We got in just before 10am. The place is huge. If you are going and want to fully immerse yourself in the full experience, you will need the whole day. The tour begins with 2 introduction videos. Then it all opens up. You begin in the Great Hall. It is decorated for Christmas. The tables are set for a big feast. Other times of the year, the tables are left empty. Next up are the various sets used in Hogwarts. These included the boys dormatory rooms, common rooms, Dumbledore's office, Hagrid's Hut, classrooms, and more.
This was followed by the green screens. You can pretend to ride a broomstick. They add different backgrounds to make a short video and photographs. Next section was the world outside Hogwarts such as Ron's house and the Ministry of Magic. After that we moved through the Forbidden Forest where we encountered giant spiders. Next our journey took us to Platform 9 3/4 and the Hogwarts Express. It was cool moving between carriages. Next up was the backlot. Before we could explore that it was time for High Tea. The High Tea was superb and also very filling. Scones, cakes, sandwiches, and savoury dishes.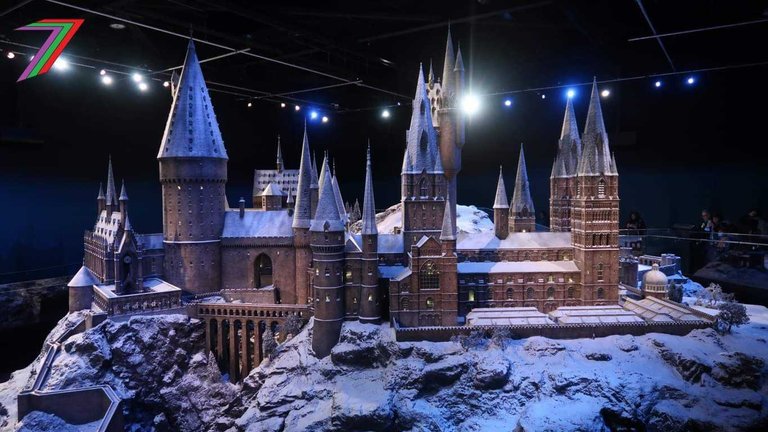 After taking about a 90 minute break, we returned to the backlot. The backlot is a large open outdoor area containing vehicles such as the triple Decker bus, the Hogwarts bridge, flying car, Harry's aunt and uncle' s house, the plant nursery. The tour continued inside where we explored sets such as the Gringotts bank and vaults, Diagon Alley, and a section for costumes and special effects. The tour ended with a giant model of Hogwarts. It was covered in snow as part of the Christmas theme. We finished our day at around 6:30pm. After that we headed into London and our hotel. We got a quick dinner before heading to bed feeling exhausted.
Cursed Child
---
Next day, we headed off to watch Harry Potter and the Cursed Child. We took the scenic route to the theatre. We walked through Kensington Park and then to Hyde Park. We saw the Winter Wonderland from the outside but didn't have time to stop. We walked past Buckingham Palace and then to Trafalgar Square. We finally reached the theatre to watch the play. For that walk through London, I achieved over 10,000 steps.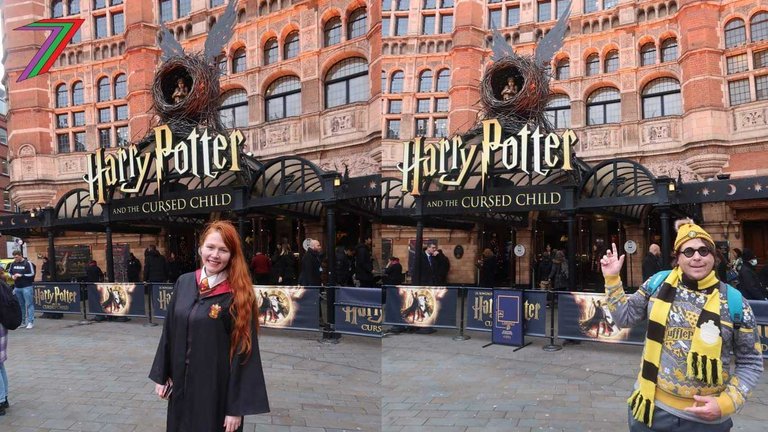 We took a few quick pictures outside the Palace Theatre (home of Harry Potter and the Cursed Child), see above. We were both wearing Harry Potter outfits. I wore the hat, scarf, Hufflepuff jumper, and Harry Potter glasses. My sister wore the Hogwarts Gryffindor school uniform. We stayed in costume the whole 3 days we spent in London. It was fun. A few passersby commented but they were friendly. Halfway through Part 1, the security guard took photographs of us in front of the theatre. At the end of Part 1, we had about a 2 hour break for dinner. We ate at a little Japanese cafe and we both had Tofu Katsu curries.
We were back at the theatre by 6:30pm for the 7pm start of Part 2. After another almost 3 hours of entertainment, it was time to head back to the hotel. Both parts were excellent. I enjoyed Part 1 the most and it had a very powerful ending. Part 2 had more special effects but I didn't find the story as compelling.
We decided to walk back through the city to our hotel, it was about an hours walk. We wanted to see the lights. It was our last chance as we were to fly back the next evening. I was a little disappointed with the lack of lights and decorations. Harrods was lit up but the displays were more focused on their sponsor Christian Dior than the Christmas spirit.
Final Day
---
We did so much but Day 3 came quickly and it was time to leave. We packed our stuff and ate our breakfast. We headed back to Harrods to see if we could buy any unique Christmas gifts. The store was busy but not as busy as expected considering we only had a few days to go to Christmas. I was little disappointed with what they were selling. The stuff was very expensive and appeared low quality. Some of the things were from past Christmases and only had small discounts. They didn't have a 2022 Christmas bear. So we decided to leave without buying anything. We continued to explore London for a few more hours before we had a light lunch and then headed back to the airport to fly home. We ended the day with a spicy curry at home.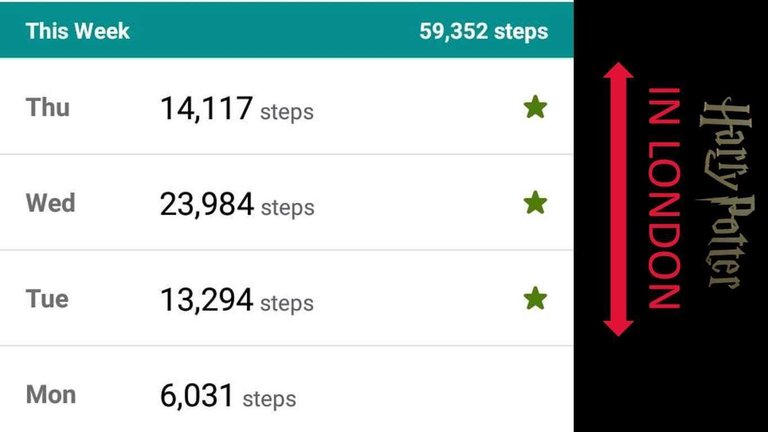 I got a lot of activity of this trip. Above are my steps for the three days. We were really lucky that the weather was both mild and dry in London. Just days earlier the weather was really bad. On those days, I wouldn't have been able to do as much.
In a week's time, in my end of year post, I will share more photographs from this trip to London.
Christmas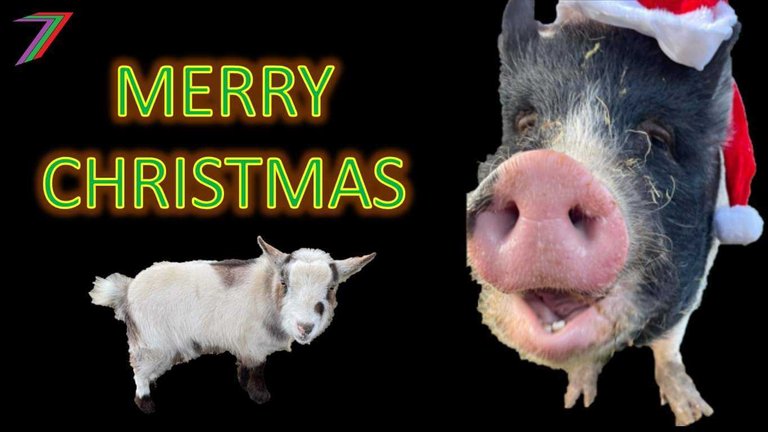 I did not post Actifit Reports after any of the high exercise days. I decided to wait until after Christmas Day. This day was far less active. I walked Mango the dog twice. I visited Hamlet the Happy Pig and Lily Goat. They were in good spirits. Hamlet didn't mind wearing a funny hat. Lily was far less willing. We had a very nice Christmas lunch. It consisted of mostly traditional British foods but some needed to be replaced with plant-based alternatives. Plant-based Christmas food is easy to find these days.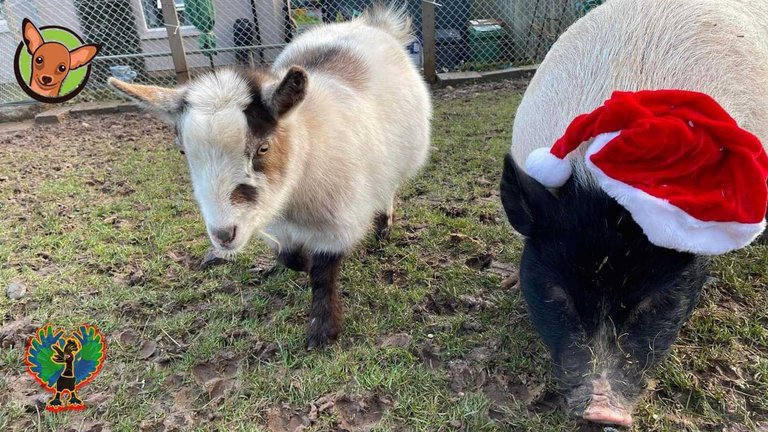 For the rest of the day, we listened to Christmas songs and watched a few Christmas movies. They were the new Scrooge film, Click and Collect, and the just released Guillermo del Toro's Pinocchio. It was a simple Christmas Day but still very pleasant.
I feel grateful that I can enjoy a nice Christmas and Christmas period. Many people around the world and even in the UK are not so fortunate. We hope the new year brings them better fortunes and opportunities.
Merry Christmas to all

This report was published via Actifit app (Android | iOS). Check out the original version here on actifit.io




25/12/2022

5261

---
---