And They Get Themselves Infront! | Real Madrid Vs Manchester City

What we saw yesternight is not a football match but a brilliant work of art....wow
Hello lovers of football in hive community 🤩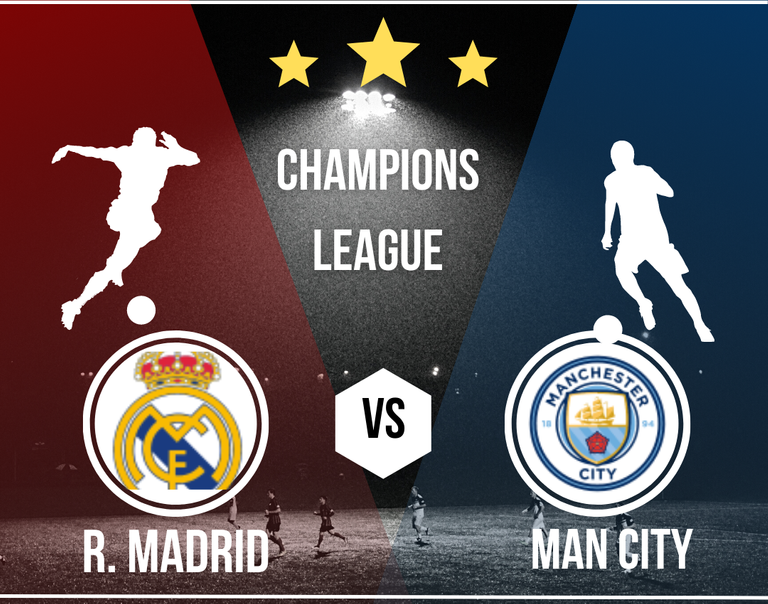 Image designed using Canva pro
Just like I was switched off
yesternight by the outcome of the UCL Semi final, I know most of us also could not believe what their eyes saw.
What a brilliance!.
It has been a while in football since this kind of magic happened.
Refreshing our memories on the outcome of the match between Man City and Real Madrid which ended in a 4-3 win in favour of Man City at Etihad stadium where we experienced a shambolic performance from the two clubs defensively.
Fans believed that this to a great extent was because of the unavailability of Kyle Walker and João Cancelo on the side of Man City and Militao's defensive error on the side of Real Madrid.
First Half
Fast forward to yesterday, Man City travelled to Spain, Estadio Santiago Bernabeu (Real Madrid's Stadium) for the second leg.
With no doubt, every fan of football was expecting a masterclass performance from Manchester City because over there in England, we know what they are capable of doing.
Our hope was reduced to zero as they did otherwise.
Manchester City that we all knew suddenly vanished and nobody was playing anything, playing absolutely nothing! and not playing like people willing to fight for a space in the finals.
Real Madrid on the other side started knocking early on the door of Man City but the key seems to be missing.
They failed to convert all their chances in the first half.
The problem with Man City was not actually because they have not created any chance but that their playing pattern seems disorganized, they could not hold the ball for more than 10passes, ouchh... we all know that this is not the team we know all these while.
Second Half
Not long after the second half started, Gundogan came into action as a substitute for Kevin De Bruyne.
De Bruyne has actually been very poor all these while so it was a nice call from the head coach, Pep Guardiola.
Just a minute after the substitution, Mahrez converted the beautiful chance created by Bernardo Silva and that was the opening goal of the match.
Real Madrid was now 2 goals down;
Can they pull back these goals and add more to secure a spot in the finals?
Rodrygo was brought in to replace Toni Kroos alongside Camavinga in place of Casemiro and Marco Asensio for Luka Modric.
It came as a shock in the 90minutes when Rodrygo pulled back one goal.
As if that was not enough, he doubled the goal making the two teams parleying on equal ground once more.
That is amazing ,indeed astonishing...wowww.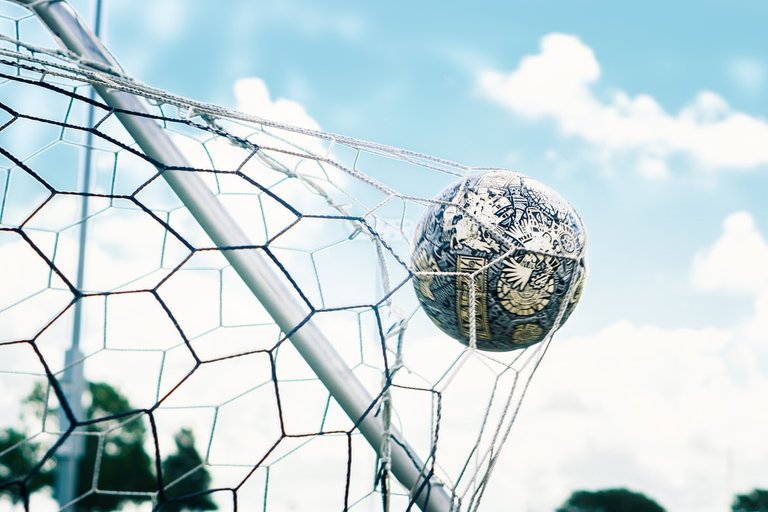 Source
Additional Extra Time
The 90mins was exhausted and up next was the 30mins extra time.
This started on a low intensity since most of the players were already tired but yet, Real Madrid continued struggling for a win.
Luck found them and they won a penalty Which Benzema converted for them;
The impossible was made possible, that is astonishing;
 Real Madrid are leading once more;
This time around not just for the match but in aggregate and are already on their way for the finals.
That is glorious, beautifully constructed work of art.


The match ended at 3-1 with an aggregate of 6-5 in favour of Real Madrid.

LESSONS TO LEARN
Carlo Ancelloti is a coach well respected in the football field and all football fans know what this man is capable of.
He is a strong man that never subjects himself to pressure, he never bows down to pressure but rather will always walk at his own pace.
This really reflected in yesterday's match; even when his team was 2goals down, he did not change his pattern of play, he sticked with that which he believe will get him a win and finally, it did bring him a win.
He did this against Paris Saint Germain and against Chelsea Football Club, that is really impressive.
Even when Real Madrid was 2 goals down, they played like the match just started. The intensity never reduced until they were in their comfort zone.
They already had a target to meet and that was a spot in the UCL final, no matter what is happening at that point in time, all they believed was that they were going to pull off a string and get themselves that spot in that place they desired to be.
Set your target and work towards achieving it
It is doable
It is possible
It is not over yet until it is all over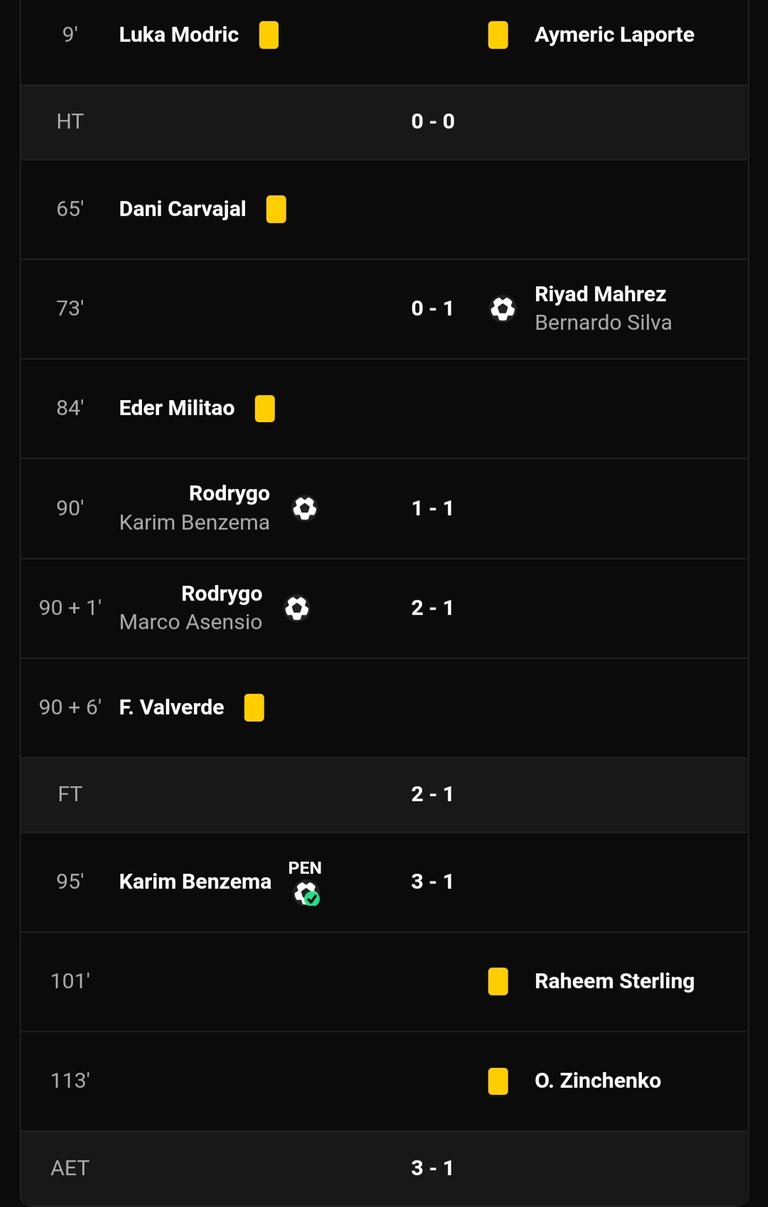 Screenshot from Livescore
Just like I highlighted in my post sometime ago about Expectation, Pep Guardiola was a victim of rushing to get success.
What do I mean by this?
After scoring the opening goal, Guardiola was relaxed and felt he already qualified.
This made him substitute the whole creative players he had on the pitch for the defensive players he had in bench.
The idea was to secure the shaky win they already had.
Sad enough, this backfired on him as Real Madrid came with two beautiful goals to put themselves in front.
At this point, Guardiola needed a goal but then where is it coming from😢
Bernardo Silva was the only creative player in the pitch then but this is football, it is a team game, he cannot create and score at the same time.
Someone atleast should be on the receiving end to connect with him,hence, it will be easy for the defenders.
He was forced to bring in Sterling and Grealish, these weren't players you would count on in times of these difficulties but then the players he can count on were already substituted out and nothing could be done about it.
His early celebration caused him pains at the end.


My Observation
Did anyone noticed something in this Semi final with the way England teams(Liverpool and Manchester City) performed?
Well, I noticed something and you can reflect on it if you watched the match.
I noticed that England teams found it very difficult adapting in the Spanish stadiums.
Just recall Villarreal Vs Liverpool a day before yesterday,can you believe the We Never Walk Alone Team we all know to deliver a wonderful performance of high intensity could not play anything throughout the first half of that match?
They could not even hold on to possessions; they were intercepted and displaced many times.
Their breakthrough came when Luis Diaz was brought into play in the second half with the rest of the team haven built a little familiarity with the field throughout the first half.
The same thing recurred yesterday against Real Madrid Vs Manchester City.
The Citizens we know with possession team tactics and tiki taka pattern could not even make up to 5 complete passes on the opposition's half.
I supported Manchester City because Real Madrid knocked me out of the tournament but what I saw tonight really meant they have eyes on that trophy
Let's see who gets to lift the trophy
Will it be Liverpool or will it be Real Madrid?
We will get to find out soon ☺️
Also posted here
---
---