2nd Bundesliga, week 10, Saturday matches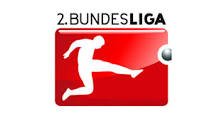 Heute 4 weitere Spiele am 10. Spieltag der 2. Bundesliga.
Today 4 more games on the 10th day of the 2. Bundesliga.

vs.

Heidenheim spielt zu hause gegen St. Pauli. Ich sehe hier ein Spiel auf Augenhöhe und tippe 2:2 Unentschieden.
Heidenheim plays at home against St. Pauli. I see a game at eye level and I guess a 2-2 draw.
---

vs.

Karlsruhe spielt zu hause gegen AUE. AUE muß gewinnen um vom Ende der Tabelle weg zu kommen. Ich hoffe auf eine Überraschung und tippe 1:2 Auswärtssieg.
Karlsruhe plays AUE at home. AUE has to win to get off the bottom of the table. I hope for a surprise and I guess a 1: 2 away win.
---

vs.

Ingolstadt spielt zu hause gegen Kiel. Ich sehe in diesem Spiel Kiel mit leichten Vorteilen und tippe 1:2 Auswärtssieg.
Ingolstadt plays at home against Kiel. I see Kiel with slight advantages in this game and I guess a 1: 2 away win.
---

vs.
Der HSV spielt zu hause gegen Düsseldorf. Ich sehe den HSV im Heimspiel als Favorit und tippe 2:0 Heimsieg.
HSV plays at home against Düsseldorf. I see HSV as a favorite in the home game and predict a 2-0 home win.
Funny matches @all
Best regards & Glück auf
sportfrei
---
---