2nd Bundesliga, week 13, Kiel vs. Dresden & Nürnberg vs. Bremen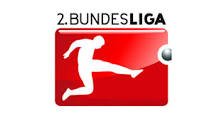 Morgen beginnt der 13. Spieltag in der 2. Bundesliga mit den 2 Spielen am Freitagabend.
Tomorrow the 13th matchday in the 2nd Bundesliga begins with the 2 games on Friday evening.

vs.

Kiel spielt zu hause gegen Dresden. Dresden hat eine negative Serie und ich denke auch in Kiel wird diese Serie nicht enden. Ich tippe 2:1 Heimsieg.
Kiel plays at home against Dresden. Dresden has a negative series and I think this series will not end in Kiel either. My guess is 2: 1 home win.
---

vs.

Nürnberg spielt zu hause gegen Bremen. Ich sehe Nürnberg im Heimspiel als Favorit und tippe auch hier 2:1 Heimsieg.
Nürnberg plays against Bremen at home. I see Nürnberg as a favorite in the home game and I guess a 2-1 home win here too.
Funny matches @all
Best regards & Glück auf
sportfrei
---
---