2nd Bundesliga, week 13, Schalke vs. Darmstadt & AUE vs. Heidenheim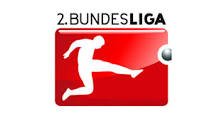 Heute 2 interessante Spiele am 13. Spieltag in der 2. Bundesliga.
Today 2 interesting games on the 13th matchday in the 2nd Bundesliga.

vs.

Schalke spielt zu hause gegen Darmstadt. Schalke meiner Meinung nach im Heimspiel der Favorit und deshalb tippe ich 2:0 Heimsieg.
Schalke plays at home against Darmstadt. In my opinion, Schalke is the favorite in the home game and that's why I guess a 2-0 home win.
---

vs.

AUE spielt zu hause gegen Heidenheim. AUE in der vergangenen Spielen verbessert und deshalb hoffe ich, daß sich die Serie an guten Spielen heute ausbauen Läßt. Ich tippe 1:0 Heimsieg.
AUE plays at home against Heidenheim. AUE improved in the past games and so I hope that the series of good games can be expanded today. My guess is a 1-0 home win.
Funny matches @all
Best regards & Glück auf
sportfrei
---
---