2nd Bundesliga, week 15, Saturday matches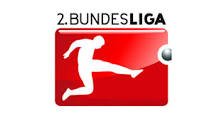 Heute 4 interessante Spiele in der 2. Bundesliga.
Today 4 interesting games in the 2nd Bundesliga.

vs.

Schalke spielt zu hause gegen Sandhausen. Schalke meiner Meinung nach klarer Favorit und deshalb tippe ich 2:0 Heimsieg.
Schalke plays at home against Sandhausen. In my opinion, Schalke are the clear favorites and that's why I guess a 2-0 home win.
---

vs.

Karlsruhe spielt zu hause gegen Hannover. Ich sehe hier ein Spiel auf Augenhöhe und am Ende ein 1:1 Unentschieden.
Karlsruhe plays Hannover at home. I see a game at eye level and a 1-1 draw in the end.
---

vs.

AUE spielt zu hause gegen Darmstadt. AUE sehr stark in den vergangenen 4 Spielen, aber ich sehe Darmstadt als Favorit. Ich tippe 1:3 Auswärtssieg.
AUE plays at home against Darmstadt. AUE very strong in the last 4 games, but I see Darmstadt as a favorite. My guess is 1: 3 away win.
---

vs.

Kiel spielt zu hause gegen Bremen. Ich sehe hier ein 50-50 Spiel und tippe 1:1 Unentschieden.
Kiel plays at home against Bremen. I see a 50-50 game here and I'll bet a 1: 1 draw.
Funny matches @all
Best regards & Glück auf
sportfrei
---
---