2nd Bundesliga, week 16, Magdeburg vs. Darmstadt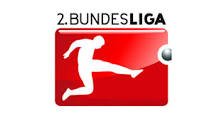 Heute wird der 16. Spieltag in der 2. Bundesliga komplettiert.
Today the 16th matchday in the 2nd Bundesliga will be completed.

vs.

Magdeburg spielt zu hause gegen Darmstadt. Magdeburg in den vergangenen Spielen stark verbessert,aber gegen den Tabellenführer sehe ich die Mannschaft im Nachteil.Ich tippe 1:2 Auswärtssieg.
Magdeburg plays at home against Darmstadt. Magdeburg has improved a lot in the past few games, but I see the team at a disadvantage against the leaders. I'm guessing a 1:2 away win.
Funny match @all
Best regards & Glück auf
sportfrei
---
---