2nd Bundesliga, week 21, Heidenheim vs. Hannover & Nürnberg vs. Ingolstadt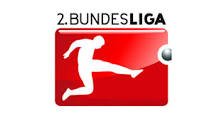 Morgen beginnt der 21. Spieltag in der 2. Bundesliga mit 2 interessanten Spielen.
The 21st matchday in the 2nd Bundesliga starts tomorrow with 2 interesting games.

vs.

Heidenheim spielt zu hause gegen Hannover. Ich sehe ein Spiel auf Augenhöhe und am Ende ein 2:2 Unentschieden.
Heidenheim plays at home against Hannover. I see a game at eye level and in the end a 2:2 draw.
---

vs.

Nürnberg spielt zu hause gegen Ingolstadt. Ich sehe in diesem Spiel Nürnberg als klaren Favorit gegen den Tabellenletzten aus Ingolstadt. Ich tippe 2:0 Heimsieg.
Nürnberg plays against Ingolstadt at home. I see Nürnberg as the clear favorite in this game against Ingolstadt from bottom of the table. I bet 2:0 home win.
Funny matches @all
Best regards & Glück auf
sportfrei
---
---