3. Liga, week 13, Duisburg vs. Kaiserslautern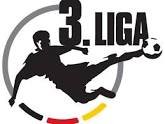 Zum Abschluß des 13. Spieltags in der 3. Liga heute das Montagsspiel.
At the end of the 13th game day in the 3rd division today the Monday game.

vs.

Duisburg spielt zu hause gegen Kaiserslautern. Ein Duell zwischen 2 Mannschaften mit sehr viel Tradition. Duisburg in der Krise, aber mit einem neuen Trainer. Ich sehe in diesem Spiel Kaiserslautern als Favorit und tippe 1:2 Auswärtssieg.
Duisburg plays at home against Kaiserslautern. A duel between 2 teams with a lot of tradition. Duisburg in crisis, but with a new coach. I see Kaiserslautern as a favorite in this game and I bet 1: 2 away win.
Funny match @all
Best regards & Glück auf
sportfrei
---
---