Aaron Judge: The real home run champion?

I don't really follow baseball a great deal as it is one of my least favorite sports to watch on TV. As I mentioned before I find watching baseball on TV to be very boring. There are others that feel differently and that is fine by me as it is just my personal opinion.
I do however follow the headlines and one like this was impossible to miss.
Aaron Judge from the NY Yankees recently tied the American League home run total for a season, and a few games later he hit another one against the Texas Rangers and set the new highest number of home runs hit in one season. This record has been in place since 1961 so yeah, it's a pretty big deal.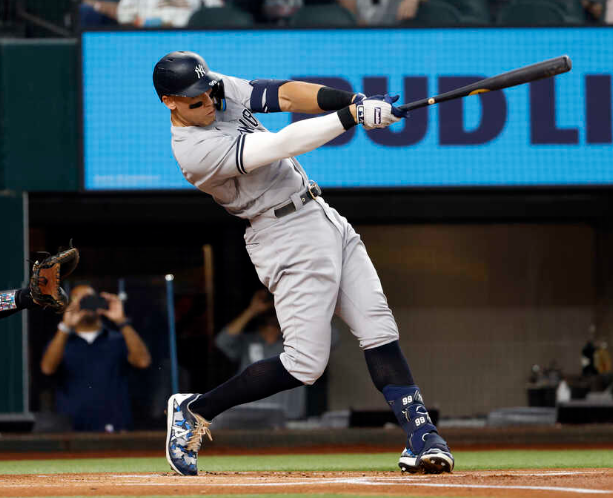 src
This momentous occasion kind of has some controversy being stirred up in the MLB world because while this sees Judge at the top of the all-time American League records, it puts him in 7th place of all time for the entire MLB.... but with some asterisks next to the 6 names above him.
src
The names above him are Sammy Sosa, Mark McGuire, and Barry Bonds are the names in spots 1-6 and all but Bonds have their names appear more than once. There is a teensy little problem with these people that are above Aaron though and that is that all of them tested positive for PED's including steroids. It is strange to me that the records would remain despite the fact that it is well-known that they are guilty of violating the wellness policy of the MLB, and none of them even deny this.
Some are saying that Aaron Judge is the true all-time leader in single-season home runs but for some reason or another, the MLB organization has not removed their names from the record-books.
It is also important to note that Judge has not been tested as thoroughly as the names above him have...yet.
So for now I am in the crew of people that will believe that Judge is the true champion now because I think it is kind of embarrassing that we would continue to reward the people in the sport that have admitted to cheating the system.
What do you think? Should we keep the names of people that are guilty of using PED's? There aren't many sports out there that would allow this and for me at least, I don't understand why MLB is doing it differently.
---
---