Alexander Gustafsson's losing streak sheds more light on fighter pay

It's hard to believe that Gustafsson was at one point considered a major contender for the light-heavyweight belt. In his first matchup with Jon Jones there are a lot of people, including me, that believe he actually HAS already won the belt once. He got two more chances at the strap after that day and failed on all three of them. That person who was destined for the top back all those years ago is not the person we see in the octagon now though.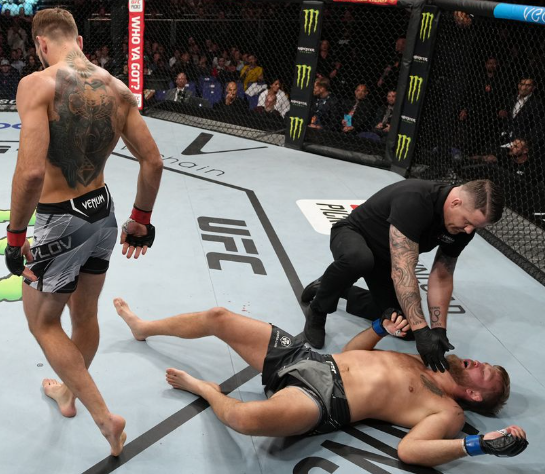 src
Anytime that Alex get's into the octagon I am always hoping that he will somehow be able to return to his former glory. He was at one time a different kind of fighter, one with a heavy chin that was a tactical fighter that would pick apart his opponents. That wasn't what we saw in Fight Night 208 where he was put down in just over 1 minute against a guy that I knew very little about.
Has Dana White and co. already relegated Gustafsson to the "stepping-stone" status in order to push newer talent up the ladder? It certainly is starting to look that way.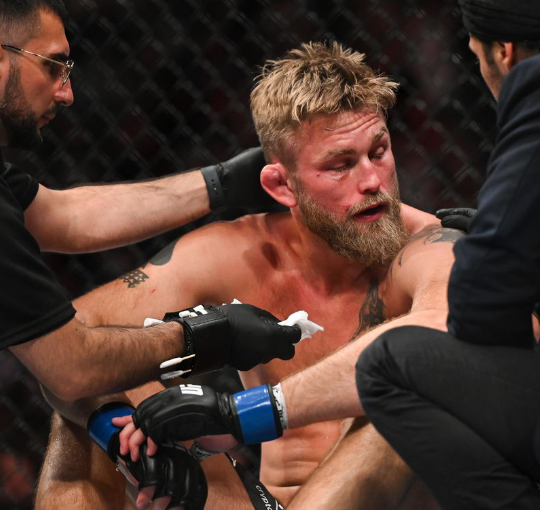 src
This is his 4th straight loss and not many fighters have ever recovered from such a track-record. The last time he won a match was back in March of 2017 and ironically, it was a KO victory over Glover Teixeira. Since then he has not only lost every match but he has been finished in every match, two of them coming in the first round.
For all intents and purposes, Gustafsson is done. Everyone thinks this including many former and current stars that are calling for him to retire. But there is a darker side to this that is something that UFC fighters and those close to the sport talk about constantly: Alex CAN'T retire because he doesn't have enough money to do so. Some of this has to do with irresponsible spending that is quite common with star athletes who think they are going to stay on top of their game forever, but then after just a few losses, those earnings dry up and these days Gustafsson isn't making the sort of money that you would think a world-famous UFC fighter would make.
Keeping in mind that this is Alex's first fight in nearly 2 years, this payout is especially shocking. He was paid a mere $16,000 for the fight. This was a Fight Night though, not a pay-per-view and fighters enter these events knowing that the money will be the league minimum that is based upon how many fights they have with the promotion, with some chance of bonuses. Fight Night is kind of seen as an arena to showcase your skills in order to get a bigger payday later, rather than being a huge payout on its own.
Now to get to the more gruesome details regarding Alexander Gustafsson's finances. This guy at one point was one of the most recognized names in the sport and appeared as though it was just an eventuality before he would be wearing the gold belt around his waist. This of course never came to fruition but it appears as though his spending was wildly out of control as he proceeded to buy luxury items including a multi-million dollar house in Sweden.
Although this can't really be trusted entirely because it is just a website, most of the "experts" estimate the net worth of Gustafsson to be a nest egg of a mere $400,000.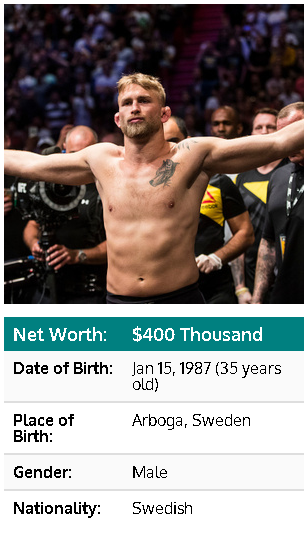 src
If this is true I want you to think about this for a minute. We have a guy with more than 10 years of experience in the UFC alone and at one point was one of the top draws in the promotion. Now with his fame and ability waning, the guy has far less in the bank than he needs in order to retire. If he can't turn this around in his next fight, we can basically presume that his time in UFC will be at an end, as will the rewards.
Now we can't blame his financial woes entirely on UFC and honestly, we have to kind of point the finger at Alex and ask "what were you thinking?" when someone, anyone, gets a little bit of money and then almost immediately starts spending it as if that cash cow were never going to run dry. Didn't anyone learn anything from Mike Tyson and his $300 million that he blew? However, I do think it is fair to blame UFC to some degree because Gustafsson brought in tens, perhaps hundreds of millions of dollars to the UFC and now he has almost none of it anymore.
I fear that we are going to see UFC continue to use him as a whipping boy to promote new talent until they have totally used him up and then he will be sent packing, like so many superstars that have come before. Many ex-UFC stars have come out of the woodwork to warn potential MMA fighters to stay away from UFC and while many of them are to blame for their irresponsible spending habits, this being bankrupt shortly after a career in UFC is becoming all-too-common.
I honestly don't think Gustafsson can pull it back around. He's too old and his chin is gone. I don't know what he can do but hopefully make a strong showing until his contract is up and move on to a different organization.
---
---