Andy Murray mounts the most incredible comeback I've ever seen in tennis
People don't really talk about Murray a great deal anymore because he is overshadowed by the rivalry between Nadal and Djokovic. I think most people, including me tend to forget that Murray at one point what the world number 1 tennis player in the rankings and also has a cabinet filled with tournament victory silverware to prove his mettle on the court.
I caught his match against Thanasi Kokkinakis by accident and wasn't really even watching it at first but then when I looked closely I saw that Murray was down 2 sets to none and also losing set 3 by 5-2 when I started watching. It looked like it was in the bag for Thanasi, who is from Australia and significantly younger than Murray at a ripe young 26. Murray doesn't keep his disdain for the new generation of players a secret and I think that basically everyone had written him off as a "has been" last night as it seemed damn-near-certain that he was going to be exiting the tournament earlier than he probably hoped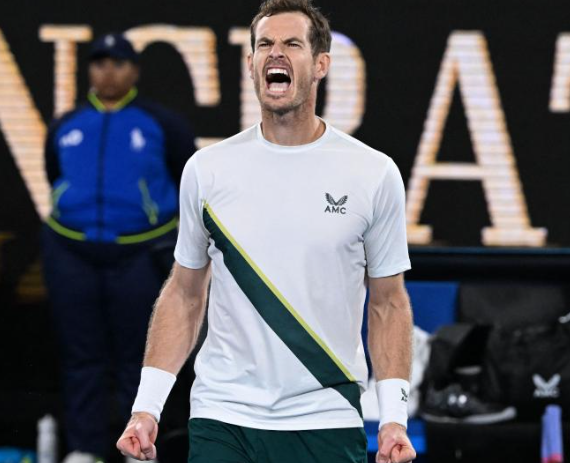 src
Looking at the crowd you could see that much of the crowd had already headed home for the night as this was a late game in Australia. Wow did those people that took off early miss something truly epic.
Murray, who looked completely outclassed by Kokkinakis, seemed to just find whatever it was that needed to be done and even though his younger opponent seemed to be faster, stronger, and more accurate, he kept on winning games, sets, and eventually the match. I wasn't following the live odds but I would imagine if you had bet just $10 in set 3 for Andy to win the match, you would have thousands of dollars in your account right now.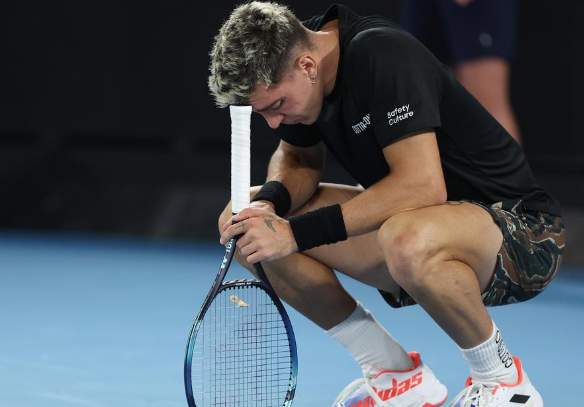 src
Kokkinakis' swagger and near-arrogance started to wane about halfway through the 4th set and you could see that he was really struggling with his frustration because try as he may, he just couldn't finish Andy. There was some truly amazing rallies that just didn't seem to end and wild lobs would more often than not land in play for Andy even though at times these were "no look" shots followed up by very calm soft shots just over the net. Kokkinakis on the other hand, seemed to really be struggling with his nerves and would try to power some crazy shots that perhaps were intended to be embarrassing for Murray, but instead they just went out of bounds.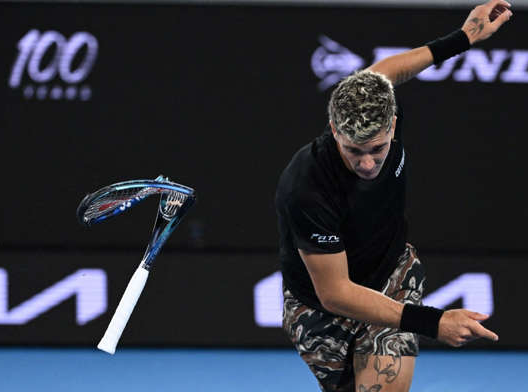 src
Eventually he lost his cool and took it out on his equipment. There was another time where he was getting into a heated exchange with the officials and I have no idea what that was about but it wasn't looking good for him even though at all times he was still technically favored to win and it was still very unlikely that Andy would win because Kokkinakis was still ahead 2 sets to one and was 9 years younger than his opponent and one would assume this would grant some sort of cardio edge.
Murray is known as a defensive player, and he put that on full display as he forced errors on the part of his opponent who always seemed to be looking for power shots rather than placement. It was a lesson of the rabbit vs the hare and it was truly impressive to see happen.
This 5 hours and 45 minute match is the 2nd longest in Australian Open history and it certainly kept me glued to the screen a lot longer than I expected it to. By the end I don't think anyone other than Kokkinakis' friends and family members were actually cheering for him, because who doesn't love a good underdog story? Murray will advance to the 3rd round and I now really want to see what he can accomplish there.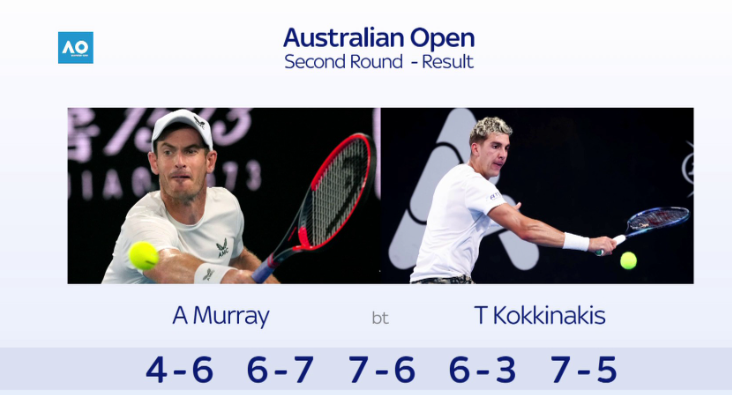 src
I can't find any stats on how many times this sort of comeback has actually been accomplished but I would imagine that it isn't very often, especially at a major tournament like the Australian Open.
---
---