Cain Velasquez serves time in protective custody
I think we all have this larger-than-life opinion of a lot of our fighting stars and we would like to believe that if they were given a real-world situation, such as being in prison, that they would be the top dog and nobody would ever even try to mess with them, let alone succeed. This was the opinion I had of Mike Tyson when he went to jail but as I had more time to think about it, the people in prison aren't exactly your run of the mill, sensible individuals and this would especially be true if you are doing your time with some of the most dangerous people on the planet.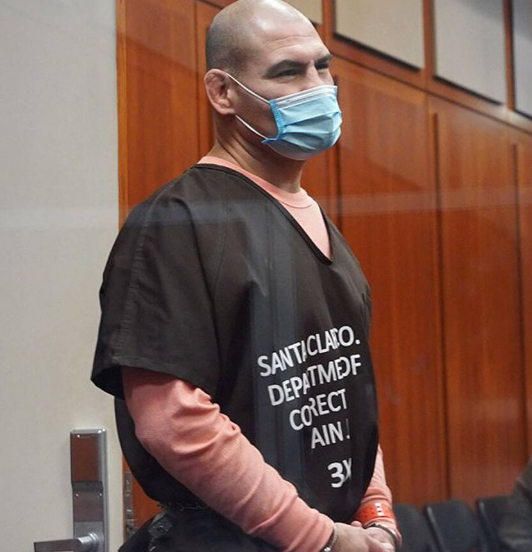 src
In case you didn't know, Cain Velasquez is awaiting trial for a bit of a rampage he went on in California that even had shots fired involved. Some people are saying that it was somewhat justified because his target during the attack was a suspected child molester who allegedly was attempting (or succeeded, the details are blurry at best) to molest a 4-year old family member of Cain's.
He was denied bail by a previous judge several times as he awaits trial and this went on for 8 months until a sympathetic judge released Velasquez from jail on a $1 million bond. There are a lot of conditions to Cain's release and one of them, unsurprisingly, is that he isn't allowed near firearms and better keep a low profile and not seek to contact or get revenge on the person he had previously attempted to kill.
Now the thing about Cain's time in prison is that he was in protected custody and never had any time in general population. He was only allowed access to a few other inmates and this was done under quite strict supervision. I would like to believe that if there was some sort of incident that Cain could handle his own, but I would imagine that someone as high-profile as Velasquez would probably be a big target for any of the prison politics are concerned. I would imagine that Mike Tyson went through something similar because while I do not understand prison politics entirely and my opinion is based on films, it seems to me that beating up a former world champion would probably be a big prize behind bars.
According to Cain he spent most of his time alone for the 8 months that he was in prison and is, as you would expect, very hopeful that he will not be returned to it.
I can't really have a full opinion of Cain's actions because so very little of the details have actually been released to the public. I do know that the person that he attempted to kill was on a suspected molester and had not been convicted on those sorts of charges. This doesn't mean the guy was innocent by any means, but we can't as a society just resort to mountain justice anytime a rumor heads our direction.
I would imagine that Cain will probably end up serving a little bit of time because the day that he pursued the suspected molester the car chase went on for 10 miles, was at high speed and involved bullets being fired in public across the highway. This is kind of a textbook example of a menace to society isn't it? I don't know if on the day Cain felt as though he was above the law and I really think he should have just used his deadly fists instead of a gun. His celebrity and support from MMA will likely get him special treatment and my prediction is that the gets something like 18 months and the 8 he has already served will be applied to that. Then he will be released after just a little bit of time citing "good behavior." I suppose it is pretty easy to be on your best behavior when you are never allowed access to anyone else in prison but still, that solitude would probably be my own worst enemy if I were in a similar situation.
I do think that the fact that he was in prison for 8 months awaiting a trial date is pretty absurd by a country that claims to be the land of the free though. Aren't we supposed to have a right to a speedy trial?
---
---